Aadhar Card: How to Download, Update, and Link Aadhar Card?
UIDAI aadhar card - a 12-digit identification number issued by UIDAI on behalf of the Government of India. This 12-digit number, serves as an identity and address proof, in a nutshell, it serves as an identification proof of Indian residence. 
Refer to the next section for a better understanding of what an aadhar card is -
A 12-digit number is assigned to every Indian citizen (including infants and children).
Serves as an identification proof of Indian residence.
Established a unique identity of an individual on the basis of demographic and biometric information.
Any resident can avail of this service irrespective of the documents since it is a voluntary service.
Every Indian citizen will be assigned a unique identification number, Aadhar ID.
For identity-based applications such as ration cards, passports, etc, universal identity infrastructure will be provided in the Aadhar card.
Above mentioned points clearly indicate, what an aadhar card is, though, it is to be noted that it can be issued to anyone, irrespective of gender, caste, and age, in short, an individual must be a resident of India and must meet the established eligibility criteria or verification process as specified by UIDAI. 
With that, an aadhar card is a proof of identification, not just another card, thus, an individual can only enroll for aadhar card once, in case of multiple enrolments, duplicate IDs will be rejected. This helps the government to eliminate duplicate/ fake identities, and to ensure verification and authentication.
With the effort of the government to eliminate fake or duplicate identities in a cost-effective way, the aadhar number has been proven to be most useful, considering that a person with aadhar card can avail of services such as banking, mobile phone connections, and other Govt and Non-Govt services in due course.
Since it is clear what an aadhar card is, let's know more about UIDAI and how UIDAI is associated with aadhar cards.
What is UIDAI? | UIDAI Aadhar Card
UIDAI stands for Unique Identification Authority of India, which is a statutory authority established as per the provisions of Aadhaar (Targeted Delivery of Financial and Other Subsidies, Benefits and Services) Act, 2016 ("Aadhaar Act 2016"). The mentioned provisions were issued by the Government of India on 12 July 2016, under the Ministry of Electronics and Information Technology (MeitY).
However, the said act has been amended as per the Aadhaar and Other Laws (Amendment) Act, 2019.
After the amendment,  UIDAI was established to issue a Unique Identification Number (UIN), termed as "Aadhar," for the purpose of -
eliminate duplicate and fake identities
verifiable and authenticable in an easy, cost-effective way
Along with the issuance of UID, UIDAI has also been responsible for enrolment and authentication of aadhar, including management and operation of aadhar card in all stages of its life cycle, procedure, policy development, and more.
However, if we talk about the historical background of the Aadhar card or UIDAI aadhar, it was approved by the Department of Information Technology, Ministry of Communications and Information Technology, Government of India on March 2006, in respect to the project termed as 'Unique Identification for BPL Families'.
While later on November 26, 2006, the committee prepared papers or documents termed as 'Strategic Vision Unique Identification of Residents' depending on which Empowered Group of Ministers (EGoM) was established to collate the National Population Register (under the Citizenship Act, 1955 and Unique Identification Number).
Since we have obtained appropriate knowledge regarding Aadhar card, and UIDAI, including how UIDAI and Aadhar card is associated, let's move on to how to check aadhar card status.
How to Check Aadhar Card Status | UIDAI Status | Aadhar Status
For UIDAI login to check the aadhar card status, visit the official UIDAI portal.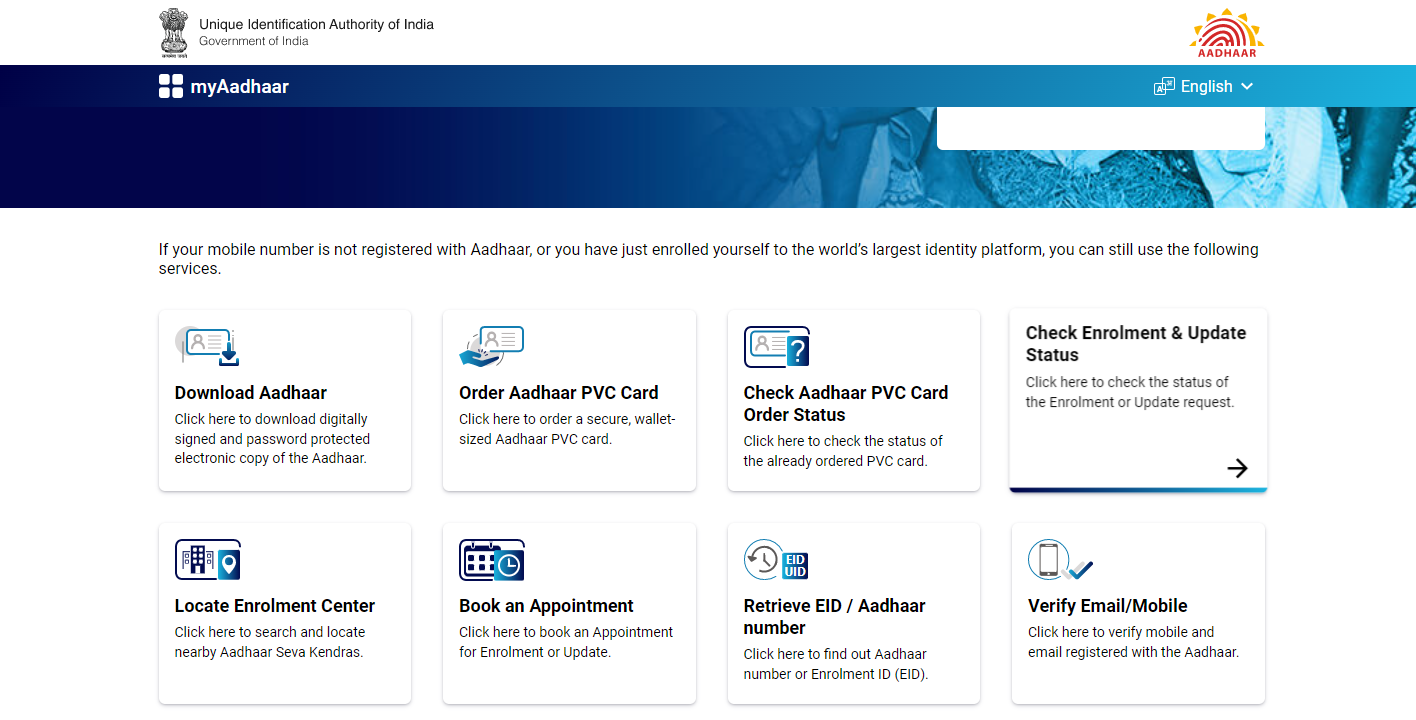 On the next page, provide the required information as asked.

Once the information is provided, you can check the UIDAI status.
How to Download Aadhar Card | Aadhar Card Download | UIDAI Aadhar Download
For seamless aadhar card download, you can simply follow below mentioned steps -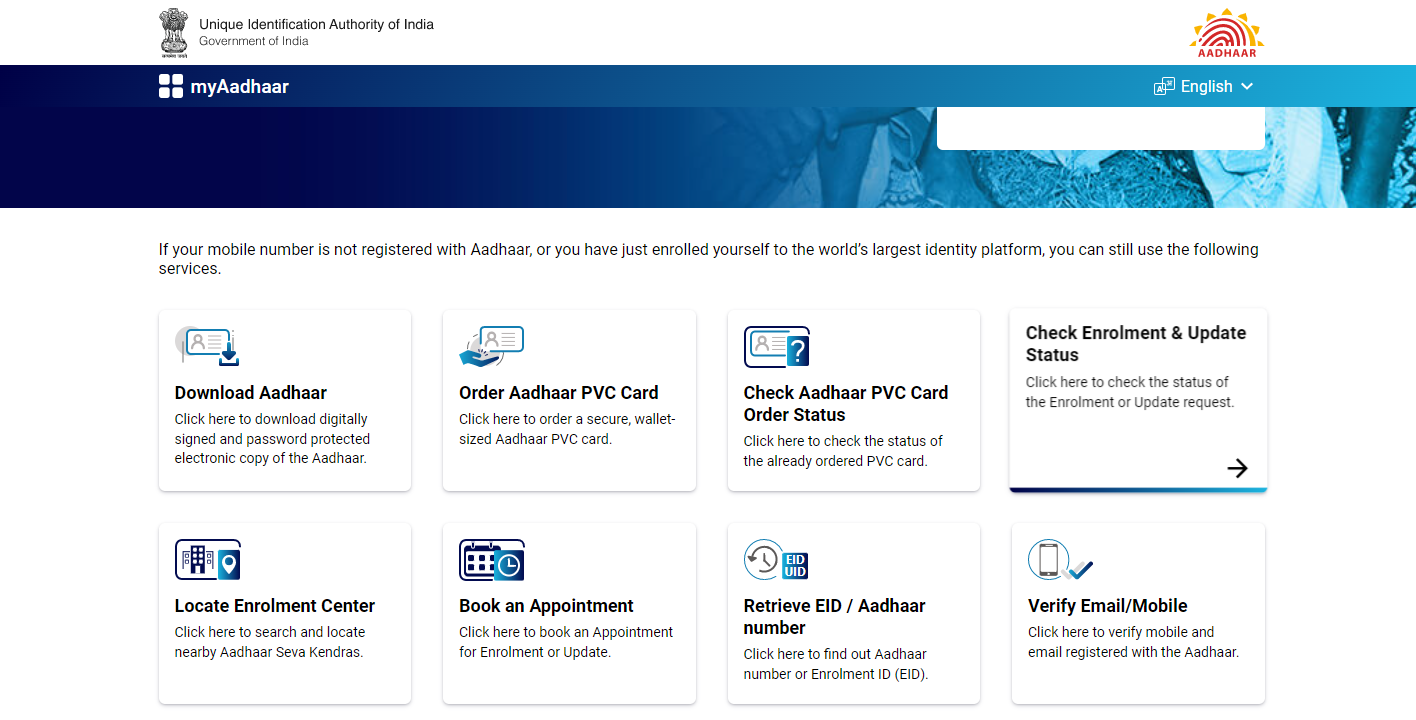 Click on the download UIDAI aadhar download option.


Enter a valid aadhar number or virtual ID or enrollment ID, whichever is available.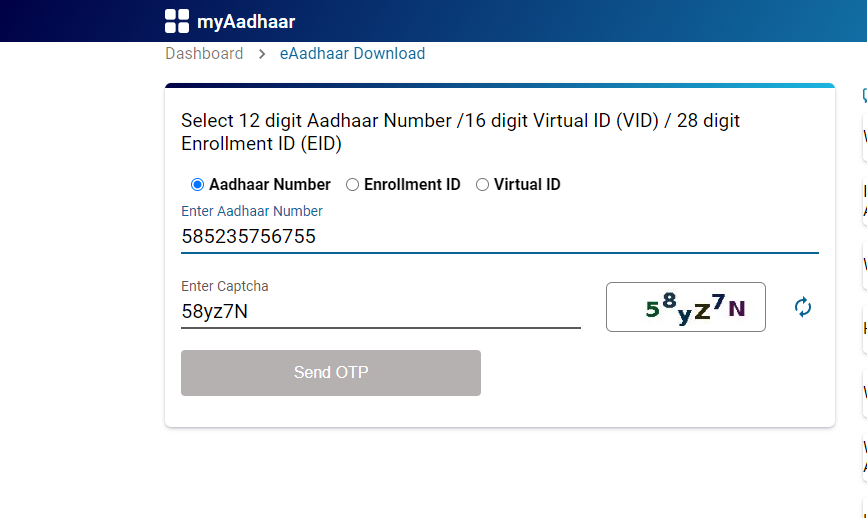 Once done, an OTP will be sent to your registered mobile number.
Enter OTP and e aadhar will be generated.
Though after downloading you are required to enter the password to access your aadhar card, which will be the combination of the first four letters of your name and birth year.
For instance, if your name is Rishi and your date of birth is 2 June 1994, then your password will be "Rish1994."
So, with these easy five steps, you can complete the e-aadhar card download, though if you have any doubt regarding the validity of e aadhar, no worries considering that e aadhar is equally valid as a physical aadhar card.
UIDAI Aadhar Update: How to Change Address in Aadhar Card | How to Change Mobile Number in Aadhar?
Looking for the process of aadhar card update, we have got some easy steps to do it, be it understanding of How to Change Address in Aadhar Card | How to Change Mobile Number in Aadhar? Follow these steps and get it done.
Visit the aadhar card official website.
Click on "update address'' in your aadhar."
Click on "book an appointment" for an aadhar update.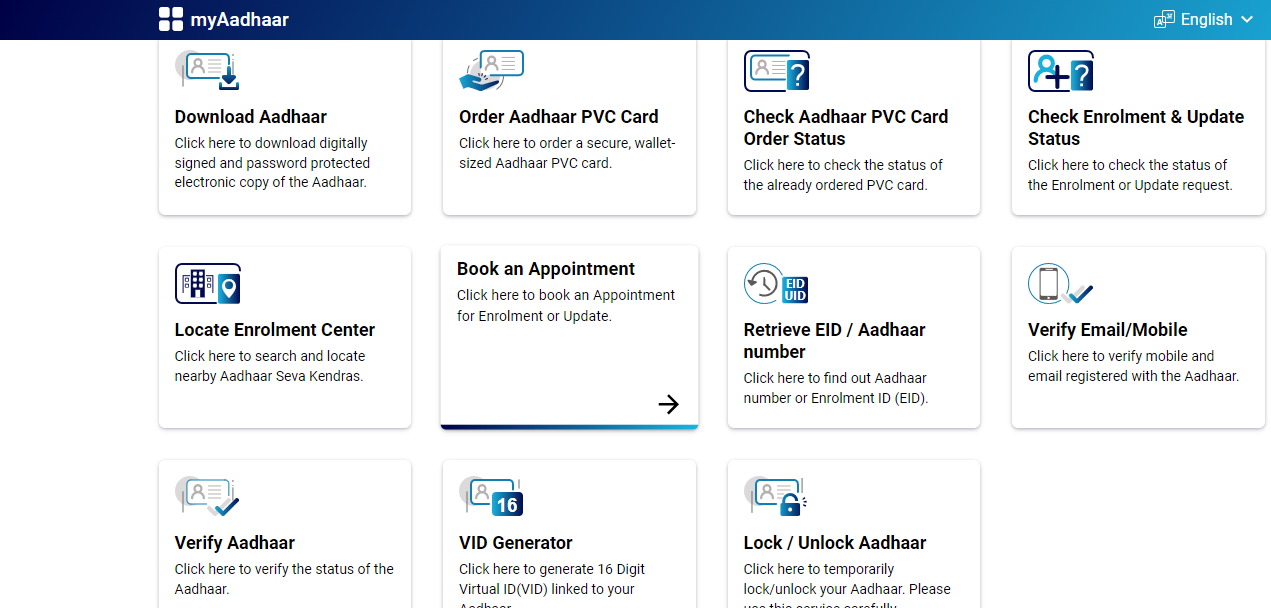 Enter the name of the city to book an appointment.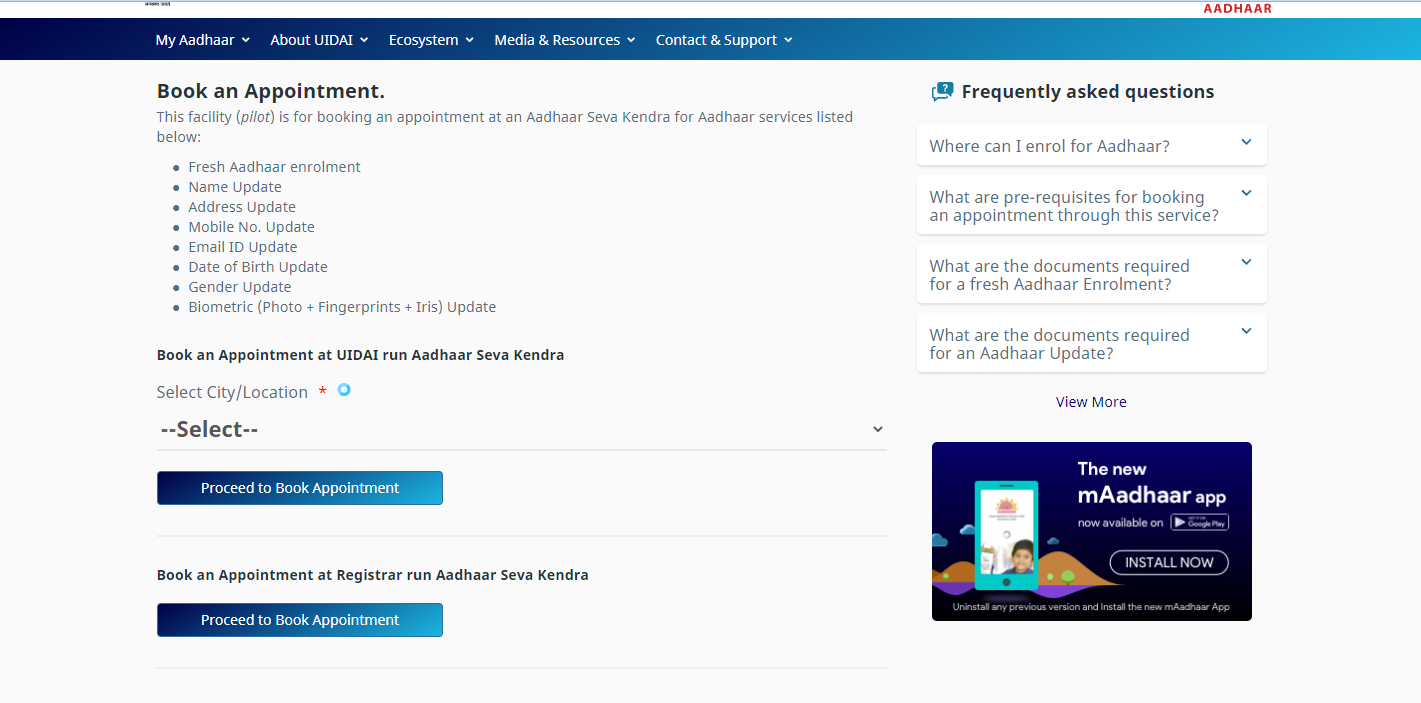 Once you enter the city name.

Enter the required information in the next tab for the UIDAI update.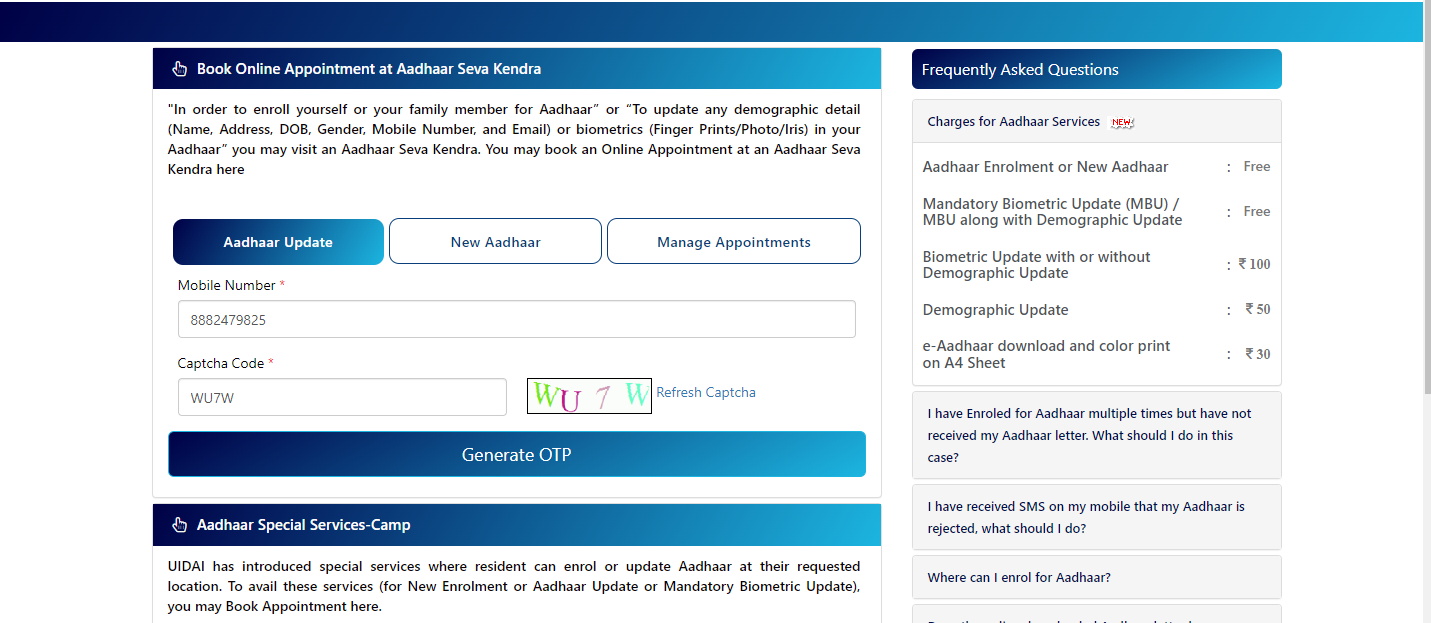 As you will click on generate OTP, an appointment will be scheduled.
Since, you have understood the process involved in How to Change Address in Aadhar Card or How to Change Mobile Number in Aadhar, let's move on to how to link aadhar with mobile number online.
How to Link Aadhar With Mobile Number Online | How to Link Aadhar With Mobile Number Online
Book an appointment/ locate in the nearest aadhar enrolment center.
Provide your mobile number or fill out the correction form, in case your number has changed.
Click on form submission by providing biometrics for authentication and make the payment.
A URN (Unique Request Number) will be generated that can be used for UIDAI status tracking.
Hope you have understood the process of How to Link Aadhar With Mobile Number Online or How to Link Aadhar With Mobile Number Online. If yes, with that, let's move on to how to link PAN with aadhar.
How to Link PAN With Aadhar | How to Link Aadhar to PAN | Aadhar PAN Link | PAN Aadhar Link
On April 1, 2022, CBDT issued a notification informing that the PAN aadhar link is a mandatory requirement, if not, then a penalty will be imposed on the concerned individual.
For your reference, we are mentioning how to link PAN with aadhar -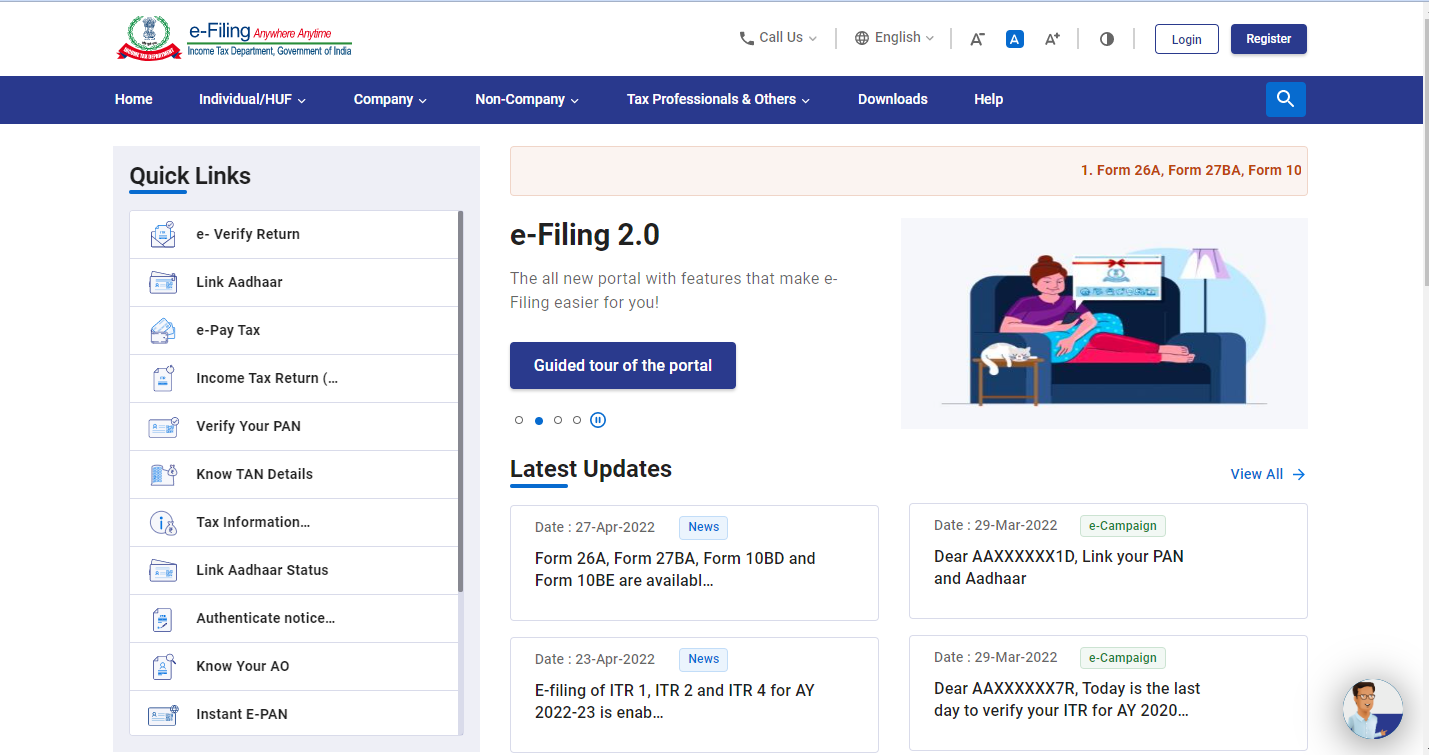 For aadhar PAN link, click on "link aadhar."

Your PAN number will be used as a user ID.
With that provide your DOB and password.
Once done, a window will appear asking for an Aadhar PAN link.
If not, then you can visit 'Profile Settings' on the Menu bar and click on 'Link Aadhaar'.
Your name, DOB, and gender will appear on the screen as mentioned in PAN.
Match the mentioned details and click on "link now," for aadhar PAN link.
Once the form is submitted, a successful message will appear on your screen.
Conclusion
Aadhar card or UIDAI aadhar has been introduced with the motive to eliminate duplicate or fake identities throughout the country, although, with time and considering its important role UIDAI gov has issued a notice regarding PAN aadhar link.
This notice issued by CBDT clearly reflects the importance of aadhar card, from maintaining the information regarding the identity of citizens to coordinating with income tax authorities to link PAN card - the role of aadhar is clear.
Although our major services are related to the compliance industry only, such as BIS certification, AERB approval, BEE certification, LMPC certification, EPR authorization, and other corporate compliance-related registration such as private limited company, public limited company, and other Indian and Global compliance.
So, if you are looking for an expert to take care of your tax, audits, and other compliance-related concerns - we are a one-stop solution to your compliance requirements.