AERB License For Hospitals | AERB Certificate Dental Clinic

Be it manufacturing, supplying, installation, use, maintenance, servicing, and ultimately decommissioning medical equipment, obtaining an AERB license for hospitals or dental license is obligatory. Radiotherapy, nuclear medicine, diagnostic radiology, blood, irradiators, medical cyclotron, and other equipment used in a hospital or a dental clinic need to obtain an AERB certificate for dental clinics/ hospitals to ensure that the radiation of these equipment does not harm the individuals. 
AERB was constituted on November 15, 1983, by the President through exercising powers conferred by Atomic Energy Act, 1962 to carry out regulatory and safety functions driven by the notifications and rules promulgated under Atomic Energy Act and the Environment Act, 1986. The fundamental purpose of establishing an AERB is to ensure the use of ionized traditions and nuclear energy to prevent the risk of these radiations on humans and the environment.
To understand why it is mandatory to get an AERB license, let's try to understand it through an example - diagnostic radiology is a group of several modalities of imaging through X-rays. No doubt, X-ray is proven to be beneficial for society, yet, its radiation can trigger cancer agents if it has not been taken care of appropriately during the life cycle of the equipment.
Hence, Atomic Energy (Radiation Protection) Rules 2004 has been formed under Atomic Energy Act, of 1962 to establish a legal framework for safe handling of radiation generating equipment. Likewise, other equipment has to comply with AERB regulations as applicable to get an AERB license.
Apart from including earlier mentioned products, the AERB license is also applicable to digital radiography, dental orthopantomogram, bone mineral density, computerized tomography scan, and more.
With that, let's move to, what are the functions of AERB.
What Are The Fundamental Functions of AERB?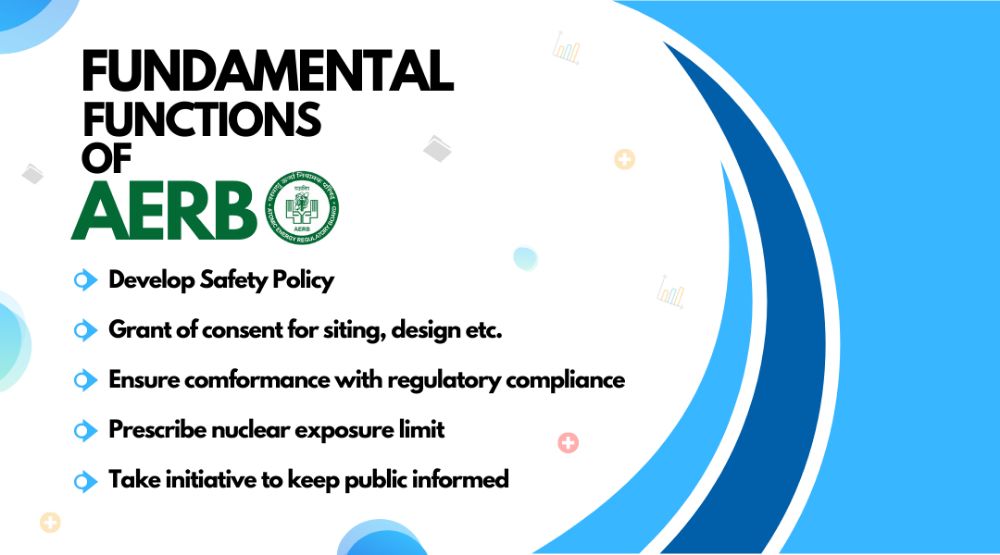 Before understanding the process of applying for an AERB license for hospitals or an AERB certificate for a dental clinic, it would be better if we are aware of the functions of the AERB -
Development of safety policies in the nuclear, industrial, and radiation industries.
Development of safety codes, guides, and standards for siting, design, construction, commissioning, operation, etc for distinct types of nuclear and radiation facilities.
Grant of consent for siting, design, construction, commissioning, and more for establishing the nuclear and radiation facilities.
To ensure conformance with regulatory compliance in accordance with AERB.
To take initiatives to keep the public informed regarding the major radiological safety issues.
Notify the public, if a "nuclear incident," occurred during nuclear installation, as prescribed by the Civil Liability of Nuclear Damage Act, 2010.
Prescribe the nuclear exposure limit to the occupational public, public, and environmental release of radioactive substances.
These are some of the major functions of the AERB that help to ionize nuclear and radiological radiations. Since we have understood, the basic aspects of AERB and its fundamental functions, let's move to how to get an AERB license for hospitals/ AERB certificate for dental clinics.
How to Apply For AERB License: Hospitals and Dental Clinic
Filing of AERB Certificate For Dental Clinic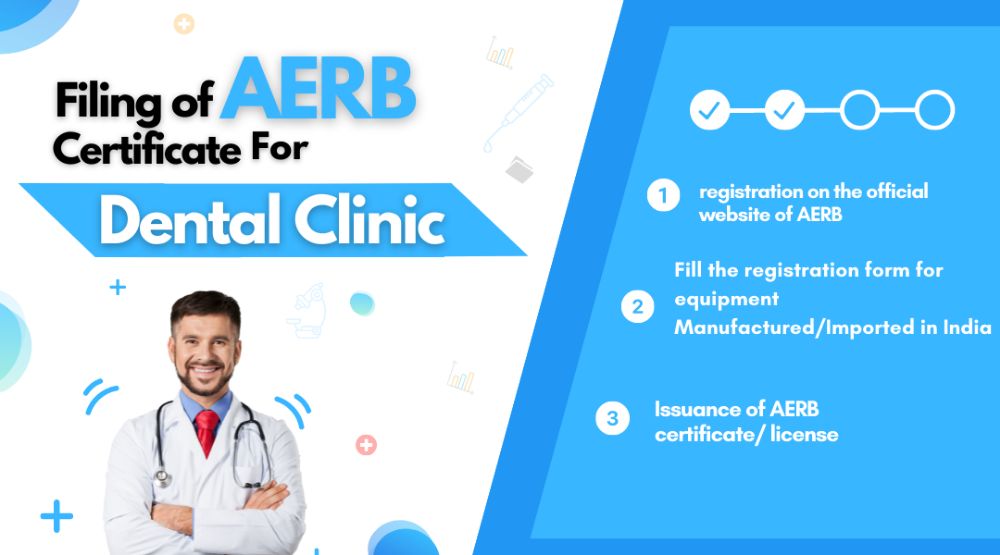 Apply for institute registration on the official website of AERB.
If your equipment is manufactured in India, fill out the application for registration of Indigenous dental X-ray equipment.
If your equipment is not manufactured in India, an application for X-ray procurement will be filed. Thereafter, an application for registration of import dental x-ray equipment will be filed.
If your equipment and submitted information comply with the prescribed standards, and AERB certificate/ license will be issued.
Filing of AERB License For Hospitals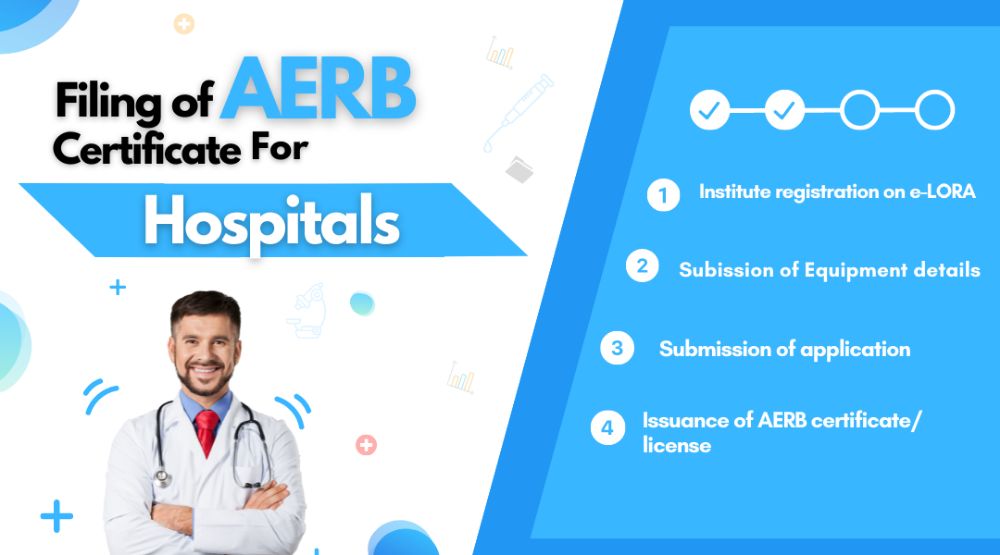 An institute will be registered on the e-LORA, which is an e-governance portal for AERB license procurement. 
Submission of details of the X-ray equipment details, and other information.
After the submission of the required information along with the documents, the application will be submitted.
Lastly, AERB licenses for hospitals will be issued.
Regulatory inspection is also one of the major aspects of an AERB license to obtain realistic information regarding the facility and check administrative arrangements, scrutinize the information provided in the documents, and more. It is essential because it signifies that a product complies with the established standards, thus, safe for society and the environment.
To provide you convenience, in applying for an AERB license or regulatory inspection, JR Compliance has got you covered, we follow an integrated approach to meet your compliance requirements, be it BIS certification, ARAI approval, and more. Hence, our services are not restricted to providing AERB licenses only.
In the next section, let's show how we - JR Compliance will make the AERB license procedure seamless.
How Will We Help in AERB Approval?
Our consultants will educate you regarding how to get an AERB license. 
Our AERB consultants will assist you throughout the process of obtaining AERB approval. 
We will assist you in filling out the application to avoid inaccuracy. 
Our AERB approval consultants will help you in the process of documentation.
We will coordinate with AERB officials directly to ensure proper follow-ups, acknowledgments, etc. 
In case of any query, we will provide you with the best possible solution.
Conclusion
As we have discussed, obtaining an AERB license for hospitals or an AERB certificate for dental clinics is necessary, considering that it ionizes the radiations to restrict or prevent their harmful effect on humans or the environment. Though, the procedure of AERB approval is quite comprehensive because it includes appropriate knowledge of aspects of the AERB certificate, regulatory inspection, complying with official requirements, and more. 
However, its comprehensive process does not eliminate the need to not get an AERB license, considering that it is an obligatory requirement. 
We understand how essential it is to obtain a license/ certification, so, to provide you with a single solution to all your issues or certification requirements - we are here for you. Contact our experts right now and meet your certification requirements with India's #1 compliance service provider. We have the required experience and expertise to comply with Indian and global standards, till date we have completed 10,000+ compliance projects and are still working on 100+ Indian and Global projects - obtain an AERB license from experts.
Reach out to us, immediately and meet your certification requirement with a snap of fingers.