An Overview Of Virtual CFO services in India
Does your business require expert financial assistance affordably?  
If yes, then you need to hire virtual CFO services. They have framed a way for small firms that can give access to a skilled financial professional at a reasonable cost. Though the benefits of a CFO vary from firm to firm. Let's dive into the concept of CFO Services in-depth!
What are the Virtual CFO Services?
Virtual CFO (Chief Financial Officer) services provide businesses with access to the financial expertise of a CFO without the need to hire one full-time. Virtual CFOs are typically experienced finance professionals who work remotely and provide their services on an as-needed basis. 
What Does a Virtual CFO Do?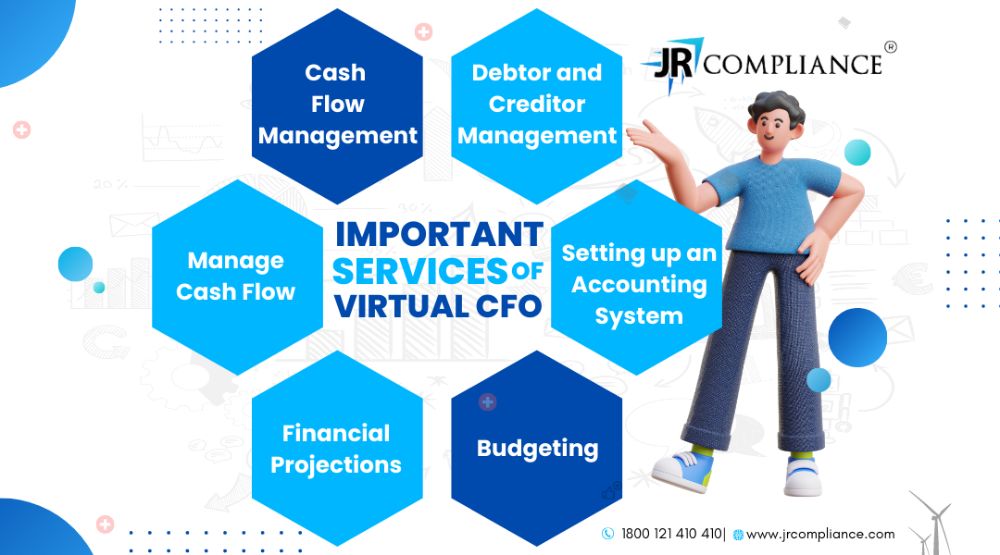 Virtual CFO Services offer a wide range of financial and strategic services, including:
Financial planning and forecasting: Virtual CFOs help businesses plan and forecast their financial performance by analyzing financial data and providing actionable insights.

Budgeting and cost management: Virtual CFO services assist businesses in creating budgets and managing costs to help them achieve their financial goals.

Financial reporting and analysis: They provide businesses with financial reports and analysis to help them understand their financial position and make informed decisions.

Tax planning and compliance: They help businesses comply with tax laws and regulations and provide tax planning services to minimize tax liability.

Risk management: Virtual CFOs help businesses identify and manage potential risks to their financial stability.

Business strategy and growth planning: Virtual CFO services use their financial expertise to help businesses develop and execute strategies for growth and expansion.

Visit our Blog to learn about the NGO Registration Online Process.
Benefits of Virtual CFO Services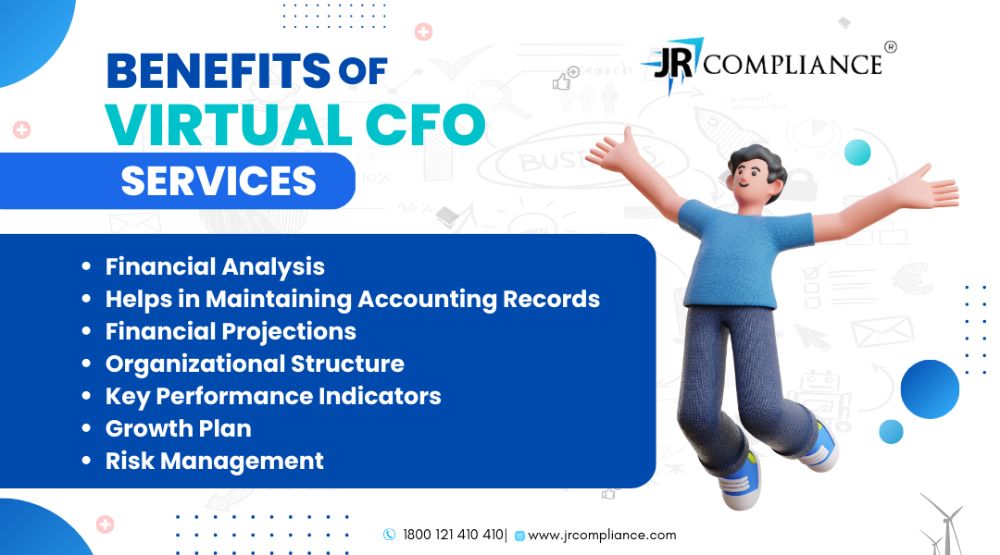 There are several advantages of using virtual CFO services for businesses, including:
Cost-effective: Virtual CFO services are typically more cost-effective than hiring a full-time CFO. Businesses only pay for the services they need and can scale their use of virtual CFO services as their needs change.
Flexibility: Virtual CFOs are typically able to work remotely and can provide their services on an as-needed basis. This flexibility allows businesses to access the financial expertise they need when they need it.
Access to expertise: Virtual CFOs have typically experienced finance professionals with a wide range of skills and expertise. They can provide businesses with access to financial knowledge and expertise that they might not have in-house.
Scalability: Virtual CFOs can provide services for businesses of all sizes and can scale their services to meet the needs of growing businesses.
Risk Management: Virtual CFOs can help businesses identify potential risks and provide guidance on how to mitigate them.
Business Strategy: Virtual CFOs can help businesses develop and execute strategies for growth and expansion, providing valuable insights and support.
How To Become A Virtual CFO In India?
Becoming a virtual CFO in India requires a combination of education, experience, and skills. Here are some steps you can take to become a virtual CFO in India:
Education: Most virtual CFOs have a bachelor's degree in finance, accounting, or a related field. A master's degree in finance or accounting can also be beneficial.
Professional qualifications: Obtain professional qualifications such as Chartered Accountant (CA), Company Secretary (CS), or Cost Accountant (CMA) in India.
Experience: Gaining experience in finance and accounting roles is essential to becoming a virtual CFO. This can include roles such as financial analyst, accountant, or controller.
Skills: Develop the skills necessary to be the best virtual CFO. These include financial analysis, budgeting, forecasting, financial reporting, and strategic planning. Interpersonal and supervision skills are also mandatory.
Networking: Building a network of contacts in the finance and accounting industry can be beneficial when starting your own virtual CFO business.
Get specialized: Specialize in a specific industry, this will help you to understand the specific needs and challenges of a particular industry and be able to serve them better.
Start your own business: Starting your own virtual CFO business requires a sound business plan, a strong client base, and the ability to market your services effectively.
Final Thoughts
In conclusion, Virtual CFO services in India have become an important solution for businesses looking to manage their finances efficiently and effectively. From budgeting and forecasting to risk management and compliance, Virtual CFO services can provide businesses with the expertise and support they need to navigate the complexities of financial management. 
At JR Compliance, we are committed to providing businesses in India with comprehensive Virtual CFO services that are tailored to their unique needs. Our team of financial experts can help businesses optimize their financial operations, minimize risk, and achieve their long-term goals. By leveraging the benefits of Virtual CFO services, businesses can focus on what they do best while leaving the financial management to us. 
So why wait? Get in touch with us today to learn more about our Virtual CFO services and take your business to the next level!