An Overview Of AYUSH Registration| Types & Documentation
Do you want to sell or manufacture your Ayurvedic products in the market but are not aware of the steps? Don't worry, you just need an Ayush certificate to get your products in trade. Now, the question is how to get this certificate and its information. The solution is here, We have the complete information about the Ayush registration, and our experts will also help you to get the license in a simple way and at a reasonable price in a given time duration.
What is Ayush Registration?
Ayush registration means to get a license for your products, Ayush License is the government-approved certificate for people who want to start a business as retailers or wholesalers, and manufacturers of Ayurvedic, Unani, Siddha, and Herbal products. We all have heard that Ayurveda is the oldest but most trustworthy and effective product we know. And many Indians value it, even foreigners too. So, if you want to keep it in trend, then stop thinking or being worried about it,  because we are here to make your dream successful. 
It was established in 2014, and the Ayush license has authorized many businesses to sell Ayurvedic products in India or in foreign.
Why Do We Need Ayush Registration?
We need to get an Ayush license to sell your products legally. It gives us legal validity and permission to sell your Ayurveda products. In case, you sell your product without its certificate, then it will be considered illegal and the Ministry of AYUSH can penalize you for taking such actions. The main purpose of getting this license is to verify the quality of the product, it can ensure the quality and safety of the product for the customers.
Types of Ayush license
There are four types of Ayush licenses, we all should go through and know about: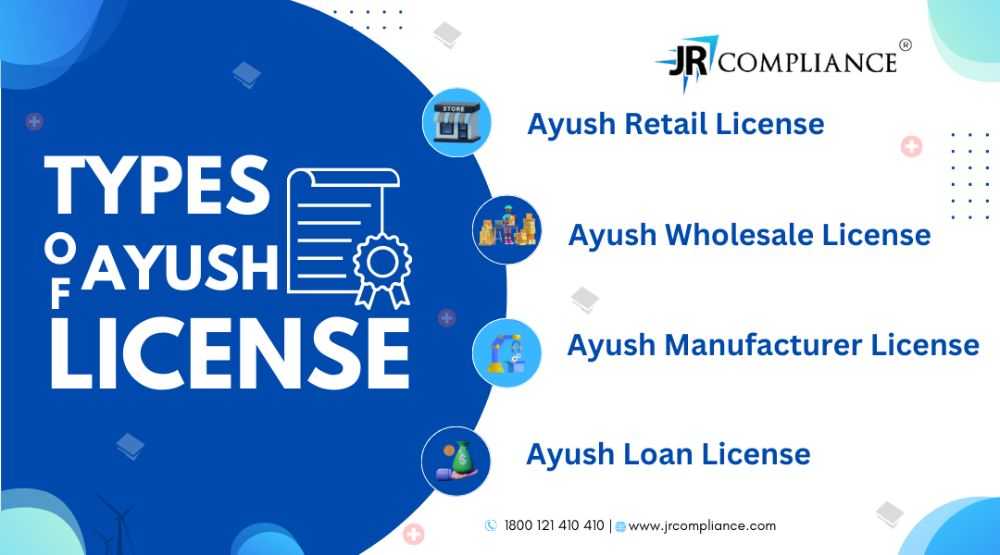 Ayush Retail License:- The person who wants to sell Ayurvedic products as a retailer needs to get an Ayush certificate to proceed to business. It is the authorization of the government and given to the people who want to be a retailer of Ayurvedic/Unani/Siddha/Herbal or any natural products.
 Ayush Wholesale License:-  This license is required for the person who wants to sell their ayurvedic products as a wholesaler. The government or ministry of Ayush provides this premium Ayush certificate to the applicable wholesaler of Ayurveda/Unani/Siddha/Herbal products.
 Ayush Manufacturer License:- The Ayush manufacturing license also known as the drug license, The person who wants to manufacture ayurvedic medicines or supplements needs this certificate to go ahead. 
 Ayush Loan License:- The Ayush loan license is for the individual who uses the staff, equipment, or land of someone else who has the primary manufacturing license. it is the authorization given to the person who doesn't obtain a manufacturing unit but wants to avail of the manufacturing Facility of the holder of an AYUSH manufacturing license. 
 Required Documents for Ayush Registration :
AOA and MOA of the company
Address proof
Id proofs of directors or partners of the company
Qualification proof
Registration of Delhi Ayush Council
Two Ayurvedacharya and Pharmacist.
Specified area.
GMP Certificate.
Appointment letter and bio data of the company's directors
Benefits of Ayush registration:
It covers all your treatments taken under Ayurveda, Yoga, Unani, Siddha, or Herbal. 
It will be beneficial for the manufacturer of Ayush products to get the Ayush Standard mark or Ayush Premium mark as appropriate products.
It will increase domestic sales.
It will assure the importer and other customers about the quality of the products to increase sales etc.
The main benefit of Ayush will be an increment in sales with a verified trademark to assure the safety of the product.
Importance of Ayush Registration
 Ayush registration is one of the most important steps we should take to sell our Ayurvedic products. And some of the importance of this registration are: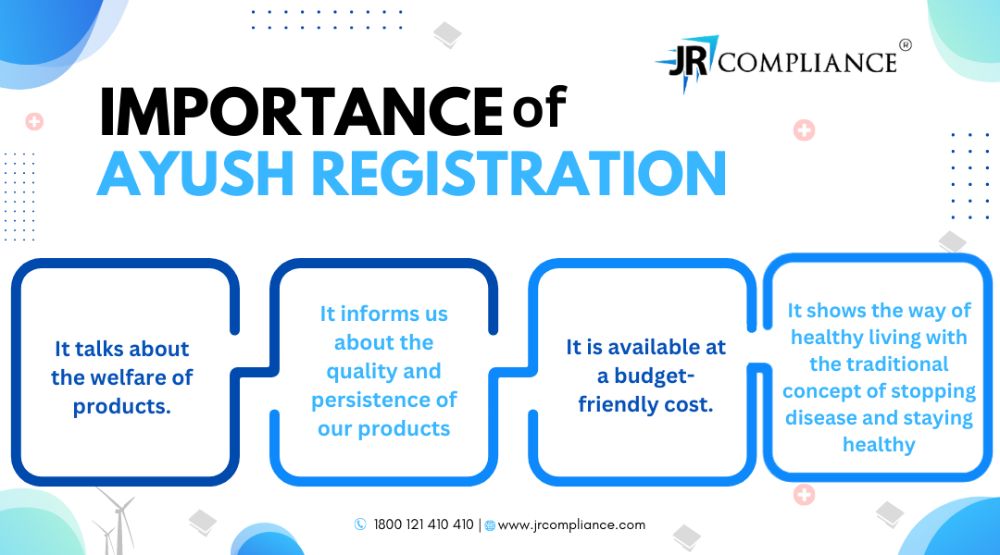 It talks about the welfare of products.
It informs us about the quality and persistence of our products.
It is available at a budget-friendly cost.
It shows us the way of healthy living with the traditional concept of stopping disease and staying healthy.
How to Get an Ayush Certificate?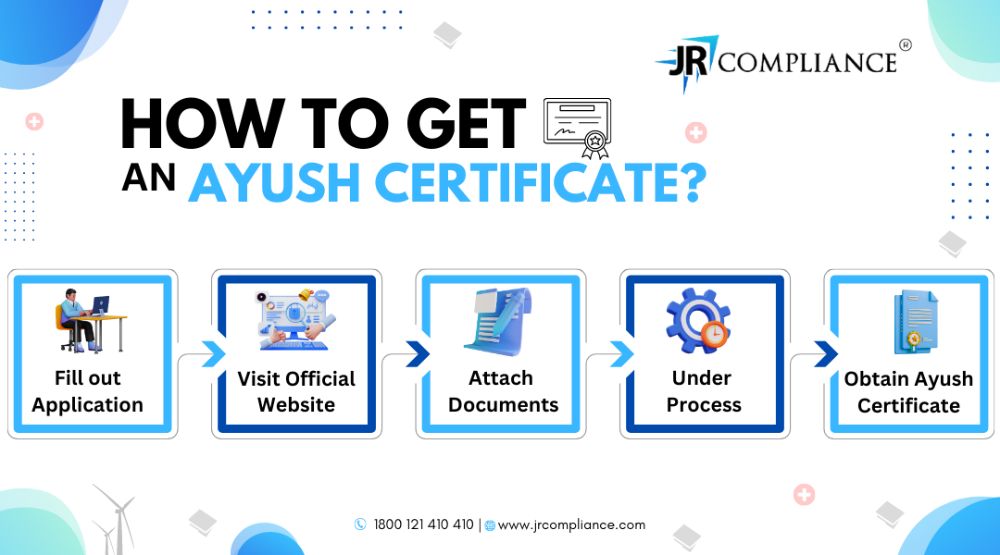 One needs to go to the official website of Ayush Registration and download the registration form. 
Fill out the form after knowing the criteria and requirements for the certificate
Attach the required documents and Ayush certification cost and finalize the form submission.
The application will be under the process of the Ministry of Ayush Certification.
After completing the assessment you will be eligible for the Ayush certificate.
 There are some important pieces of information to learn before getting Ayush Registration :
Some Important Things to Understand :
The online process of Ayush registration is multi-tier.
It takes multiple documents to fill so you need to be careful about this.
The fees for Ayush registration are very reliable and depend on the type of registration.
At last when you apply, one of the inspectors of your state will come to you for the inspection. 
Our Role in Obtaining Ayush Registration :
Our expert consultants will assist you in filling out the application. We will assist you in the Ayush registration documents submission and evaluation.
We have a professional team that will coordinate with the officials for inspection and information on the same.
We assure you that provide you with proper acknowledgments and follow-ups by being in direct coordination with Ayush registration and certifications.
We guarantee to provide you with quality services by ensuring a professional approach to obtaining the license.
In case of any query, we will provide the finest solution to your concern regarding how to get Ayush certification.
 Conclusion :
To culminate, as mentioned Ayush license is mandatory to obtain to operate every Ayurvedic, Unani or Siddha products business in India. Thus, without acquiring it, the retailer, wholesaler, or manufacturer won't be able to operate their business in India.
Consequently, JR Compliance - a Delhi-based compliance service provider has been assisting highly reputed brands for 8+ years by guaranteeing proper follow-ups and acknowledgment to avoid inaccuracy and to ensure a smooth procedure.
Hence, for expert and professional services, contact us immediately.