BIS Certificate For Air Conditioner | CRS Certification
The air conditioner market size has been increasing constantly from 2010 to now, and has grown from 2.7 million to 8.1 million, while it is estimated to grow by 9.7 million by the year 2023 - that is again increasing.
With the constant changes in climate, India's temperature is constantly rising, which implies a higher demand for Air conditioners. Thus, a profitable market for manufacturers of AC, although, to compete with reputed brands say, Havels, Panasonic, etc. - who are, by the way, major market players. 
If you want to compete with reputed brands and build customer loyalty and trust, well, the solution to this is getting a BIS certificate for Air Conditioner. 
A BIS certification Service also offers benefits other than just building loyalty and trust but provides other benefits that help in expansion and diversification, including easy acceptance of the product. Let's move to a new section for more detail -
What Are the Benefits of Obtaining a BIS Certificate?
As we have talked about it earlier, a BIS certificate offers numerous benefits to manufacturers of the product, that further helps in building trustworthiness and reliability, thus retaining the customers. 
Why, don't we look at other benefits of the same -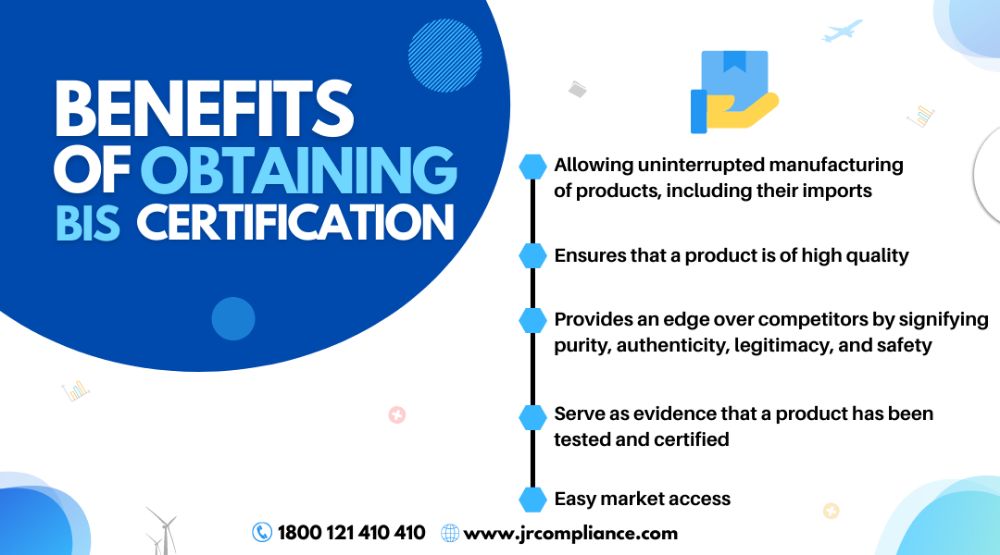 A BIS certificate acts as a shield against penalties and fines that could be imposed for not certifying a product.
A BIS certificate serves as evidence that a product has been tested and certified as per prescribed standards.
A certified product provides a sense of security and safety to the consumers, thus ensuring easy acceptance.
It provides a competitive advantage over competitors.
Easy market acceptance as a product is tested and certified.
Confirm the unmatched quality standards.
Provides easy market access. 
Since you are aware of the possible benefits you can avail of from getting a BIS certificate for Air conditioners, let's move to which BIS certificate is applicable to the Air conditioners.
Which BIS Certification Scheme is Applicable to an Air Conditioner?
BIS certification includes three certification schemes namely  -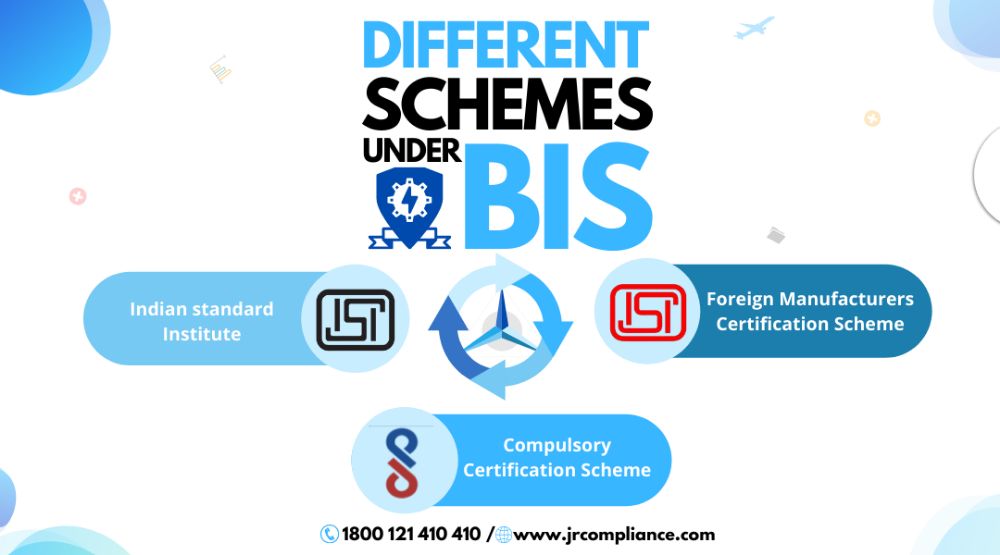 Indian Standards Institute (ISI)
Foreign Manufacturers Certification Scheme (FMCS)
Compulsory Certification Scheme (CRS)
Let's understand each of the certification schemes in brief -
ISI certification scheme ensures that a product complies with the established Indian standards thus, ensuring conformity with standards and safety of the final consumer.
On the other hand, the FMCS certification scheme is applicable to foreign manufacturers to ensure that foreign-manufactured products comply with Indian standards.
Though, it is to be noted that, ISI and FMCS are similar in many respects, one such respect is products under their purview, both certification schemes include products like cattle feed, cement, food products, and more.
Conversely, CRS is applicable to electronically produced products - be it domestically or internationally manufactured. Some of the examples of products under CRS purview are mobile phones, electronic products, and more. Although, there might be a possibility that you might need to obtain an EPR for e-waste management.
Since we know which BIS certificate is applicable to an Air conditioner, let's move to how to get a BIS certificate for Air conditioner
How to Get a BIS Certificate For Air Conditioners?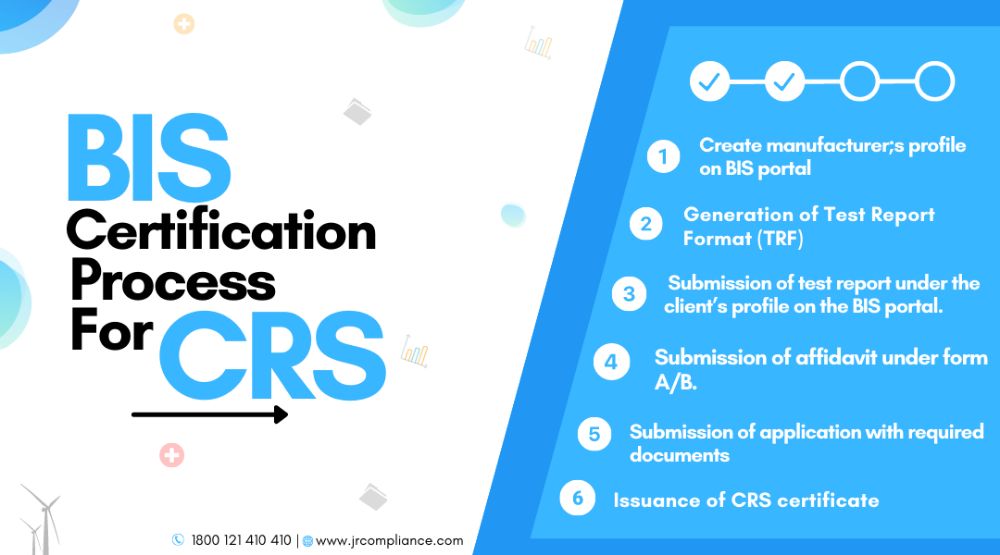 The manufacturer's profile will be created on the BIS portal.
The Test Report Format (TRF) will be generated for a BIS-accredited laboratory.
After TRF generation, the lab will submit the report under the client's profile on the BIS portal.
Foreign applicants will duly appoint an Authorized Indian Representative (AIR) and must submit an affidavit cum undertaking as per Form A/B. While Indian applicants must submit an affidavit cum undertaking as per Format C.
Furthermore, the online form will be submitted along with the required documents followed by the required fee.
The certificate will be granted based on testing, not based on the factory visit, consequently, the CRS certificate will be obtained if your product complies with the BIS (CRS) requirements.
Easy, isn't it?
It might be, if you have complete knowledge of standards applicable to Air conditioner certification requirements to comply with, delivering product samples to India, and more. 
This process will be more comprehensive if you are a layman and doing it for the first time, why don't we make it seamless for you?
JR Compliance - possess the required experience and expertise in meeting the compliance requirements, with that we have completed over 10,000+ BIS certification projects. So, let's see how we do it!
How We Make BIS Certification Seamless?
We assist you in knowing whether a product falls under the purview of BIS.
For comprehensible guidance, we will first scrutinize the certification requirements of a product.
We will provide you with information regarding the number of samples required for product testing because product sample requirement differs depending on product type.
We will educate you about the BIS CRS registration process, benefits, and documents required, including any query you may have regarding the same.
Being a reputed BIS consultant, we will provide you with technical and non-technical support.
JR Compliance offers competitive and excellent services to our clients by meeting the startled queries/demands of BIS.
To ensure the utmost convenience for our client, we will also assist you in the customs clearance of the sample product.
To meet your expectations we invest our efforts in day-to-day visits to the BIS office on your behalf if required.
We are available 24*7 to make sure our clients get what they expect from us, thus, we will provide you with the finest solution to your queries.
Conclusion
Got every doubt regarding how to get a BIS certificate for an Air conditioner clear?
We are glad to help you find the best solution for your concerns, however, won't it be much easier to get in touch with us right now to meet your compliance requirements with a snap of the fingers?
In case we have missed something that you might be interested in knowing how to get a BIS certificate for an Air conditioner, get in touch with our BIS Certification Consultants.
Be it BIS license, DPCC, WPC approval, TEC certification, or any other certification requirements - we have got you covered.