BIS Certificate For Foreign Manufacturers | Foreign Manufacturer Certification Scheme
BIS certificate for foreign manufacturers - as per the BIS Act, 2016 and Bureau of Indian Standards (Conformity Assessment) Regulations, 2018, BIS has the authority to provide a license to the foreign manufacturer to sell products in the Indian market.
FMCS certificate is only granted to those manufacturers whose product conforms to the Indian Standards. Though, these standards could be voluntary or mandatory.  
Is it mandatory to obtain a BIS certificate for foreign manufacturers?
Yes, it is essential to obtain FMCS for mandatory products under the purview of the BIS mandatory list. Without a certificate, you won't be able to sell your products in the Indian market. 
Thus, to gain easy market access, legal benefits, and more, a manufacturer should obtain the FMCS certificate. Though the process of obtaining the FMCS certificate is tedious, our expert team can make this process a lot easier as we are directly coordinating with the BIS officer for proper follow-ups and acknowledgments. 
This ensures effortless commencement of the procedure to acquire an FMCS certificate. 
We have worked with 100+ brands such as Milton, Decathlon, so and forth, which completely reflects that JR Compliance is the finest exemplar in completing its work professionally. 
List of Mandatory Products Under FMCS
Some of the mandatory products under FMCS are mentioned below,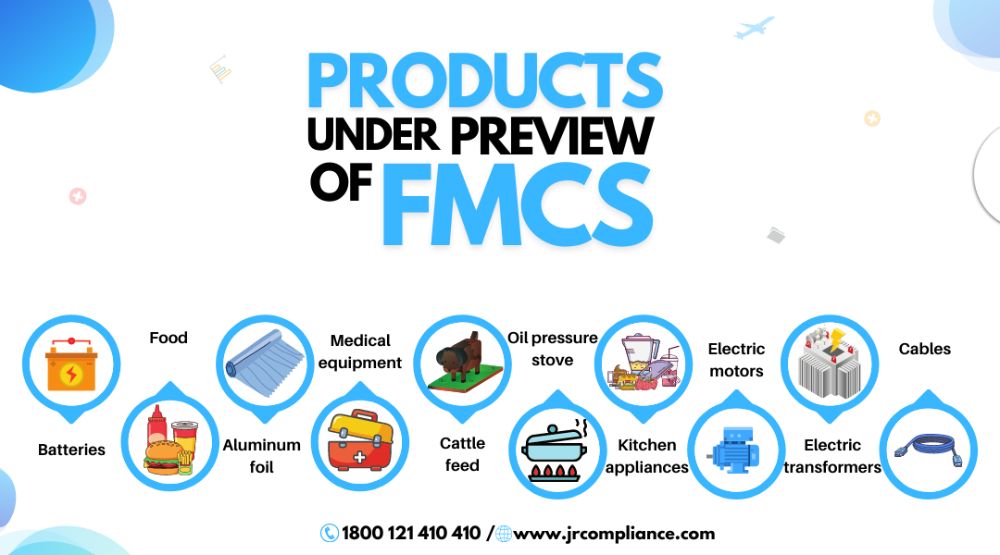 Batteries
Cement 
Food and food-related products
Capacitors
Aluminum foil
Kitchen appliances
Oil pressure stove
Cattle feeds
Steel and iron products
Chemicals and fertilizers
Medical equipment
Electric motors
Transparent float glass
Cables 
A domestic water heater that is used with LPG
Electric transformers 
Auto-mobile accessories 
Cylinders, valves, and regulators
The above-mentioned are the mandatory products under FMCS, though, the list is not limited to these products only, to view the complete list of mandatory products you can visit the BIS official website.
Documents Required For FMCS
Quality control manual 
ISO certificate 
List of machinery used for manufacturing 
As per Indian Standard, in house test report will be required
A business license will be required along with the scope of business
List of testing equipment along with calibration certificate
List of raw materials used and supplier certificate
Nomination of Indian representative
Process flow chart
Agreement between AIR and manufacturer
Process inspection report
For authorized signatory, CEO authorization would be required
Quality test team list along with their qualification certificate and appointment letter.
The requirement of documents is essential for the demonstration, yet, if you fail to provide any documents your application will be rejected. That's why you are required to obtain professional services which will assist you in filling out the application form, or in the process of documentation. 
Consequently, we can provide you with the finest solution by assisting you with proper documentation, evaluation, and examination, that too, by being in the proper coordination with the BIS officer to ensure proper follow-ups. 
Who Can Apply For FMCS Certificate?
A foreign manufacturer who wants to sell its products in India can apply for an FMCS certificate. To acquire the FMCS certificate, the manufacturer shall,
Accept the terms and conditions of the license.
Make sure your product falls under the conformity of the application of Indian Standard Specifications (ISS).
The requirement to accept the scheme of testing and inspection as well as the marking fee.
Manufacturing machinery or facilities should be available at the premises of the factory.
The competent testing staff should be available in the lab to examine the product or products according to ISS.
Along with testing staff, there should be the availability of appropriate arrangements or equipment in the factory for product testing according to the ISS.
Note: You need to fill an individual application form for each product.
How to Get a BIS Certificate For Foreign Manufacturers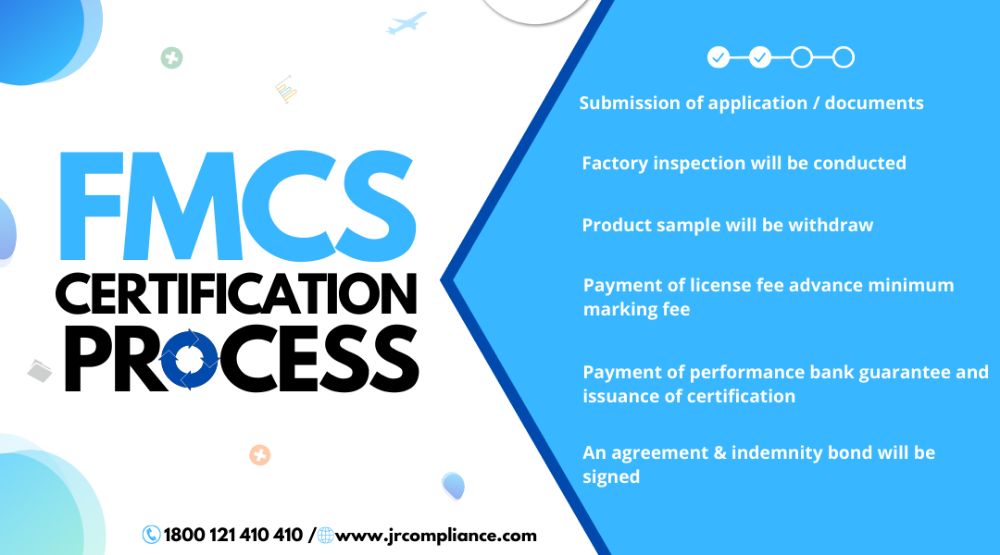 The procedure will be commenced by checking the eligibility of the manufacturer. 
If you satisfy all the conditions then an evaluation and examination of the manufacturing unit and product will take. 
If required, we can administer the pre-audit to ensure that everything is available accurately. 
Then, there would be documentation to ensure that the manufacturer has all the required documents. 
Fill out the application form and attach the required documents alongside.
Then, to nominate an Authorized Indian Representative (AIR) fill out the Nomination Form.
Along with filling out the application form, pay the fees for testing and examination. 
Further, there would be a plant inspection, during which the samples of your product will be sealed and sent to a BIS-approved laboratory for evaluation by the BIS officer.
As BIS officials are done with inspection and product testing, the manufacturer has to pay marking fees as applicable on the product. And a CML number (grant letter) will be issued to the Manufacturer.
Once AIR signs the agreement with BIS, the manufacturer is required to deposit a Performance Bank Guarantee (PBG) of  $10,000 (USD) in favor of BIS to the bank having an Indian branch.
Once the PBG is received by BIS, license documents will be provided to the manufacturer.
At last, you will obtain the FMCS certification.
The process of registration for the FMCS certificate is similar, yet, to acquire the FMCS certification, there are some additional charges such as off-shore travel expenses, food, and lodging, VISA fee, additional audit charges, $10,000 (USD) Performance Guarantee Bank given by manufacturer, etc. 
Moreover, because of the above-mentioned activities, acquiring an ISI FMCS certificate is laborious too.  Also, the FMCS process needs to be done manually in direct coordination with the BIS officer.
To be noted, it could take up to 6 months to acquire the FMCS certificate.
Role of JR Compliance in Getting a BIS Certificate For Foreign Manufacturers
JR Compliance has a team of professionals who will assist you throughout the process.
We will assist you in proper documentation, examination, and evaluation.
For proper follow-ups, we will coordinate with the BIS officer and testing laboratory.
Our expert team will also directly coordinate with the BIS officer to schedule a factory audit.
If required by the manufacturer, our expert can also assist you during factory audits.
In case you lack an in-house test facility, we can accommodate you in creating one by following the finest solution.
Our expert team will provide you with the best solution, in case of any query.
Conclusion
As mentioned above, obtaining a BIS certificate for foreign manufacturers is laborious and time-consuming because it has to be done manually, not online. Along with that, it includes off-shore activities such as travel, food, lodging, etc. 
Though, to make these tedious activities unchallenging you can contact our FMCS BIS consultant who can assist you in providing the finest solution to your queries, ensure proper follow-ups are in direct coordination with BIS officers, etc. Also, we can assist you during factory visits, if required. 
Thus, for our finest services contact us immediately.