BIS Certificate For Tyres | ISI and FMCS Certification
India has the third-largest network of roads in the world and if talk about the fiscal year 2019, the total number of vehicles stood at 295.8 million which is constantly increasing which is clear from the fact that the sale of vehicles increased by 50% in January 2022.
Traveling on the road seems to be a highly preferential choice in India, although, one thing, that everyone might notice while buying a vehicle is - the quality of its tyres. Like the engine of a car or whether it operates on a CNG or petrol, the tyres of a car hold as much importance, as a high-quality tyre increases its life and improves the economy's fuel. 
The quality of tyres is also essential to maintain grip, and reduce steering and stability problems, considering the safety issues poor quality tyres can cause, a BIS certificate for tyres must be obtained. Though, it is to be noted that, it is not an obligatory requirement to get a BIS certificate for tyres, however, being a professional we would advise you to get it done, considering that it ensures safety and reliability.
Moreover, a tested and certified tyre will several benefits to consumers such as -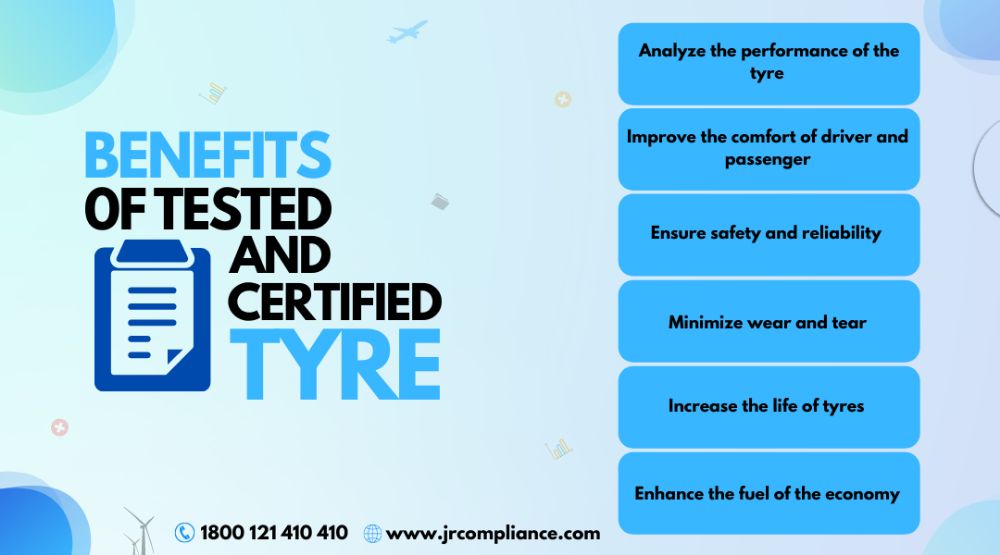 Analyze the performance of the tyre in terms of grip, wear and tear, rolling, noise, and behaviour.
Improve the comfort of driver and passenger.
Ensure safety and reliability.
Minimize wear and tear.
Increase the life of tyres.
Enhance the fuel of the economy.
With these benefits, manufacturers also attain certain benefits, that we will discuss in the next section.
What Are the Benefits of BIS Certification?
A BIS certificate provides the below-mentioned benefits -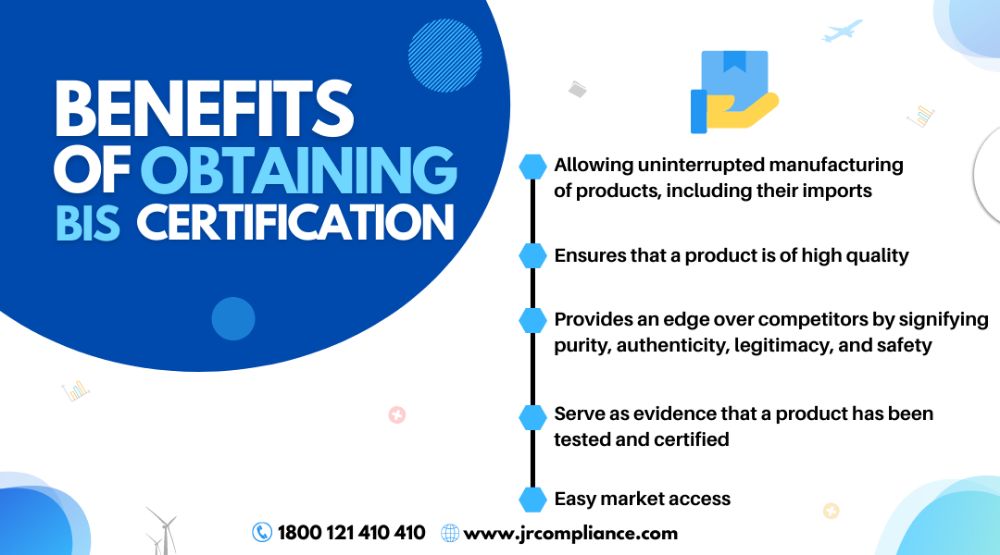 Easy market access, as a tested and certified product, is easily accepted in the Indian market.
Global reach, if you are a foreign manufacturer and would like to enter the Indian market, a BIS certificate can be served as evidence that a product has met Indian standards.
Could be served as evidence of reliability and safety.
Since the product is made as per prescribed standards, it can be served as evidence that a product is safe for final consumption.
Indicates that a product is of high quality and is tested and certified.
Who wouldn't want to avail of these benefits? 
We believe, every manufacturer or seller/ distributor would like to be a part of the market with a high potential market for growth and development. We will again advise you to get a BIS certificate for tyres - to set a foot in the Indian market. 
Probably, you would understand it better with an example, now, for example, there are two competitors in the market, say A and B, now, A sells certified tyres, while B doesn't. 
What do you think, tyre of which company will be preferred by the consumer?
We know, we will choose company A, probably you would do the same, thus to win over the consumer and to create domination in the market, it is essential to get a BIS certificate for tyres.
With that, the next move to the next section is which BIS certificate is applicable on tyres.
Which BIS Certification is Applicable on Tyres?
Since you are reading this article, you must have a basic knowledge of what BIS is and what are the certification schemes it includes, right?
If not, no problem, we will start from scratch, BIS includes three certification schemes, namely -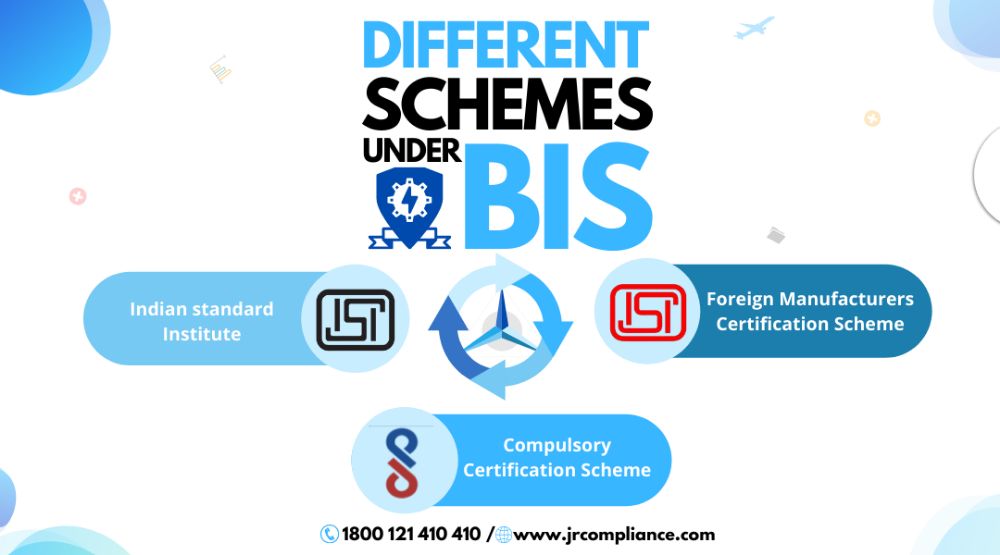 These three certification schemes are applicable to different types of products, although products under ISI and FMCS are similar, such as food products, steel rods, cement, etc. Conversely, products under CRS are electronic products such as mobile phones, computers and laptops, and more. 
If we talk about tyres, then you might have understood, that ISI and FMCS are applicable on tyres. Let's understand each of these in a little detail -
ISI is a certification scheme applicable to Indian manufacturers, which ensures that a product has met prescribed standards. Thus can be introduced into the Indian market easily.
While FMCS is applicable to foreign manufacturers, to ensure that a product manufactured in a foreign country conforms to the established standards of India. 
Though these seem quite similar, as we have mentioned earlier, however, we would like to bring your attention that as similar as it seems, there is a major difference between these as ISI is an online process, but FMCS is much more comprehensive considering that it has a manual process and include several on-site activities.
For a better understanding of the process of ISI and FMCS, let's have a look at the next section.
How to Get BIS Certificate For Tyres? | ISI and FMCS Certification Process
ISI Certification Process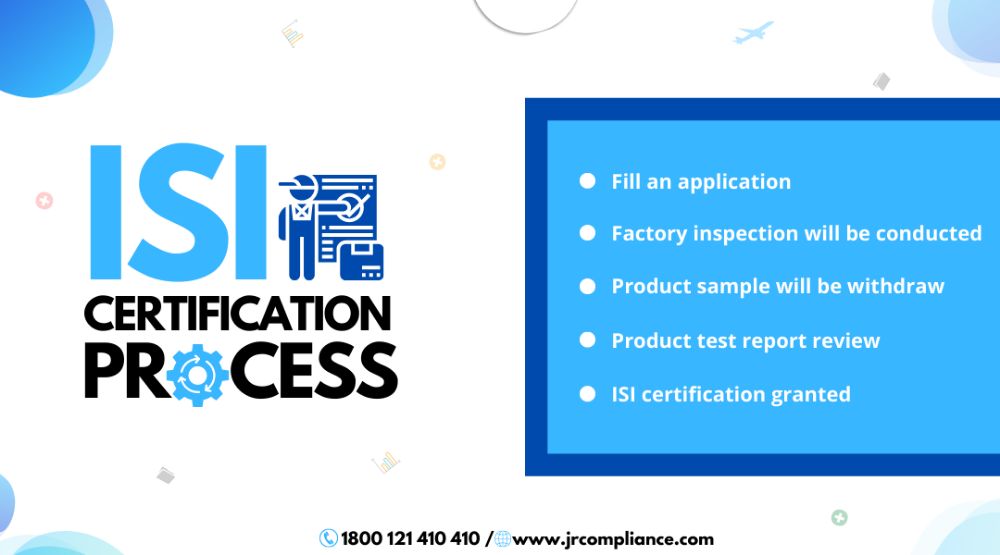 The application form needs to be filled out.
Further,  a factory inspection will be conducted for the assessment of manufacturing infrastructure, production process, quality control, and testing capabilities.
During an inspection, a product sample will be drawn for testing in a third-party laboratory.
To review, the test report of the product sample will be used.
Finally, you can obtain the certificate, if your product complies with the laid standards.
FMCS Certification Process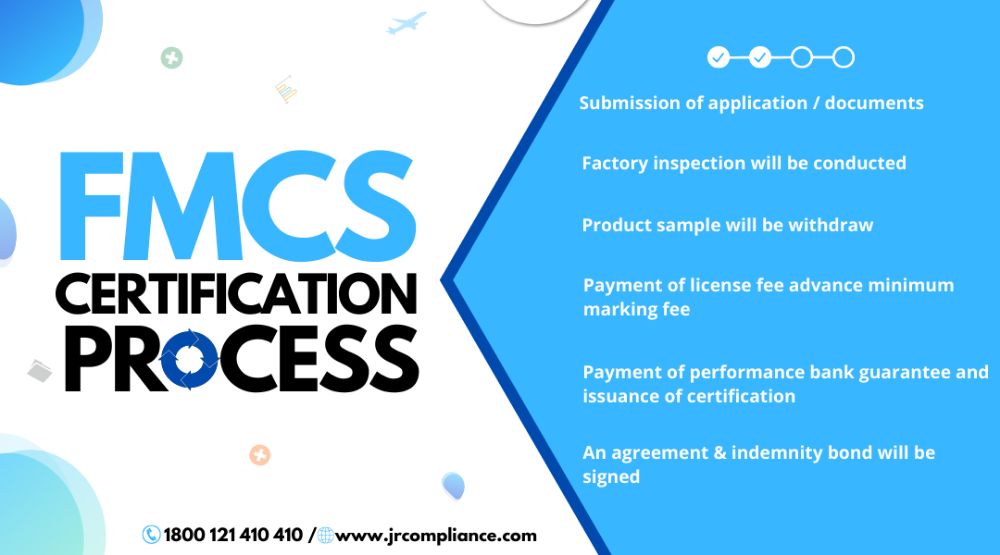 The application form will be duly filled accompanied by the required documents.
Along with form submission, a requisite fee will be paid, then a factory inspection will be conducted to verify the manufacturing and testing infrastructure.
During factory inspection, the sample of a product will be drawn for independent testing.
Once the inspection and independent test report verify that the product is complying with the BIS standards, the registration process will move forward.
Before the grant of a license, the applicant has to pay the license fee, advance minimum marking fee.
After making payments, the Agreement, Indemnity Bond will be signed and a $10,000 (USD) Performance Bank Guarantee must be furnished instantly after a grant of license.
The FMCS certificate will be issued if a product complies with the BIS standards.
With the process of BIS certification for tyres, it is clearly established that ISI and FMCS are different. Moreover, it is to be noted, that ISI certification is an online process, while FMCS is an offline process, which further increases the complexities. 
However, JR Compliance - a leading compliance service provider makes it seamless through our expertise and professional approach. For more information regarding how we will make the procedure of BIS certification for tyres easy, let's move to the next section -
How We Help BIS Certification Process?
We will educate you concerning every aspect of the ISI and FMCS BIS certificate.
We will check whether a product falls under the purview of BIS or not, including whether a product complies with the BIS standards or not, then, after mutual understanding, the project will move forward. 
Obtaining an ISI and FMCS certification is no easy task, however, there is no better place to obtain it than JR Compliance because we will analyze the product requirements to give clear guidelines.
JR Compliance has experienced BIS consultants, who can assist you in the documentation, evaluation, and examination.
We are equipped with the necessary resources to conduct a virtual pre-audit to confirm whether your manufacturing unit and production process are complying with BIS requirements or not. 
JR Compliance will schedule a meeting with the BIS officer for a factory audit.
If you lack an in-house testing facility, we will help you in setting up one.
We will coordinate with a BIS accredited laboratory for product testing.
As a leading compliance service provider, JR Compliance will assist you in the customs clearance of the sample products.
You can expect reliable and punctual service delivery as we will also visit the BIS office on your behalf if required.
We invest our sustained efforts to meet the startled queries or demands of BIS.
In case of any concern, we assure to provide the finest solution.
Conclusion
How to get a BIS certificate for tyres - hope all your doubts regarding this are clear, however, if you still have any doubts, get in touch with us and clear it right now with our expert consultants. 
We have a team of experts, who are capable to provide you with the best solution to all your certification requirements, with that, we directly coordinate with the officials and laboratory to ensure keep a track of every possible thing. Thus, to keep you updated and ensure transparency. 
For more updates and information, get in touch with us for a FREE consultation right now!