How to Get BIS Certificate For Custom Clearance | BIS Certificate For Export
In the year 2019, India accounted for 30.3% of the imports, which was not affected by the pandemic. In the year 2021, in December, India's imports increased by 38.55% year-on-year to a high USD 59.48 billion. If you are searching for - how to get a BIS certificate for custom clearance, we assume that you already have the knowledge that you need to obtain a BIS license to enter the Indian market. 
And we must say, you have reached India's #1 compliance service provider to get your query resolved. Since it is clear that India is one of the largest importers in the world, and if precisely focused on the import of the previous year, then our imports had increased mostly due to purchases of silver (2133.30%), sulfur, and unroasted iron pyrites (255.66%), and fertilizers, crude, and manufacturers (170.73%). 
As you must know, to enter the Indian market, you are required to comply with certain requirements or parameters to establish that your product has met Indian safety standards. Here in the case of BIS certification for customs clearance, you either need to obtain an FMCS certification or CRS certification depending on the product.
For a better understanding, let's understand it through an example - if you are a foreign manufacturer, say manufacturing an electronic product, then CRS certification will be applicable. Conversely, if you manufacture batteries, medical equipment, and other products that fall under the purview of BIS FMCS, then an FMCS certificate needs to be obtained.
Hope it is clear that a BIS certificate is an obligatory requirement to enter India as if a product is not certified, then your product will be held by customs authorities/ officials.
With that let's move to what is the need to obtain a BIS approval.
Why is a BIS Certificate Necessary to Obtain?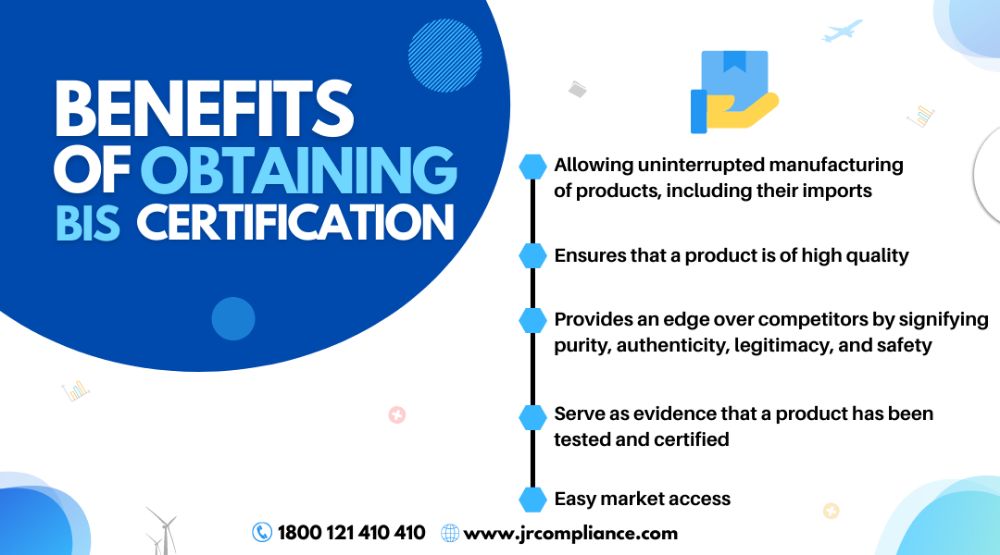 Apart from the fact that it is an obligatory requirement to get a BIS approval for the products that come under its purview, it is also necessary to ensure that a product has complied with the Indian standards - standards that have been made to ensure that a product is safe and reliable for the consumer.
Since, it ensures that a product is safe and reliable, considering which, it ensures that a product is of high quality. Hence, creating the trustworthiness and credibility of the product. 
Conversely, the cherry on the cake is that - it protects your product from being held by customs authorities for not complying with Indian standards, thus, preventing the imposition of penalties like fines or imprisonment.
Therefore, we couldn't help but admit that - BIS certification is a complete package that not only serves as evidence that a product is certified, but also provides benefits like credibility, high quality, wider market access, easy acceptability, and more.
Although, as important as it is to obtain a BIS certificate for custom clearance, it can't be ignored that it includes a comprehensive process, which includes, documentation, coordination with authorities/ customs officials, and more. 
Let's have a look at the steps involved in obtaining a BIS certificate for custom clearance.
How to Get a BIS Certificate For Custom Clearance?
As mentioned, certifying a product is essential to avoid customs issues to ensure the safety of the final consumer, even if you are importing a product for product testing - there is a possibility that customs authorities hold your product samples. 
Thus, making it is tough to handle the product and if we have to tell you the truth, meeting the requirements of customs authorities for customs clearance, is not a game. Considering the issues you can face, we have an integrated approach to complying or coordinating with the requirements of customs authorities and BIS. 
Let's have a look at - how to obtain a BIS certificate for custom clearance, as mentioned in the introduction, CRS and FMCS certificates are applicable on a product as they fall under BIS purview.
Foreign Manufacturers Certification Scheme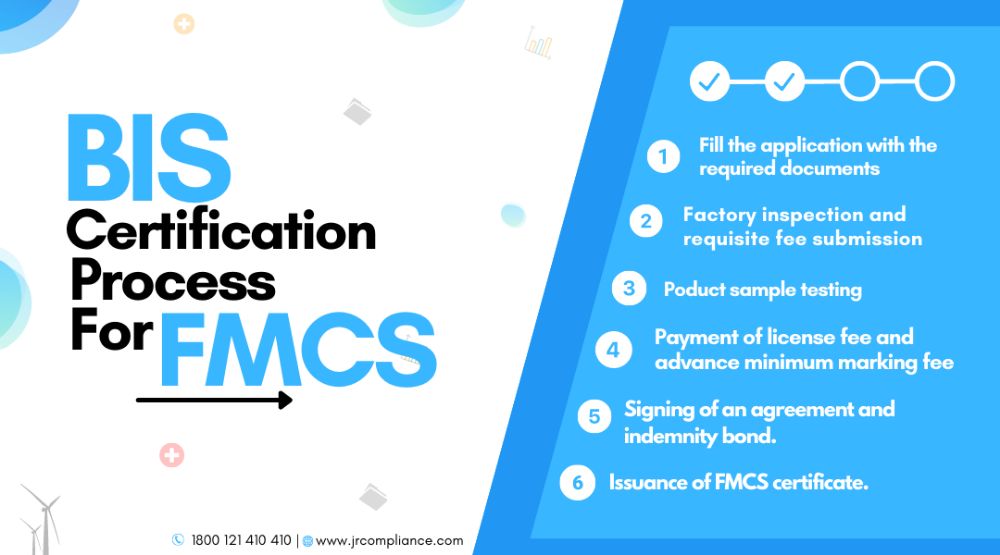 An application form will be filed along with the required documents. 
With the submission of the form, a requisite fee will be paid, thereafter, a factory inspection will be conducted.
During factory inspection, product samples will be withdrawn for independent testing in a third-party laboratory.
Once it is verified that a manufacturing unit and product have complied with the required parameters, then the certification process will move forward.
Prior to obtaining a Grant of License, an applicant has to pay the license fee and advance minimum marking fee.
Once the payments have been made, an indemnity bond will be signed, along with submission of a Performance Bank Guarantee of $10,000, after obtaining a Grant of License.
If a product complies with the established parameters, an FMCS certificate will be issued.
Compulsory Registration Scheme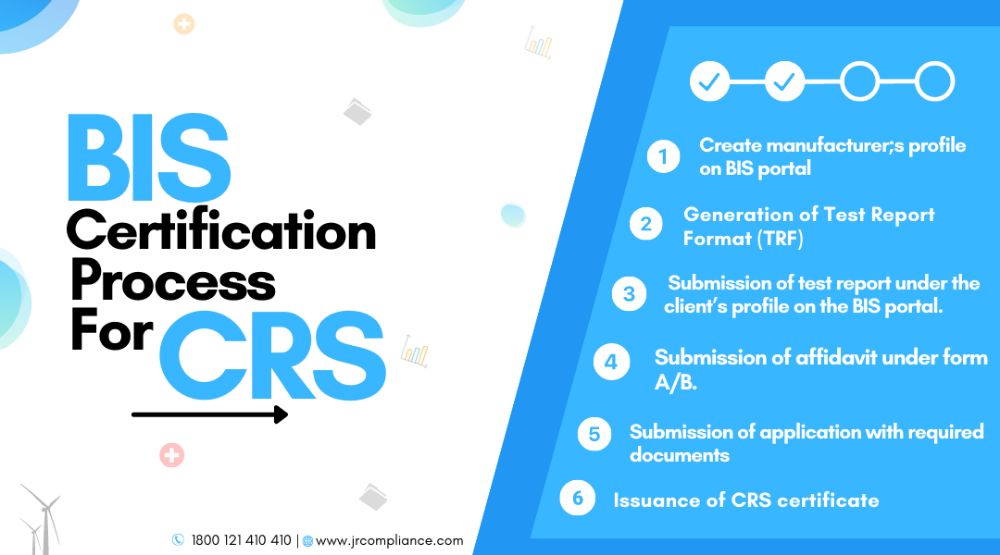 On a BIS portal, an applicant's profile will be created.
A TRF (Test Report Format) will be created for an accredited laboratory.
Once the TRF is generated, a laboratory test report will be submitted under the client's profile on the BIS portal.
A Foreign applicant is required to appoint an AIR and must submit an undertaking cum affidavit under form A/B.
Thereafter, an online form will be submitted along with the required documents and the prerequisite fee.
A CRS certificate will be granted depending on product testing. Thus, if a product complies with the required standards, a certificate will be issued.
Conformance with prescribed standards is essential to obtain either of the certificates, though, the major difference you might notice is that - factory inspection is an integral part of FMCS, although, to get a CRS certificate, factory inspection is not required. 
Moreover, the process of both the certification scheme is comprehensive as it includes activities such as customs clearance of product samples, complying with established parameters, and in case of FMCS traveling to the destination country of manufacturer, board and lodging, and more.
Of course, these are comprehensive activities, well, not if you have the right assistance - JR Compliance. 
How to Get BIS Certificate For Export?
To get a BIS certificate for export, you are required to comply with the guidelines of the specific country you are exporting your products in. Moreover, to enter some counties, you might also need to comply with Indian standards, as per their requirements.
With the experience of over 8+ years and completing over 10,000+ BIS certifications with Indian and foreign manufacturers - we possess valuable assets that most consultants won't - experience. 
As it is a well-known fact, "to be an expert, you need to get your hands dirty."
Well, we have done that - from the manual filing of BIS certification to online filing - we have stood with our heads high because we provide unparalleled compliance services. For a better understanding, let's see how we make the BIS certification process seamless. 
Why We Are the #1 BIS Consultants in India?
We believe in transparency, which is why we are going to reveal our secret of what makes us the #1 BIS Consultants in Delhi or the whole of India because we believe in ensuring that our clients know what they are getting from us -
Our consultants will educate you in regard to each and every aspect of either of the certification.
Through thorough research, we will inform you which BIS certification scheme is applicable to your product.
Different standards are applicable to different products, thus, to provide you with appropriate guidance we directly coordinate with officials to know and understand the applicable standards.
Our clients just sit back and relax since we will take care of documentation, product analysis, and more.
In the case of FMCS, we will coordinate with officials to schedule a factory inspection. 
If required, we will conduct a virtual or manual inspection to ensure that factory premises comply with established standards.
For product testing, our BIS certification consultants will coordinate with the laboratory.
We will keep you informed regarding the status of your application.
Our BIS consultants will be at your service 24*7 to resolve any query which may arise.
Conclusion
Got your doubts clear regarding the BIS certificate for custom clearance?
We are assuming that you have no doubt now. However, if you still have any, we are right here for you, all you need to do is to reach us. With that, you can also reach us if your product is stuck in customs or your BIS registration application is rejected by authorities. 
Trust us, we have got you covered from documentation to maintaining transparency during the certification process or coordinating with officials, and other requirements - we have a solution for all.