How to Get BIS Certification For Medical Devices | ISI Mark and FMCS Certification
The term "Medical Devices" includes a vast number of equipment from a simple thermometer to a home dialysis machine, medical devices are a necessity for a patient - be it on the side of their bed, at a small health care clinic, or a large hospital. India's healthcare sector is constantly expanding and is one of the largest sectors, both in terms of revenue and employment. 
Moreover, the healthcare sector of India is expanding at a brisk pace and medical devices cost the government a large amount of money, to give the health sector a new form, the Ayushman Bharat Digital Mission has been launched under the Union Budget 2022, which will be an open platform to roll out the National Digital Ecosystem soon. It has been done to create a unique health identity, a digital registry for health facilities, a consent framework, and worldwide access to health facilities. 
Though, even after being one of the largest healthcare sectors along with innovation and rapid innovative technology, the medical devices industry is considered one of the rapidly growing industries. 
Yet, excluding a few devices such as thermometers digital or automatic, Diagnostic medical X-ray machines, and Medical gas cylinders for which BIS certification online for medical devices needs to be obtained, there are several medical devices that come under voluntary certification schemes.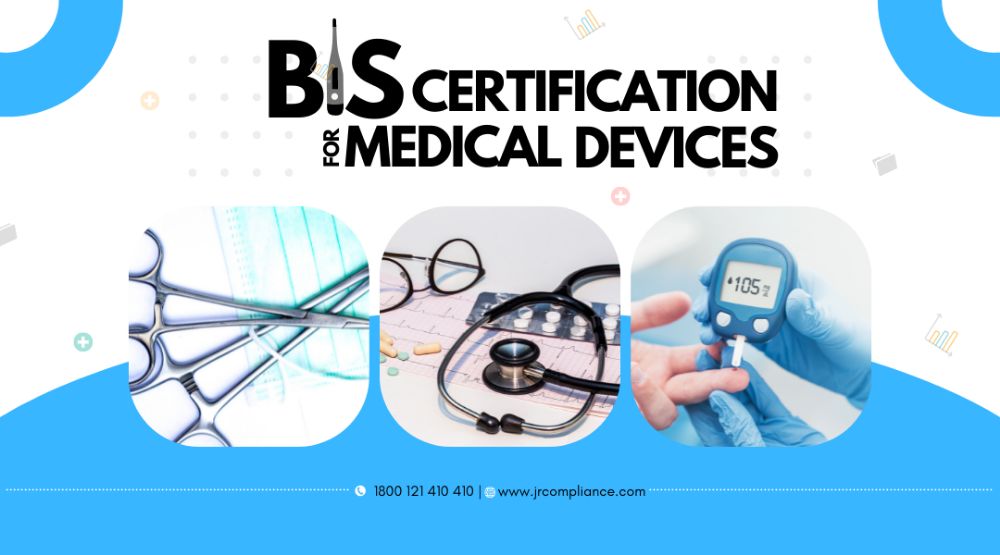 Thus, scarifying the health of the patients due to a lack of access to high-quality and reliable medical devices. This is particularly true for developing countries like India because of less regulatory control or rare technological assessment. Hence, governments need to establish certain parameters or policies to address all the concerns or elements to prevent unsafe and ineffective medical devices. 
The regulatory guidelines made for medical devices are scarce in developing countries, however, we would like to apprise you of the information regarding BIS certification for medical devices. Although, as we have already made it clear, digital or normal thermometers, Diagnostic medical X-rays, and Medical gas cylinders are the only medical devices included in the BIS mandatory product list. On the other hand, some might come under a voluntary certification product list or maybe other certification needs to be obtained for the same.
For detailed knowledge of why BIS certification is essential for medical devices, let's move to our next section.
Why is a BIS Certification Necessary to Obtain For Medical Devices?
The foremost reason for obtaining a BIS certification for medical devices should be the safety and reliability of the medical device, considering that it plays a vital role in the life of a patient. Moreover, if a product is not certified or tested, how its safety and reliability can be demonstrated?
Second, it is important to obtain a BIS certification, if you want to expand your business, thus, if you are importing a medical device it must be certified. Moreover, certification serves as evidence of reliability and trustworthiness, thus, making it easily acceptable to consumers. 
Apart from safety, reliability, credibility, and more - a BIS certification is necessary considering the health of the patient. Conversely, in India only a few medical devices fall under the mandatory certification list, thus, making it a matter of concern, including the fact that, being the largest health sector, India also imported several medical devices. 
Consequently, with the non-existence of an authority to check the reliability of a device, unscrupulous devices are preying on our health sector. Though, no doubt, the government has been constantly working to fill in these gaps. 
With that, let's move on to - how to get a BIS certification for medical devices which certification is applicable to medical devices. 
Which Certification is Applicable on Medical Devices?
BIS is an authority that ensures that a product must comply with the guidelines and issue certificates depending on factory inspection and product testing. BIS includes a total of 20,000+ products under its purview, which have been categorized depending on different certification schemes. 
These certification schemes are -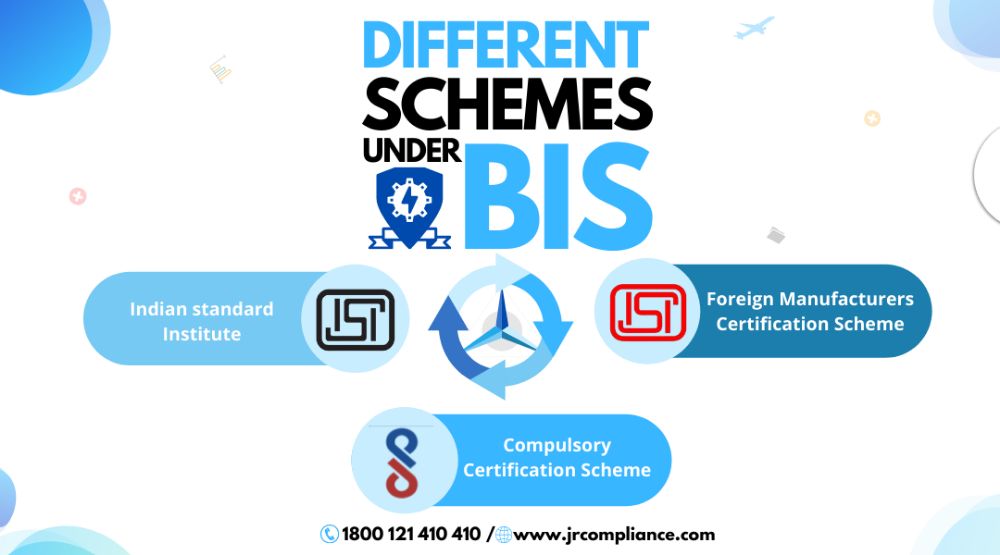 Indian Standards Institute (ISI)
Compulsory Registration Scheme (CRS)
Foreign Manufacturers Certification Scheme (FMCS)
Though, in this blog, we will only talk about ISI and FMCS certification schemes because these are only applicable to medical devices. If you want to know how to get a CRS, visit here.
Let's understand what ISI and FMCS certification is in detail.
ISI certification is a certification scheme applicable to Indian manufacturers engaged in the manufacturing of products under the purview of BIS. It ensures that a product meets the Indian safety standards. On the other hand, FMCS is applicable to foreign manufacturers to ensure that a product complies with Indian standards. Though the products under both certification schemes are somewhat similar, the major difference lies in their certification process. 
The certification process of ISI is quite easy as compared to that of FMCS because it includes several on-site activities such as traveling to the destination country of the client, customs clearance, delivery of the product to India, and more. These off-shore activities involved in FMCS make it comprehensive.
Let's have a look at how to get a BIS certification for medical devices.
How to Get BIS Certification For Medical Devices? (ISI and FMCS)
As mentioned, to sell/ distribute/ import medical devices in India, ISI and FMCS certificates need to be obtained. Here, we are mentioning the BIS certification process for both the certificates -
ISI Certification Process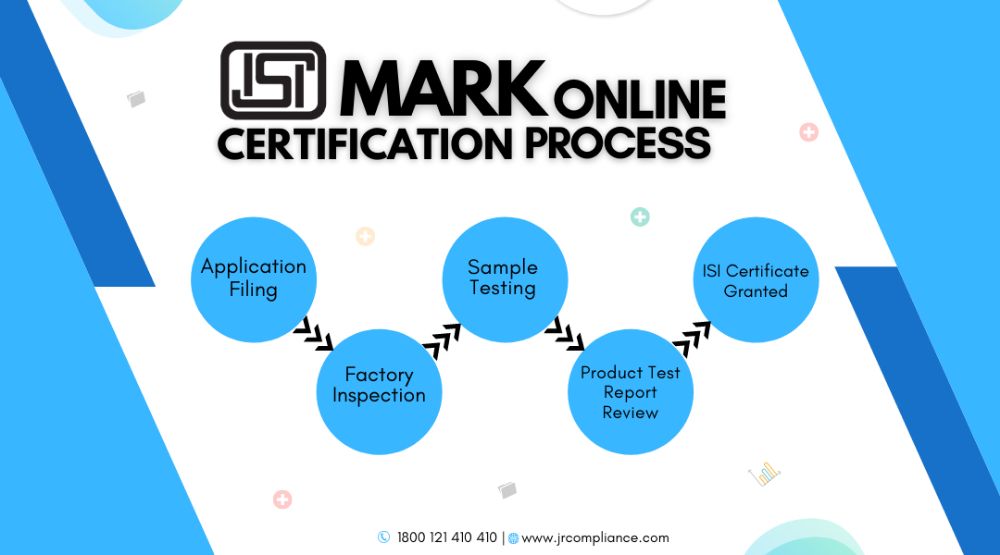 Let's have a look at the ISI certification process in detail -
An application form will be filed.
Once the application form is filed, a factory inspection will be conducted for assessment of manufacturing infrastructure, quality control, etc.
During factory inspection, product samples will be withdrawn for testing in accredited laboratories. 
To review, the product sample test report will be reviewed.
An ISI certificate will be issued if factory inspection and product samples comply with the established standards.
FMCS Certification Process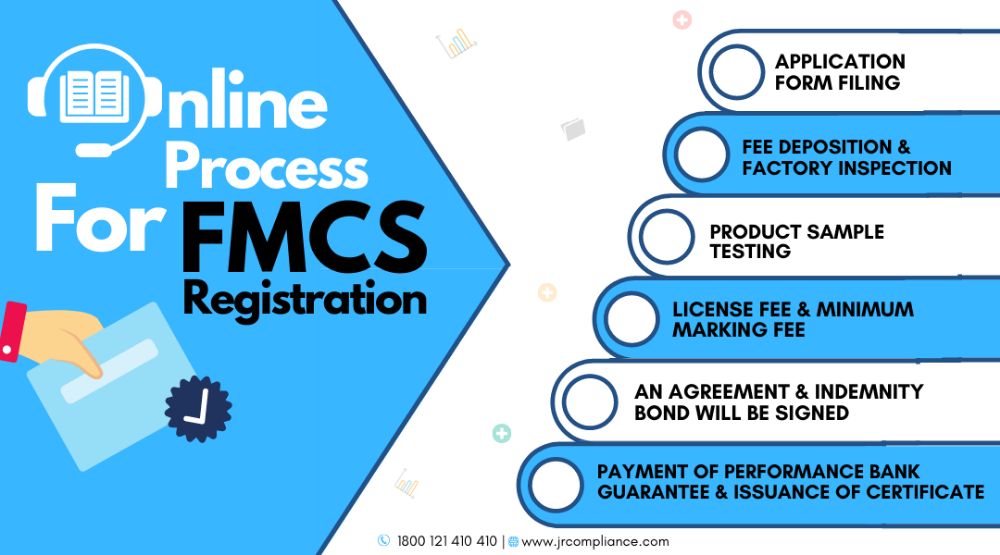 A detailed procedure for FMCS certification -
An application form will be duly filled out along with the required documents.
A requisite fee will be paid, then a factory inspection will be conducted.
During factory inspection, a product sample will be withdrawn.
The registration will move forward if the product sample and factory inspection comply with prescribed standards.
A license fee and advance minimum marking fee will be submitted, before issuance of the Grant of License.
After the payments, signing of the indemnity agreement, and payment of the Performance Bank Guarantee of $10,000, a Grant of License will be furnished.
If a product complies with the standards, an FMCS certificate will be issued.
Understand the difference between these two certification schemes. Let's how we will help in applying for either of these.
How Will We Make the BIS Certification Process Seamless?
We will educate you concerning every aspect of the ISI or FMCS certificate.
We will check whether a product falls under the purview of BIS or not, including whether a product complies with the BIS standards or not, then, after mutual understanding, the project will move forward. 
Obtaining an ISI or FMCS certification is no easy task, however, there is no better place to obtain it than JR Compliance because we will analyze the product requirements to give clear guidelines.
JR Compliance has experienced BIS consultants, who can assist you in the documentation, evaluation, and examination.
We are equipped with the necessary resources to conduct a virtual pre-audit to confirm whether your manufacturing unit and production process are complying with BIS requirements or not. While in the case of ISI certification, we can also conduct an on-site pre-audit, if required.
JR Compliance will schedule a meeting with the BIS officer for a factory audit.
If you lack an in-house testing facility, we will help you in setting up one.
We will coordinate with a BIS accredited laboratory for product testing.
As a leading compliance service provider, JR Compliance will assist you in the customs clearance of the sample products.
You can expect reliable and punctual service delivery as we will also visit the BIS office on your behalf if required.
We invest our sustained efforts to meet the startled queries or demands of BIS.
In case of any concern, we assure to provide the finest solution.
Conclusion
Hope all your doubts and queries regarding how to get a BIS certification for medical devices are solved. However, if not, we are here for you, be it BIS certification, EPR approval, WPC, or any other certification requirement - we have got you covered. 
So, if you want a competitive advantage, especially to provide reliable and competent compliance medical devices from a small thermometer to an X-ray machine, they must be tested and certified as per established standards.
And what could be better than reaching out to a professional to guide you through the process, right?
Contact us right now and get a FREE certification.