How to Get BIS Certification For Toys | ISI Mark For Toys
Looking for a seamless way to enter the Indian toys market? One easy solution is obtaining BIS certification for toys.
As per the reports of FICCI-KPMG, India's toys market will grow by 2 billion dollars by the year 2025.
Wouldn't you want to be a part of a potentially growing market? 
Indeed, the toy market serves as a great opportunity for toy manufacturers to grow and diversify their business, not only Indian manufacturers but foreign manufacturers too. However, to ensure safety the government has implemented several parameters which are obligatory to follow.
If not, a product can not be sold or distributed in the Indian market.  
Considering that babies or kids would be the final consumer of the toys, it is necessary to keep them safe, just like the implementation of BIS certificates on LED lights, electronic products, and helmets.
In a nutshell, just like every other product under the purview of BIS, BIS certificated toys are reliable and of high quality.
That leads us to one of the important questions - which BIS certification is applicable to a product? Does a foreign manufacturer require a BIS certificate too?
ISI and FMCS are the two certification schemes applicable to toys - the ISI certificate is applicable to Indian manufacturers and FMCS is for foreign. And of course, as mentioned BIS certificate is an obligatory requirement for Indian and foreign manufacturers.
A BIS certification also offers several benefits rather than just building loyalty and trust, but provides other benefits which help expansion and diversification, including easy acceptance of the product. Let's move to a new section for more detail -
What Are the Benefits of Obtaining a BIS Certificate?
As we have talked about it earlier, a BIS certificate offers numerous benefits to manufacturers/ distributors/ sellers of the product, which further helps in building trustworthiness and reliability, thus retaining the customers. 
Why, don't we look at other benefits of the same -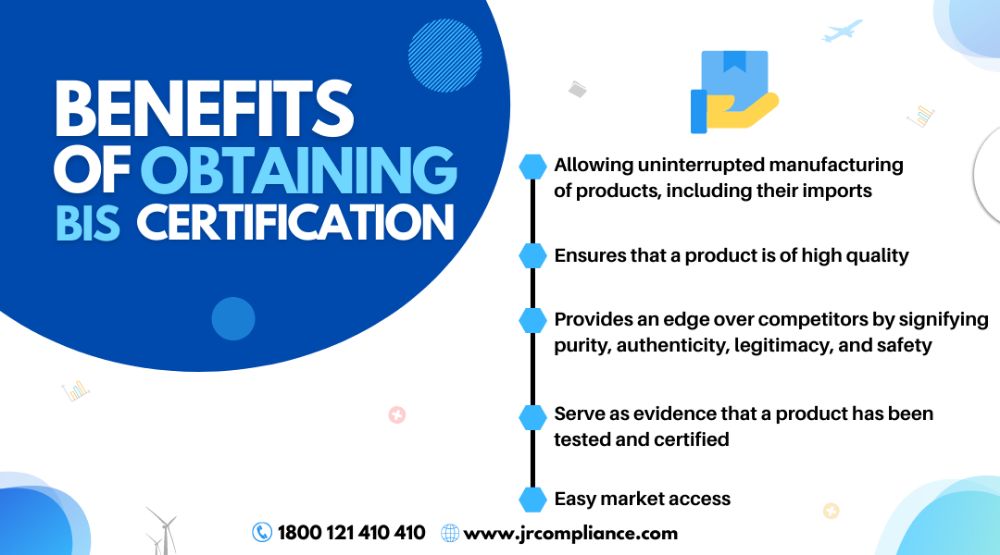 A BIS certificate acts as a shield against penalties and fines which could be imposed for not certifying a product.
A BIS certificate serves as evidence that a product has been tested and certified as per prescribed standards.
A certified product provides a sense of security and safety to the consumers, thus ensuring easy acceptance.
It provides a competitive advantage over competitors.
Easy market acceptance as a product is tested and certified.
Confirm the unmatched quality standards.
Provides easy market access. 
Since you are aware of the possible benefits you can avail of from getting a BIS certificate for toys, let's move to which BIS certificate is applicable to toys.
Though, before understanding how to get a BIS certification for toys, let's start with the basic definition of these certifications -
What Are ISI and FMCS Certifications?
Indian Standards Institute (ISI) is a certification scheme under BIS which ensures that products manufactured by Indian manufacturers meet the established Indian standards. In brief, it assures that a product conforms to the established standards. 
On the other hand, Foreign Manufacturer Certification Scheme (FMCS) ensures that a product manufactured in foreign abides by the Indian standards. It is more like a passageway to the Indian market. 
The definition of both the BIS certification for toys conforms to the Indian standards to make a product safe and reliable. 
With a better understanding of both the certification schemes, let's move to the certification process -
BIS Certification Process For Toys
As mentioned, ISI and FMCS are certification schemes applicable to toys depending on whether a manufacturer is Indian or Foreign. Below-mentioned is the certification process -
ISI Certification Process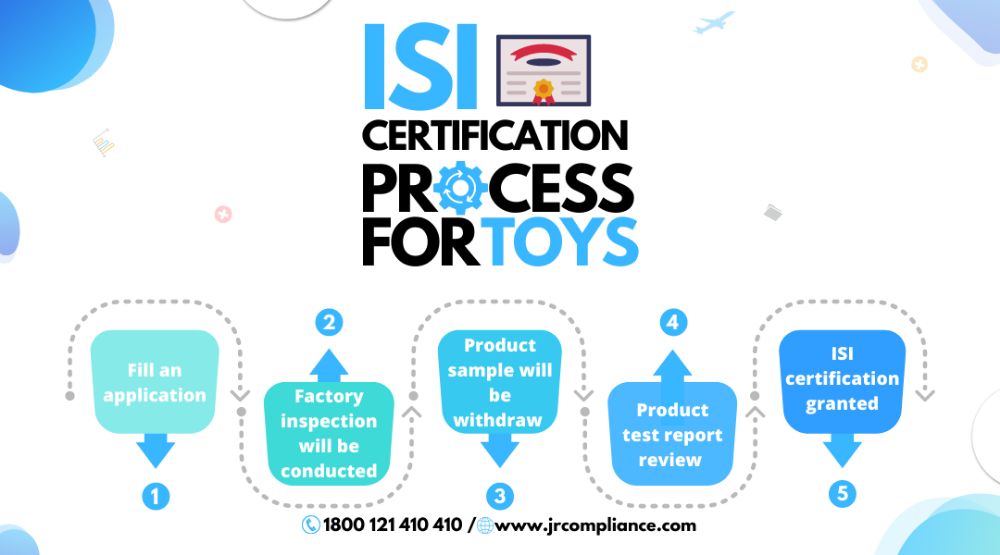 An application will be duly filed for BIS certification of toys.
A factory inspection will be conducted to assess of manufacturing unit, toys production process, and more.
During factory inspection, product samples will be withdrawn for testing in a third-party laboratory.
The test report of the sample will be reviewed. 
A certificate will be issued if a product complies with the established standards.
FMCS Certification Process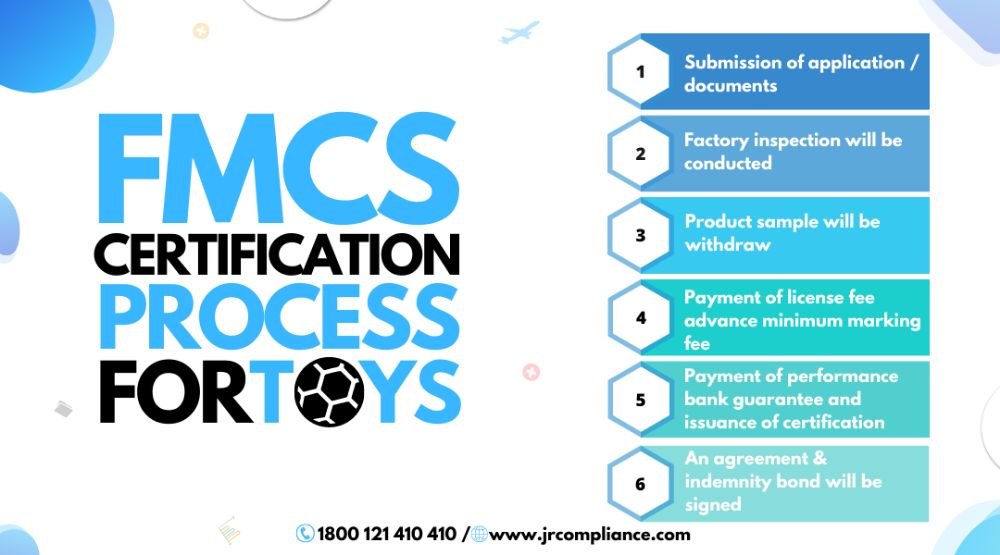 An application will be duly filled along with the required documents.
With form submission requisite fee will be paid, then factory inspection will be conducted.
During factory inspection, samples of toys will be withdrawn for independent testing.
The certification process will only move forward if the factory inspection and product testing report indicate conformity with the established laws.
Prior to providing a grant of a license, a license fee and advance minimum marking fee will be paid.
Once the payments have been made, an agreement and indemnity bond will be signed, including the payment of USD dollar 10,000 Performance Bank Guarantee immediately after receiving a grant of license.
If a product conforms to the standards, a certificate will be issued.
Our Role in BIS Certification For Toys
Our consultants will check under which purview of BIS your toy falls for a better understanding of applicable standards.
To provide clear guidelines in regard to the product, we will analyze the product requirements.
Our BIS consultants will provide you with complete support in documentation, evaluation, and examination.
We are equipped with all the necessary resources to conduct a virtual pre-audit. Moreover, in the case of ISI, we will conduct an on-site pre-audit, if required.
We directly coordinate with the officials, thus, we can schedule a factory inspection.
An in-house testing facility is one of the essential requirements to obtain an ISI or FMCS certificate, our consultants are abreast with all the information to assist you in establishing one.
We will directly coordinate with the laboratory to ensure appropriate follow-ups.
Our experts will coordinate with the customs clearance authority to provide you with 100% assistance in customs clearance.
If required by authorities, we will pay a visit to the BIS office to resolve any query they may have.
We will invest our sustained efforts in meeting the startled requirements of officials.
We will provide you with 24*7 support to solve any concerns you may have.
Conclusion
BIS certification of toys includes a number of parameters to meet, as per the applicable standard, therefore, making certification tedious and complex. However, it is obligatory to obtain, because it serves as evidence of high quality, reliable, and safe products.
You are at the right place!
JR Compliance, India's one of the leading compliance service providers is equipped with resources and expertise to meet all the certification requirements. Be it documentation, coordination with officials, conducting pre-audits, and more - consider it done.
Get in touch with us, for reliable services.