BIS Certification Process | ISI, CRS, FMCS
BIS  (Bureau of Indian Standards) certification is the process that manifests the quality of the products of brands and manufacturers. It ensures that a product is safe and credible for the customer as it complies with the BIS standards. 
Let's understand - why is BIS certification important.
BIS certification ensures the customers' safety and also provides a legal advantage to the manufacturer, especially if the product falls under the purview of BIS.
Yet, if manufacturers fail to obtain the BIS certification for the mandatory products, they have to face debarment for 2 years, a fine not less than Rs 2 lakh, or both. 
Moreover, a BIS license is essential to obtain to avail legal benefits, competitive advantages, quality of product, and easy market access.
BIS certification is mandatory to obtain for the 346+ products, not to mention, that this list is constantly expanding.
To make a BIS certification process seamless, our BIS certification consultant will be responsible for the systematic registration process, including filling out the application form, documentation, testing, coordination with the BIS officer or laboratory, and so on and forth. 
For your reference, we are mentioning some of the products which fall under the BIS purview.
Products Under the Purview of BIS -
Some of the mandatory products which fall in the mandatory category are, 
Steel and Steel Products
Malleable Iron Shots and Grits
Acetic Acid
Press Tool Punches 
Air Conditioner and its related parts
Hermetic Compressor and Temperature Sensing Control
Transparent Float Glass
Domestic Pressure Cooker
Automobile Wheel Rim Components 
Flat Transparent Sheet Glass 
Woven Sacks
Cattle Feeds
Rubber Hose for LPG (Liquified Petroleum Gas)
Reflectors For Bicycles 
Foot Wear
Refrigerator Gadget
Paper
Helmets for Two-wheelers
Butterfly Valves
Safety Glass
Aluminum Foil
Cables
Chemical and Fertilizer  and OTHERS 
What is a BIS Certification Process? [ISI, CRS, or FMCS]
The Bureau of Indian Standards is an authority, which includes three types of certification schemes - ISI, FMCS, and CRS. The products under ISI and FMCS certification schemes are quite similar, however, CRS is only applicable to electronic products. Here, let's have a clearer understanding of the BIS certification process.
ISI Certification Process
Before indulging in the procedure of the ISI certification, let's commence with what is ISI Mark.
It is a product certification scheme commenced by the BIS. ISI mark ensures that your product has complied with the prescribed standards. 
ISI certification is mandatory to obtain for certain products without which you won't be allowed to sell the product in India.
In a nutshell, it ensures high-quality products along with the safety of the consumers. 
Below-mentioned is the process of obtaining an ISI Certificate, 
Visit our blog to learn about How to Apply BIS Certificate.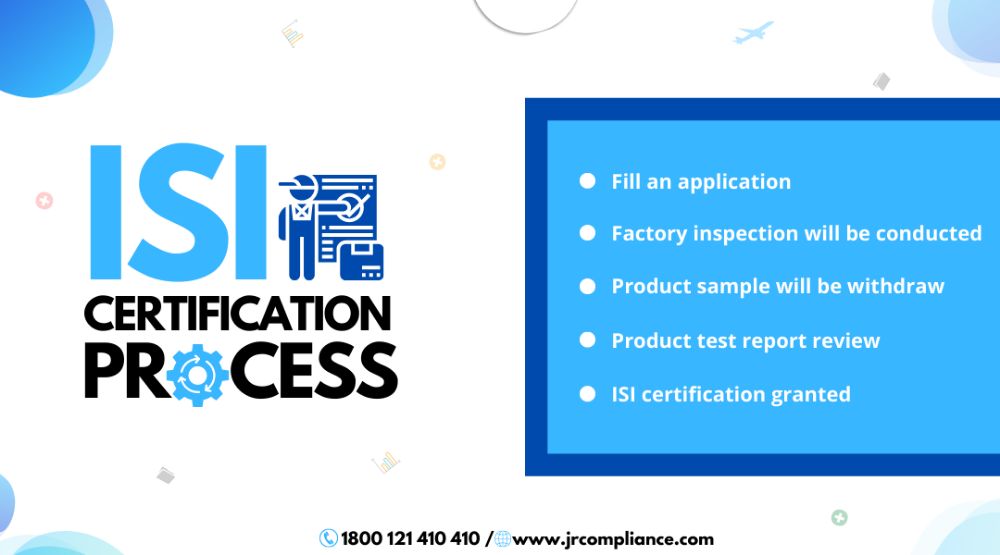 The application form needs to be filled out.
Further,  a factory inspection will be conducted for the assessment of manufacturing infrastructure, production process, quality control, and testing capabilities.
During an inspection, a product sample will be drawn for testing in a third-party laboratory. 
To review, the test report of the product sample will be used.
Finally, you can obtain the certificate, if your product complies with the laid standards.
As mentioned, ISI and FMCS certification schemes are quite similar, though the process changes as per the requirement. Why not have a look at the FMCS certification process -
FMCS (Foreign Manufacturer Certification Scheme) Certification Process
BIS FMCS is the license that is granted to foreign manufacturers for compliance with Indian Standards. 
For the sale of certain products in the Indian market, you are required to complete the BIS certification process, without which you would not be able to sell your products in the Indian market. 
Also, the documentation and other processes under BIS FMCS certification are done offline with direct coordination with the BIS officer.
Activities involved in the completion of the FMCS certification process could be perplexing for foreign manufacturers, especially if you are obtaining it for the first time. That's why we are assembled to help your businesses grow and expand by delivering what our clients desire, i.e., obtaining a BIS license.
FMCS certification is a comprehensive process because it includes on-site activities such as traveling to the client's destination country, sample collection, delivery of the sample product to India, etc. Moreover, the manufacturer pays a VISA fee, additional audit charges, $10,000 (USD) as a Performance Bank Guarantee, etc.
Process of obtaining an FMCS Certificate,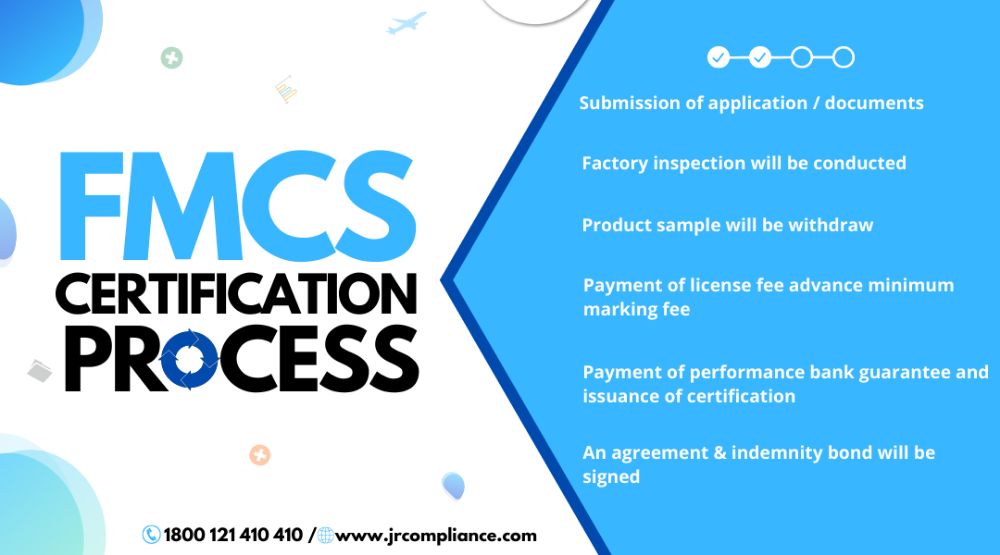 The application form will be duly filled out and accompanied by the required documents.
Along with form submission, a requisite fee will be paid, then a factory inspection will be conducted to verify the manufacturing and testing infrastructure. 
During factory inspection, the sample of a product will be drawn for independent testing.
Once the inspection and independent test report verify that the product is complying with the BIS standards, the registration process will move forward. 
Before the grant of a license, the applicant has to pay the license fee and advance minimum marking fee.
After making payments, the Agreement, and Indemnity Bond will be signed and a $10,000 (USD) Performance Bank Guarantee must be furnished instantly after a grant of license.
The FMCS certificate will be issued if a product complies with the BIS standards. 
Role of JR Compliance in Obtaining ISI or FMCS Certificate,  
We will educate you concerning every aspect of the ISI or FMCS certificates.
We will check whether a product falls under the purview of BIS or not, including whether a product complies with the BIS standards or not, then, after mutual understanding, the project will move forward. 
Obtaining an ISI or FMCS certification is no easy task, however, there is no better place to obtain it than JR Compliance because we will analyze the product requirements to give clear guidelines. 
JR Compliance has experienced BIS consultants, who can assist you in the documentation, evaluation, and examination.
We are equipped with the necessary resources to conduct a virtual pre-audit to confirm whether your manufacturing unit and production process are complying with BIS requirements or not. While in the case of ISI certification, we can also conduct an on-site pre-audit, if required.
JR Compliance will schedule a meeting with the BIS officer for a factory audit.
If you lack an in-house testing facility, we will help you in setting up one.
We will coordinate with a BIS-accredited laboratory for product testing.
As a leading compliance service provider, JR Compliance will assist you in the customs clearance of the sample products. 
You can expect reliable and punctual service delivery as we will also visit the BIS office on your behalf if required. 
We invest our sustained efforts to meet the startled queries or demands of BIS.
In case of any concern, we assure to provide the finest solution.
Compulsory Registration Scheme (CRS)
Under this scheme, electronic products, either imported or produced domestically, need to comply with the BIS standards. 
The conformity of the product will be issued after the examination and analysis of the samples and documentation for BIS registration.
In India, the Department of Electronics and Information Technology needs the obligatory certificate for 77 electronic products such as audio and video, IT equipment, mobile phones, smart card readers, and other similar gadgets. 
Hence, every foreign manufacturer of these products is required to obtain a BIS license to export products to India.
Consequently, if the foreign manufacturer operates in the Indian market without the BIS license, the manufacturer would be punished under the BIS Act.
CRS Certification Process,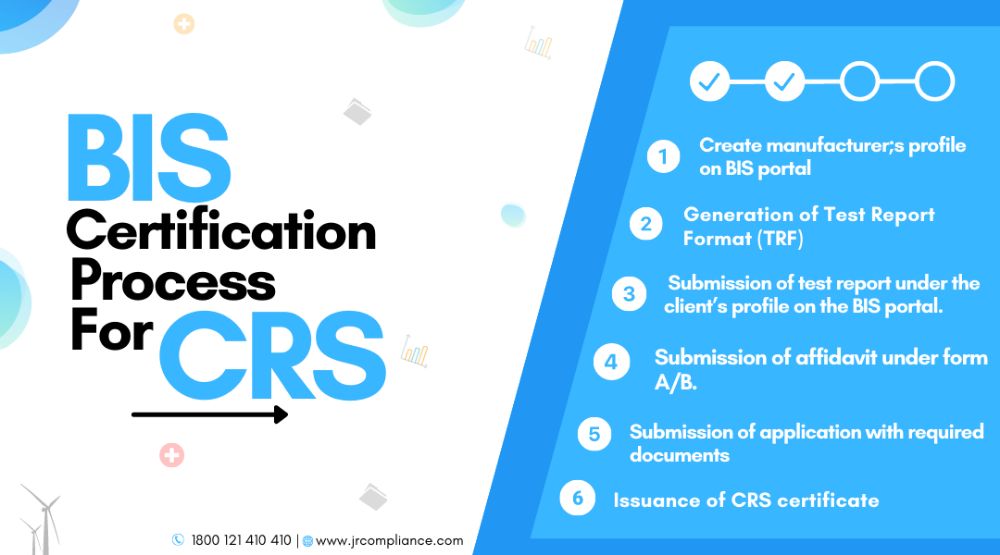 The manufacturer's profile will be created on the BIS portal. 
The Test Report Format (TRF) will be generated for a BIS-accredited laboratory. 
After TRF generation, the lab will submit the report under the client's profile on the BIS portal. 
Foreign applicants will duly appoint an Authorized Indian Representative (AIR) and must submit an affidavit cum undertaking as per Form A/B. While Indian applicants must submit an affidavit cum undertaking as per Format C.
Furthermore, the online form will be submitted along with the required documents followed by the required fee.
The certificate will be granted based on testing, not based on the factory visit, consequently, the CRS certificate will be obtained if your product complies with the BIS (CRS) requirements. 
Role of JR Compliance in Obtaining CRS Certificate,
We assist you in knowing whether a product falls under the purview of BIS.
For comprehensible guidance, we will first scrutinize the certification requirements of a product. 
We will provide you with information regarding the number of samples required for product testing because product sample requirement differs depending on product type.
We will educate you about the BIS CRS registration process, benefits, and documents required, including any query you may have regarding the same.
Being a reputed BIS consultant, we will provide you with technical and non-technical support.
JR Compliance offers competitive and excellent services to our clients by meeting the startled queries/demands of BIS.
To ensure the utmost convenience for our client, we will also assist you in the customs clearance of the sample product. 
To meet your expectations we invest our efforts in day-to-day visits to the BIS office on your behalf if required.
We are available 24*7 to make sure our clients get what they expect from us, thus, we will provide you with the finest solution to your queries.
Conclusion
Obtaining a BIS certification is not as seamless as it seems considering that it includes proper knowledge of the certification process. Considering the problems an individual can face, we would ask you to contact a professional assistant - JR Compliance.
We - India's #1 compliance service provider are equipped with all the resources to make the BIS certification process in Delhi or India seamless.
Ping us and get your BIS certificate instantly.