BIS Registration For Finned Type Heat Exchanger| BIS Certification Process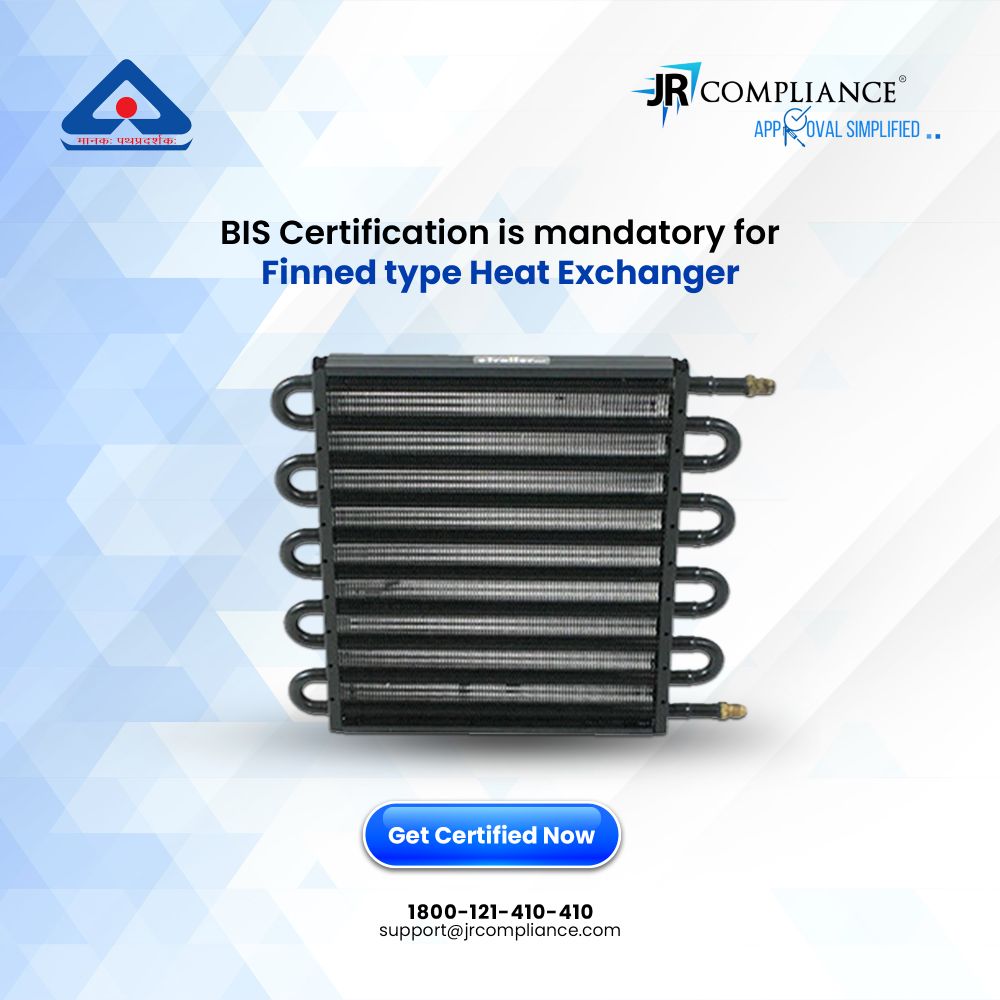 Let's take a closer look at finned-type heat exchangers.
 ISI Mark: 11329:2008
Introduction
A finned-type heat exchanger is an appliance that is designed to facilitate the transfer of heat between two mediums or fluids. It is composed of a series of tubes or channels which have fins attached to them. The primary function of these fins is to expand the surface area accessible for heat transfer. This results in a more efficient exchange of heat between the fluids.
These types of heat exchangers ensure smooth operation in various sectors. The mediums that are being used are separated by the heat that is transferred by conduction through the exchanger materials.
Ensuring the efficiency and safety of these heat exchangers is of paramount importance and that is where the BIS Certification steps in, guaranteeing that these devices meet the quality standards.
BIS stands for the Bureau of Indian Standards and BIS Certification is the national Indian certification body which comes under the umbrella of the Indian Ministry of Consumer Protection, Food & Public Distribution. You can Register for the BIS Registration Online.
In this blog, we will explore the importance of BIS Certification of Heat Exchangers along with its application process.
Importance of BIS Certification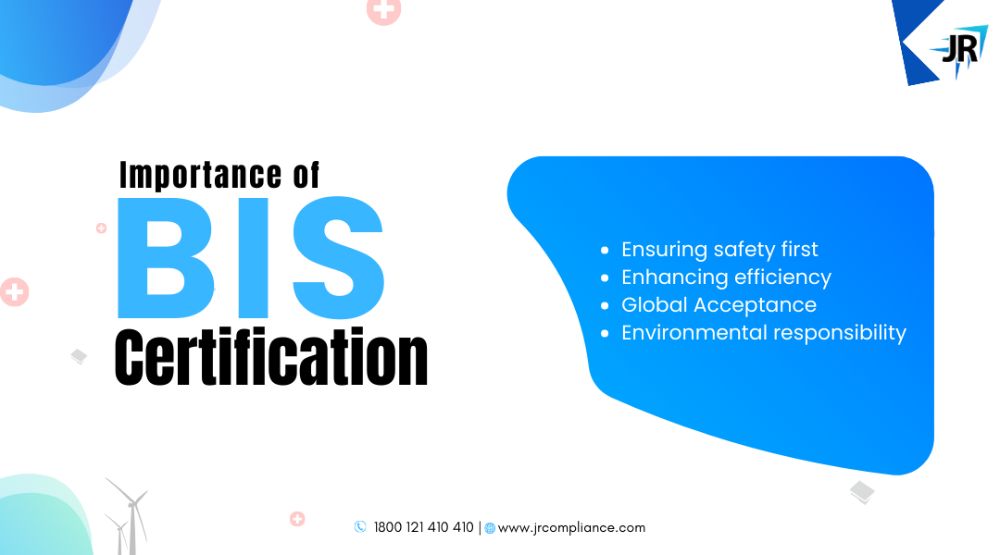 1. Ensuring safety first
When it comes to industry equipment, the safety cannot be compromised. The BIS Certification for heat exchangers ensures that these devices can withstand high temperatures meet all requirements and pass the evaluation process.
This certification involves rigorous testing and evaluation to guarantee that the heat exchangers are free from all kinds of defects that could cause disastrous consequences.
2. Enhancing efficiency
Efficiency and safety are the core of any industry. A certified heat exchanger is designed to maximize heat transfer while minimizing energy consumption. It is essential to ensure the efficiency of the heat exchanger to ensure that it is operating correctly and efficiently. They maximize the cooling process which makes it more efficient. This leads to significant cost savings for startups, businesses, and organizations making it a wise investment.
Taking BIS Certification for heat exchangers ensures that these devices adhere to the internationally recognized standards for efficiency and safety.
3. Global Acceptance 
Taking BIS Certification for heat exchangers ensures that it gains global acceptance, which makes it easier to trade and collaborate with international partners since BIS Certification aligns with ISO Standards. This makes the quality of heat exchangers to be recognized worldwide, hence opening opportunities for businesses to expand their reach and enter the international market as a significant player.
4. Environmental responsibility
In today's world, environmental responsibility has become a necessity for everyone- be it a startup, business, or an established organization. Taking BIS Certification for heat exchangers ensures that they are designed with environmental considerations in mind. They are often more energy efficient and safe to use which helps the industries meet their sustainability goals.
Visit our Blog to learn about BIS Certification for Mobile Phones.

Documents required for BIS Certification Online
The paperwork that is mandatory for BIS certification of a finned-type heat exchanger generally includes the following:
  A fully completed Application Form provided by the BIS, containing basic details of the applicant, such as their name, address, product information, and desired certification.
Test Reports from BIS-recognized laboratories indicate that the product is in compliance with the relevant Indian Standard.
 Technical Documents pertaining to the finned type heat exchanger, such as Specifications, drawings, or any other pertinent technical papers.
A documented Quality Control manual outlining the manufacturer's quality control procedures and processes to ensure consistent product quality.
Manufacturing unit details such as infrastructure, facilities, and quality control measures.
If the product has a trademark, a copy of the registration certificate will be required.
The prescribed registration fee for the BIS Certification process varies based on the product category and certification scheme.
BIS Certification Process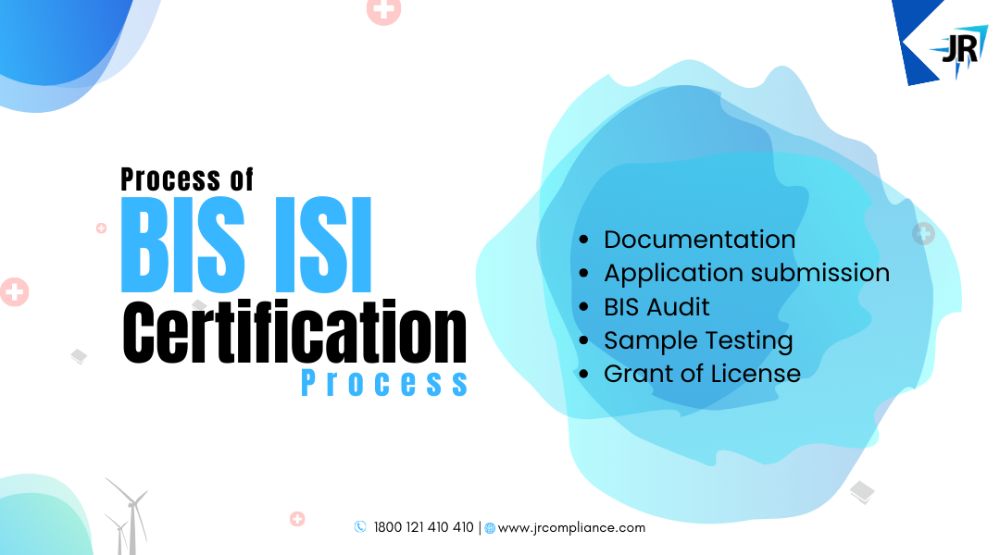 The BIS Certification process for Trademark Registration always includes:
Application: Preparation and evaluation of application documents and submission
Product tests: Product tests in accredited testing facility labs in India.
Certification: Issuance of certificate.
Marking: Marking and labeling part
The certificate is valid for two years and can be renewed if there are no changes to the product or the BIS Standard. The certificate does not apply to a certain product model or family but covers all products/models produced by a particular factory.
Our Services
JR Compliance is India's no.1 compliance consultant in Delhi. Retire from the stress of registering your establishment because we provide 100+ corporate services. Since 2013, we have been providing 360-degree compliance services to startups, firms, and establishments with the motive to make compliance services unchallenging for everyone. Our professional team will educate you regarding the project and suggest the finest approach after appropriate research and inspection. Here you can talk with our BIS Registration agent.
To conclude, BIS Certification has become a necessity for heat exchangers as it is not only a symbol of quality, safety, and efficiency. But it has also become a passport to enter international markets and it also shows a commitment towards environmental responsibility. To guarantee that the BIS certification procedure for your finned-type heat exchanger goes smoothly and successfully, it is strongly advised that you refer to the BIS rules, ask BIS authorities for advice, or speak with specialists in the field.
Invest in BIS Certification today and watch your Industrial Progress reach new heights as a result.