A Guide to : BIS Specification For PP Bags

For urban solid waste, plastic bags are imposing drastic danger being one of the components of litter. Consequently, plastic bags have a detrimental effect on the environment, from killing millions of animals every year to creating a choking hazard for marine life, plastic is harmful to the environment.
Though, the effect of plastic bags is not restricted to animals, because humans are not immune from their harmful effects either, considering that exposure to plastic could result in cancer, birth defects, impaired immunity, endocrine disruption, and more.
Aside from the harmful effects of plastic, PP bags that are also termed Polypropylene bags - are considered the safest and are widely used to transport store agricultural products like fees, fruits, and vegetables.
Phrasing, "excess of anything is bad," we would like to inform you that if a PP plastic bag is used more, then it is proven to have adverse effects due to the chemicals it contains.
While manufacturing and importing PP bags, certain specifications need to be kept in mind because they can be harmful to humans and animals. Considering this, the Bureau of Indian Standards (BIS) has implemented certain guidelines which are applicable to PP bags.
Therefore, if a manufacturer (Indian and Foreign) does not comply with these BIS specifications for PP bags, won't be able to enter the Indian market. In the next section, let's have a look at the general specification applicable to PP bags.
General Requirements Applicable on PP Bags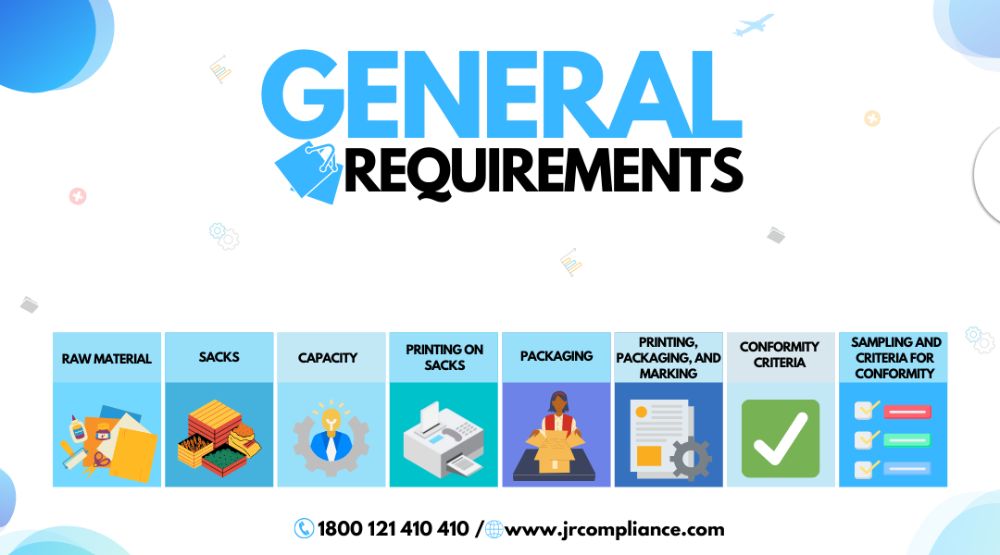 1. Raw Material
The high-density polyethylene (HDPE) or polyethylene (PP), which is used to manufacture the tape must comply with IS 10146 or IS 10910 requirements.
The fabric used in HDPE or PP woven sacks must be woven as a tube on a circular loom from HDPE or PP tapes.
It must comply with the 10910 and the buyer and seller must agree on the composition mix for the manufacturing of PP or HDPE.
The sacks must be produced from tabular fabric.
Completely opened mouth of the hemmed must be at least 5 mm fold and ensure that tapes must not fray.
2. Sacks
As mentioned, sacks must be produced from tabular fabric, which must be woven as a tube on a circular loom and cut to the specified length.
a. Bottom Seam
The stitching of the seam must be done with two rows of seam stitched in accordance with IS 10789. Though, the two-seam must be separated from each other at least by 8mm from the outer edge, including it must be double folding over the seam to a minimum depth of 25mm.
Well, if we talk about the material used for stitching must be UV stabilized HDPE or PP tape.
b. Mouth
The completely open mouth of the sack must be hemmed with a fold of 5mm and it must not be loose.
3. Capacity
PP bags must have a capacity of 25-50 kgs.
4. Printing on Sacks
PP sacks must be printed with food-grade inks and the manufacturer's identification mark must be imprinted on them.
5. Packaging 
It must be packaged in the form of bale using the PP layer containing 500 sacks or more, thereof. For your reference, we are mentioning the HDPE/ PP wove sacks for packaging sugar -
Source: BIS portal
Considering that PP bags are used for several purposes, these requirements could differ depending on the product a PP woven bag contains.
6. Printing, Packaging, and Marking
For printing on sacks, food-grade ink must be used, including an identification mark of the manufacturer. With that, it must consist of the information provided required by the buyer.
The sacks of PP bags must be packed in the form of bales with the help of HDPE or PP fabric.
The bale of the PP bag sacks must provide information such as the name of the manufacturer, type and size of sacks, number of sacks, etc.
BIS-certified marks must be visible.
For your better understanding of the sample size and criteria conformity, we are providing a table below. This will provide you with an in-depth knowledge of the compliance with sample size and criteria of conformity.

Source: BIS portal
7. Sampling and Criteria For Conformity
All the sacks manufactured together must be constituted in the same lot.
Conformity of the lot to the standards of requirements must be determined depending on the basis of the test carried out on the selected sample.
The number of samples depends on lot size and the number of bales.
8. Conformity Criteria
A number of defective slacks found during a visual inspection of ends, picks, and dimensions are up to 10% of the sample size.
None of the weight of the sack or bale of 500 sacks must be lower than the specified limit.
The lengthwise and widthwise average strength of the fabric must not be below the specified limit.
The average break strength of the bottom seam fabric must not be less than a specified limit.
The average break strength of the sack samples after exposure to UV radiation must be 50% less than the prescribed limit.
No sample sack must have percentage elongation and ash content outside the prescribed range.
Our Role in Implementation of BIS Specification For PP Bags
Our expert consultants will prescribe you the appropriate methods and procedures for sampling the BIS specification for PP bags.
We will understand the requirements - be it implementation applicable to BIS specification for PP bags? 
For the implementation of the BIS specification for PP bags, having proper knowledge of parameters.
After proper analysis and understanding, we will ensure to conduct adequate applicable standards on BIS specifications for PP bags.
Our consultant will invest their time and efforts in providing appropriate procedures.
We guarantee accurate documentation, evaluation, and examination.
For our client's convenience, we will coordinate with the laboratory for the BIS specification for PP bags as per the applicable standards.
We will conduct a pre-audit, to ensure your manufacturing assessment, PP bags' quality, and other aspects conform to the established standards.
Our experts are capable of assisting Indian and international clients to the best of our knowledge.
We will coordinate with the officials to meet any startled requirements that may arise.
We will provide you with 24*7 customer service to solve any query you may have.
Conclusion
Appropriate understanding of the BIS specification for PP bags, including implementing any other BIS standard could be perplexing because the general and additional requirements change as per the products. 
Thus, to obtain a BIS certification and to know the proper way for its implementation, you need expert assistance - that's us. Although, if you want to know BIS specifications for shampoo, electrical equipment, and more - we, JR Compliance are here to provide complete assistance to our clients in the implementation of standards and obtaining a BIS certificate.