BIS Standard For Drinking Water | ISI Certification For Packaged Drinking Water
The Drinking Water Sectional Committee has finalized a draft which was approved by the Food and Agriculture Division, prior to that the Bureau of Indian Standards (BIS) has adopted the Indian Standard regarding the same. 
Below-mentioned are some of the facts which have raised the concern to implement a BIS standard for drinking water -
A report prepared by the World Health Organization (WHO) and World Bank in 1975 indicated approx 1230 million individuals have unsafe water supplies.
In the Financial year 2007-12, some 2.17 lakh quality affected habitations (more than half) were contaminated with excessive iron, salinity, fluoride, arsenic, and nitrate. 
In the above-mentioned year, water was the major contributor to approx 10 million cases of Diarrhea, over 7.2 lakh cases of typhoid, and 1.5 cases of viral hepatitis which were occurring every year. 
The BIS standard for drinking water was originally published in 1998 standards requirements have been driven from -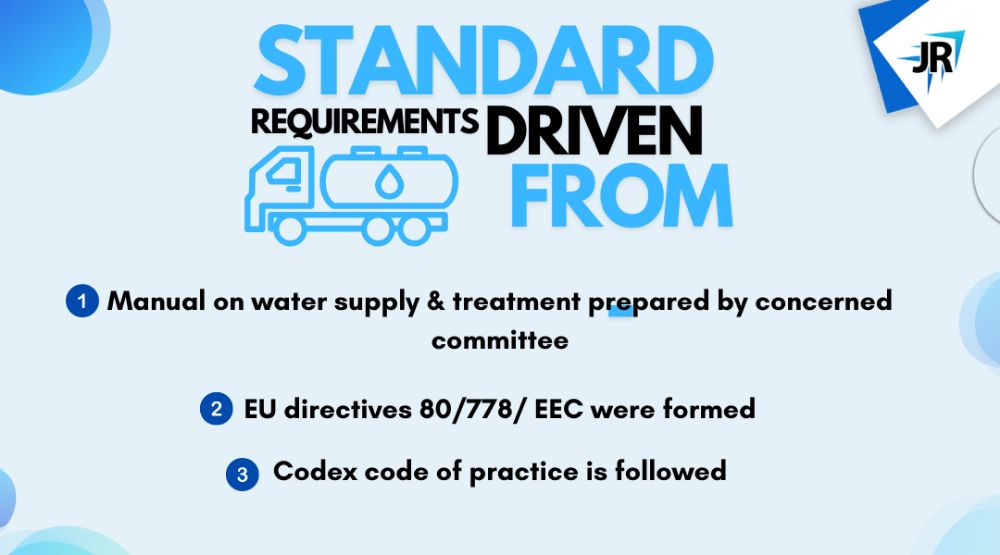 The Committee established under the Ministry of Urban Development had prepared the Manual on Water Supply and Treatment.
EU Directives 80/778/EEC were formed with respect to water quality for consumption for humans.
Codex Code of practice is followed for collecting, marketing, and processing of natural mineral water. 
Moreover, the scope of the BIS Standard for drinking water is extended to prescribing the requirements and methods of testing and sampling of drinking water utilized for consumption and/ or for packaged selling.
As we are not aware of why the BIS standard for drinking water has been implemented and how the standards have been driven. Let's understand the exact BIS standard for drinking water requirements -
BIS Standard For Drinking Water Requirements
General Requirements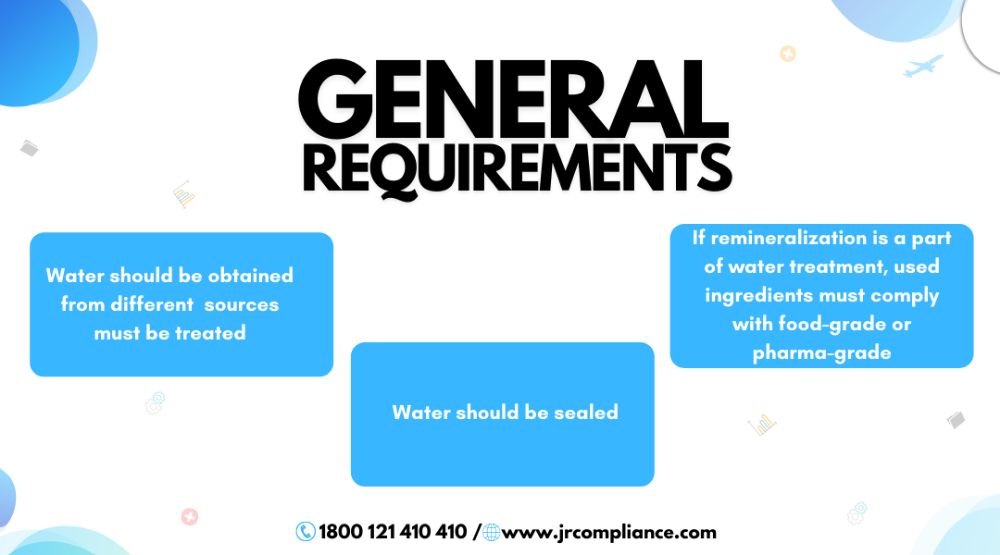 Water should be obtained from surface water, civic water supply, underground water, seawater, and other sources which allow the treatment of such water, including packing the water to a level that won't result in any harmful effects such as the generation of chemical agents, minimizing of micro-organism below recommended levels, and more.
Water should be contained in sealed containers of various forms, compositions, and capacities which allow seamless direct consumption of water eliminating the requirements for further treatment.
If remineralization is a part of water treatment, the used ingredients must comply with the food-grade or pharma-grade quality.
Microbiological Requirements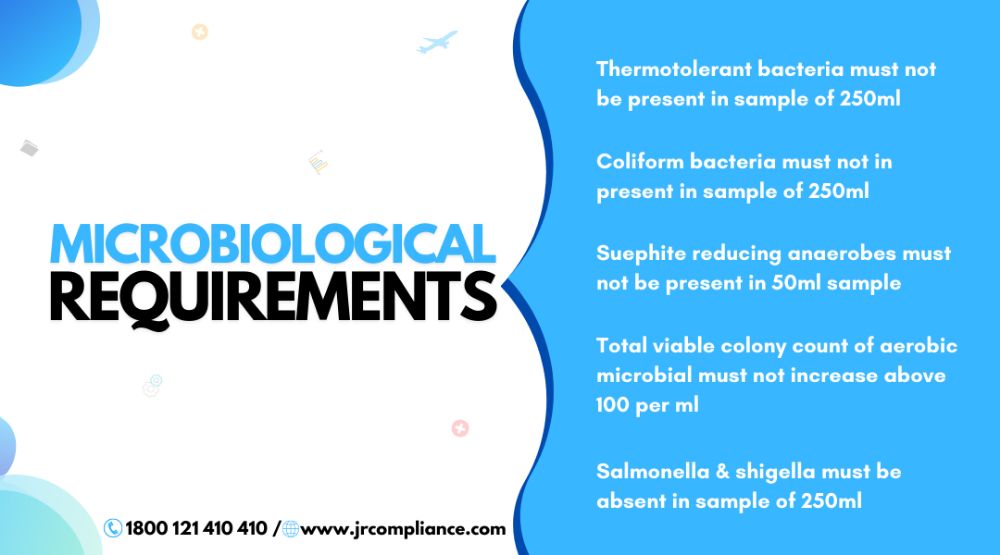 If water is tested according to IS 15185 standard, the thermotolerant bacteria (Escherichia coli) must not be present in any sample of 250 ml.
If tested depending on IS 15185  or IS 5401 (Part 1), the Coliform bacteria must not be present within a 250 ml sample.
Fecal Streptococci and Staphylococcus Aureus must not be present in 250 ml samples if testing has been done through IS 5887 (Part 2).
Test method provided in Annexure C of IS 13428, Sulphite Reducing Anaerobes must not be present in 50 ml sample.
As per the test method in Annex D of IS 13428, Pseudomonas Aeruginosa must be absent in a 250 ml sample.
Total viable colony count of Aerobic Microbial Count must not increase above 100 per ml at 20 to 22-degree celsius in 72 hours and 20 per ml at 37 +/- 1 degree Celsius in 24 hours if the test is conducted through IS 5402.
If the test is conducted through IS 5403, yeast and mold must not be present in the 250 ml sample.
Test according to IS 15187 and IS 5887, Salmonella and Shigella must be absent in 250 ml sample. 
In case the test is conducted through IS 5887, Vibrio Cholerae and V. parahaemolyticus must be absent in the 250 ml sample.
The packaged drinking water must be free from sediments, suspended particles, and extraneous matters.
The BIS standard for drinking water includes a number of requirements that are essential to obtain, thus, requiring proper knowledge of standards, marking, packaging, parameters in regard to radioactive residue/ toxic substances, and more. 
Therefore, making implementation of the BIS standard for drinking water quite challenging. No worries, you are at the right place! 
 We - an award-winning compliance service provider are equipped with knowledgeable experts and professionals who are abreast with all the necessary information to provide you with complete assistance in establishing the drinking water plant.
Since it is clear, what is BIS Standard For Drinking Water Requirements is, including microbiological requirements and general requirements, let's move on to, the process of ISI certification for packaged drinking water.
ISI Certification For Packaged Drinking Water | ISI Certification Process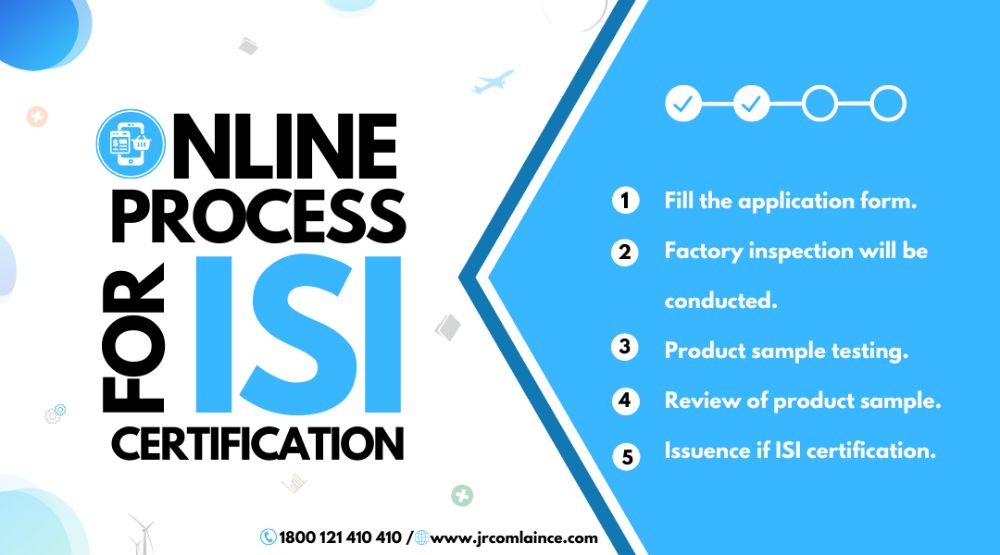 An application form will be duly filed.
A factory inspection will be conducted for the assessment of manufacturing infrastructure, production process, quality control, and more.
During factory inspection, a product sample will be withdrawn for testing in a third-party laboratory.
The product test of the tested sample will be reviewed.
If a product complies with the established safety standards, an ISI certificate will be issued.
Now, in the next section, we will learn more about our role in ISI Certification For Packaged Drinking Water.
How Will We help in Obtaining an ISI Certification For Packaged Drinking Water?
Our expert consultants will prescribe you the appropriate methods and procedures for sampling the water.
We will understand the requirements - be it implementation of drinking water or packaged drinking water to appropriate implementation guidance. 
For the implementation of BIS standard for drinking water, having proper knowledge of parameters such as organoleptic and physical parameters, general parameters in regard to undesirable substances in excess amounts, toxic substances parameters, and more. Our consultants have all the necessary knowledge, thus, ensuring to provide accurate information.
After proper analysis and understanding, we will ensure to conduct adequate applicable standards on water.
Our consultant will invest their time and efforts in providing appropriate procedures depending on whether you have established a water plant for drinking water or packaged drinking water.
We are abreast of all the general and microbiological requirements established by authorities to provide your clients with clearer guidelines.
We guarantee accurate documentation, evaluation, and examination.
For our client's convenience, we will coordinate with the laboratory for water testing as per applicable standards.
We will conduct a pre-audit, to ensure your manufacturing assessment, water quality, and other aspects conforms to the established standards.
Our experts are capable of assisting Indian and international clients with the best of our knowledge.
We will coordinate with the officials to meet any startled requirements that may arise.
We will provide you with 24*7 customer service to solve any query you may have.
Conclusion
The BIS standard for drinking water includes a number of requirements that have been implemented with the motive to provide clean and quality drinking water. These requirements ensure that water is free from any excess residue, microorganisms, or other substances that could affect humans.
We are a one-stop solution to all BIS certification requirements. JR Compliance - a leading compliance service provider has helped a number of individuals in successfully implementing the BIS standard, not only for water but for LED lights, toys, electronic products, and more.