Check The Availability of your company or Business Name Online : Step-by-Step Guide
If a business name has been trademarked already :- 
If a trademark or business name is already registered, then you should not use that name for your business. The rights protect the trademark holder, and using a trademarked name for your business could lead to legal issues. Before selecting a business name, you must search to make sure that your chosen name is available to use or not.
Importance of Checking Whether your Business Name has Been Taken:-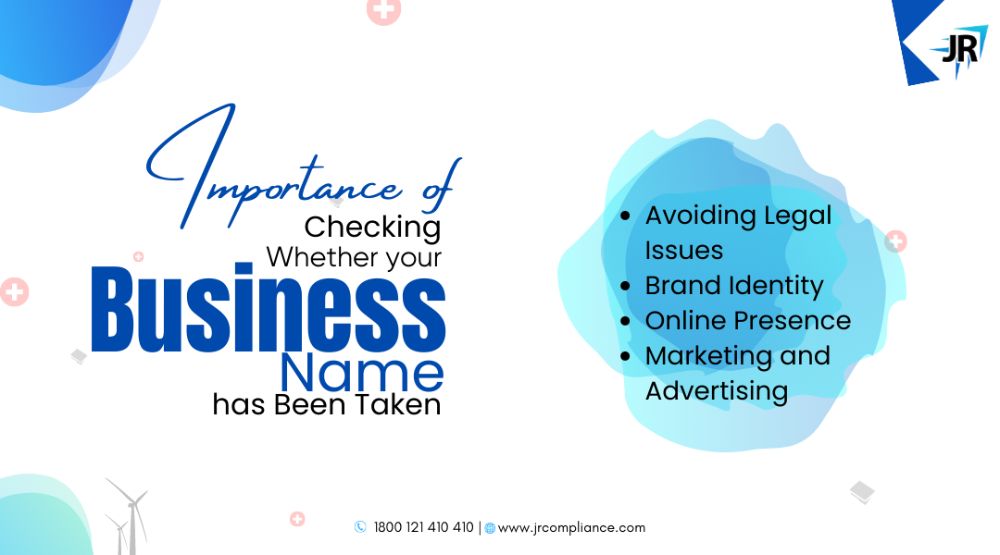 Avoiding Legal Issues :- If any other business is already using the name that you have chosen for your business then it could result in costly legal battles, loss of revenue, so you must choose the specific legal name which is not used by any businesses.
Brand Identity :- Your business name is an essential component for your business and services. Because it signs your brand in the marketplace and makes your brand recognition and reputation.
Online Presence :- The name that you have chosen is already in use, it could be challenging to secure your domain name for your website or social media presence, it is hard for customers also to find you online.
Marketing and Advertising :- Present your brand in the marketing sector by advertise your business. If your name is already taken by anyone so you must have put effort in marketing strategies to differentiate yourself from the competition and build brand awareness.
Step-by-Step Guide To Check The Availability of your company or Business Name Online
First you have to check the name for your business online. Then check how competitive your chosen name is and whether it's likely to be available.
You have to search registered trademarks from the United States Patent and Trademark Office (USPTO). Then you check if your registered trademark is used or not by anyone.
Check your domain names from the best websites like GoDaddy to Name cheap and register your domain. 
When you have potential name search for its availability on popular social media platforms like Facebook, Twitter, and Instagram. 
Consult with any consultation service provider that specializes in intellectual property law to ensure that your chosen name is legally available or not.
Benefits of Trademarking Your Business Name :-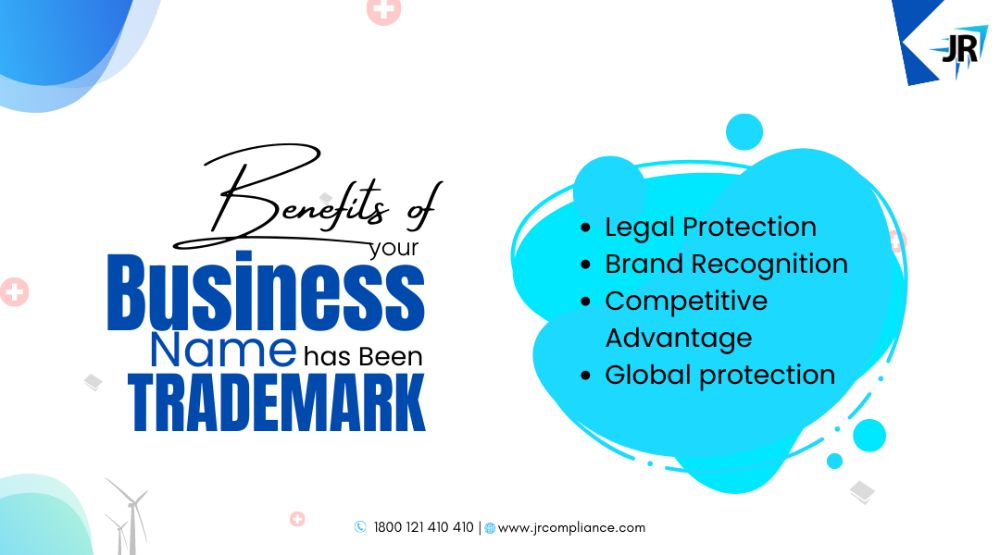 Legal Protection :- Registered trademarks provide legal protection for your business name, preventing others from using it without your permission to take a legal action against those who use your business name without your permission.
Brand Recognition :- Registered Trademark business name can help to build brand recognition and customer trust in the market. Make your brand trustworthy and reputable in the marketplace.
Competitive Advantage :- Due to the registered trademark it helps to set your business apart from competitors and makes it easier for customers to identify your brand.
Global protection :- A registered trademark provides protection for your business name in the countries where it's registered, it provides the ability to grow your business worldwide.
How JR compliance Helps You to Register your Trademark of your business name : 
JR Compliance help you to register your business trademark in some following ways:- 
Conducting a Trademark Search
Preparing and Filing Trademark Application
Providing Legal Advice
Trademark Monitoring
Trademark Renewals
Conclusion:-
Check your business name has been taken and register a trademark for your business name. It is important for your business to make a presence in the market and start to grow with your legal name and protect your business intellectual property through any compliance and build brand recognition.
JR Compliance, help your business to obtain the legal protection and benefits that come with trademark registration.
For regular updates join us on -
📘 Facebook - https://www.facebook.com/jrcompliance/
🔵 LinkedIn - https://in.linkedin.com/company/jr-compliance-&-testing-labs
🟠 Instagram - https://www.instagram.com/jrcompliance/?hl=en
 Twitter - https://twitter.com/JrCompliance?ref_
For more information -
🌐Visit us - https://www.jrcompliance.com/
☎️Call us - 1800121410410
📧Reach us at - [email protected]