DPCC Registration For Clinics Online | JR Compliance

Clinics are one of the major contributors to bio-medical waste - which is why several parameters have been implemented to ensure adequate disposal of such bio-medical waste. While it begs the question, does a clinic need to obtain some kind of authorization for the disposal of bio-medical waste?
Of course, as per Bio-Medical Waste (Management and Handling) Rules 2016, DPCC registration for clinics online is essential to ensure the appropriate disposal of bio-medical waste because it can pollute the air, water, and land.
Before moving forward to any topic, let's understand the definition of Bio-medical waste?
As per Bio-Medical Waste (Management and Handling) Rules, 1998 bio-medical waste refers to any waste which is generated during the course of diagnosis, treatment, or immunization of human beings or animals or research activities in concern to that situation or in the production or testing of biological or health camps.
The point to be noted is that, if your clinic is established in Delhi, you are required to obtain DPCC authorization for bio-medical waste disposal. Delhi Pollution Control Committee (DPCC) is an autonomous body which is established under Section 4 of the Water (Prevention and Control of Pollution) Act, 1974, and Section 6 of the Air (Prevention and Control of Pollution) Act, 1981. 
Now, for a better understanding of DPCC, let's discuss the objective of DPCC as it covers a wider range of things for environment preservation.
General Guidelines For Bio-Medical Waste Management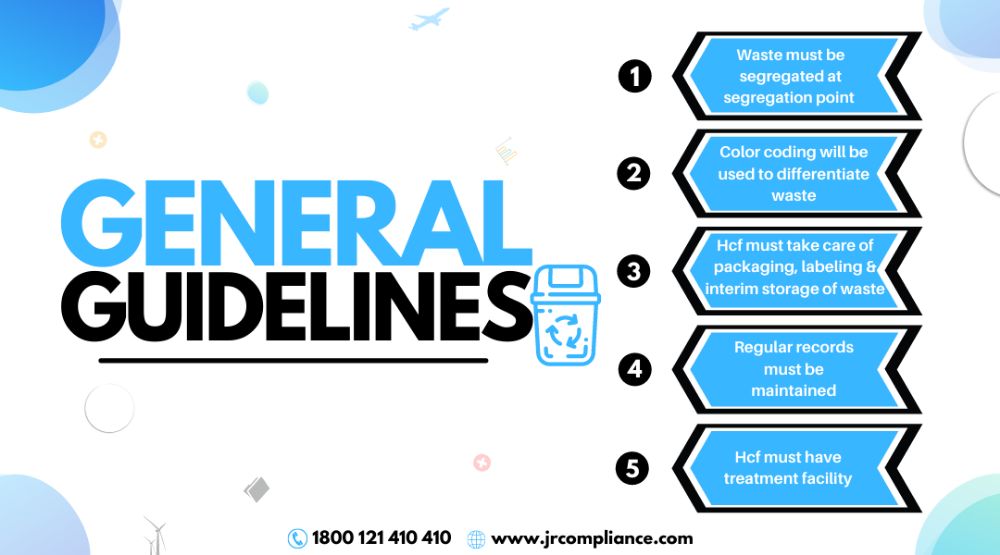 Every health care facility exclusively has to obey the first five steps - Segregation, Collection, pre-treatment, Intramural Transportation, and  Storage for bio-medical waste management.
The waste generated by the health care facility needs to be segregated at the point of generation according to the color-coding.
According to the Schedule I  of Bio-medical waste management Rules, 2016, HCFs need to use color-coding or different types of containers or bags for segregation and collection of waste.
While collecting bio-medical waste, HCFs should take care of the time of collection, packaging, labeling, and interim storage. 
For the transportation of bio-medical waste, trolleys should be used and it should be transported through an appropriate route with fewer patients or visitors in the way.
HCFs should have a designated central waste collection room within the premises to store the bio-medical waste.
If an HCF has a captive treatment facility it must have a facility for its treatment.
Health Care Facilities should regularly maintain the records with respect to the category of bio-medical waste generation and its disposal treatment.
According to the Bio-medical Management Rules, 2016 health care facilities with beds should create a separate web link or page for a website to display the information regarding their hospital.
Since we have discussed general guidelines of bio-medical waste management, let's see, how to do DPCC registration for clinics online.
How to Do DPCC Registration For Clinics Online?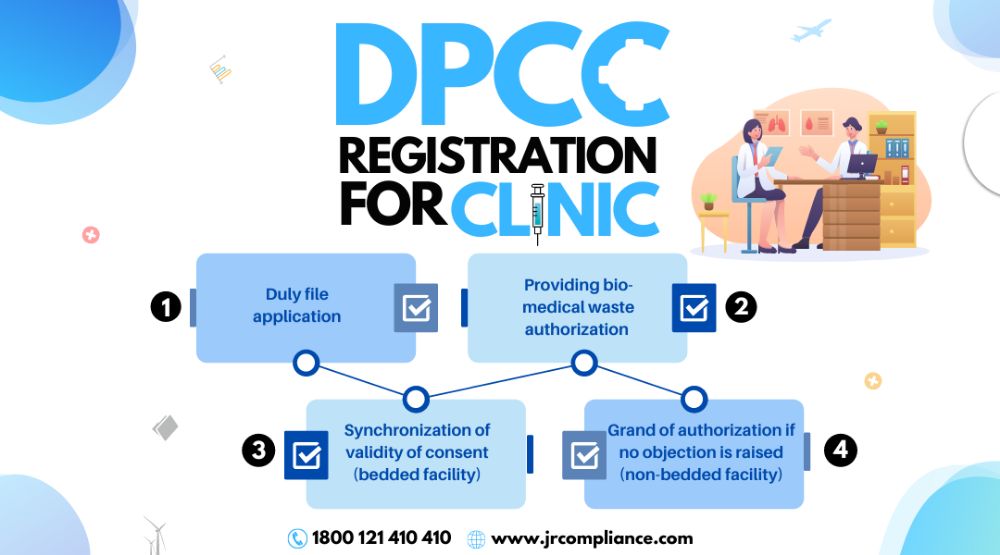 The application will be duly filled to the concerned Delhi Pollution Control Committee (DPCC) in regard to each occupier or operator taking care of the bio-medical waste, not considering its quantity.
The grant of authorization and concerned authority will provide the bio-medical waste authorization.
The validity of a bedded health care facility and operator will be synchronized with the validity of the consents.
The authorization for non-bedded health care facilities is one time and this authorization is considered to be granted if no objection has been raised by the prescribed authority within 90 days from the date of receipt of application with the required documents.
Is DPCC Registration For Clinics Online Easy?
We beg to differ because it includes a great deal of effort from ensuring proper coordination to submission of accurate documents, you need appropriate technical knowledge regarding bio-medical waste management rules to deal with every issue which might occur. 
Well, we can make it seamless because we have an integrated approach to meet all the certification requirements. However, before understanding our role in DPCC registration for clinics online, let's understand what to do in case of suspension or cancellation of the application. 
Can DPCC Suspend or Cancel Registration?
Yes, DPCC has the authority to suspend or cancel the DPCC authorization depending on valid reasons, however, there is nothing to worry about because you will receive a chance of being heard before such refusal.
Clinics are required to follow certain compliance once the DPCC registration for clinics online is done, here, let's see what these requirements are,
What Are the Compliance to Follow After DPCC Registration For Clinics Online?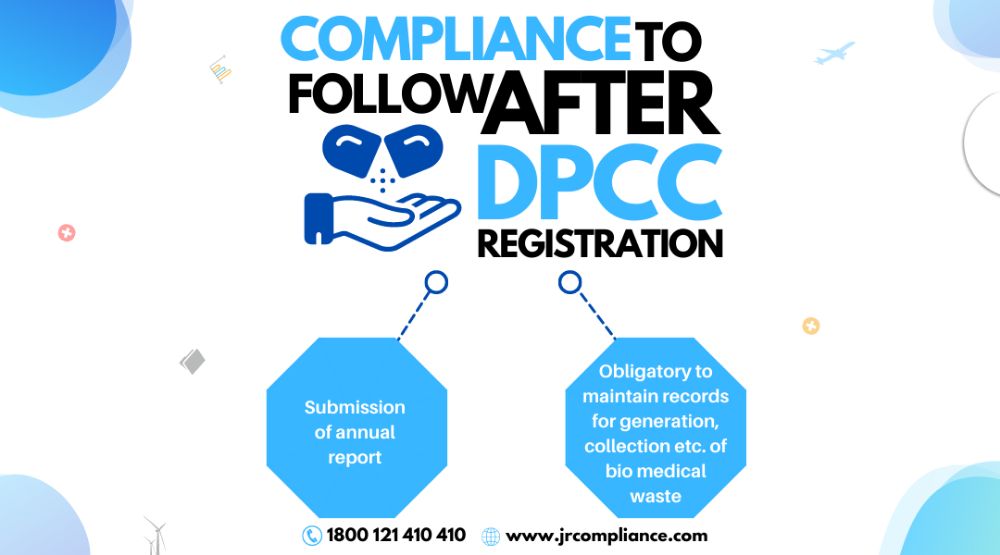 The occupier or operator is required to submit an annual report on or before the 30th of June of every year which could be compiled, reviewed, and analyzed by the prescribed authority, and CPCB.
It is obligatory to maintain the records in regard to the generation, collection, reception, storage, transportation, treatment, disposal, or any form of handling of bio-medical waste for a duration of 5 years. The Ministry of Environment, Forest, and Climate Change has the authority to inspect or verify these at any point in time. 
Now, let's finally, jump to, how we will provide you assistance in DPCC registration for clinics online,
Why Are We #1 Choice For DPCC Authorization?
We will assist you in each step of DPCC registration for clinics - be it documentation, form submission, and more - consider it done.
Our consultants will invest their efforts and time in providing you with comprehensive guidelines in regard to DPCC registration for clinics.
In case of suspension or renewal of the registration, we will coordinate with the officials on your behalf. 
If required, we will file an appeal on your behalf in case of application rejection. 
We will directly coordinate with officials to meet their startled requirements or to solve any queries they may have.
To ensure your convenience, we will provide you with 24*7 technical support.
Conclusion
DPCC registration for clinics online seems to be one of the easiest authorization, however, it includes comprehensive activities such as submission of adequate documentation, filling out the right application form, coordinating with officials to meet startled requirements, and more. 
All these make the certification process quite challenging, especially if you are obtaining the DPCC registration for clinics for the first time.
No worries, JR Compliance has got you covered - be it submission of application form, documents, and coordinating with the officials, including any other certification requirement which may occur, we have a team of experts to take care of each and everything.
Contact us for reliable and expert advice.