Dual use NOC | CDSCO Approval
As the name suggests, Dual drugs can be used in pharmaceutical and other industries. Basically, drugs are used as raw materials for the manufacturing of other drugs. But the import of drugs for dual usage needs permission from the CDSCO Zonal office.
Dual use NOC is a certificate which allows you to import drugs in pharmaceuticals and other industries. JR compliance will help you to get CDSCO approval.
What is CDSCO in Dual use NOC ?
Talking CDSCO, Central Drugs Standard Control Organization is a governmental Drug Authority. Central Drugs Standard Control Organization, is a Central Drug Authority, which is responsible for discharging functions that are assigned to the Central Government under Central Drugs and Cosmetic Act.  
Since India is the major importer of medical devices, if compared to other countries, offers a steady market opportunity for Global Medical Device (MD) manufacturers. Considering the product quality assurance of medical devices for substantial growth of the Indian medical device industry is expected to operate in accordance with upcoming regulatory guidelines, that is IMDR 2017 issued by CDSCO. 
This step has been taken to establish the importance of medical devices in the healthcare industry, including providing an overview of the medical devices industry covering various sub-segments: instruments and appliances, Medical Aids, diagnostic imaging, consumables, and patient aids
Dual Use NOC:
NOC used for dual items (which are not used in pharmaceuticals) are used in other manufacturing industries (as a raw material), which need permission from the Zonal offices of CDSCO. Some of the drugs specified in schedule D shall be exempt from the provisions of Chapter III of the Act and of the Rules made thereunder to the extent, and subject to the conditions specified in that schedule. 
For these kinds of drugs, which are used for the purpose of dual-use and for the import of drugs, a NO Objection Certificate (NOC) is necessary. 
NOC for dual use is issued by the Deputy Drugs Controller, to the importers based on the application and legal undertaking. 
Documents required for Dual Use NOC Application: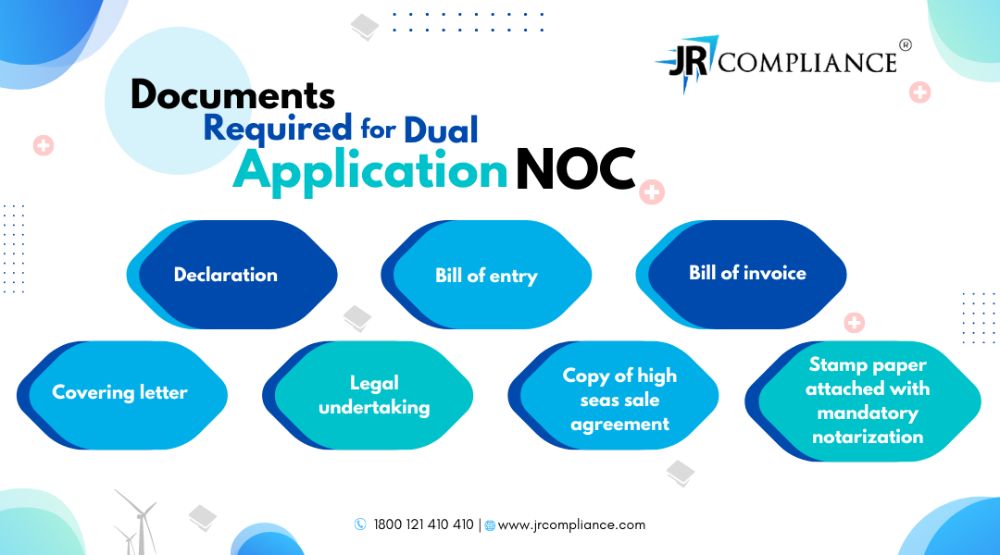 Covering letter 
Copy of high seas sale agreement
Bill of entry/invoice/purchase order or indent or sales contract along with analysis of the certification of all importing packages. 
Legal undertaking and 100 rupees stamp paper attached with mandatory notarization:
3.1 Annexure - if a drug is imported by the actual user. 
3.2 Annexure - if the drug is imported by the trader.
A declaration is needed regarding the drugs (they will be not used for medicinal purposes)
In case of a drug registered for import with CDSCO, details shall be enclosed.
Information regarding previously permitted quantities. 
Time taken for Dual Use NOC Certificate:
The time period for Dual NOC is 1 year. 
The valid information in the process of Dual Use NOC:
Before applying, one should check that the application is error-free. 
The Master formula has to be attested duly by the Licensing authority. 
Documents such as bills, and invoices must clear the main objective of the application.
The time period for Dual NOC is 1 year. 
How JR Compliance will help you in MDR CDSCO
Our consultants will educate you concerning every aspect of the Dual NOC registration 
We will check under which Class your products fall, including whether a product complies with the CDSCO standards or not, then, after mutual understanding, the project will move forward.
Obtaining Dual NOC is no easy task, however, there is no better place to obtain it than JR Compliance because we will analyze the product requirements to give clear guidelines.
Our consultants are equipped with the necessary resources to conduct a virtual pre-audit to confirm whether your manufacturing unit is complying with requirements or not.
Our consultants will coordinate with the concerned authorities for regular follow-ups.
You can expect reliable and punctual service delivery as our cdsco registration consultants will also visit the office on your behalf if required to complete the online registration on time.
Our consultants will invest their sustained efforts to meet the startled queries or demands of concerned authorities.
Conclusion:
Understanding distinct aspects of Dual NOC or How to do register for Dual NOC is quite complex, considering that you would have to obtain complete knowledge with respect to the classification of medical devices as per Medical Device and IVD Regulations, done by the Health Ministry of India.
That's not all, along with the understanding of the categorization of medical devices, it is also essential to demonstrate the medical devices CDSCO or CDSCO approval process, including other concerned aspects.
The complexity and comprehensiveness involved in Dual NOC registration are due to a lack of knowledge that can impact the duration of obtaining a dual NOC in a timely manner. That's where JR Compliance comes into the picture as with the help of our consultants we continue to demonstrate our ability to deliver complex solutions with respect to how I register for Dual NOC.
Moreover, we are also known for our BIS certification services worldwide, providing compliance solutions to AERB approval, BEE certification, DPCC registration, EPR authorization, LMPC certification, and other compliance requirements.
Get in touch with our experts now, to meet compliance requirements for Dual NOC registration.