An Overview : EPR For Plastic Waste | How to Get EPR Certificate | EPR Registration For Plastic Waste

The Draft Plastic Waste Management Rules, 2021, issued by the Union Ministry of Environment, Forests, and Climate Change raises the concern for appropriate plastic waste management. Plastic waste is one of the major contributors to pollution - which is why CPCB has implemented EPR for plastic waste management. 
Before understanding authorization and EPR for plastic management - let's first understand some aspects of Plastic Waste in India  (add as image)
As per CPCB, in the year 2018-2019, India has generated 3.3 million tonnes of plastic waste.
Total municipal solid waste was 55-65 million tonnes.
Goa generates the highest plastic waste, which is twice if compared to the waste generated in NCT Delhi.
Most of the country does not follow systematic plastic waste management.
Plastics are being sold at much higher rates than they should be.
The above-mentioned points clear that plastic waste is one of the major challenges our economy is facing considering that it is not biodegradable. However, India has taken several steps for the purpose of environment preservation, which is clear from the fact that - India recycles over 60 percent of its plastic, as per the Union Ministry of Housing and Urban Affairs (MoHUA) in its 2019 report. 
No doubt, plastic can be utilized in several ways ranging from shelf life for edibles to medical equipment and automotive, the usefulness of plastic can not be underestimated, however, so are its side effects.
That makes it our responsibility to systematically manage the plastic, not only during manufacturing but also when utilizing it.
With that, move to EPR authorization under Plastic (Waste Management) Rules, 2016 - that defines how plastic is affecting our food chain and could be a cause of life-threatening diseases.
Authorization & EPR Under Plastic (Waste Management) Rules 2016:
It is believed that India generates 25,00 tons of plastic waste every day. The production of plastic is high, due to which much plastic is entering the food chain. That results in changing the hormones of humans and could result in life-threatening diseases. Thus, it is essential for the government to step up and enforce laws. Therefore, the Government has introduced Extended Producer Responsibility (EPR) in the 2016 Plastic Waste Management Rules, 2016.
That is defined as the producer's responsibility for the environmentally appropriate product management until the end of its life.
So, it is to be clear that, plastics can be harmful to humans and other living organisms and its effect can not reverse. Thus, to prevent and control the harmful effect of plastics.
With that, let's understand who needs an EPR for plastic waste management/ EPR registration for plastic waste to know whether you need an EPR authorization or not. The purpose of including it here is to prevent the imposition of penalties and fines.
Who Needs an EPR in Plastic Waste Management?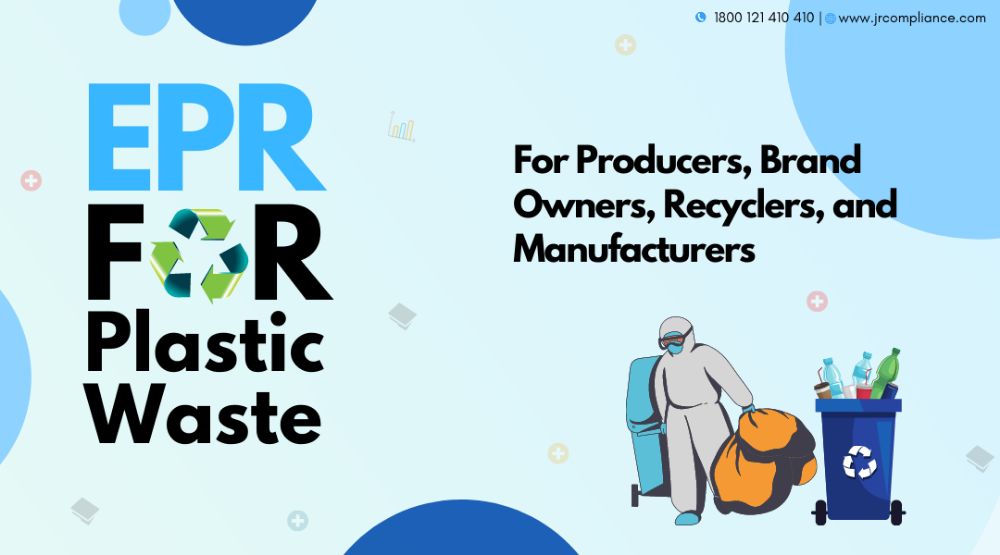 Every Producer, Brand Owner, Recycler, and Manufacturer of plastic is required to obtain registration from the concerned State Pollution Control Board or the Pollution Control Committee of the Union Territory.
The Plastic Waste Management rules are applicable to every waste generator, local body, Gram Panchayat, manufacturer, Importer, and producer of Plastic Materials.
With that, let's move to the next section to know the responsibility of producers, importers, and brand owners -
Responsibility of Producers, Importers, and Brand Owners:
The producers, within a period of six months from the date of publication of rules, must work out modalities for the waste collection system on the basis of Extended Producers Responsibility and including State Urban Development Departments, either individually or collectively, by their own distribution channel or through the concerned local body.
Every producer must keep a record of details of the person involved in the supply of plastic used as raw material to manufacture carry bags or plastic sheets or like or cover made of plastic sheets or multi-layered packaging.
Now that we are aware - of who needs an EPR and what are the responsibilities of producers, importers, and brand owners, let's move to how to obtain an EPR for plastic waste management or EPR registration for plastic waste
How to Get EPR certificate | Process To Get EPR For Plastic Waste Management | Process of EPR Registration For Plastic Waste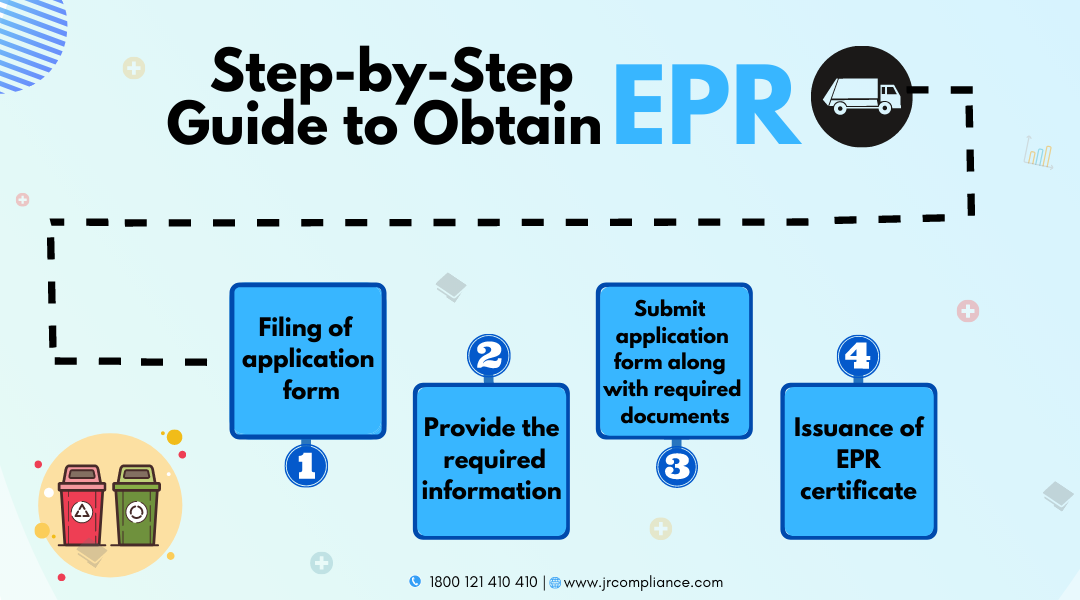 An application form will be filed.
Information in regard to waste generation needs to be provided, including estimated target collection for the impending year.
Information in regard to the strategy to meet the EPR obligations needs to be provided, inclusive of targets.
An application form will be submitted along with the required documents. 
If required, additional information/ documents need to be provided.
CPCB will issue an EPR if you meet its obligations/ parameters.
Since you are aware of the steps involves in EPR authorization, we believe it might be challenging for you to get it done on your own because it includes a comprehensive understanding of each aspect related to the same.
And even a minor mistake in the same could affect the process of EPR authorization. Thus, for a better understanding, it is better to get in touch with a reliable compliance service provider, who can assist you from the first to the last step to make the certification process seamless.
In the next section, we will understand JR Compliance will make EPR authorization easy for you.
How JR Compliance Will Make EPR Authorization Seamless?
Our EPR consultants will file an application on your behalf to ensure the accurate submission of documents and other required information. 
We will provide you with complete support in documentation and evaluation. 
We are equipped with resources and experts to track the application status.
For appropriate follow-ups and acknowledgments, we will directly coordinate with officials. 
To meet the further requirements of the officials, we are the finest consultants in Delhi because we work closely with officials and other authorities. 
Our experienced and professional consultants will provide 24*7 support to resolve any query you may have.
Conclusion
Obtaining an EPR for plastic waste management (How to get EPR certificate) is necessary, not just to escape the penalty or fine, but also to preserve the environment. Though plastic is a major part of life, it causes damage to the environment. 
So, "take a step towards environment preservation by emphasizing systematic plastic waste management."
Further, to create a safe environment JR Compliance - a team of the finest consultants in Delhi has come up with an integrated approach to meet all the obligations or parameters which has been established by CPCB.
Here is to a safe environment and better life.