FOSCOS - FSSAI Registration | FSSAI License Renewal
FOSCOS (Food Safety Compliance System)  FSSAI License is a body under the Ministry of Health & Family Welfare, Government of India. FSSAI is an authority formed under Section 31 (1) of the FSS Act, 2006. JR Compliance will assist you to get FSSAI registration. 
What is FOSCOS FSSAI License?
(FSSAI) Food Safety and Standards Authority of India is a legal authority that provides food licenses to every Food Business Operator (FBO) in India according to Section 31 (1) of the FSS Act, 2006 to regulate food quality as per the rules and regulations of the FSSAI.
What is the use of an FSSAI License?
It's very necessary to know that whatever we are eating, is healthy or non-injurious to our health. This is when the role of the FSSAI License comes in, this license ensures that your food is verified chemically and is safe to consume or not. 
Now what if anyone who is engaged in the food business doesn't have an FSSAI Certification, is it mandatory? Let's check ahead!
Is FSSAI License mandatory?
Assuredly, every business that engages in the food supply chain is required to procure the license. If they fail to do so, they won't be allowed to operate in the Indian market.
Further, to acquire FSSAI there are some details that would be needed. So, if your product withstands the standards of the FSSAI you can procure the license.
In FSSAI License there are different divisions, let's talk about different types of FSSAI License.
Key Types of FSSAI License
FSSAI certificate is of three types depending on the turnover of the business.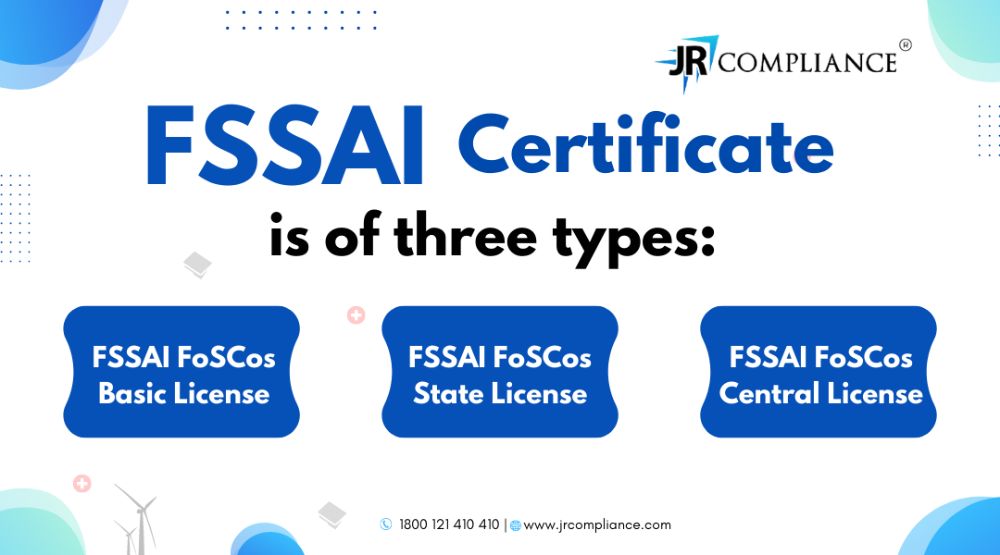 1. FSSAI FoSCos Basic License
A business with a turnover of up to Rs.12 lakh would need to acquire FSSAI basic license. 
Further, as the turnover of the business increases above 12 lakhs, the basic registration needs to upgrade to the state license. Thus, as the name implies, it is an intermediate-level license that is generally opted for by small vendors or food restaurants.
2. FSSAI FoSCos State License
A business with a turnover above Rs. 12 lakhs to Rs.20 crores needs to obtain a State license. The FSSAI State license is also acquired by small to medium businesses, retailers, restaurant marketers, storage units, distributors, etc.
3. FSSAI FoSCos Central License
FSSAI Central license is required by the business with a turnover of above Rs.20 crores. Along with this, importers, manufacturers, operators in the Central government, airports, seaports, railways, etc need to acquire the same license.
The cost of obtaining the above-mentioned licenses could be different depending on various factors, however, the validity of the licenses is 1-5 years.
Functions of FSSAI License :
Forming regulations to lay standards and Guidelines regarding food also gives a proper system to enforce those guidelines.
Promoting general awareness related to food standards, 
Enforces quality control. (any imported food article in India)
Also specifying the limits of the antibiotics, additives, pesticides, and many more.
Provide clear and reliable information to the consumers, about any food product.
FSSAI Certification Procedure:
The application form will be submitted as per Form A.
Once the application form is submitted, a Unique Application Reference Number will be generated.
Within 7 days of the registration, the Registration Authority (RA) will either approve or reject the application to obtain the FSSAI certificate.
The Registration Authority will either conduct an inspection or not.
In case the inspection is not required, the Food Business Operator can commence its business.
However, if required, the Registration Authority will issue a notification for the inspection. Within 7 days of issuance of the notice for inspection, inspection will be ordered.
If you have cleared the inspection, you are eligible to obtain the FSSAI certificate and commence the business.   
In later stages, within 30 days, the inspection will be conducted.
Renewal of the FSSAI License
The FSSAI License is with a validity of 1 to 5 years. The FBOs (Food business operators) must apply for FSSAI Registration before the expiry date of the license. According to the guidelines given by  FSSAI, it is necessary to apply for the license 6 months before your license expires. If not done in time, then a penalty of 100 rupees will be charged. 
So, it's mandatory to renew your FSSAI License before it expires. 
Our Role in Obtaining FSSAI License:
Our FSSAI certificate process consultants will assist you in filling out the application.
We will assist you in the FSSAI certificate document submission and evaluation.
JR Compliance has a professional team that will coordinate with the FSSAI officials for inspection, which is an integral part of the FSSAI certificate process.
We guarantee to provide you with proper acknowledgments and follow-ups by being in direct coordination with FSSAI officials or FSSAI compliance.
We assure you to provide you with quality services by ensuring a professional approach to obtaining the FSSAI license.
In case of any query, we will provide the finest solution to your concern regarding how to get an FSSAI certificate or food license documents.
Conclusion :
To culminate, as mentioned FSSAI license or FSSAI registration is mandatory to obtain to operate every Food Business Operator (FBO) in India. Thus, without acquiring an FSSAI license, food business operations such as Restaurants, Dhabas, Canteen, Retailers, Distributors, etc won't be able to operate in India.
Consequently, JR Compliance - a Delhi-based compliance service provider has been assisting highly reputed brands for 8+ years by guaranteeing proper follow-ups and acknowledgment to avoid inaccuracy and to ensure a smooth procedure.
Hence, for expert and professional services, contact us immediately.