How to Get a TEC Certificate? | TEC Certification Process
How to get a TEC certificate - why don't we start with what is TEC before knowing its process. TEC is an acronym for Telecommunication Engineering Centre, typically it is an authority - that provides technical support to the Department of Telecommunications and other government departments. The mentioned authorities are responsible for the formation of laws, regulations, standards/ specifications, interface requirements, and more.
TEC played an important role in the telecom ecosystem in a capacity wing of the Department of Telecom and is committed to developing telecommunication standards with the motive to develop a top-notch telecommunication network and smooth interconnection of the individual networks. 
As a part of an endeavor to be in line with Atmanirbhar Bharat, the national vision of the Prime Minister has made technical documents including Standards and Testing Schedule and Test Procedure (TSTP), publicly free. Thus, anyone can download technical documents from the official website free of cost, be it startup entrepreneurs, academicians, students, and more to use them in their respective work areas. This has been done to ensure the free flow of technical standards in the industry for research, manufacturing, testing, and more.
TEC's mission is to -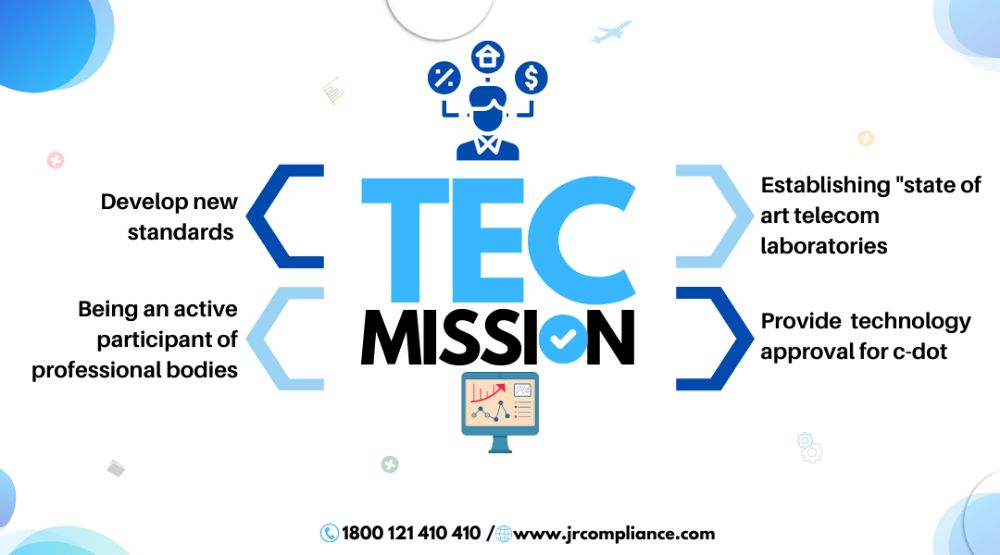 Develop new standards/ specifications and update existing ones.
Establishing "State-of-Art-telecom-laboratories."
Being an active participant in professional bodies such as ITU, APT, and more in order to protect the interest of the country.
Technology approval for C-dot to develop telecom technology that is specifically designed for local manufacturers. 
Moreover, in order to create a telecom ecosystem, it is obligatory to get a TEC certification to ensure that safety standards have been met. Though the comprehensive process of TEC approval could make it complex, especially for a layman. 
With that, let's move to conformity assessment under TEC approval.
What is Conformity Assessment Under TEC Approval?
TEC includes two certifications -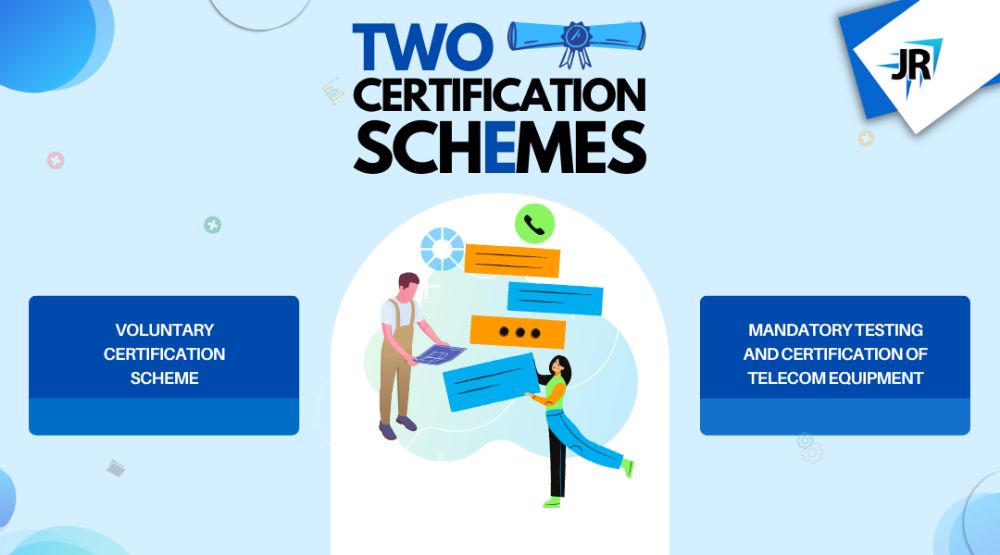 Mandatory Testing and Certification of Telecom Equipment (MTCTE)
Voluntary Certification Scheme 
Here, let's have a look at these in detail -
MTCTE Certification Scheme
MTCTE certification scheme, in accordance with Indian Telegraph Rules, 2017, all the telecom equipment needs to be certified to ensure compliance with established standards. It is to be noted that, without proper TEC certification, you won't be able to sell or distribute telecommunication equipment in India, similar to BIS certification. 
Hence, any telegraph that has the potential of being used by any established, maintained, or worked telegraph under a granted license is obligatory to obtain MTCTE certification. Moreover, only independent equipment is tested and certified under MTCTE and it does not cover equipment modules or components. 
In addition to that, MTCTE certification is divided into certification schemes -
General Certification Scheme (GCS)
Simplified Certification Scheme (SCS)
Under GCS, an applicant has to submit the test-wise compliance with test reports in accordance with the parameters mentioned in Essential Requirements (ERs). 
Some of the products that fall under GCS are -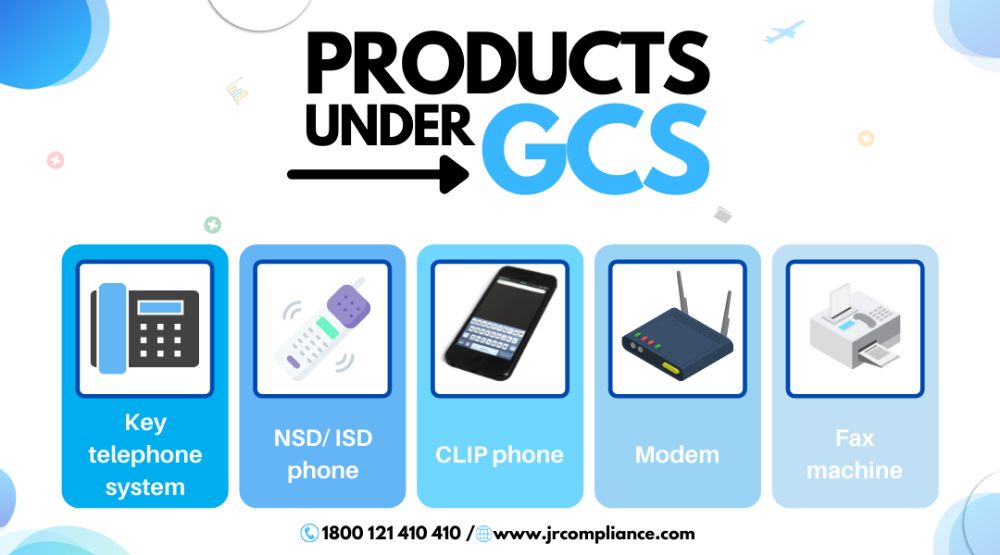 Key telephone system
NSD/ ISD phone
CLIP phone
Modem
Fax machine (group - 3)
Conversely, under SCS, test-wise compliance with test reports needs to be submitted as per Self-Declaration of Conformity (SDoC), that too as per the standards specified in ERs. 
Some of the products under SCS are -
Cordless phone
Router
Smartwatch
LAN switch
Soft switch 
Voluntary Certification Scheme
However, if we talk about - Voluntary certification scheme, then it is based on products and interfaces related to aspects of technical standards. Under this scheme, a product is tested against different parameters to establish that it has met the established TEC standards. The product testing is conducted on-site at OEMs premises or in a lab environment. Moreover, test reports related to EMC, environmental safety, and so on from ILAC accredited labs are accepted. 
The Voluntary Certification Scheme include different regime -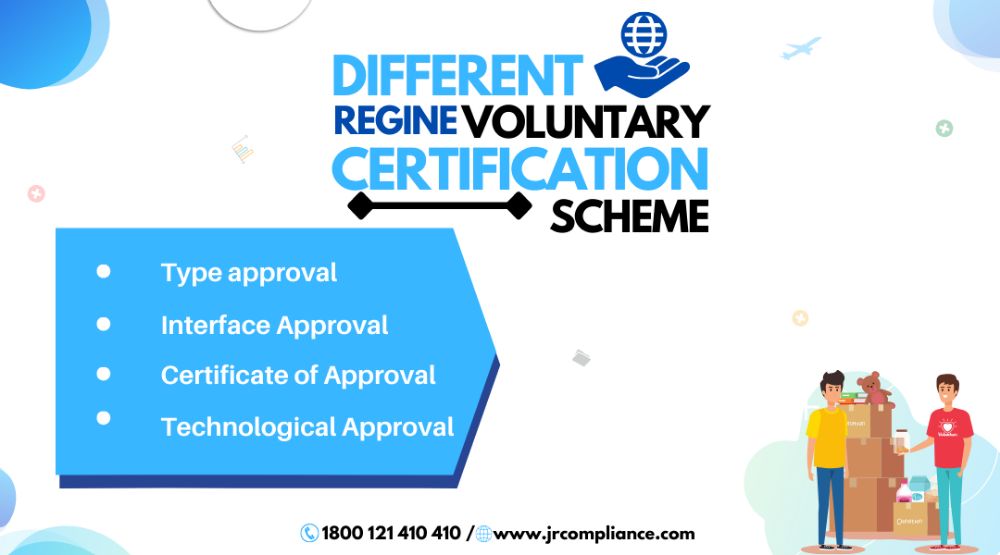 Type Approval
Interface Approval
Certificate of Approval
Technological Approval
Let's have a look at each of the Voluntary Certification Scheme regimes in detail -
1. Type and Interface approval 
It includes a process of testing and certification of the product as per Telecom Schedule and Test Procedure (TSTP) to ensure conformance with the standards of the product or equipment. As mentioned earlier, product testing will be conducted on-site at the premises of OEMs or in a lab environment.
2. Certificate of Approval (CoA)
CoA, an acronym for Certificate of Approval, includes the process of testing and certification in accordance with the manufacturer's specifications or standards. Though, under this TEC regime, a TEC certificate will only be issued when a TEC does not have generic and interface requirements. 
Conversely, the product testing will be conducted as per Telecom Schedule and Test Procedure (TSTP)  based on the description of the product and technical specifications provided by the manufacturer. 
3. Technology Approval
Under technology approval, a prototype of a telecom product developed by C-Dot or other Research and Development organization is tested and certified. It is issued against product-related standards with former Generic requirements, in this case, the product testing is also conducted on-site at the premises of OEMs or in a lab environment.
Since we know what a TEC certificate is and what are the different types of certification schemes it includes, let's have a look at some of the products which need to be certified under TEC, to establish clear ground regarding certification. 
In this blog, we will precisely emphasize MTCTE approval, thus, in the next section, we will discuss - how to get a TEC certificate under the MTCTE certification scheme. 
How to Get a TEC Certificate? | MTCTE Certification Process | TEC Process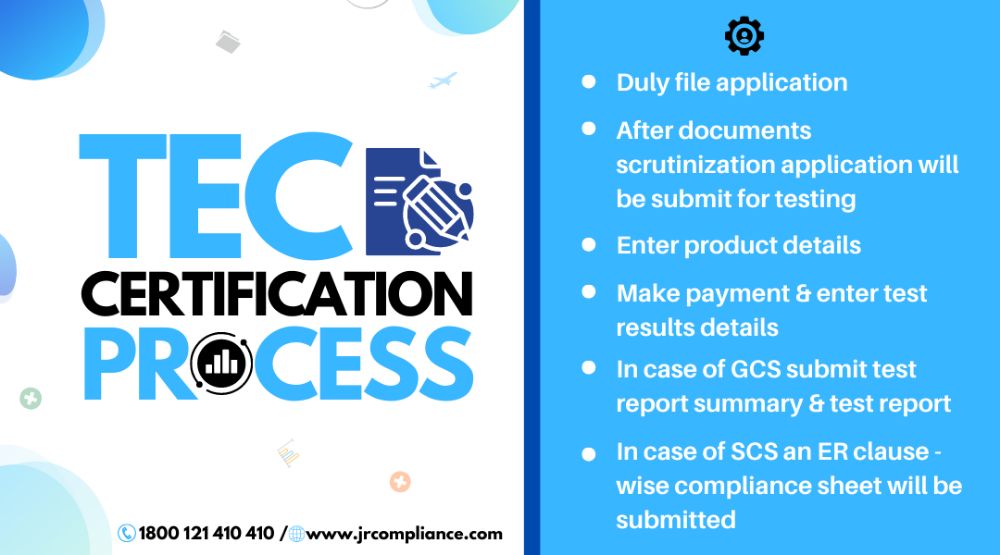 An application will be duly submitted along with the required documents.
Once the documents will be scrutinized successfully, an application will be submitted for testing or certification.
For testing, the details of products, manufacturing location, if required BOM, and equipment date sheet need to be provided, including payment of a fee.
Once the payment has been made, test results and reports will be submitted.
In the case of the General Certification Scheme (GCS), test report summary and test reports must be submitted, including an undertaking that signifies that the information provided is accurate. If test reports are compliant with applicable parameters of ERs, a certificate will be issued.
In the case of the Simplified Certification Scheme (SCS), an ER clause-wise compliance sheet will be submitted with Self-Declaration of Conformity (SDoC). Thereafter, the examination of the test report will be conducted, if it indicates compliance with the parameters, a certificate will be issued.
NOTE - If test reports are not available testing needs to be done in an accredited CAB.  
Once the TEC certificate is generated, you wouldn't find it necessary to search how to get TEC certificate number, considering that the TEC number is an identification number for a TEC certificate holder. 
With that, let's move on to - how we will make the TEC certification process seamless.
How Does JR Compliance help in TEC Certification?
Our TEC consultants will invest their time and efforts in analyzing which certification scheme is applicable to a product.
To provide accurate and reliable information, our TEC certificate consultant will conduct a product analysis to understand the functions and components of the equipment. That will help us understand applicable ERs on equipment. 
To ensure high satisfaction, our TEC certificate consultant will directly coordinate with CAB to ensure proper follow-ups and acknowledgment. 
Our TEC consultants are abreast with all the information in regard to TEC India, which helps us coordinate with the Telecommunication Engineering Center (TEC) without any discrepancy. 
To ensure your convenience, our TEC approval consultants will track your TEC application.
Our professional experts are equipped with all the necessary resources to tackle every issue - be it suspension, cancellation, or amendment of TEC approval. 
Our TEC approval consultants will provide you with after-sales services like assisting in the implementation of labels on the product.
Our TEC certificate consultant are equipped with technical resources to provide you with complete assistance during surveillance. 
We will provide 24*7 technical support to resolve any query you may have.
Conclusion
Merely knowledge of the steps involved in - how to get a TEC certificate is not enough, considering that documentation, knowledge of applicable standards on a product, and more can affect the TEC certification process.
As a minor inaccuracy in the submission of detail or product testing, a certification process might get delayed, and even your application for TEC certification could be rejected. 
Moreover, to make the certification process seamless for you, we have come up with a client-centric approach that will allow us to conduct thorough research regarding the product to ensure that a product complies with the testing and certification process. That will help us to provide accurate guidance during the certification process, this will eliminate the possibility of inaccuracy.
So, get in touch with us for a FREE consultation to meet standards of technical Indian compliance, be it BIS certification, DPCC approval, EPR approval, and so on.