How to get BIS certificate for LED lights?
Are you a manufacturer or importer who desires to sell or distribute LED lights in the Indian market?
Then, you must be thinking about how to get a BIS certificate for LED lights. Well, before diving into that topic, let's see why an energy-efficient LED light needs certification.
LED lights need to be BIS certified because of interchangeability, to prevent electric shock, insulation resistance, electric strength, mechanical strength, cap temperature rise, resistance to heat, resistance to flame and ignition, fault conditions, and creepage distances and clearances.  
Be it streetlights, parking garages, walkways, modular, and more - LED lights are most commonly used due to their high energy efficiency. 
So, LED lights which are widely used could be harmful to the final consumers if they are not perfectly manufactured, which is why the Bureau of Indian Standards (BIS) has introduced several parameters which a manufacturer or importer is required to meet.
Before moving to how to get a BIS certificate for LED lights, let's have a look at which BIS certificate applies to LED lights,
Which BIS Certificate Applies to LED Lights?
A BIS certificate is a mark of safety and conformity which reflects that a product is safe, reliable, and of high quality. It is a National Standard Body, established under the BIS Act, 2016 with the primary objective of the harmonious development of standardization, marking, testing, and quality certification. 
BIS includes different certification schemes which are applicable to different products, below-mentioned are the certification scheme under BIS,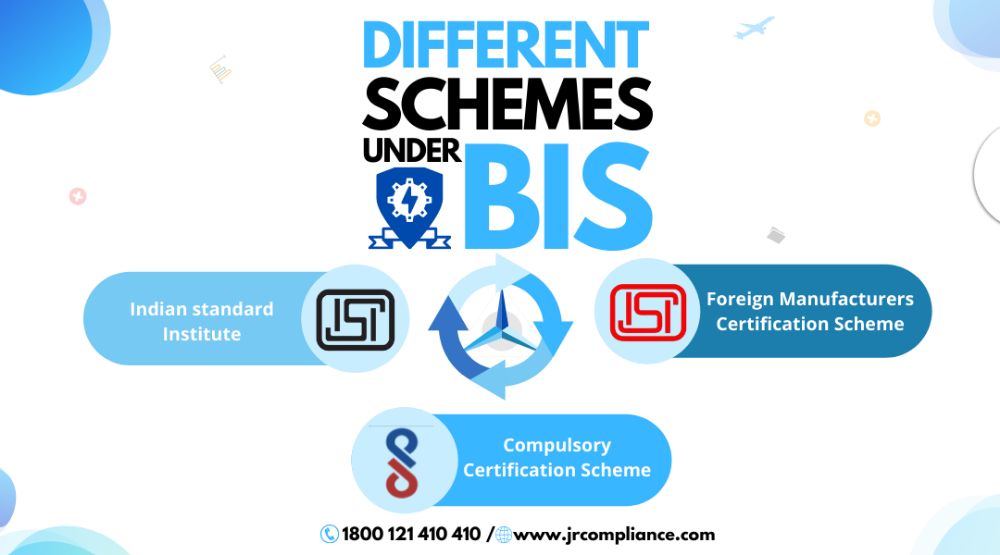 The applicability of each certification scheme differs depending on the product type, for instance, for cattle feed, a manufacturer needs to obtain ISI or FMCS, while for a Smart card reader, a CRS certificate will need to be obtained. 
Now, which BIS certificate is applicable for LED lights?
The compulsory Registration Scheme (CRS) is applicable to LED lights.
Let's understand what the Compulsory Registration Scheme (CRS) is.
CRS certification scheme is applicable to IT and electronic products such as LED lights, passport readers, smart card readers, and more. It reflects that a product has complied with the BIS standards. While the conformity of the product will be issued once the testing will be done.
Hope you are aware of which certificate you need to obtain for LED lights, let's have a look at the import of LED lights possible without BIS certification.
Is Import of LED Lights Possible Without BIS Certification?
No, BIS certification is obligatory to import the LED lights without which your product won't be able to sell or distribute in the Indian market. 
Also, it has some other benefits,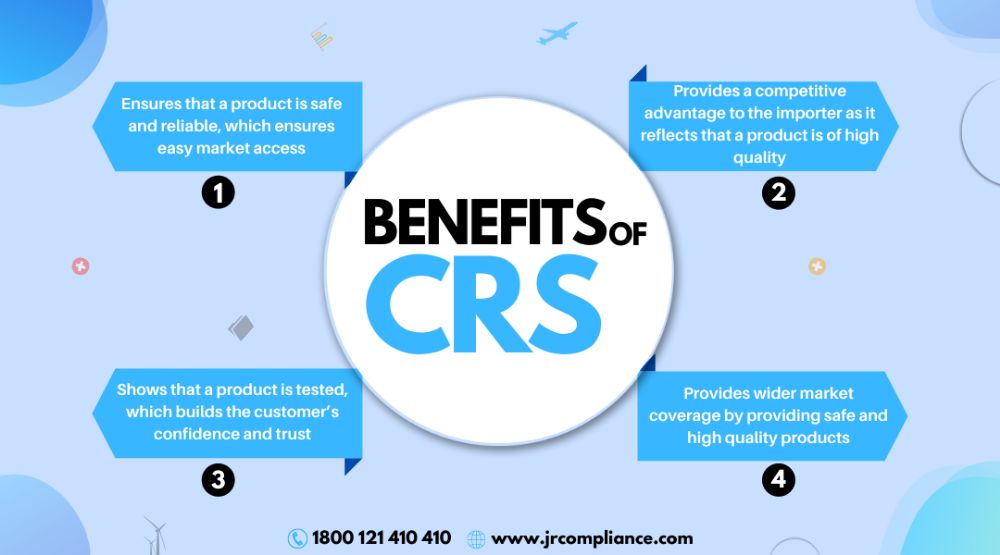 Ensures that a product is safe and reliable, which ensures easy market access. 
Provides a competitive advantage to the importer as it reflects that a product is of high quality.
Shows that a product is tested, which builds the customer's confidence and trust.
Provides wider market coverage by providing safe and high-quality products.
Finally, let's see, how to get a BIS certificate for LED lights,
How to Get BIS Certificate For LED Lights?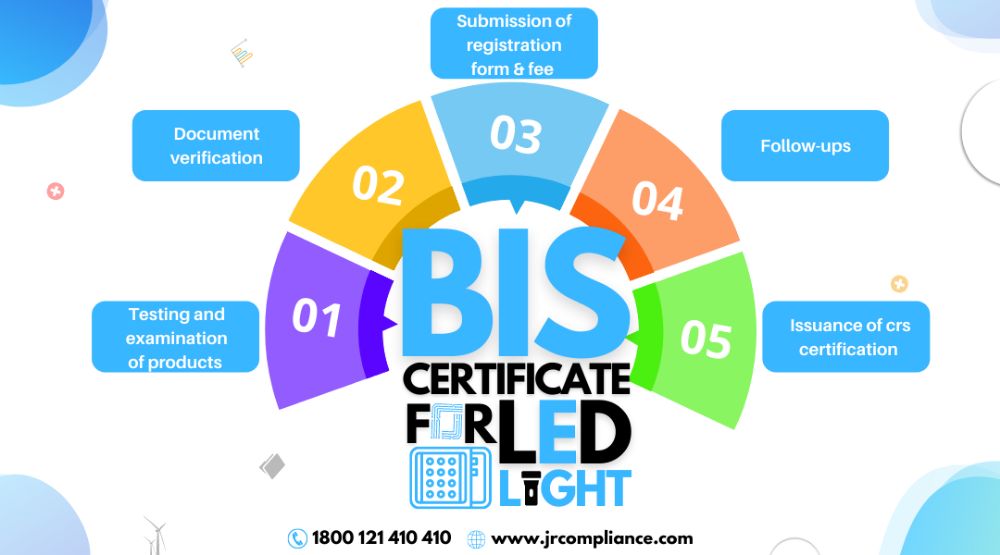 The manufacturer's profile will be created on the BIS portal. 
A Test Report Format will be generated from the BIS accredited laboratory.
Thereafter, a laboratory will submit a report under the manufacturer's profile on the BIS portal.
An applicant should appoint an Administrative Indian Representative (AIR). Also, an Indian applicant should submit the affidavit cum undertaking according to Form A/B, while a foreign applicant is required to submit the affidavit cum undertaking as per Format C.
The online form will be submitted, including the submission of documents and the requisite fee.
A CRS certificate will be issued if a product conforms to the established standards.
Note - CRS certificate will be issued on the basis of the product testing, not on factory inspection. 
Assuming that you have understood each aspect of how to get a BIS certificate for LED lights, though, no doubt, it seems unchallenging. However, it is easier said than done, because there are many complexities involved in its certification process, which can not be reflected through the series of steps that have been mentioned. 
No worries, you are at the right place, JR Compliance with an experience of over 9+ years and completed above 10,000+ CRS projects makes us the best choice to obtain the BIS certification because we are experienced. So, now, let's have a look, at how we make CRS certification seamless for you, 
Why Should We Be Your Choice?
We will educate you in regard to how to get a BIS certificate for LED lights.
We will inform you under which purview of BIS your LED lights fall.
To provide you with comprehensive guidance, we will examine the certification requirements for LED lights.
Our BIS consultants will provide you with information on the number of product samples required for testing. 
We will educate you with respect to each aspect of the CRS certification - its benefits, registration process, documentation, and any other query you may have.
We are equipped with all the resources to assist you in customs clearance of the LED lights if required to ensure our client's convenience. 
For your convenience and satisfaction, we will invest our time and efforts in paying day-to-day visits to the BIS office on your behalf.
We pride ourselves on offering competitive and excellent services to our clients by meeting the started queries or demands of officials if any.
We are committed to providing you with 24*7 support to your queries, if you may have any. 
Conclusion
Hope you are now aware of how to get a BIS certificate for LED lights, including what is BIS certificate and CRS certification - which is applicable to LED lights. 
However, as mentioned above, obtaining a CRS certificate could be challenging because it includes several aspects which an experienced professional can handle. Well, what could be a better place to obtain CRS certification than JR Compliance - a compliance service provider who has been working on and still working on 1000+ projects.
If you still have doubts with respect to how to get a BIS certificate for LED lights, contact our experts for reliable consultation services.