How to Get ESIC Number | ESIC Registration Procedure

Employees' State Insurance Scheme - full form of ESIC, it is a self-financing social security scheme managed by Employee State Insurance Corporation, an authority responsible for creating laws and regulations under the Ministry of Labor and Employment.
The fundamental objective of ESIC registration certificate is to provide medical, monetary, and other benefits to the workers and employees. Under Section 2A of the Act with regulation 10-B, it is an employer's statutory obligation to complete online ESIC registration. 
However, before understanding how to get ESIC number? 
We believe it is necessary to understand, what is an ESIC number? 
An ESIC number is a unique 17-digital identification number, which provides a unique identity to employees of a factory/ organization. It is generated once the registration is done on ESIC portal done as per established provisions. 
ESIC provides help to employees in different ways by providing several benefits such as -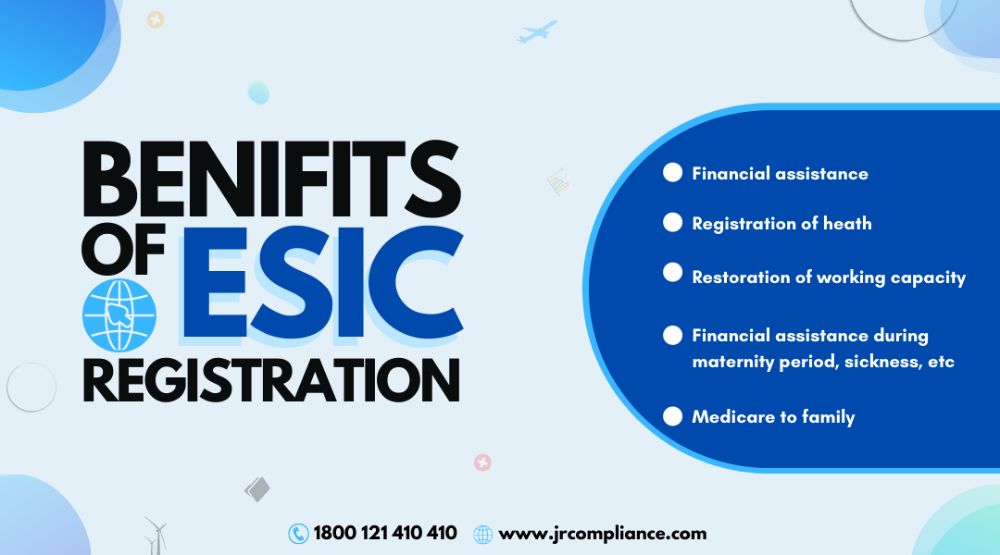 Financial assistance to compensate for loss during abstention of work.
Restoration of health and working capacity.
Financial assistance during the maternity period, sickness, and employment injury.
Medical care of family members.
As it is clear, an ESIC registration certificate offers an abundance of benefits to an employee from restoring health to providing medical care to family members - it has got you covered like a tree, which provides shade to you.
Although, as mentioned, it provides several benefits to the employees, the question - how ESIC is funded? What is the source of its fund?
The answer is simple.
It is a self-financing scheme, whose funds are primarily built on contributions of employees and employers payable on a monthly basis at a fixed percentage. With that, the government also bears some share of medical benefits, i.e., 1/8th share.
Since we know about the source of funds and benefits of an ESIC registration, let's move on to what are the establishments that attract coverage under ESI. 
Which Establishments Attract Coverage Under ESI?
As notified by the Central Government, all factories which have 10 or more employees - attract coverage under Section 2 of the ESI Act. Conversely, as per notification issued by the concerned government - State or Central, under Section 1 (5) of the Act, the below-mentioned establishments possessing 10 or above employees attracts ESI coverage -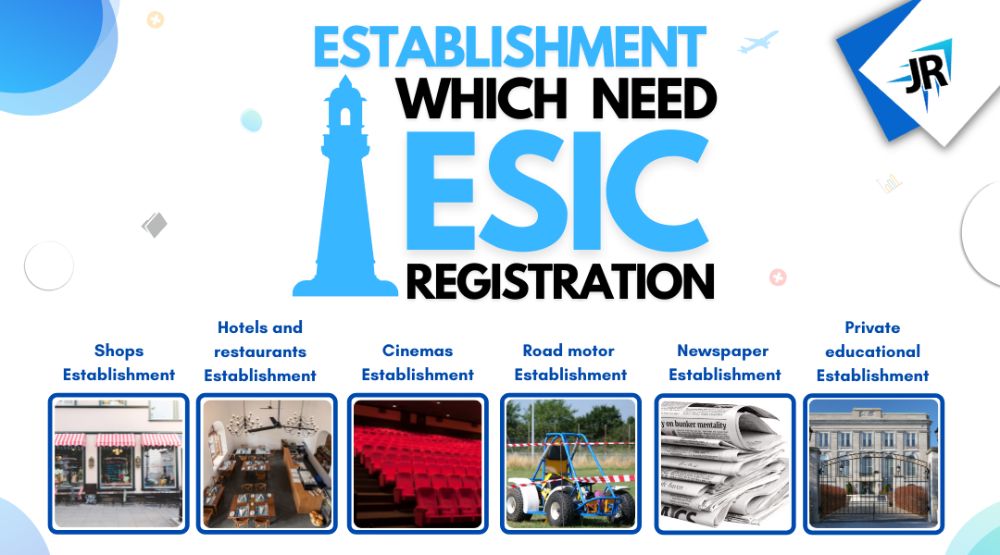 Shops
Hotels and restaurants are engaged in sales, not engaged in any manufacturing activities.
Cinemas have preview theaters.
Road motor transport establishments.
Newspaper establishments.
Private educational establishments.
Along with these, in some states, ESI coverage is applicable to 20 or above employees as per Section 1 (5) and governments of a few states have not extended the benefits of the scheme to medical and educational institutions. 
So, hope you have understood, whether you need to apply for an ESIC number or not, however, if you still have any doubt, why don't get in touch with us - JR Compliance, India's leading compliance service provider.
We have been closely coordinating with varied ministries to provide satisfactory compliance services to our clients and we guarantee you to contribute to your success by providing you with the best of our services from services like BIS certification or LMPC certification to the registration of private limited companies, public limited companies, limited liability partnerships, GST registration, GST return filing, and more.
How we will make the ESIC registration certificate process seamless is another thing, why don't we first look at how to get ESIC number in the next section.
How to Get ESIC Number? | Online ESIC Registration Process | Registration on ESIC Portal | ESI Registration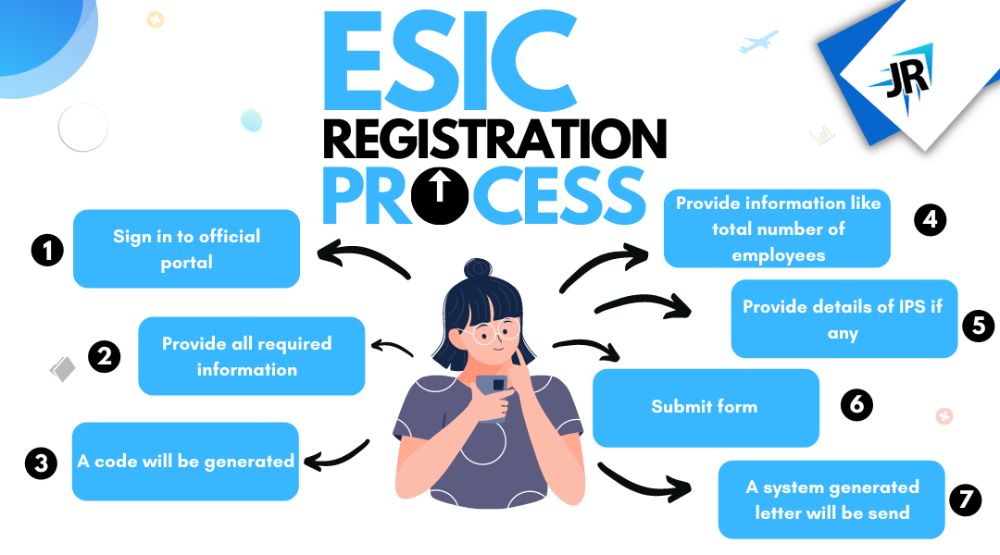 To sign in, an employer will be required to provide details on the ESIC Portal such as the factory/establishment, PAN, address of the Principal employer, etc.
Once the information will be submitted to ESIC Portal, a code will be generated automatically.
Then, a replica of the Registration letter (C-11) and the credentials will be sent to the employer's email.
All the required details will be added as required such as the total number of employees, branch office, etc on the ESIC Portal.
 If any, the details of IPs will be entered and the form will be submitted.
After providing all the details, the payment needs to be made through ESIC Portal.
At last, you will receive a system-generated registration letter (C-11).
NOTE - ESIC registration is a completely online process and does not require manual submission of documents.
We have mentioned each and every step involved in ESIC registration certificate process and documentation plays an essential role in the same, with that, since it is an online process, it is essential to maintain close coordination with authorities for follow-ups and acknowledgments - we are the best choice for you.
We have known for our dedicated services to our clients because we believe that, our success lies in yous, which makes us, the #1 compliance service provider.
With that, let's move to how we will provide you assistance in ESIC registration -
How Will We Make ESIC Registration Easy?
Our ESIC consultants guarantee to assist you in the online ESI registration process.
To ensure accurate ESIC registration, we promise to provide appropriate documentation to complete the registration.
Our ESIC registration consultants will ensure thorough processing of the application at each stage of registration.
Our ESIC registration consultants will directly contact the officials to ensure proper follow-ups and acknowledgment.
We will provide you with the most appropriate solution to your concern about how to apply ESIC online.
Conclusion
To recapitulate, how to get ESIC number is essential to understand, considering that it provides medical benefits, benefits to family, retirement benefits, and other associated benefits to employees. Moreover, the best part is that an employee, employers, and government both contribute to its fund - which provides relief to the employees.
With that, we agree, that anyone might be able to avail of these benefits through ESIC registration, although, it can not be ignored that it could be comprehensive depending on different factors such as submission of documents, completing the registration process, and more.
No problem, you have got us, we are a leading compliance service provider that completed over 10,000+ India and global compliance projects and is still working on 1,000+ projects. And we assure to provide you best compliance services from BIS certification to company registration, consider it done.
Get in touch with us right now and meet your compliance requirements.