How to Get ISI Mark For Interlocking Tiles | BIS Certification

Interlocking tiles are widely used, from the parking lots to community centers, you can see interlocking tiles laying everywhere. And you must know, to sell interlocking tiles in India, it is important to have a proper understanding of, "how to get an ISI mark for interlocking tiles?"
We understand BIS certification is often considered a liability rather than an asset. This might be the case especially when BIS certification is a voluntary requirement for a product and interlocking tiles falls under voluntary certification schemes unlike other products such as cattle feed, steel, etc.  
Although if we talk about global leaders, they never make the mistake of underestimating the importance of conformance with compliance rather than mistaking it as a liability. One such example of a global leader is Apple. Ever since Apple launched its first product in the Indian market, iPhone 3G in Aug '13, India has become an "ever-growing market" for tech multinational companies. 
That reflects how global leaders are using BIS certificates or other compliance requirements in their favor to build credibility, trust, reliability, brand image, and more.
Why don't we look at other benefits of the ISI mark to understand its importance clearly? 
What Are the Benefits of Obtaining BIS Certification?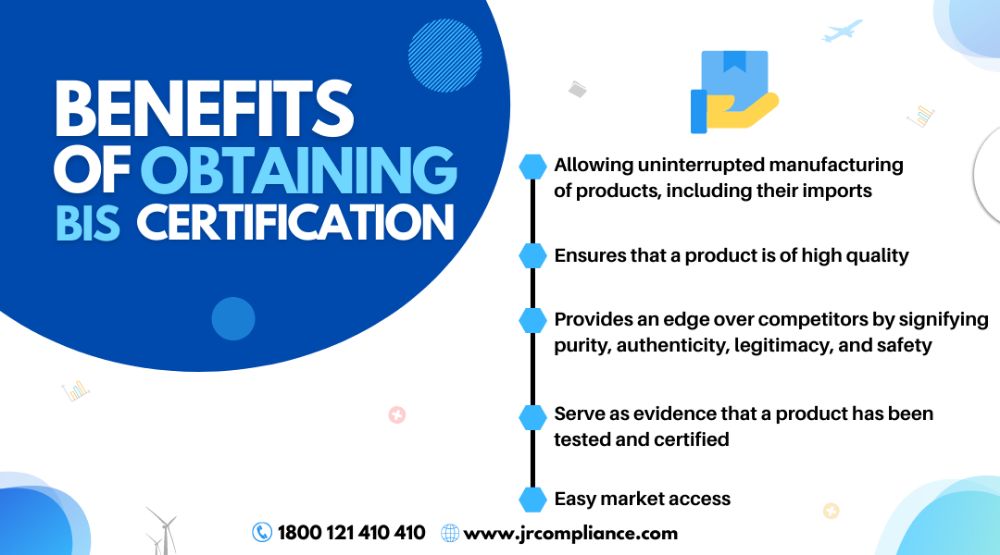 ISI mark serves as evidence that a product complies with Indian standards.
Prevent the imposition of penalties and fines.
Provides a competitive edge over competitors because a consumer will prefer a certified good rather because it signifies quality and safety.
Easy market access and acceptance in the market.
Allow you to file a government tender.
An ISI mark offers several benefits to both - consumers and producers, but getting into the challenging part of how to complete the ISI mark registration procedure, to know which products fall under the purview of BIS, click here.
Which BIS Certification is Applicable on Interlocking Tiles?
The Bureau of Indian Standards (BIS) includes three different certification schemes, namely -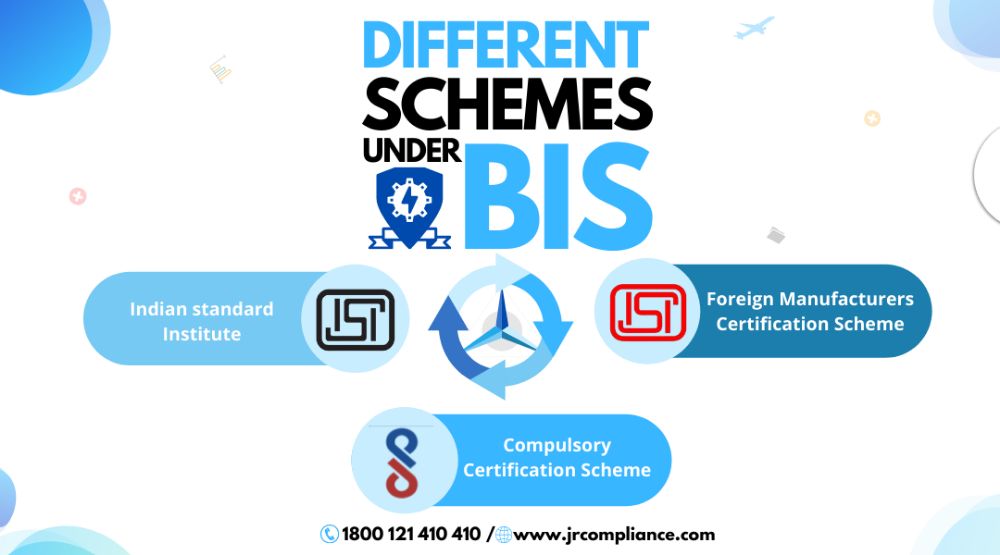 Let's understand each scheme in detail -
Indian Standards Institute (ISI) is the certificate scheme under BIS (Bureau of Indian Standards) which confirms that a product withstands the BIS standards which ensures safety.
Foreign Manufacturers Certification Scheme (FMCS) as per the BIS Act, 2016 and Bureau of Indian Standards (Conformity Assessment) Regulations, 2018, BIS has the authority to provide a license to the foreign manufacturer to sell products in the Indian market.
Compulsory Registration Scheme (CRS) under the Scheme II of Schedule II of BIS (Conformity Assessment) Regulations, 2018. Further, under this, a number of guidelines have also been formed for electric and electronic products. 
As you must have understood, both the certification schemes include different products depending on which a certain BIS certificate is applicable on the same. 
Just so we are clear, ISI and FMCS certification includes all the products such as cattle feed, steel, food, cables, toys, and more, excluding electric and electronic products such as air conditioners, mobile phones, barcode scanners, etc, as these fall under CRS. It is to be noted that, the process of all the certification schemes under BIS differs, thus, it is necessary to thoroughly understand each aspect of the product, or else it could delay the process of certification. 
In this blog, we will only be emphasizing how to get the ISI mark for interlocking tiles. Although, it is to be noted that, if a foreign manufacturer wants to enter the Indian market, interlocking tiles need to be FMCS certified. 
However, getting a BIS certification for interlocking tiles is a voluntary requirement, not mandatory. Being a professional we would recommend you obtain a BIS certification to build customers' trust, brand value, and credibility. 
Before understanding how to get the ISI mark for interlocking tiles, it would be better to understand the ISI mark certification process.
How to get ISI Mark For Interlocking Tiles? | ISI Certification Process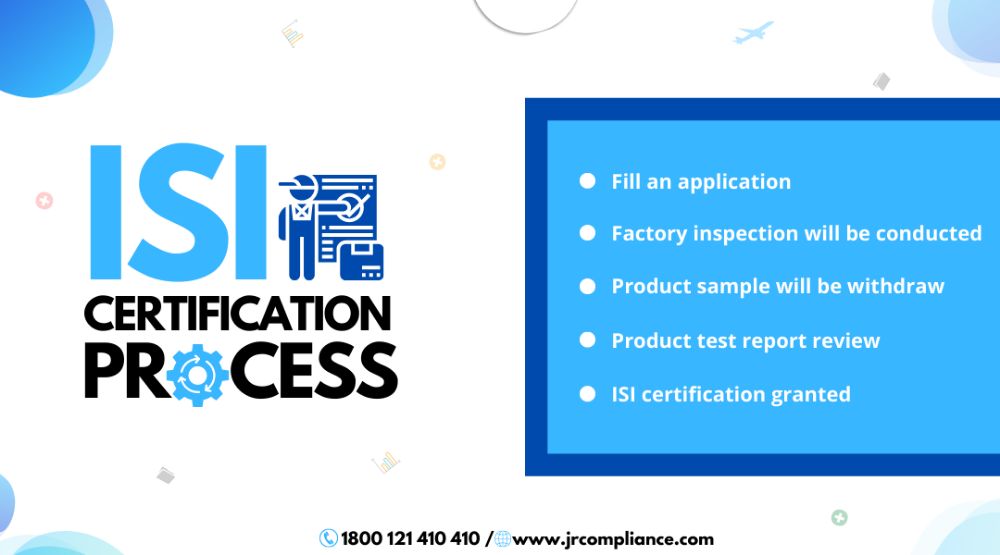 An application form will be duly filed.
A factory inspection will be conducted for the assessment of manufacturing infrastructure, production process, quality control, and more.
A product sample will be withdrawn for testing in a third-party laboratory during factory inspection.
The product test of the tested sample will be reviewed.
If a product complies with the established safety standards, an ISI certificate will be issued.
ISI mark registration procedure seems to include an easy series of steps, however, one of the most essential factors to completing the ISI mark registration process is complying with the laid standards. Thus, having an appropriate understanding of applicable standards on a product, including meeting their requirements.
Although, for a layman, it would be challenging to complete the certification process, especially without a professional approach. Here is why we - JR Compliance is a perfect choice for your certification requirements. Let's see how we make the ISI mark registration procedure seamless.
How Will We Help in Seamless ISI Mark Certification?
How JR Compliance Will Ensure That a Product Will be Laid Standards?
First, we will analyze whether a product falls under the purview of BIS or not.
If a product falls under BIS purview, we will understand the applicable standards on a particular product to provide appropriate and reliable guidelines.
We are the one-stop solution to meet certification requirements because our BIS consultants will conduct a product analysis to ensure that a product complies with the standards.
How Do We Make Certification Easy?
Our BIS certificate consultants will provide you with complete knowledge in regard to the certification process and applicable standards for a product.
An in-house testing facility is an obligatory requirement to obtain an ISI mark and we are equipped with all the resources to provide you with complete assistance in establishing one.
Our BIS consultants will directly coordinate with the laboratory or officials for proper follow-ups and acknowledgments.
Our consultants will complete the documentation, evaluation, and examination to ensure complete accuracy.
We possess experience of over 8+ years and have completed over 1000+ ISI certification processes and are still working on 250+ projects.
How Do We Make Factory Inspection Easy?
We will conduct a pre-audit to ensure that factory premises conform to the laid standards.
We will directly coordinate with officials to schedule a factory inspection.
Our BIS consultants will meet the startled requirements of the concerned authorities.
Conclusion
Understanding each aspect of how to get an ISI mark for interlocking -  is no easy task because it includes several activities such as product analyzes, knowledge of applicable standards, and more to ensure conformance with the standards. 
That's why having a professional to guide you to complete the BIS certification process - be it ISI, FMCS, or CRS makes certification hassle-free.
Well, no doubt, you are at the right place!
JR Compliance - India's leading compliance service provider, possesses the required experience and professional knowledge to take care of any challenge a manufacturer would face to complete the ISI mark registration procedure.
Contact our expert team and avail of customer-centric services.