How to Register a Proprietorship Company in India?

Sole proprietorship is one of the most common business structures in India, probably because it is easy to form or requires less capital. However, what's important is that - how to register a proprietorship company in India? 
Though, it is a well-known fact that incorporation of proprietorship is seamless because it has to comply with less or a few compliance requirements. And it is the perfect choice of business structure if you have a few clients, also an individual merchant, and traders can engage in the same.
Moreover, apart from the imposition of a few compliance requirements, a sole proprietorship is a perfect choice, if an individual wants to commence the business immediately. 
Now the major question is - why should you register your proprietorship if it already provides so many benefits without registration?
Well, the primary motive to register a sole proprietorship is to file the government tenders, easy access to loans, business credibility, and trustworthiness. All these benefits of registration of a sole proprietorship make its registration a necessary requirement.
As we know why a proprietorship must be registered, let's know more about its benefits before getting started with how to register a proprietorship company in India.
Benefits of Sole Proprietorship Firm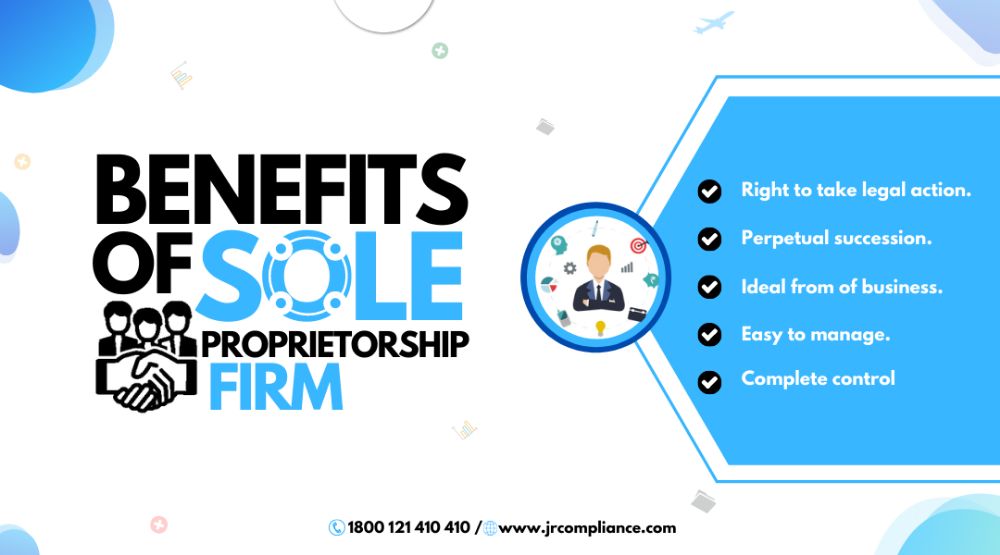 Exempted from paying income tax if the income is below 2.5/3 lakh.
The owner has the complete authority to make decisions.
Ease of commending firms as few legal formalities are implemented.
Zero or a few government regulations.
Easy to terminate, dissolve, or sell the business.
Easy access to loans from Banks and Financial institutions. 
Filing the government tenders.
The benefits of a sole proprietorship surely make it compelling, so here, let's talk about how to register a proprietorship company in India. However, before moving forward you must know the documents requirements for incorporation of a sole proprietorship and what kind of business can be a sole proprietorship.
How to Register a Proprietorship Company in India?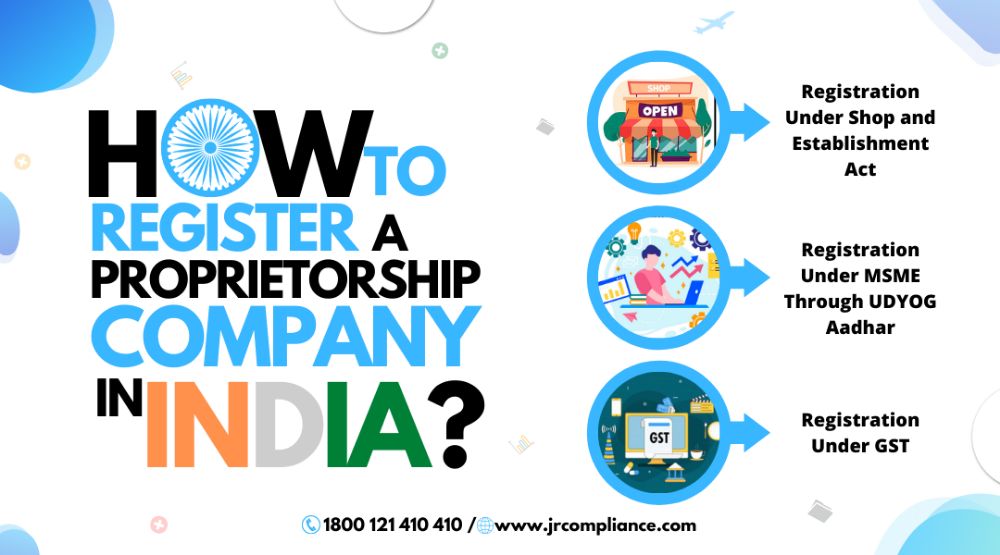 A sole proprietorship mainly can be registered through -
1. Registration Under Shop and Establishment Act
Registration under the Act defines a shop as a premise -
A location that will provide services to clients.
A site where an individual is engaged in goods selling, either as a retailer or wholesaler.
A location associated with trade/ business could be a godown, workplace, office, and more.
If an establishment falls under the criteria a sole proprietorship firm can be registered under the local Municipal Corporation.
2. Registration Under MSME Through UDYOG Aadhar
Registration under the MSME ministry through UDYOG Aadhar will provide you with a Unique Identification Number for a business. However, this process has been replaced by EM - I and EM - II.
Completing registration under UDYOG aadhar allows a sole proprietor easy access to loans at low-interest rates and submission of less money for projects of the government.
3. Registration Under GST
If you are engaged in providing goods and services, then you need to register your firm under GST. It is considered the most acceptable form of registration. However, it is mandatory to meet the compliance requirements.
No doubt, sole proprietorship registration comes with various advantages, but it does not eliminate that it requires appropriate knowledge to know under which registration scheme must be registered.  
Well, you can reach us to get your sole proprietorship registration done instantly. 
Therefore, to make sole proprietorship seamless for our clients, here is how we will make sole proprietorship easy for you -
How Will We Make Sole Proprietorship Registration Seamless?
To make registration hassle-free, we guarantee to complete documentation to avoid any inaccuracy.
We will provide you with complete assistance in filing the application form.
Once the registration is done, our consultants will assist you in tracking the application status.
For proper follow-ups, our consultants will directly coordinate with officials.
In case of any query raised by authorities, we are equipped with all the resources to meet those.
To provide hassle-free guidance, our consultants will analyze your sole proprietorship firm and then suggest under which registration scheme your firm should register.
We will be available 24*7 to provide you with guidance and to solve any queries you may have.
Conclusion
However, to file the government tenders or to easily avail of the facility of loans from banks and financial institutions, registration is an obligatory requirement.
However, without professional guidance, it could be tedious because before registering a firm, you need to understand how to register a proprietorship company in India, what are the registration schemes it includes, and under which your firm must be registered.
So, here we have come with a client-centric approach to provide you 100% assistance in sole proprietorship registration, including the incorporation of a partnership firm, an OPC, producer company, insurance company, and any other company registration - we have got you covered.
Get in touch with our experts for immediate registration.