ICEGATE Ad Code Registration Online Process: Fees, Status
As a seller in the Indian market, if you desire to export your goods and services outside India this blog is for you! First comes first, The exporter should be familiar with the two key terms- 
Import Export Code (IEC)
Directorate General of Foreign Trade (DGFT)
IEC refers to a business verification number issued by the DGFT (Directorate General of Foreign Trade). On the other hand, an AD Code (Authorised Dealer Code) signifies a mandatory number to accomplish custom clearance for your goods.
In this blog, we are going to discuss the critical elements of AD code registration, the process, the documents required for AD code registration, etc. 
Introduction To ICEGATE AD Code Registration
AD Code is an Authorized Dealer Code, which is a 7-digit code issued by the bank. The purpose of this code is for foreign currency transactions. AD Code, as well as Import Export Code Registrations, are the most significant registrations undertaken in every exporting business. 
ICEGATE Registration is carried out for custom clearance of the products and commodities from India. 
On the other hand, AD code Registration is present in the ICEGATE portal. It is demanded to be taken for each port individually. The role behind the registration is to enable foreign currency transactions.
Critical Reasons For Acquiring Ad Code Registration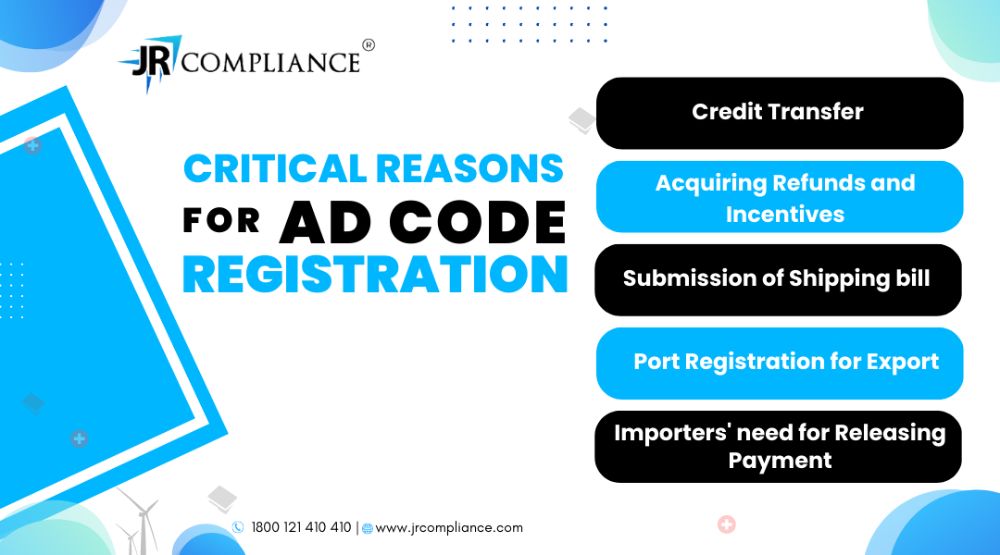 There are diverse reasons why getting an AD code is essential for businesses that are required to export goods from India. Some key facts have been stated below:
•Credit transfer to the trader's account directly.
•Crucial for acquiring refunds and incentives.
•Export-Import Trade Is Legalized
•Submission of Shipping bill to customs house clearance
•Port registration for export can be implemented through the AD Code Icegate online platform.
Ad Code Registration Online Process In ICEGATE
Given below are the key steps for  AD Code Registration on ICEGATE:-
Sign in to the ICEGATE Portal.
Choose The Bank Account Management feature.
Then, go to the Authorized Dealer Code Registration column. 
Tap on the Submit option 
Select the Add New Account feature.
Fill In Your Account Details.
Choose the Add Account 
Go to your Bank and visit the Valid AD Code 
Fill in the e-SANCHIT IRN Number.
Finally, Complete with Mobile OTP Verification. And, your ICEGATE AD Code registration is done!
Can an existing AD Code be altered?
The answer is Yes! Following the addition of new AD codes, ICEGATE facilitates the seller to alter an existing one. This adjustment request can be carried forward with- 
An exporter's letter stating why you are required to change the AD Code or abstain from an old registered one.
The appropriate bank branch's email ID for confirmation
All other certifications required at the time of registering an AD Code   
The process to change an AD Code on ICEGATE:
On the Authorized Dealer Code Registration feature, select the appropriate location and click Modify Account option. 
On the Modify Account page that pops up, choose the bank name from the dropdown menu, fill in the valid AD Code, IRN as well and ICEGATE, and tap on Save Changes
If the inputs are relevant, a six-digit OTP is delivered to your email ID/mobile number. After the OTP is verified, the modification request has been completed. You can see the status of your request on the website's  dashboard              
Certifications Demanded To Obtain Ad Code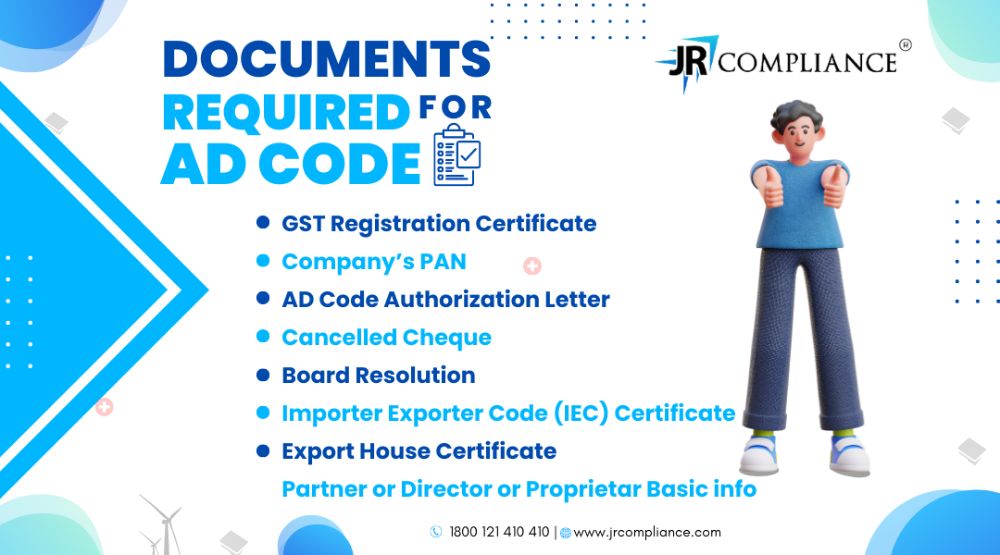 After the AD Code is issued by the bank, it has to be processed with the customs present in the ICEGATE portal. Given below are the necessary documents required to make sure before making an application- 
Company's PAN
AD Code Authorization letter on the letterhead of the Bank
Canceled cheque 
Board resolution (For company only) 
Importer Exporter Code (IEC) Certificate 
Export House Certificate (Optional)
Partner or Director or Proprietor basic info ( Aadhar card, PAN, Passport Copy, Voter ID)
At JR Compliance, we got you covered in the arrangement of all the documents required for the AR code registration process, for a successful application.
Final Thoughts
Now that you're well acquainted with the Ad Code Registration online process, it's imperative you get it done. Not only does it ensure compliance with regulations and policies, but also you can export goods from India with ease. 
Amplifying across the global market has become more convenient than ever! All thanks to e-commerce export programs such as Amazon Global Selling. You can commence an export business anytime, anywhere. A businessman who was earlier fulfilling a limited client base in his area or even nationally can now set sight on across the globe.
At JR Compliance, we are well-versed in providing you with the AD Code registration process. We've served more than 10,000+ leading leaders in the market. Get in touch with our experts, to attain our premium services! We hope you find this guide insightful for your exporting endeavors!