IEC 60950(Part-1) ELECTRONICS- IT EQUIPMENT
Industry Outlook
International Standard IEC 60950-1: 2005 which includes specifications with respect to, "Information technology equipment — Safety — Part 1: General requirements." 
As mentioned, this standard is applicable to information technology equipment, whose demand is constantly increasing, which is clear from statistical data that grows from $8,384.32 billion in 2021 to $9,325.69 billion in 2022 .
Though, it is to be noted that it is a mandatory requirement to meet parameters of IS 13252, yet being experts we would advise you to meet the safety requirements provided in the standards as it will allow you to achieve a competitive advantage, including helping you in retaining customers. 
For a better understanding of why product testing is important, let's have a look at why product testing is crucial.
Why is Product Testing Crucial | Importance of Product Testing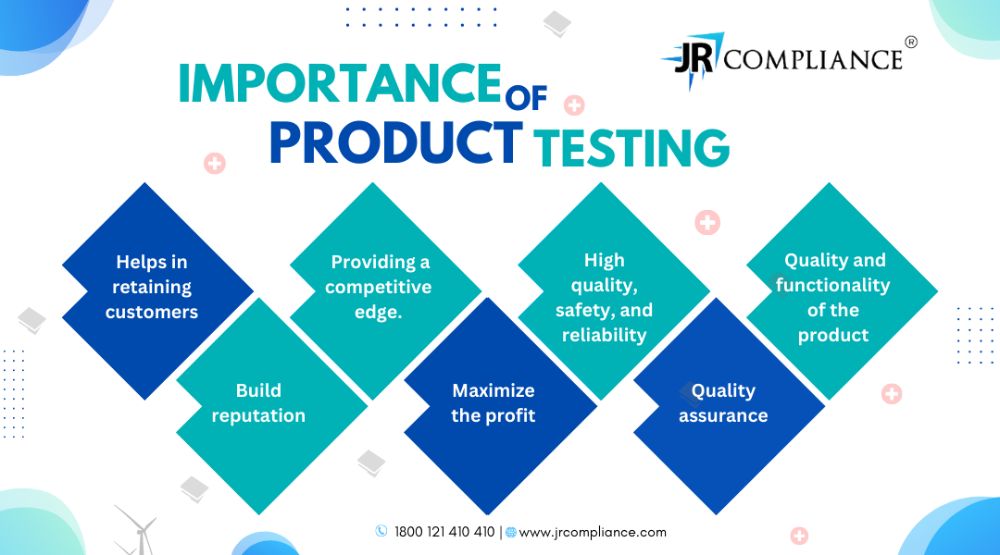 One of the most important purposes of testing is quality assurance of a product that reflects high quality, safety, and reliability.
Product testing allows the manufacturer to ensure the conformance with established technical standards to produce high quality and safe products.
Build reputation and maximize the profit, considering that a tested product indicates quality assurance. 
Helps in retaining customers, thus, providing a competitive edge.
Helps in understanding distinct types of stress a product can endure, be it in case of weather, wear tear, and other conditions.
In the initial prototyping stage, if you are trying to avail investment in order to manufacture your product in mass quantities, a tested product can allow you to achieve patent and investors as it shows the quality and functionality of the product.
With the benefits of product testing, we can clearly estimate how testing ensures quality assurance and product credibility.
Since, it has been established how essential product testing is, now let's move to the benefits of complying with standards.
What Are the Benefits of Complying With Standards?
Complying with standards offers numerous benefits to manufacturers and importers of the product, that further helps in building trustworthiness and reliability, thus retaining the customers.
Why, don't we look at other benefits of the same -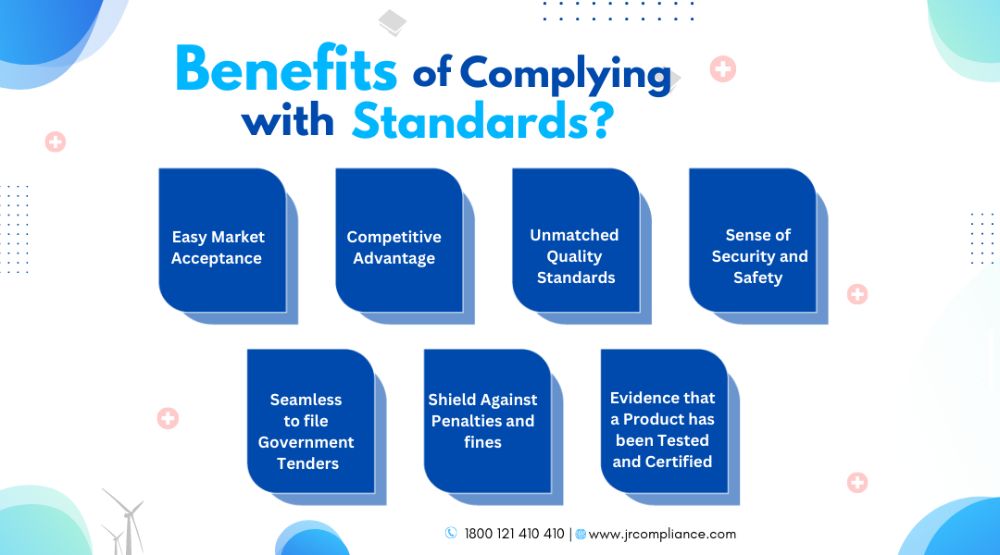 A certified product acts as a shield against penalties and fines which could be imposed for not certifying a product.
A certified product serves as an evidence that a product has been tested and certified as per prescribed standards.
A certified product provides a sense of security and safety to the consumers, thus ensuring easy acceptance.
It provides a competitive advantage over competitors.
Easy market acceptance as a product is tested and certified.
Confirm the unmatched quality standards.
Seamless to file government tenders.
With these benefits of ensuring conformance with IS 13252 standards and specifications, a manufacturer can establish that a product is safe, reliable, and credible, thus, confirming to unmatched quality standards.
Scope of IS 13252 Part 1
IS 13252 Part 1 includes specifications with respect to the mains-powered or battery-powered information technology equipment, including electrical business equipment and associated equipment, with a rated voltage below 600 V. 
Along with that, below mentioned products also falls under its scope -
Products designed with the purpose to be used as telecommunication terminal equipment and telecommunication network infrastructure equipment.
Products which are designed and intended to be directly connected to or used as an infrastructure equipment in a cable distribution system.
A product designed to use AC mains supply as a communication transmission medium. 
Test Requirements and Parameters Tested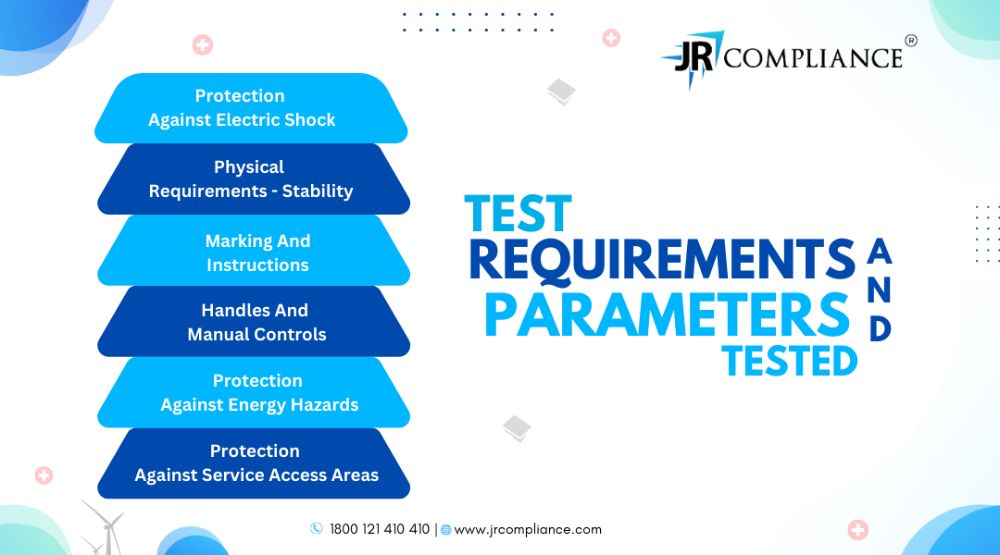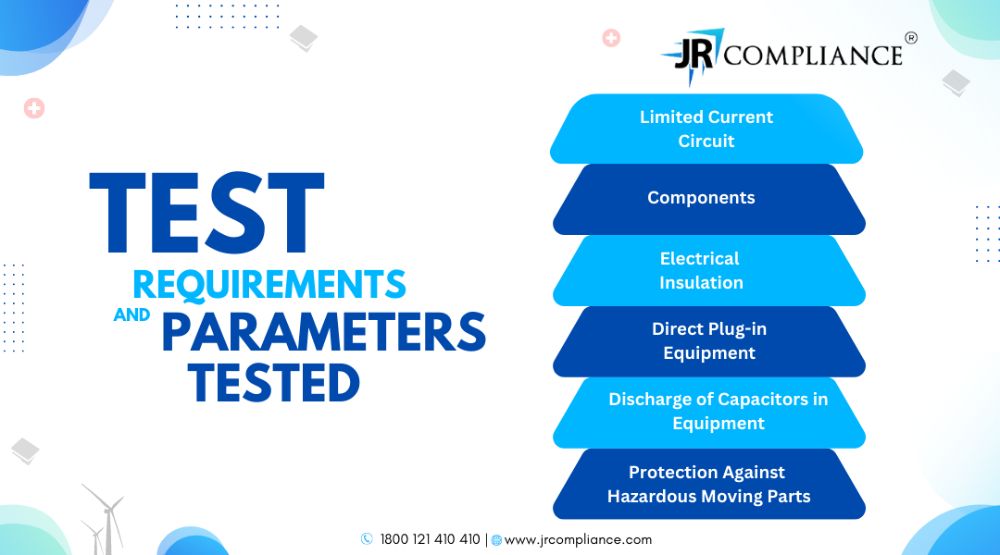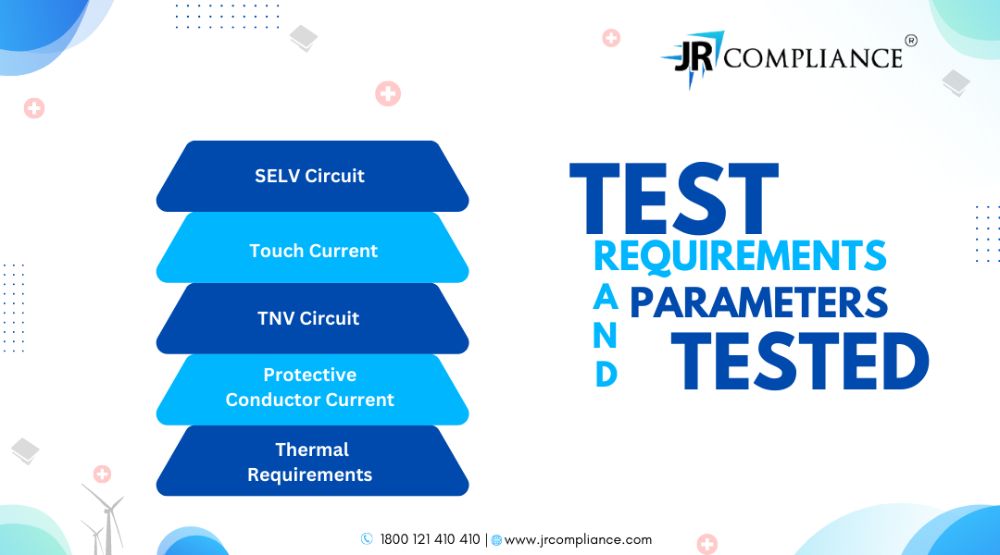 1. Protection Against Hazardous Moving Parts
General
The hazardous moving parts of equipment, which have the potential to cause injury should be arranged, enclosed, or guarded to minimize the risk of injury to an individual. 
Protection in operator access areas
This area, the protection should be provided through adequate construction to minimize the likelihood of access to hazardous moving parts or by locating the moving parts in an enclosure provided with mechanical or electrical safety interlocks which removes the hazardous when access is gained.
Protection in restricted access locations
In this area, the protection will be provided in a way that unintentional contact with hazardous moving parts is unlikely during servicing operations involving other parts of the equipment. 
2. Direct Plug-in Equipment
It is a device which is intended to be used without any power supply cord and the main plug forms an integral part of the device enclosure in order to allow the socket outlet to take the weight of the equipment.
3. Limited Current Circuit
It is a circuit designed and protected under the normal operating conditions and single fault conditions, while the current drawn is non-hazardous.
4. Components 
Thermostat 
It is the cycling temperature sensing control intended to be used with the purpose to keep the temperature between two particular values.
Temperature limiter
It is also a temperature sensing control which is intended to keep the temperature high or low, one specific value during normal operating conditions.
Thermal cut out
This temperature sensing control is intended to operate under abnormal operating conditions and excludes any provision for the operator to change the temperature.
Thermal cut or automatic reset
The thermal cut out will automatically restore the current preceding the cooling down of the relevant part of the equipment.
Interconnecting cables 
Interconnecting cables will be used for the below mentioned reasons -
Electrically connect an accessory to the Information Technology equipment unit.
Interconnect unit in the system.
Connect a unit of telecommunication network or a cable distribution system.
5. Discharge of Capacitors in Equipment
An equipment should be designed in a way that at an operator accessible external point of disconnection of a main supply and the risk shock from stored charge capacitors connected in the equipment will be minimized. 
6. Electrical Insulation
Properties of insulating materials
The choice and application of insulating materials must be taken into account for the electrical, thermal, mechanical, and frequency of working voltage and working environment. Moreover, natural rubber, hygroscopic materials, and asbestos materials must not be used in the insulation. 
Humidity conditioning
The humidity conditioning will be conducted for the duration of 48 hours in a cabinet or a room possessing air with the relative humidity between 91% to 95%. Moreover, the air temperature at all the places where sample is placed must be maintained within 1-degree celsius of any covenant value T between 20-degree celsius and 30-degree celsius.
Grade of insulation
The grade of insulation used in this standard is functional insulation, basic insulation, supplementary insulation, reinforced insulation, or double insulation. 
7. Handles And Manual Controls
Handles, knobs, grips, levers, and other like should be adequately fixed in order to prevent their working in the loose in normal use, in case it creates a hazard. Also, it must indicate the position of switches or other similar components. 
8. Marking And Instructions
The marking and instructions are as follows -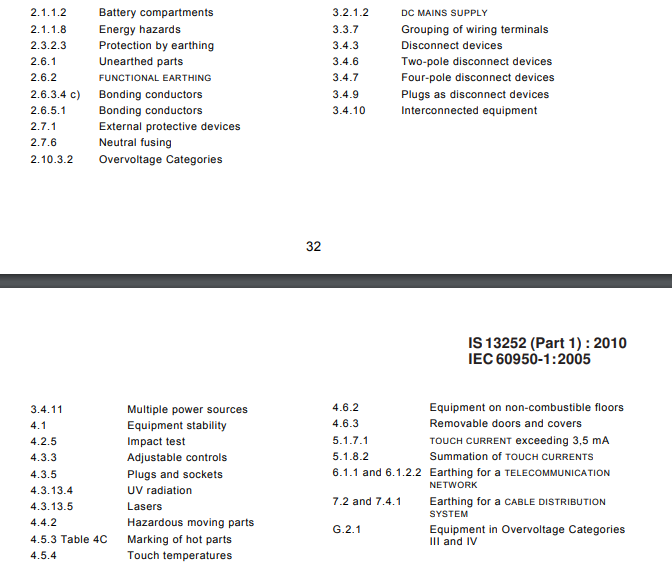 9. Physical Requirements - Stability
Under conditions of normal use, the units and equipment must not become physically unstable to the degree at which they will become hazardous to an operator or to service personnel. Below mentioned test will be conducted to check the compliance -
Each test will be conducted separately.
During the test, the containers contain the substances within their prescribed rated capacity producing the most disadvantageous condition.
In case of using castors and jacks in normal operating conditions, it must be placed in the most unfavorable condition with the wheels and likes blocked and locked.
10. Protection Against Electric Shock
Class I Equipment
It is an equipment which archives protection from electric shock through -
Using basic insulation.
Providing means of connection to the protective earthing conductors.
Class II Equipment
An equipment which provides protection against electric shock does not only rely on the basic insulation, but also provides additional protection such as double insulation or reinforced insulation. 
Class III Equipment
An equipment which relies on supply from SELV circuits and in which hazardous voltages are not generated to provide protection against electric shocks.
11. Protection Against Energy Hazards
Protection in operator access area
It provides protection information with respect to protection against electric shock from energized parts -
Bare parts of SELV CIRCUITS
Bare parts of LIMITED CURRENT CIRCUITS
TNV CIRCUITS under the conditions specified in relevant standard
12. Protection Against Service Access Areas
Below mentioned are the requirements of service access areas -
This requirement is applicable to all types of equipment and for permanently connected equipment where the constant limit will be 10 seconds. 
The bare parts of the hazardous voltages need to be located or guarded from unintentional contact and accidental shorting.
13. SELV Circuit
It is the secondary circuit which is designed and protected under normal operating conditions and single fault conditions, while its voltage does not exceed a safe value. 
14. Thermal Requirements
The material which will be used in the components and in the construction of the equipment must be selected under normal load and the temperature must not increase over safe values. Moreover, the components operating at the high temperature must be effectively shielded and separated in order to avoid overheating.
It is to be noted that the compliance will be checked by inspection of material data sheets and through determination and recording of the temperature.
15. TNV Circuit
It is a circuit which is typically an equipment to which an accessible area of contact is restricted and is designed and protected under normal operating conditions and single fault conditions.
16. Touch Current
An electric current through a human body when it touches one or more accessible parts.
17. Protective Conductor Current
It is the flow of current through protective earthing conductors under normal operating conditions.
How We Help Ensuring Conformance With IEC 60950 Specifications?
We will educate you concerning every aspect of IEC 60950.
We will check whether a product falls under the purview of the concerned standard, including whether a product complies with the standards or not, then, after mutual understanding, the project will move forward. 
There is no better place to obtain it than JR Compliance because we will analyze the product requirements to give clear guidelines.
JR Compliance has experienced expert professionals, who can assist you in the documentation, evaluation, and examination.
We are equipped with the necessary resources to conduct a virtual pre-audit to confirm whether your manufacturing unit and production process are complying with provided specifications or not. 
JR Compliance will schedule a meeting with the officer for a factory audit.
If you lack an in-house testing facility, we will help you in setting up one.
We will coordinate with an accredited laboratory for product testing.
We invest our sustained efforts to meet the startled queries or demands of concerned authorities.
In case of any concern, we assure to provide the finest solution.
Conclusion
IEC 60950, an Indian Standard applicable to electrical cables, which are usually used in the Mining industry and metro industries, is one of the major contributors to our economic development. Considering that, it is not only mandatory but necessary to ensure conformance with specifications mentioned in IEC 60950 with the purpose to introduce your product in the Indian market.
Keeping the importance of conformance with compliance in mind, we - JR Compliance, a leading compliance service provider are equipped with experts and resources to provide you with above and beyond support to obtain a BIS certificate.
Till now, we have experience in providing compliance assistance to over 10,000+ global leaders such as Toray, Bombay Dyeing, Softbank, and others.
For details, get in touch with our experts.