IS 10322 (Part 5,Sec 3) ELECTRICAL- LAMPS, LUMINARIES & ACCESSORIES
Industry Outlook
IS 10322 Part 5 Section 3 includes specifications with respect to luminaries of road and street lights. This standard has been adopted by Bureau of Indian Standards, proceeding to the finalization of draft by Illumination Engineering and Luminaries Sectional Committee, which had been approved by the Electrotechnical Division Council. 
IS 10322 Part 5 Section 3 was published in 1987, however has been revised several times to ensure alignment with latest International Standards. Typically, this standard includes safety specifications and photometric requirements for luminaries on road and street lightning. 
With the increase in the expansion of Indian road network, i.e., 6,371,847 km as of December 2021, making India a country with second largest road network, also pushes the LED market since with its expansion the role of luminaries of road and street lights also increases. 
Therefore, being experts we would want every manufacturer to ensure compliance with IS 10322 Part 5 Section 3, considering that it ensures that a product is reliable and safe for the consumer. Moreover, it also provides a competitive advantage to the manufacturer through retaining the customers.
Though, it does not fall under mandatory product list, yet, depending on our experience and expertise, we would advise you to meet the safety requirements, since a tested and certified product results in higher sales. 
For a better understanding of why product testing is important, let's move on to the next section.
Why is Product Testing Crucial | Importance of Product Testing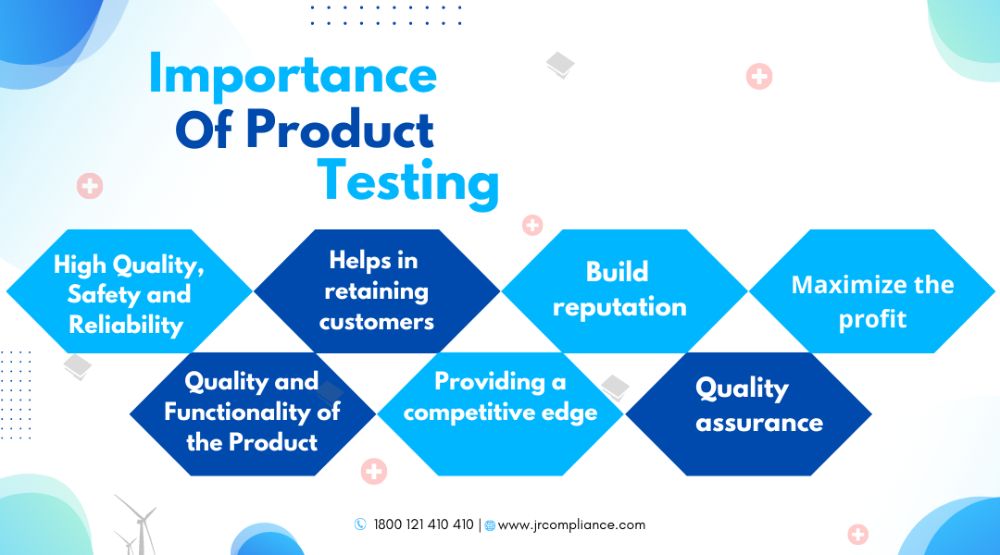 One of the most important purposes of testing is quality assurance of a product that reflects high quality, safety, and reliability.
Product testing allows the manufacturer to ensure the conformance with established technical standards to produce high quality and safe products.
Build reputation and maximize the profit, considering that a tested **product indicates quality assurance. **
Helps in retaining customers, thus, providing a competitive edge.
Helps in understanding distinct types of stress a product can endure, be it in case of weather, wear tear, and other conditions.
In the initial prototyping stage, if you are trying to avail investment in order to manufacture your product in mass quantities, a tested product can allow you to achieve patent and investors as it shows the quality and functionality of the product.
With the benefits of product testing, we can clearly estimate how testing ensures quality assurance and product credibility. 
Since, it has been established how essential product testing is, now let's move to the benefits of complying with standards.
What Are the Benefits of Complying With Standards?
Complying with standards offers numerous benefits to manufacturers and importers of the product, that further helps in building trustworthiness and reliability, thus retaining the customers.
Why, don't we look at other benefits of the same -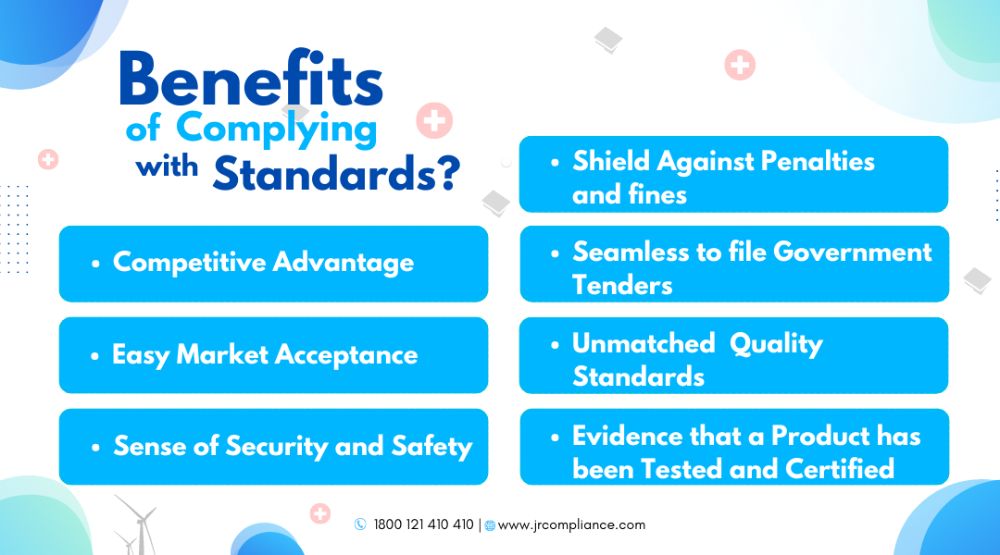 A certified product acts as a shield against penalties and fines which could be imposed for not certifying a product.
A certified product serves as an evidence that a product has been tested and certified as per prescribed standards.
A certified product provides a sense of security and safety to the consumers, thus ensuring easy acceptance.
It provides a competitive advantage over competitors.
Easy market acceptance as a product is tested and certified.
Confirm the unmatched quality standards.
Seamless to file government tenders.
With these benefits of ensuring conformance with IS 10322 Part 5 Section 3 standards and specifications, a manufacturer can establish that a product is safe, reliable, and credible, thus, confirming to unmatched quality standards. 
Now, in the next section, we will learn about test requirements and product scope of the IS 10322 Part 5 Section 3.
**Scope of IS 10322 Part 5 Section 3 **
IS 10322 Part 5 Section 3 includes requirements with respect to the luminaires for road and street lightening to be used with tungsten filament, tabular fluorescent LED, LED modules, and other discharge lamps supplied below 1000V.
Testing Requirements and Parameter Tested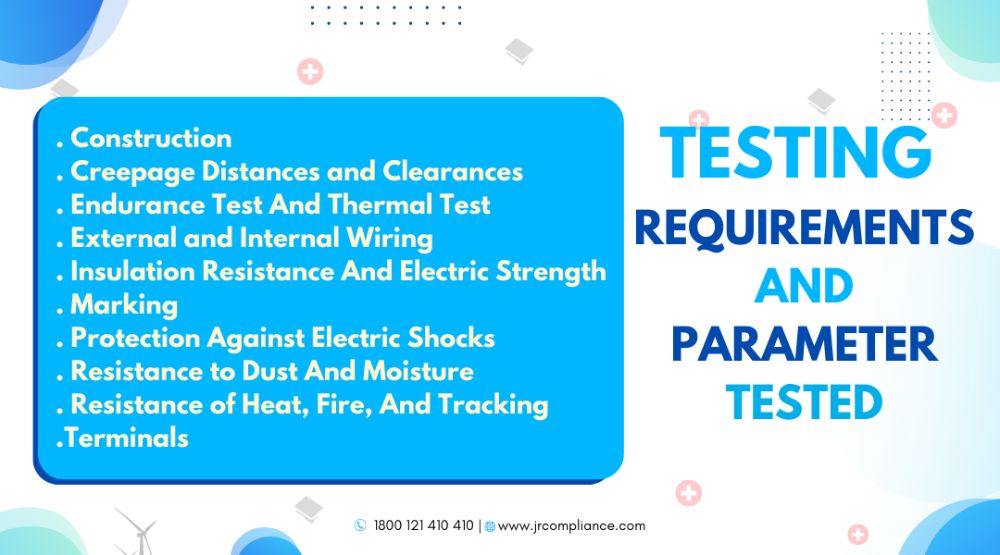 1. Construction
Each luminaires must be protective against ingress of moisture, excluding tunnel lightning luminaries and glazing of column integrated luminaires with an open sided external column.
Luminaries used for the suspension on span wires must be fitted using clamping devices and the range of span wires sizes for which the clamping devices are being used must be done as provided in the leaflet of the luminaries.
The means of attaching the luminaries or its external part to its support must be done ideally to the weight of the luminaries or external part. Moreover, the connection must be designed in such a way that it can withstand the wind speed of 150 km/h on the projected surface without any undue reflection.
In case the single lamp holder is not in an appropriate position, then an ideally supportive device needs to be provided. While in case of adjustable lamp holder or optical parts proper reference marks must be provided and compliance needs to be checked through inspection.
The glass cover should either contain glass which breaks into small pieces or should have an ideally small mesh or film coated glass which remains fragmented. Also, in case of flat glass covers, compliance must be checked through inspection.
The connection compartment of common integrated luminaires must provide appropriate space with doors with the purpose of -
Luminaires terminals
Protective devices
Termination and lodging of electricity supply cables
Connection box
Regarding load calculation and verification of structural design through testing, column integrated luminaries.
2. Creepage Distances and Clearances
The creepage distances and clearances must ensure compliance with IS 10322 Part 5 Section 3. 
3. Endurance Test And Thermal Test
The provisions of IS 10322 Part 5 Section 3 must comply with the following -
When applying the limits provided in the specification, 10-degree celsius will be deducted from the temperature measured on the luminaries with the purpose to allow the natural movement of air that could occur in environmental conditions of luminaries.
A product used for the outdoor purpose must be tested as per the declared  ta ± 5°C, which can be deducted from the measured temperature proceeding to the test.
4. External and Internal Wiring
Below mentioned provisions will be applicable to concerned requirements -
The luminaries need to be provided with cord anchorage in a way to relieve the train from the supply cables, where they are connected to terminals. 
The compliance must be checked as provided in the standard, however, with a pull of 60N and torque of 0.25 Nm.
It is to be noted that the values of pull and torque would be applicable depending on the weight of the supply cables. Though, in general the provided values are proper, but for the luminaries which are intended to be mounted above 20m and where the supply cable weight affects the cord anchorage increased above 4 kg a pull of 100N and torque of 0.35 Nm are applicable.
5. Insulation Resistance And Electric Strength
It would be done, as provided in the relevant standard.
6. Marking
Below mentioned provisions needs to be followed -
Design attitude
Weight including control, if any
Overall dimensions
If mounting is done above 8m from ground, then the maximum subjected area is subjected to wind force
If required, range of cross section areas of suspension wires appropriate for luminaries
Appropriate for indoor use provided the 10-degree celsius, which allows the effect of movement of natural air, which has not been deducted from measured temperature
Dimensions of compartment in which the connection box is placed
A torque setting in any newton meter is applicable to bolts and screws providing support to fix luminaries.
**7. Protection Against Electric Shocks **
It would be done, as provided in the relevant standard.
8. Resistance to Dust And Moisture
For resistance to dust and moisture test, provisions provided in I 10322 Part 5 Section 3 needs to be done. Moreover, for luminaries with IP classification above IP20, its testing shall be done as provided in the relevant standard.
9. Resistance of Heat, Fire, And Tracking
It would be done, as provided in the relevant standard.
10. Terminals
Below mentioned provisions will be followed as -
The supply terminals must allow connection of conductors possessing nominal cross sectional areas, excluding the provisions of supply cable with cross sectional areas smaller than 1mm2.
The compliance will be checked by fitting conductors of the smallest and largest cross-sectional areas specified.
How We Help Ensuring Conformance With IS 10322 Part 5 Section 3 Specifications?
We will educate you concerning every aspect of International Standard IS 10322 Part 5 Section 3.
We will check whether a product falls under the purview of BIS or not, including whether a product complies with the BIS standards or not, then, after mutual understanding, the project will move forward. 
There is no better place to obtain it than JR Compliance because we will analyze the product requirements to give clear guidelines.
JR Compliance has experienced expert professionals, who can assist you in the documentation, evaluation, and examination.
We are equipped with the necessary resources to conduct a virtual pre-audit to confirm whether your manufacturing unit and production process are complying with provided specifications or not. 
JR Compliance will schedule a meeting with the BIS officer for a factory audit.
If you lack an in-house testing facility, we will help you in setting up one.
We will coordinate with a BIS accredited laboratory for product testing.
You can expect reliable and punctual service delivery as we will also visit the BIS office on your behalf if required.
We invest our sustained efforts to meet the startled queries or demands of BIS.
In case of any concern, we assure to provide the finest solution.
Conclusion
IS 10322 Part 5 Section 3, an Indian Standard applicable to electrical cables, which are usually used in the Mining industry and metro industries, is one of the major contributors to our economic development. Considering that, it is not only mandatory but necessary to ensure conformance with specifications mentioned in IS 10322 Part 5 Section 3 with the purpose to introduce your product in the Indian market.
Keeping the importance of conformance with compliance in mind, we - JR Compliance, a leading compliance service provider are equipped with experts and resources to provide you with above and beyond support to obtain a BIS certificate.
Till now, we have experience in providing compliance assistance to over 10,000+ global leaders such as Toray, Bombay Dyeing, Softbank, and others.
For details, get in touch with our experts now.