IS 11000 Part 2 Section 2 (Electrical -Environmental Test- Facility)
Industry Outlook
IS 11000 Part 2 Section 2 specifies standards for the electrotechnical equipment (equipment of IT and electronic sector). Indian Standard 11000 Part 2 Section 2 is identical to IEC 60695-11-5 published in 2004, which includes fire hazard testing through needle flame test. 
This standard was adopted by the Bureau of Indian Standards by the Environmental Testing Procedures Sectional Committee and approval of the Electronics and Information Technology Division Council. 
Considering the market size of global electrical equipment, market size is expected to grow from $1,384.97 billion in 2021 to $1,540.25 billion in 2022 at a compound annual growth rate (CAGR) of 11.2%. The constant increase in the market size of electrical equipment reflects a potential for a manufacturer to grow and expand their business worldwide, however, which is only possible if compliance requirements have been met. 
Indeed, it is mandatory to ensure conformance with compliance requirements as provided in IEC 60695-11-5 with the purpose to not only enter the world electrotechnical equipment market but also to build customer confidence and trustworthiness. 
And in order to do so, a product must be tested and certified, as a test and certified product serves as a proof of safety, reliability, and credibility. Therefore, helps in retaining customers worldwide.
For a better understanding of the importance of product testing, let's move onto the next section.
Why is Product Testing Crucial | Importance of Product Testing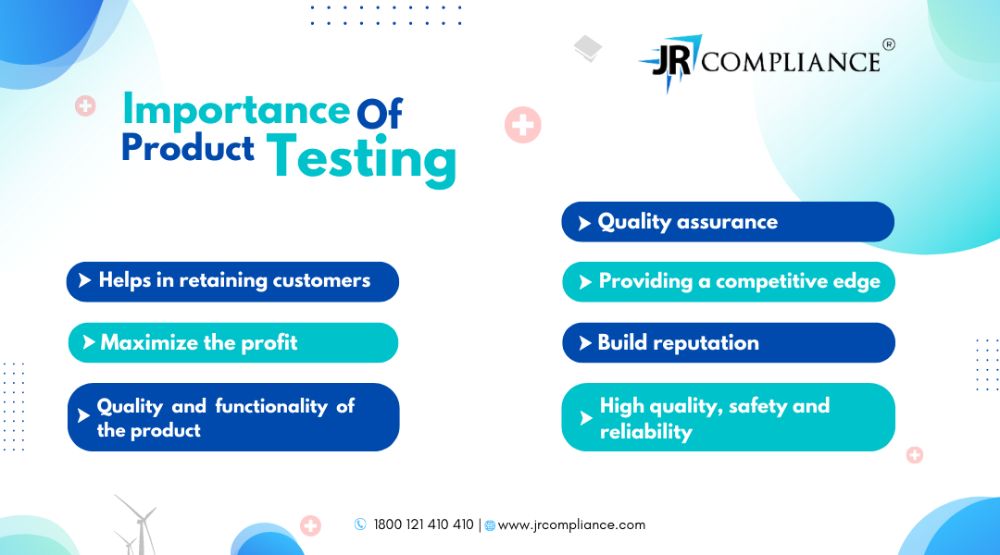 One of the most important purposes of testing is quality assurance of a product that reflects high quality, safety, and reliability.
Product testing allows the manufacturer to ensure the conformance with established technical standards to produce high quality and safe products.
Build reputation and customer retention, considering that a tested product indicates quality assurance. 
Helps in retaining customers, thus, providing a competitive edge.
Helps in understanding distinct types of stress a product can endure, be it in case of weather, wear tear, and other conditions.
In the initial prototyping stage, if you are trying to avail investment in order to manufacture your product in mass quantities, a tested product can allow you to achieve patent and investors as it shows the quality and functionality of the product.
With the benefits of product testing, we can clearly estimate how testing ensures quality assurance and product credibility. 
Since, it has been established how essential product testing is, now let's move to the benefits of complying with standards.
What Are the Benefits of Complying With Standards?
Complying with standards offers numerous benefits to manufacturers and importers of the product, that further helps in building trustworthiness and reliability, thus retaining the customers.
Why, don't we look at other benefits of the same -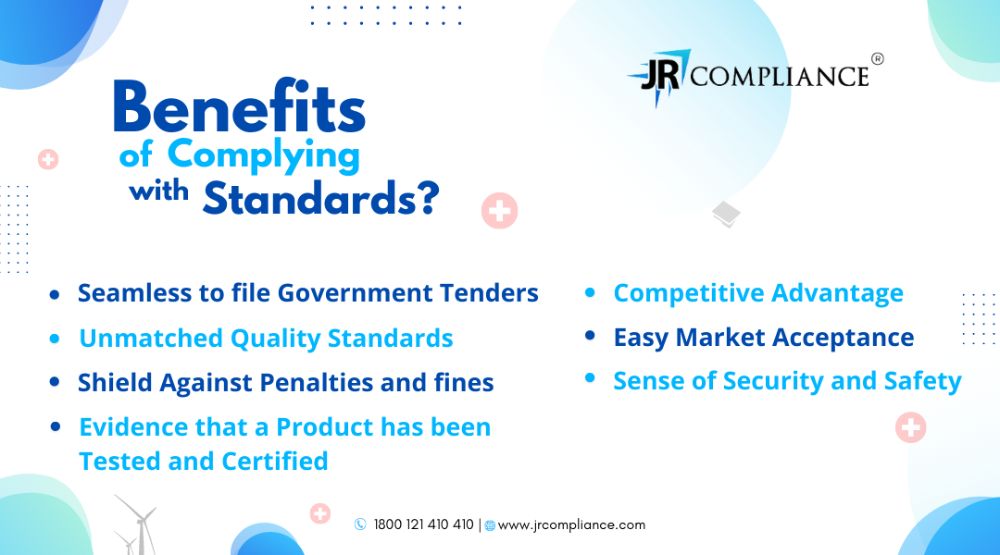 A certified product acts as a shield against penalties and fines which could be imposed for not certifying a product.
A certified product serves as an evidence that a product has been tested and certified as per prescribed standards.
A certified product provides a sense of security and safety to the consumers, thus ensuring easy acceptance.
It provides a competitive advantage over competitors.
Easy market acceptance as a product is tested and certified.
Confirm the unmatched quality standards.
Seamless to file government tenders.
With these benefits of ensuring conformance with IS 11000 Part 2 Section 2 standards and specifications, a manufacturer can establish that a product is safe, reliable, and credible, thus, confirming to unmatched quality standards. 
Now, in the next section, we will learn about test requirements and product scope of the IS 11000 Part 2 Section 2.
Scope of IS 11000 Part 2 Section 2
IS 11000 Part 2 Section 2 provided test methods with respect to needle test, which is to be conducted to stimulate the effect of small flame which has the potential to result in fault conditions that further helps in stimulation technique to assess the fire hazard. 
This standard is applicable to electrotechnical equipment, sub-assemblies, components, and solid electrical insulation, including other combustible materials. 
With the understanding of scope of IS 11000 Part 2 Section 2, let's have a look at other aspects associated with the same.
Aspects Associated With IS 11000 Part 2 Section 2
1. General Description of Test
Test provided under IS 11000 Part 2 Section 2 is conducted to determine whether test flame to cause ignition of parts or combustion parts ignited by the test flame to be ignited has a restricted duration of burning or restricted extent of burning without spreading of fire through flaming, glowing, or burning particles falling from the test specimen.
This test determines the effect of test on the specimen of a small flame might incase from ignited components and the relevant product specification must specify the duration of flame application, including the criteria for acceptance. 
2. Test Apparatus Description
a. Burner
The burner which will be used to generate test flames must contain a tube of at least 35mm with a bore of 0.5mm +/- 0.1mm and its outer diameter must not exceed over 0.9mm. Moreover, the burner must be supplied with butane or propane gas possessing the purity of at least 95% and the air must not be entered into the tube of the burner. 
b. Flame
Keeping the axis of the burner in vertical position, the supply of the gas must be adjusted in order to ensure that the length of the flame is 12mm +/- 1mm, when looked at the subdued light in the dark background. The flame must be confirmed using the apparatus and procedure as provided in the specification.
c. Laboratory Fume Hood or Chamber
The inside volume of laboratory chamber or fume hood should be of at least 0.5m3 and the chamber must provide a drought free environment while allowing the normal thermal circulation pass through the test specimen. Moreover, the test may allow the observation of the test to be in progress. And the inside surface of the walls must be dark in color.
Moreover, to ensure safety and convenience, it is essential to fit the enclosure in the relevant extraction device like an exhaust fan with the purpose to remove the product of combustion, which could be toxic. 
However, the extraction device must not be operated during the test, but must be immediately turned on as per the timing measurements as provided in the specification.
d. Specified Layer
To eliminate the possibility of spread of fire, through burning or glowing falling particles of test specimens. Therefore, a layer of material or components typically surrounding or underneath the test specimen must be placed at the equal distance between test specimen and surrounding materials or components when the test specimen is mounted as in normal use. 
In case, if test specimen is a sub-assembly or a component of an equipment and is tested separately, a piece of flat smooth wooden board, approx 10mm thick covered in close contact of single layer of wrapping tissue must be positioned at the distance of 200mm +/- 5mm below the space where the test method needle flame is being applied to the specimen, unless otherwise specified in the standard. 
In case the test specimen is a complete free-standing equipment, it will be placed in its position to be used on tissue covered wooden board, extending for a minimum of 100mm outside the base of the equipment in all distinct directions. If the test specimen is an entire wall mounted equipment, it is fixed in its normal position of use 100mm +/- 5mm over the tissue covered wooden board. 
e. Timing Device
The timing device must have tolerance of not above 0.5 seconds.
3. Test Specimen
If possible, the test specimen should have a complete equipment, sub-assembly, or component. However, if it is required to take away parts of the enclosures or to cut an relevant part in order to conduct a test, it must be ensured that the test conditions must not be different from those occurring in ordinary use with respect to shape, conditions of ventilation, effect of thermal stressors and possible flames occurring or burning, or glowing particles falling in the vicinity of test specimen. 
However if a test specimen is a relevant part cut from the larger unit, then care must be taken to ensure that flames must be applied correctly on the specimen. Conversely, if it is not possible to test the sub-assembly or component within the equipment, the test will be carried out on the test specimen, which is removed from the equipment. 
4. Severities 
The duration of application of test flame are as follows -
5 seconds
10 seconds 
20 seconds
30 seconds
60 seconds
120 seconds
5. Conditioning 
Unless not specified in the appropriate specifications the test specimen, wooden board, and the tissue paper must be conditioned for not below 24 hours in an atmosphere with the temperature between 15-degree celsius and 35-degree celsius, while the relative humidity prior to commencement of test should be between 45% and 75%.
6. Test Procedure
a. Position of Test Specimen
Unless specified otherwise, the test specimen is arranged in the position of normal use such that ignition will most probably occur during the test. Moreover, the means to fix the test specimen must not affect the test flame or propagation of the flames in a way other than occurring under normal conditions of use.
b. Application of Needle Flame
The test flame will be applicable to that part of the test specimen that will be most likely to be affected by flames resulting from normal use or from fault conditions. 
The position of the test should be in a way that the flame tip should be in contact with the surface of the test specimen and the test flame must be removed after the appropriate period of time. 
However, if the tip of test specimen drips molten or flaming material, during the period at which flame is being applied on the specimen, the burner might be tilted up to 45-degree celsius from the vertical to prevent material from dripping into the tube of burner while maintaining an 8mm +/- 1mm space between center of the top of the burner and remaining portion of test specimen, ignoring any strings of the molten materials.
If required by appropriate specifications, the test to be performed on more than one point of the same test specimen, a proper care must be taken to ensure that the deterioration caused in the previous test must not affect the result of another test.
c. Number of Test Specimen
Unless specified, the test will be performed on three specimens.
7. Observations and Measurements
In case of ignition of test specimen and/ or the specified layer, and/ or environmental parts, the duration of the burning will be measured and reported. Moreover, duration of burning refers to the period of the time interval from the moment of the flame being removed to the last flame which has been extinguished, including the glowing of the test specimen will be eliminated.
8. Evaluation of Test Results
Unless otherwise provided in the specification, the test specimen is considered to satisfy the needle flame test, if one of the below mentioned conditions are specified -
There is no flame and no glowing of test specimens and no ignition of prescribed layer or wrapping tissue.
Flames or glowing of the test specimen and the surrounding parts being extinguished within 30 seconds after removal of needle flame. Further, the surrounding parts have not burnt away entirely and there is no ignition of the prescribed layer and wrapping tissue.
How We Help Ensuring Conformance With IS 11000 Specifications?
We will educate you concerning every aspect of IS 11000.
We will check whether a product falls under the purview of BIS or not, including whether a product complies with the BIS standards or not, then, after mutual understanding, the project will move forward. 
There is no better place to obtain it than JR Compliance because we will analyze the product requirements to give clear guidelines.
JR Compliance has experienced expert professionals, who can assist you in the documentation, evaluation, and examination.
We are equipped with the necessary resources to conduct a virtual pre-audit to confirm whether your manufacturing unit and production process are complying with provided specifications or not. 
JR Compliance will schedule a meeting with the BIS officer for a factory audit.
If you lack an in-house testing facility, we will help you in setting up one.
We will coordinate with a BIS accredited laboratory for product testing.
You can expect reliable and punctual service delivery as we will also visit the BIS office on your behalf if required.
We invest our sustained efforts to meet the startled queries or demands of BIS.
In case of any concern, we assure to provide the finest solution.
Conclusion
IS 11000, an Indian Standard applicable to electrical cables, which are usually used in the Mining industry and metro industries, is one of the major contributors to our economic development. Considering that, it is not only mandatory but necessary to ensure conformance with specifications mentioned in IS 11000 with the purpose to introduce your product in the Indian market.
Keeping the importance of conformance with compliance in mind, we - JR Compliance, a leading compliance service provider are equipped with experts and resources to provide you with above and beyond support to obtain a BIS certificate.
Till now, we have experience in providing compliance assistance to over 10,000+ global leaders such as Toray, Bombay Dyeing, Softbank, and others.
For details, get in touch with our experts.