IS 15111 (Part-1) ELECTRICAL- LAMPS, LUMINARIES & ACCESSORIES
Industry Outlook
The Indian Standard 15111 Part 1 was adopted by Bureau of Indian Standards (BIS) proceeding to the finalization of Electric Lamps and Their Auxiliaries Sectional Committee which had been approved by Electrotechnical Division Council. 
Moreover, the lamps covered under this standard are self-ballasted lamps, which are permanently enclosed elements that are important for starting and stable operation, which does not include any replaceable or interchangeable parts. 
This standard is based on IEC 60968, "Self ballasted lamps for general lighting services, safety requirements' issued by the International Electrotechnical Commission (IEC)" which includes the following -
Schedule of type test and acceptance test
Ambient test conditions changed to 27-degree celsius
Selection of sample incorporated
Conditions of compliance incorporated
Lamps of rating up to 26W are only covered
E26 caps are not included
Statistically, the global led market was valued at $78.69 billion in 2020, and is estimated to reach $192.68 billion by 2030, growing at a CAGR of 8.2% from 2021 to 2030. From the given data, it is clear that the usage of LED modules is constantly increasing, from using it to create an ambience in your home to lighting up your car dashboard or other parts of vehicles - LED lights can be used as night lamp in a many way, including being used in flashlights and headlamps.
However, with the high usage of LED lights, it is also essential to ensure that it must comply with the IS 15111 Part 1 standard to ensure the safety of consumers. Thus, earning high profit and sales. 
A tested and certified product, does not only achieve global market access seamlessly, but also ensures competitive advantage, so, more customer acceptance and wider market access. 
For a better understanding of why product testing is important and how it is beneficial for both, manufacturers and consumers, let's move on to the next section.
Why is Product Testing Crucial | Importance of Product Testing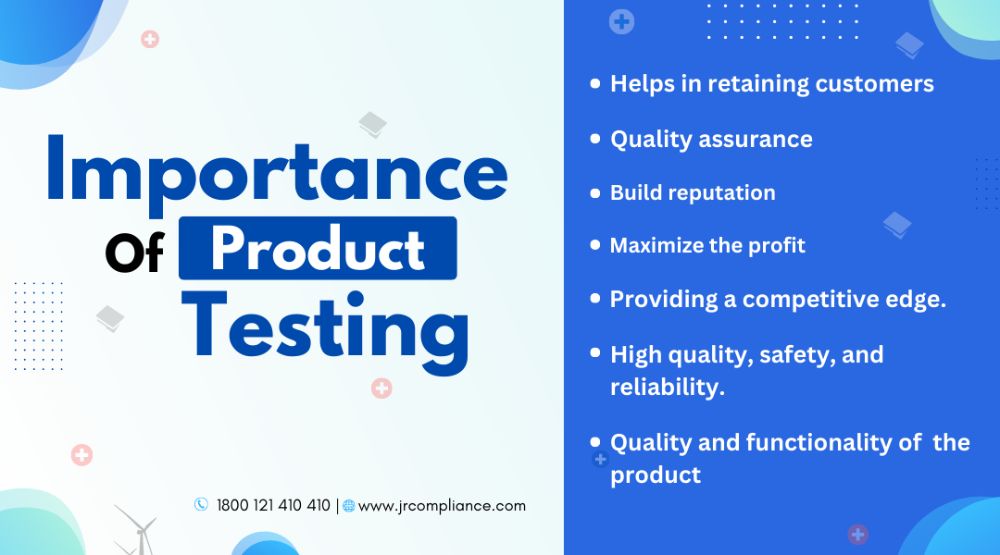 One of the most important purposes of testing is quality assurance of a product that reflects high quality, safety, and reliability.
Product testing allows the manufacturer to ensure the conformance with established technical standards to produce high quality and safe products.
Build reputation and maximize the profit, considering that a tested product indicates quality assurance. 
Helps in retaining customers, thus, providing a competitive edge.
Helps in understanding distinct types of stress a product can endure, be it in case of weather, wear tear, and other conditions.
In the initial prototyping stage, if you are trying to avail investment in order to manufacture your product in mass quantities, a tested product can allow you to achieve patent and investors as it shows the quality and functionality of the product.
With the benefits of product testing, we can clearly estimate how testing ensures quality assurance and product credibility. 
Since, it has been established how essential product testing is, now let's move to the benefits of complying with standards.
What Are the Benefits of Complying With Standards?
Complying with standards offers numerous benefits to manufacturers and importers of the product, that further helps in building trustworthiness and reliability, thus retaining the customers.
Why, don't we look at other benefits of the same -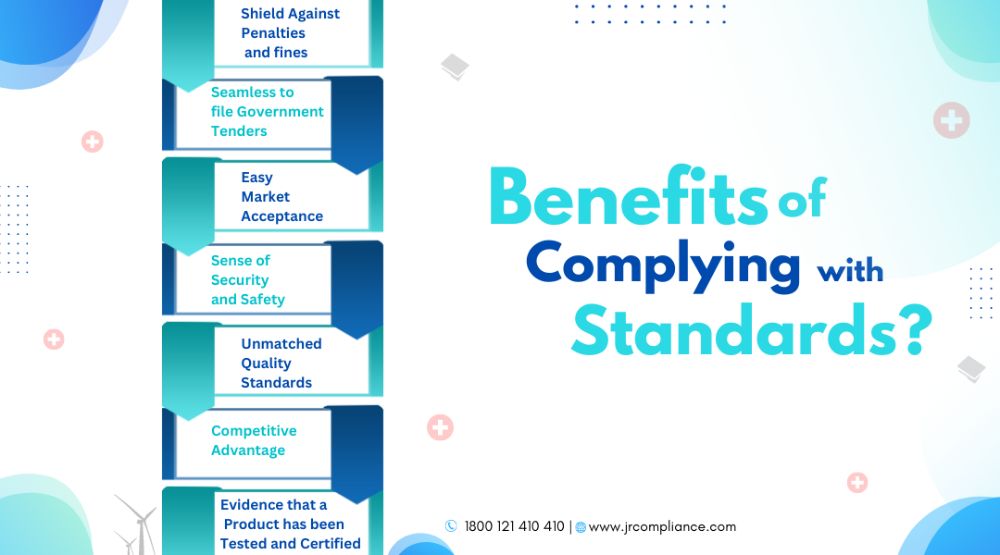 A certified product acts as a shield against penalties and fines which could be imposed for not certifying a product.
A certified product serves as an evidence that a product has been tested and certified as per prescribed standards.
A certified product provides a sense of security and safety to the consumers, thus ensuring easy acceptance.
It provides a competitive advantage over competitors.
Easy market acceptance as a product is tested and certified.
Confirm the unmatched quality standards.
Seamless to file government tenders.
With these benefits of ensuring conformance with IS 15111 Part 1 standards and specifications, a manufacturer can establish that a product is safe, reliable, and credible, thus, confirming to unmatched quality standards. 
Now, in the next section, we will learn about test requirements and product scope of the IS 15111 Part 1.
Scope of IS 15111 Part 1
IS 15111 Part 1 provides information with respect to safety and interchangeable requirements including the test methods and conditions, required to show compliance of tubular fluorescent and other gas discharge lamps with integrated means for controlling starting and stable operation (self ballasted lamps), intended for domestic and similar general lighting purposes having -
A rated wattage upto and including 26W
A rated wattage upto and including 250W
Edison screw E14 and E27 or bayonet cap B15d and B22d
Test Requirements and Parameters Tested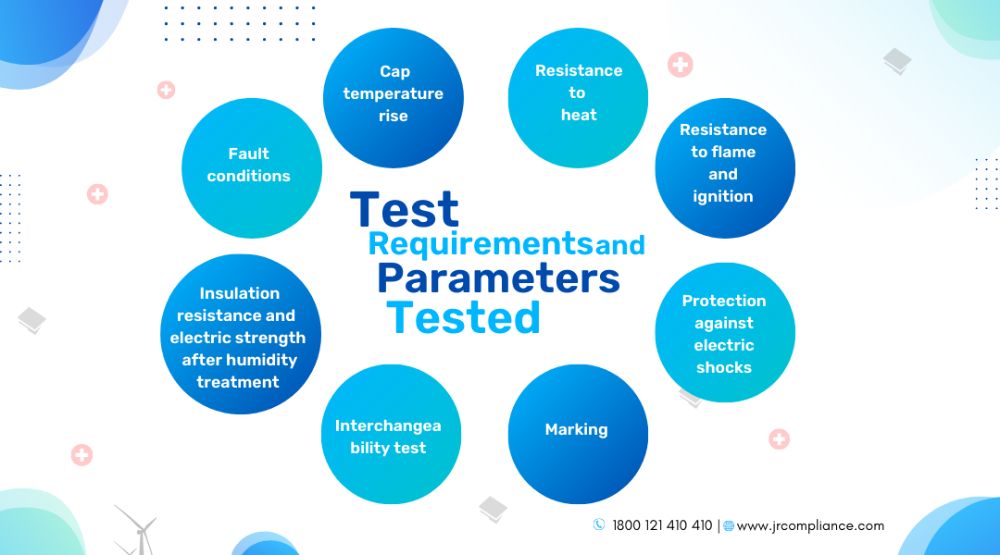 1. Cap temperature rise
Under this, the rise in temperature of surface (above ambient) of a standard test lamp fitted to a lamp, would be measured as per IS 15111 Part 1 as follows -
Live Parts - A conductive part which might result in electric shock in a normal use.
Type Test - A test or series of tests conducted on the type test sample with the motive to check the compliance of the design of a given product in accordance with the requirements provided in the specification.
Type Test Sample - A type test sample is a sample submitted by the manufacturer or a concerned vendor to conduct a type test.
Acceptance Test - A test to be conducted on a lot with the purpose to conduct an acceptance test.
Inspection Test Quantity (ITQ) - ITQ refers to the number of samples selected to determine the acceptability of a batch as to a marking, interchangeability, protection against electric shocks, insulation resistance, electric strength, and mechanical strength.
Rated Luminous Flux - It is a fluxed mark on the lamp or declared by the manufacturer or concerned vendor.
2. Fault conditions
The lamp must not reduce the safety when operated under fault conditions, which could occur during intended use. Only one component is subjected to fault conditions at a time as follows -
In case of a switch start circuit, the starter is short circuited.
Short circuit across capacitors.
Due to a broken cathode circuit, the lamp would not start.
The lamp does not work, even though the cathode circuits are intact.
Opening or bridging other points in a circuit, in a way that fault conditions might impair safety.
3. Insulation resistance and electric strength after humidity treatment
The insulation resistance and electric strength after humidity must be appropriate between current carrying parts of the lamps and accessible parts of the lamp. Let's understand about both in details -
Insulation resistance
The lamp must be conditioned for 48 hours in a cabinet possessing air with relative humidity between 91% and 95%, while the air temperature needs to be marinated within 1-degree celsius of any convenient value between 20-degree celsius and 30-degree celsius. 
Moreover, insulation resistance must be measured in the humidity cabinet with the DC voltage of approx 500V. After one minute of application of voltage, the insulation resistance between current carrying parts and accessible parts of the lamps must not be below 4 M ohm.
Electric strength
Instant after conducting insulation resistance test, the same parts must withstand the a voltage test for a minute as follows -
Screw caps - between accessible parts and screw cap, as follows -
Type HV ( 220V to 250V ) : 4 000 V r.m.s.
TypeBV( lOOV to 120V):2U+ 1 OOOV
Value U = rated voltage.
It is to be noted that during the test cycle, the shell of the cap can be short-circuited. Initially, not more than half of the provided voltage is applied, then would be gradually increased to full value. And no flashover or breakdown must occur during the test and measurement must be taken in the humidity cabinet. 
4. Interchangeability test
The interchangeability test would be conducted in accordance with the relevant standards. Moreover, the compliance of combination of cap and gulb will be checked by the use of gauges with the purpose to check the dimensions controlling the interchangeability as per relevant standard.
**5. Marking **
The lamps must be appropriately marked with the mandatory marking as follows -
Marking of origin
Rated voltage or the range of voltage, marked, "V" or "Volts"
Rated wattage, marked, "W" or "Watts"
Rated frequency, marked, "Hz"
Rated luminous flux
Rated color temperature
Country of manufacture
Including that, below mentioned information needs to be provided on the lamp or packaging of lamp -
Lamp current
If restricted, burning position
The attention must be drawn to the fact that increased weight might reduce the mechanical stability of particular luminaries, in case of lamps with weight significantly higher than that of lamps for which they are replaced
Special conditions or restrictions which would be observed for lamp operation
The compliance must be checked as follows -
Availability and legibility of marking required through visual inspection.
The durability of marking will be checked by trying to remove through a rubber lightly for 15 seconds with a piece of soaked cloth after drying for 15 seconds with a piece of cloth soaked in hexane.
6. Protection against electric shocks
The self-ballasted lamps must be constructed without any additional enclosure in the form of luminaries and internal metal parts of lamp caps must be accessible when the lamp is installed in the lamp holder. 
However, the lamps with Edison screw caps must be designed to avoid requirements of accessibility, which can be checked through the aid of gauge as provided in the relevant standard.
Also, the lamps with B22 caps are subjected to the same requirements like normal incandescent lamps with caps. And the external metal parts excluding the current carrying metal parts of cap must not be or become live and for testing, the movable conductive material must be in most onerous position without any use of tool.
7. Resistance to flame and ignition
The parts of insulation material retaining live parts in position and external parts of insulation material providing protection against electric shocks are subjected to glow wire test as follows -
The test specimen is a complete lamp and it could be necessary to take away the parts of the lamp to conduct the test.
The test specimen would be mounted on the carriage and pressed against the glow-wire tip with the force of IN, preferably 15mm or above.
If the specimen is too small to be tested in the above mentioned position, the same test will be conducted on the same, yet separate specimen of same material with 30mm square and thickness equal to the smallest thickness of specimen.
The temperature of the tip of the glow wire is 650-degree celsius, after 30 seconds the specimen will be withdrawn from contact with the glow wire tip.
The glow wire temperature and heating current must remain constant for a minute before commencing the test.
Any flame or glowing of specimen must be extinguished within 30 seconds of withdrawing the glow-wire and any flaming drop must not ignite a piece of tissue, which is spread horizontally 200 +/- 5mm below specimen.
8. Resistance to heat
The self-ballasted lamps must be ideally resistant to the heat, while the external parts of insulating materials must provide protection against electric shock and parts of insulating materials retain live parts in a way which must resist heat.
Moreover, the compliance will be checked through a ball-pressure test as provided in the specification. 
Further, the test is made in a heating cabinet with the temperature of 25 +/- 5-degree celsius in the excess of temperature as provided in the relevant standard and with a minimum of 125-degree celsius for the parts retaining live in position and 80-degree celsius for other parts. While the surface part to be tested in horizontal position and steel ball of 5mm diameter pressed against the surface with a force of 20N. 
With that, the test load and means will be placed within the heating cabinet for adequate time in order to ensure that stabilized testing temperature is achieved prior to commencement of test. Then the part which needs to be tested will be placed in the heating cabinet for the duration of 10 minutes prior to the application of test load. 
Additionally, if the surface under test bends, the part where ball presses are supported, and, if the test can not be conducted on the test specimen, then an adequate part might be cut from it and it must be at least 2.5mm thick. 
After an hour a ball is removed from the specimen, which will be immersed in cold water for 10 seconds to cool it at room temperature and the diameter of immersion must not exceed over 2 mm. 
How We Help Ensuring Conformance With IIS 15111 Part 1  Specifications?
We will educate you concerning every aspect of IS 15111 Part 1.
We will check whether a product falls under the purview of BIS or not, including whether a product complies with the BIS standards or not, then, after mutual understanding, the project will move forward. 
There is no better place to obtain it than JR Compliance because we will analyze the product requirements to give clear guidelines.
JR Compliance has experienced expert professionals, who can assist you in the documentation, evaluation, and examination.
We are equipped with the necessary resources to conduct a virtual pre-audit to confirm whether your manufacturing unit and production process are complying with provided specifications or not. 
JR Compliance will schedule a meeting with the BIS officer for a factory audit.
If you lack an in-house testing facility, we will help you in setting up one.
We will coordinate with a BIS accredited laboratory for product testing.
You can expect reliable and punctual service delivery as we will also visit the BIS office on your behalf if required.
We invest our sustained efforts to meet the startled queries or demands of BIS.
In case of any concern, we assure to provide the finest solution.
Conclusion
IS 15111 Part 1, an Indian Standard applicable to electrical cables, which are usually used in the Mining industry and metro industries, is one of the major contributors to our economic development. Considering that, it is not only mandatory but necessary to ensure conformance with specifications mentioned in IS 15111 Part 1 with the purpose to introduce your product in the Indian market.
Keeping the importance of conformance with compliance in mind, we - JR Compliance, a leading compliance service provider are equipped with experts and resources to provide you with above and beyond support to obtain a BIS certificate.
Till now, we have experience in providing compliance assistance to over 10,000+ global leaders such as Toray, Bombay Dyeing, Softbank, and others.
For details, get in touch with our experts.