Industry Outlook
IS 398 part 2, was adopted by the Bureau of Indian Standards, after the finalization of drafts by the Conductors, and Accessories for Overhead Lines Sectional Committee had been approved by the Electrotechnical Division Council.
Moreover, IS 398, was introduced in 1953, but, was first revised in 1961, in this second revision, certain modifications had been made in the view of modern development with respect to the techniques of conductors manufacturer. In addition to this, a salient feature has been incorporated in IS 398 part 2, particularly the inclusion of a wrapping test for the aluminum wires, as an alternative to the elongation test originally specified for aluminum and steel wires.
The third revision was done due to the below-mentioned modifications -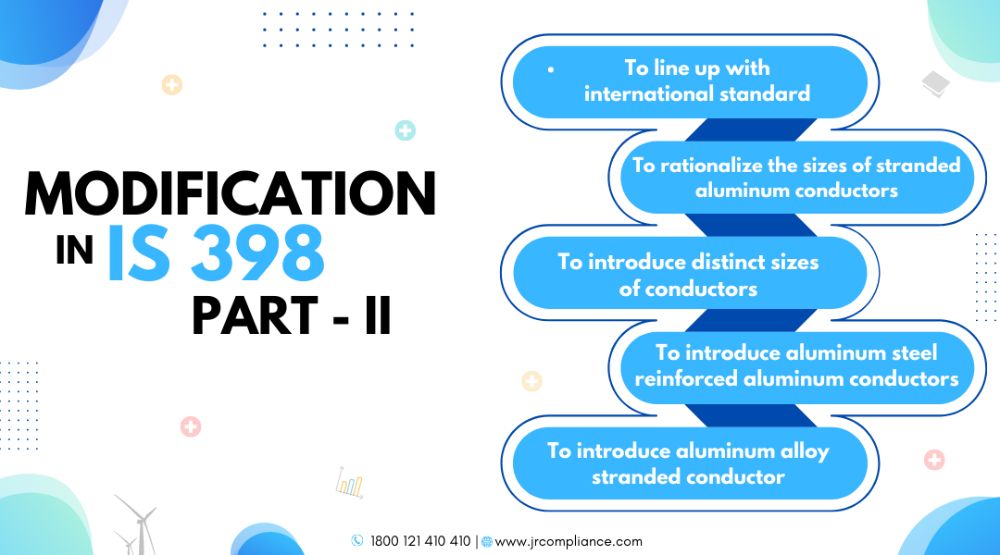 To line up with international standards.
To rationalize the sizes of stranded aluminum conductors, steel reinforced aluminum conductors.
To introduce distinct sizes of conductors, possessing a higher aluminum or steel ratio.
To introduce aluminum steel reinforced aluminum conductors.
To introduce aluminum alloy stranded conductors (aluminum magnesium-silicon type).
Keeping the public interest in mind, it is a necessary requirement to obtain appropriate certification from Bureau of Indian Standards to ensure safety and reliability, which can only be proven after product testing. 
Product testing is basically a way to test a product based on its distinct properties to ensure that it has met the specified requirements. For a better understanding of the importance of product testing, let's move on to the next section.
Why is Product Testing Crucial | Importance of Product Testing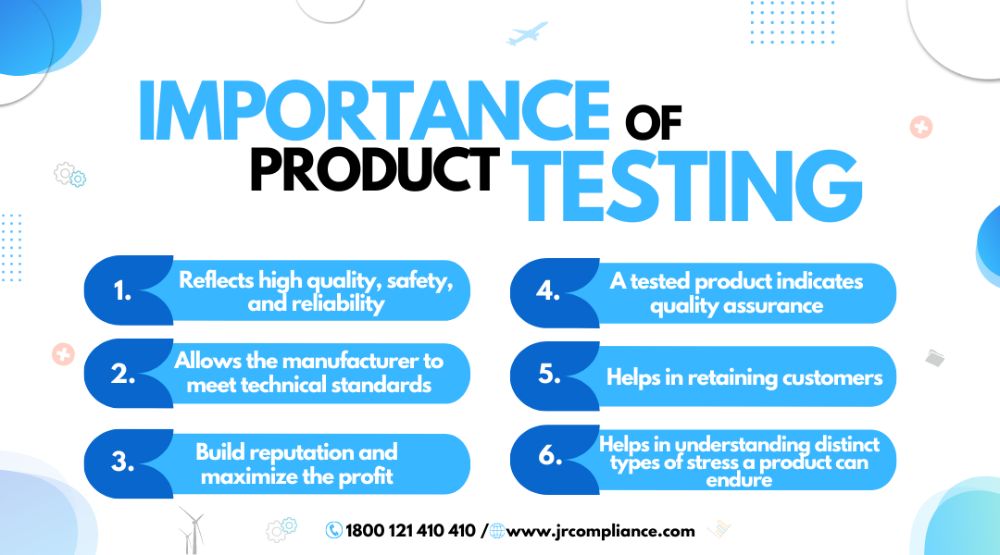 One of the most important purposes of testing is the quality assurance of a product that reflects high quality, safety, and reliability.
Product testing allows the manufacturer to ensure conformance with established technical standards to produce high-quality and safe products.
Build reputation and maximize the profit, considering that a tested product indicates quality assurance. 
Helps in retaining customers, thus, providing a competitive edge.
Helps in understanding distinct types of stress a product can endure, be it in case of weather, wear tear, and other conditions.
In the initial prototyping stage, if you are trying to avail investment in order to manufacture your product in mass quantities, a tested product can allow you to achieve patent and investors as it shows the quality and functionality of the product.
With the benefits of product testing, we can clearly estimate how testing ensures quality assurance and product credibility.
Since, it has been established how essential product testing is, now let's move to the benefits of complying with standards.
What Are the Benefits of Complying With Standards?
Complying with standards offers numerous benefits to manufacturers and importers of the product, which further helps in building trustworthiness and reliability, thus retaining the customers.
Why, don't we look at other benefits of the same -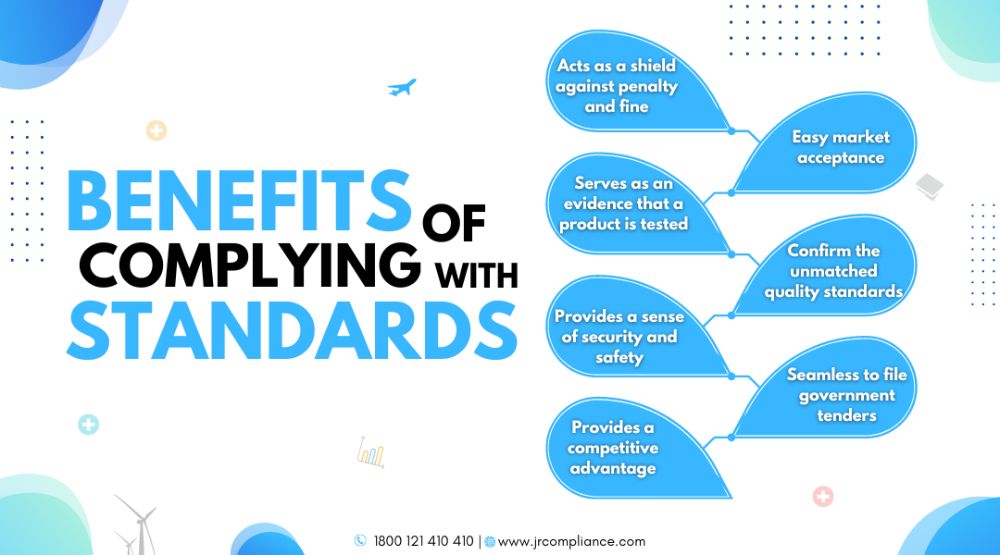 A certified product acts as a shield against penalties and fines which could be imposed for not certifying a product.
A certified product serves as evidence that a product has been tested and certified as per prescribed standards.
A certified product provides a sense of security and safety to the consumers, thus ensuring easy acceptance.
It provides a competitive advantage over competitors.
Easy market acceptance as a product is tested and certified.
Confirm the unmatched quality standards.
Seamless to file government tenders.
With these benefits of ensuring conformance with IS 398 standards and specifications, a manufacturer can establish that a product is safe, reliable, and credible, thus, confirming unmatched quality standards. 
Now, in the next section, we will learn about the test requirements and product scope of the IS 398.
Product Scope IS 398 (Part 2)
Indian Standard IS 398 part 2, includes requirements and tests for aluminum conductors, and galvanized steel reinforced used for overhead power transmission purposes. 
Moreover, in preparation of IS 398 part 2, assistance has been derived from the following -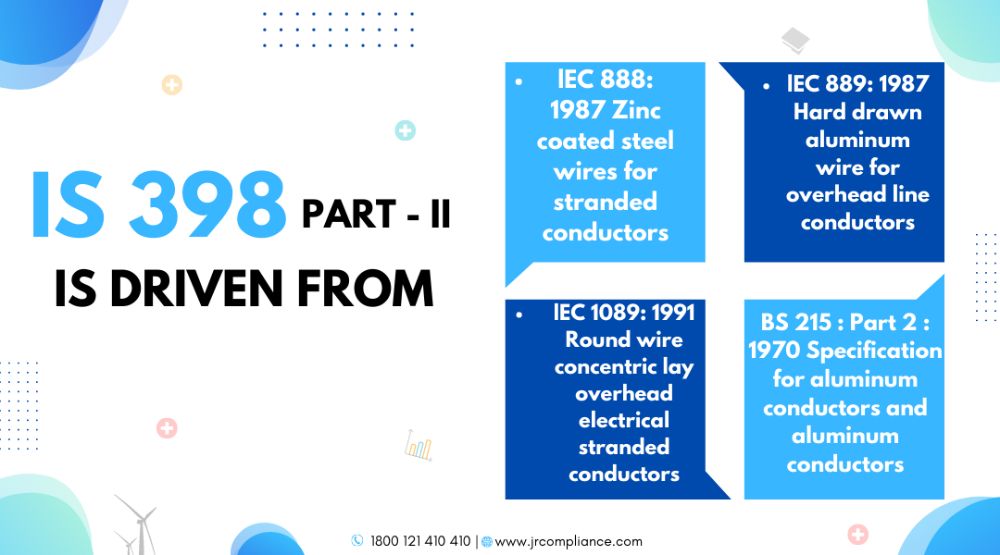 lEC 888: 1987 Zinc coated steel wires for stranded conductors.
lEC 889: 1987 Hard-drawn aluminum wire for overhead line conductors.
lEC 1089: 1991 Round wire concentric lay overhead electrical stranded conductors.
BS 215 : Part 2 : 1970 Specification for aluminum conductors and aluminum conductors. steel-reinforced for overhead power transmission: Part 2 Aluminum conductors, steel-reinforced. British Standards Institution. 
With that, let's move on to the testing requirements under IS 398 part 2, in the next section.
Test Requirements of IS 398 (Part 2)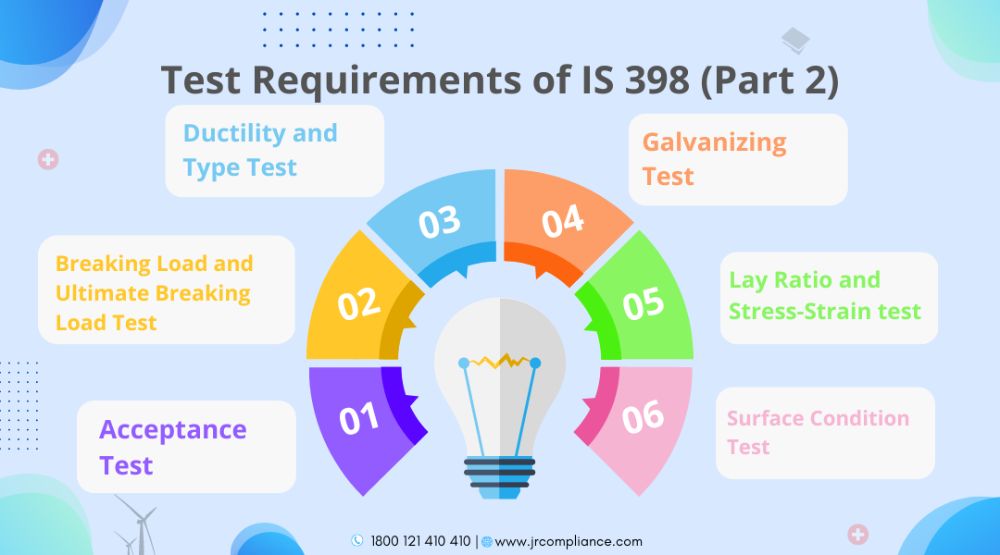 1. Acceptance Test
Acceptance test includes the below-mentioned test -
Measurement of diameter of individual aluminum and steel wires 
Measurement of the lay ratio
Breaking load of individual wires
Ductility test
Wrapping test
Resistance test for aluminum wires
Galvanizing test
2. Breaking Load Test
The Breaking load test is applicable on both aluminum and galvanized steel wires. The breaking load of one specimen cut from each of the samples is determined by means of a suitable tensile testing machine. The load shall be applied gradually and their separation of the jaws of the testing machine shall be not less than 25 mm/min and not greater than 100 mm/min.
3. Ductility Test
The ductility test includes the below-mentioned test -
Torsion Test
One specimen cut from each of the samples taken must be gripped at its ends in two voices one of which would be free to move longitudinally during the test. A small, tensile load not exceeding 2% of the breaking load of the wire, would be applied to the sample during testing. Then the specimen needs to be twisted by causing one of the vices to revolve until a fracture occurs and the number of twists shall be indicated by a counter or other suitable device.
The rate of twisting must not exceed 60 rev/min. The test might be carried out on gauge length of ISO for all wire sizes when the number of twists, which the wire must withstand, should be a direct ratio to the numbers specified for 100times the diameter of the wires. Moreover, when tested before stranding, the number of complete twists before a fracture occurs must not be below 18 on a length equal to 100 times the diameter of the wire.
Elongation Test
The elongation of one specimen cut from each of the samples taken must be determined. The specimen must be straightened by hand and an original gauge length of 200 mm shall be marked on the wire. 
A tensile load must be applied as specified and the elongation shall be measured after the fractured ends have been fitted together. If the fracture occurs outside the gauge mark, or within 25 mm of either mark and the required elongation is not obtained, the test shall be disregarded and another test made. 
When tested before stranding, the elongation shall be not less than 4 percent. When tested after stranding, the elongation shall be not less than 3.5 percent.
4. Galvanizing Test
The galvanizing test must be performed on galvanized steel wires only, this test must be made on one specimen cut from each of the samples, and the uniformity of galvanizing and the weight of coating must be in accordance with IS 4826: 1979.
5. Lay Ratio
The ratio of the axial length of a complete turn of the helix formed by an individual wire in a stranded conductor to the external diameter of the helix.
6. Stress Strain test
The stress-strain test is only applicable on conductors of nominal aluminum area 100 mm and above. This test is conducted with the purpose to conduct creep data of conductors from suppliers. Moreover, the conductor sample must be of a minimum 10 m length and must be suitably compressed with dead-end clamps. 
Test setup
The test sample must be supported in a trough over its full length and the trough adjusted so that the conductor will not be lifted by more than 10 mm under tension. This shan be ascertained by actual measurement.
7. Surface Condition Test
The surface condition test is applicable on conductors of a nominal aluminum area of 100 mm and above. 
A sample for the final product possesses a minimum length of 5 mm, having compression type dead end clamps on both ends in a way to allow the compressor to take a straight line shape and at least 50% of break load will be applicable to the conductor.
Moreover, it is to be noted that the surface must not depart from the cylindrical shape nor should strands move relative to each other so as to get out of place or disturb the longitudinal smoothness of the conductor. 
Additionally, the measured diameter of the individual aluminum and steel strands as provided in the below-mentioned table -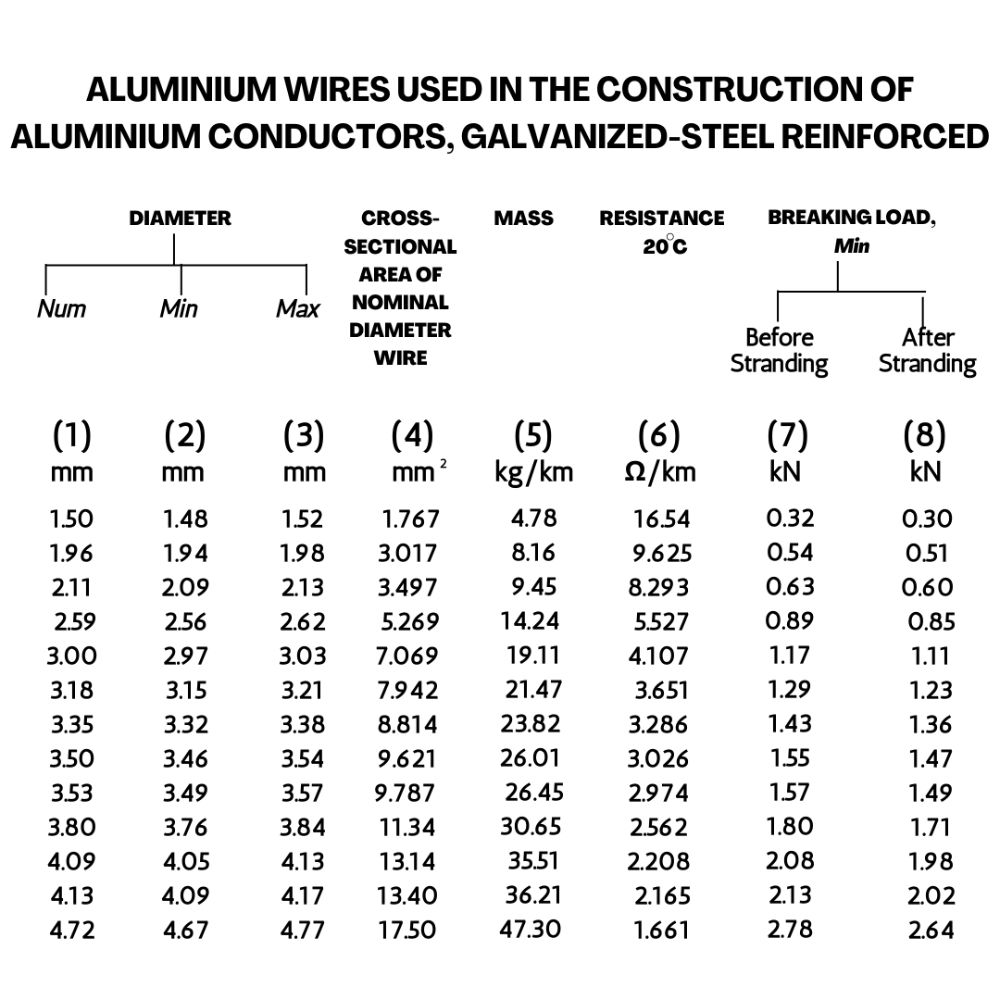 8. Ultimate Breaking Load on Stranded Conductor
Ultimate breaking load on stranded conductors is applicable to conductors of nominal aluminum area 100 mm and above. Under which, a sample of a conductor of a minimum of 5 mm length will be appropriately clamped at both of the ends. Now, steadily the load will be increased up to the rated ultimate breaking load and held for one minute.
During the test, the conductor must not be fractured, including when the load will be increased until the failing load is reached and the value recorded. Also, the re-test will be conducted three times, might be made in case of fracture in the wire occurred within one centimeter of the end fittings and the tensile strength falls below the specified breaking strength requirement.
9. Type Test
Type test includes the below-mentioned test as follows -
 Surface condition test
Test for ultimate breaking load on stranded conductor
Stress-strain test
Movement of the diameter of individual aluminum ·and steel wire
Measurement of the lay ratio
Breaking load of an individual wire
Ductility test
Wrapping test
Resistance test   
Galvanizing test
How We Help Ensuring Conformance With IS 398 Part-2 Specifications?
We will educate you concerning every aspect of Indian Standard 398.
We will check whether a product falls under the purview of BIS or not, including whether a product complies with the BIS standards or not, then, after mutual understanding, the project will move forward. 
There is no better place to obtain it than JR Compliance because we will analyze the product requirements to give clear guidelines.
JR Compliance has experienced expert professionals, who can assist you in the documentation, evaluation, and examination.
We are equipped with the necessary resources to conduct a virtual pre-audit to confirm whether your manufacturing unit and production process are complying with provided specifications or not. 
JR Compliance will schedule a meeting with the BIS officer for a factory audit.
If you lack an in-house testing facility, we will help you in setting up one.
We will coordinate with a BIS accredited laboratory for product testing.
You can expect reliable and punctual service delivery as we will also visit the BIS office on your behalf if required.
We invest our sustained efforts to meet the startled queries or demands of BIS.
In case of any concern, we assure to provide the finest solution.
Conclusion
IS 398 Part 2, an Indian Standard applicable to electrical cables, which are usually used in the Mining industry and metro industries, is one of the major contributors to our economic development. Considering that, it is not only essential but mandatory to ensure conformance with specifications mentioned in IS 398 Part 2 with the purpose to introduce your product in the Indian market.
Keeping the importance of conformance with compliance in mind, we - JR Compliance, a leading compliance service provider are equipped with experts and resources to provide you with above and beyond support to obtain a BIS certificate.
Till now, we have experience in providing compliance assistance to over 10,000+ global leaders such as Toray, Bombay Dyeing, Softbank, and others.
For details, get in touch with our experts.