IS 694 (Electrical Cables and Wires)
Industry Outlook
IS 694, is an Indian Standard applicable to PVC insulated cables. It was adopted by the Bureau of Indian Standards, in the wake of the finalization of the draft by the Power Cables Sectional Committee, which had been approved by the Electrotechnical Division Council.
Originally, this standard was published in the year 1955, however, afterward, it has been revised several times, first, it was revised in 1964 when it was split up into two parts, Part 1 dealing with copper conductors and Part 2 dealing with aluminum conductors. The second revision took place in 1977 when the two parts were merged, including the requirements of weatherproof cables previously covered in IS 3035 (Part 1): 1965 'Thermoplastic insulated weatherproof cables: Part 1 PVC insulated and PVC sheathed.' The two voltage grades specified as 250/440 V and 650/1 100 V were also merged. The third revision of this standard was brought out to take into account the experience gained since then to align with the international practices, to the extent considered appropriate.
The final revision of IS 694 includes voltage up to and including 450/ 750 V. 
Let's understand what PVC insulated cables are to have a better understanding of their usage -
Typically, PVC insulated cables are highly used for marking cables, especially for insulation, sheathing, and bedding purposes. 
These cables are highly used in the manufacturing industry, power transformers, and even in commercial products such as electric motors, panels, control cables, and more. From usage in small devices to large devices, PVC-insulated cables are being used in almost every electrical and manufacturing industry. 
Considering its high usage, it is essential to ensure conformance with compliance requirements for the safety of the final consumers. Keeping the public interest in mind, certain specifications and test requirements have been provided in the IS 694 for the high quality and credibility of the product, which is mandatory to comply with to introduce a product in the Indian market.
In the next section, let's have a look at why product testing is important to ensure credibility, high quality, and safety.
Why is Product Testing Crucial | Importance of Product Testing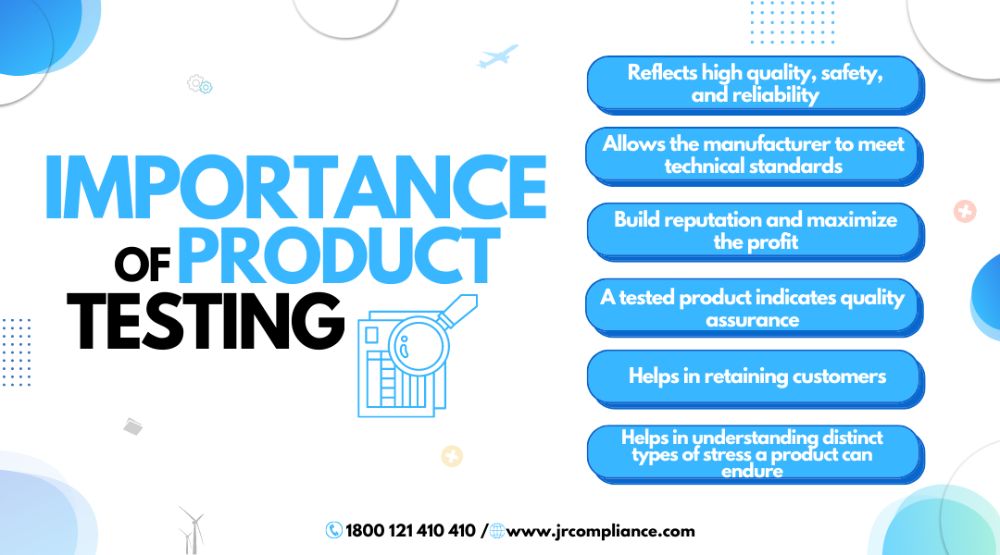 One of the most important purposes of testing is the quality assurance of a product that reflects high quality, safety, and reliability.
Product testing allows the manufacturer to ensure conformance with established technical standards to produce high-quality and safe products.
Build reputation and maximize profit, considering that a tested product indicates quality assurance. 
Helps in retaining customers, thus, providing a competitive edge.
Helps in understanding distinct types of stress a product can endure, be it in case of weather, wear tear, and other conditions.
In the initial prototyping stage, if you are trying to avail investment in order to manufacture your product in mass quantities, a tested product can allow you to achieve patent and investors as it shows the quality and functionality of the product.
With the benefits of product testing, we can clearly estimate how testing ensures quality assurance and product credibility. For a better understanding, let's have a look at an example, 
Through product testing, it can be easily proved that electrical cables are safe to use, however, in case of any defects found during product testing, it can be rectified seamlessly.
Since it has been established how essential product testing is, now let's move to the benefits of complying with standards.
What Are the Benefits of Complying With Standards?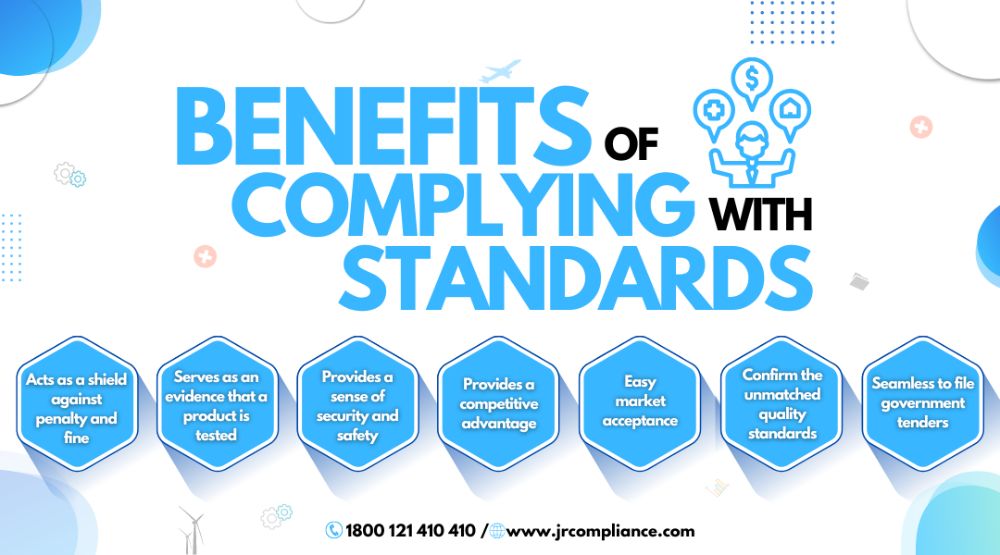 Complying with compliance offers numerous benefits to manufacturers and importers of the product, which further helps in building trustworthiness and reliability, thus retaining the customers.
Why, don't we look at other benefits of the same -
A certified product acts as a shield against penalties and fines which could be imposed for not certifying a product.
A certified product serves as evidence that a product has been tested and certified as per prescribed standards.
A certified product provides a sense of security and safety to the consumers, thus ensuring easy acceptance.
It provides a competitive advantage over competitors.
Easy market acceptance as a product is tested and certified.
Confirm the unmatched quality standards.
Seamless to file government tenders.
With these benefits of ensuring conformance with IS 694 standards and specifications, a manufacturer can establish that a product is safe, reliable, and credible, thus, confirming unmatched quality standards. 
Now, in the next section, we will learn about the test requirements and product scope of IS 694.
Product Scope
Indian Standard 694, provides the general requirements for single and multicore cables/cords with rigid as well as flexible annealed bare/tinned copper and aluminum conductors, insulated and sheathed (if any) with polyvinyl chloride (PVC) for rated voltages up to and including 450/750 V ac, 50 Hz used in electric power and lighting including cables for outdoor and low-temperature use.
Moreover, cables might be used in DC systems for rated voltages up to and including 1 500 V to Earth. Moreover, similar to IS 7098, Indian Standard 694 also includes cables with a fire performance category, considering that, these cables must comply with the testing requirement as specified. 
With the understanding of the product scope of IS 694, let's move on to its testing requirements and Component, parameter, or characteristic tested.
Testing Requirements and Component or Parameters Tested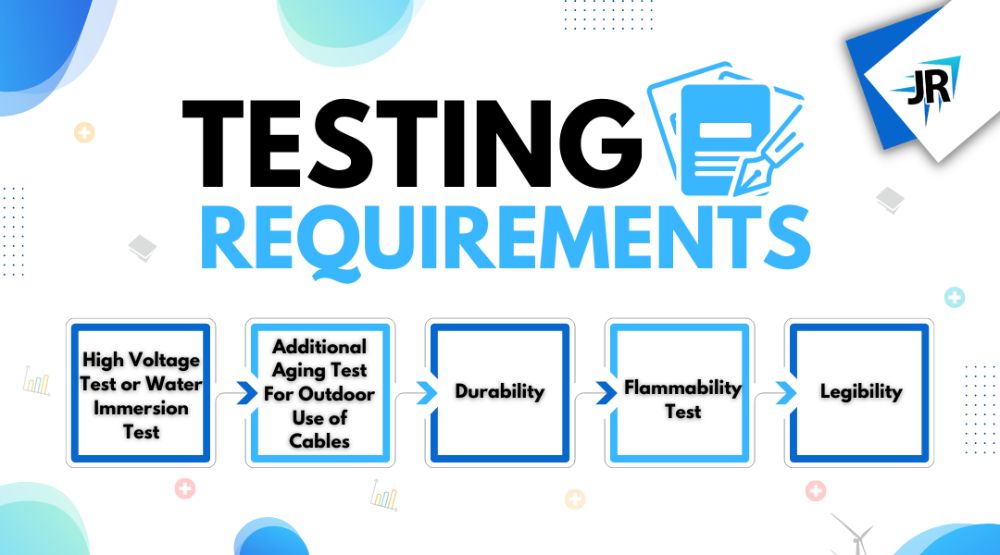 1. High Voltage Test or Water Immersion Test
In order to conduct this test, the core of the wire must be carefully removed 3 m long (approx) from the finished multi-core cable. 
Further, in the case of a single-core cable, the core of the cable must be selected from the coil, then immersed in a water bath at 60 ± 3°C. After 24 h, the voltage of 3 kV (RMS) shall be applied between conductors and water. 
2. Additional Aging Test For Outdoor Use of Cables
Below mentioned additional aging test will be performed on the cable -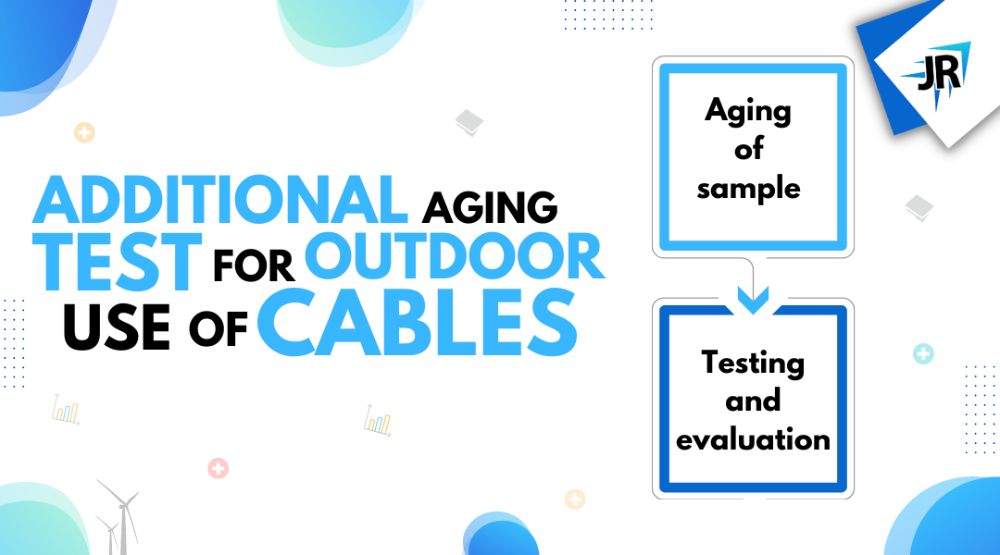 Aging of sample
A 6 m long sample of the finished cable will be suspended in a heating chamber and exposed to a temperature of 80 ± 2°C for a period of 168 h. Thereafter, the sample will be placed in d in a bath of boiling water for a period of 8 h and in a water bath at 27 ± 2°C for 16 h. The process will be done 5 times.
Testing and evaluation
A 5 m long sample obtained from a conditioned sample as mentioned above must be tested at high voltage, and the test will be conducted on the finished cable and in a water bath at 60 ± 3°C.
3. Durability
The conformance with compliance must be checked by trying to eliminate the marking of the manufacturer's name or trademark, including the colors of cores or numerals by rubbing lightly ten times with cotton wool or cloth soaked in water.
4. Flammability Test
Under the flammability test, the duration of burning after removing the flame must not exceed 60 seconds and the unaffected lower edge must be at least 50 mm.
5. Legibility
Under IS 694, all markings must be clear and legible. Moreover, the colors of the identification threads must be seamless to recognize or seamlessly made recognizable, if required, by cleaning with petrol or another suitable solvent.
Apart from the test mentioned above, below mentioned are some other test requirements which need to be followed -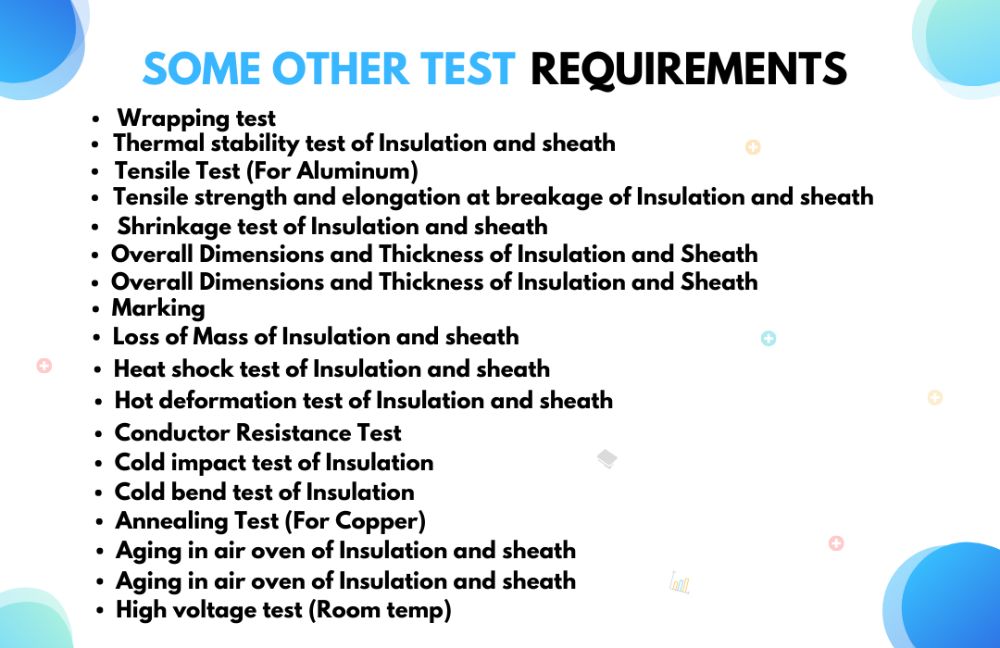 Wrapping test
Thermal stability test of Insulation and sheath
Tensile Test (For Aluminum)
Tensile strength and elongation at breakage of Insulation and sheath
Shrinkage test of Insulation and sheath
Overall Dimensions and Thickness of Insulation and Sheath
Overall Dimensions and Thickness of Insulation and Sheath
Marking
Loss of Mass of Insulation and sheath
Heat shock test of Insulation and sheath
Hot deformation test of Insulation and sheath
Conductor Resistance Test
Cold impact test of Insulation
Cold bend test of Insulation
Annealing Test (For Copper)
Aging in an air oven of Insulation and sheath
Aging in an air oven of Insulation and sheath
High voltage test (Room temp.)
How We Help Ensuring Conformance With IS 694 Specifications?
We will educate you concerning every aspect of Indian Standard 694.
We will check whether a product falls under the purview of BIS or not, including whether a product complies with the BIS standards or not, then, after mutual understanding, the project will move forward. 
There is no better place to obtain it than JR Compliance because we will analyze the product requirements to give clear guidelines.
JR Compliance has experienced expert professionals, who can assist you in the documentation, evaluation, and examination.
We are equipped with the necessary resources to conduct a virtual pre-audit to confirm whether your manufacturing unit and production process are complying with provided specifications or not. 
JR Compliance will schedule a meeting with the BIS officer for a factory audit.
If you lack an in-house testing facility, we will help you in setting up one.
We will coordinate with a BIS-accredited laboratory for product testing.
You can expect reliable and punctual service delivery as we will also visit the BIS office on your behalf if required.
We invest our sustained efforts to meet the startled queries or demands of BIS.
In case of any concern, we assure to provide the finest solution.
Conclusion
IS 694, an Indian Standard applicable to electrical cables, which are usually used in the Mining industry and metro industries, is one of the major contributors to our economic development. Considering that, it is not only essential but mandatory to ensure conformance with specifications mentioned in IS 694 with the purpose to introduce your product in the Indian market.
Keeping the importance of conformance with compliance in mind, we - JR Compliance, a leading compliance service provider are equipped with experts and resources to provide you with above-and-beyond support to obtain a BIS certificate.
Till now, we have experience in providing compliance assistance to over 10,000+ global leaders such as Toray, Bombay Dyeing, Softbank, and others.
For details, Get in touch with the best compliance consultants in India.