IS 9000(Part-8) ( ELECTRICAL- ENVIRONMENTAL TEST FACILITY )
Industry Outlook
Indian Standard 9000 Part 8 was adopted by Indian Standard Institute on 25th September, 1981 proceeding to the finalization of draft by the Environmental Testing Procedures Sectional Committee, which had been approved by Electronics and Telecommunication Division Council.
This standard has been introduced to bring uniformity in the testing procedures, since the environmental testing procedures for component type items are disappearing at a faster rate. Moreover, the test procedures under IS 9000 Part 8 have been introduced to determine the suitability of the electrical and electronic items with the purpose of storage and use under the conditions of high humidity, that too when combined with high cyclic temperature.
Keeping the consumer safety in view, IS 9000 Part 8 has been introduced with the purpose to ensure safety and credibility of the product in mind.
Moreover, the expected growth of electrical market in 2022 is $14.97 million, while of electronic market is expected to grow by $73.4, reflects a scope of growth and diversification for the manufacturers and importers, since with the increase in the purchasing power of the consumers, more and more consumers are preferring a high-standard lifestyle.
Therefore, presenting an opportunity to achieve a competitive advantage through providing a safe and credible product to consumers, however, it can only be achieved through testing and certifying a product as provided in the relevant standard. 
For a better understanding of why product testing is important and how it is beneficial for both, manufacturers and consumers, let's move on to the next section.
Why is Product Testing Crucial | Importance of Product Testing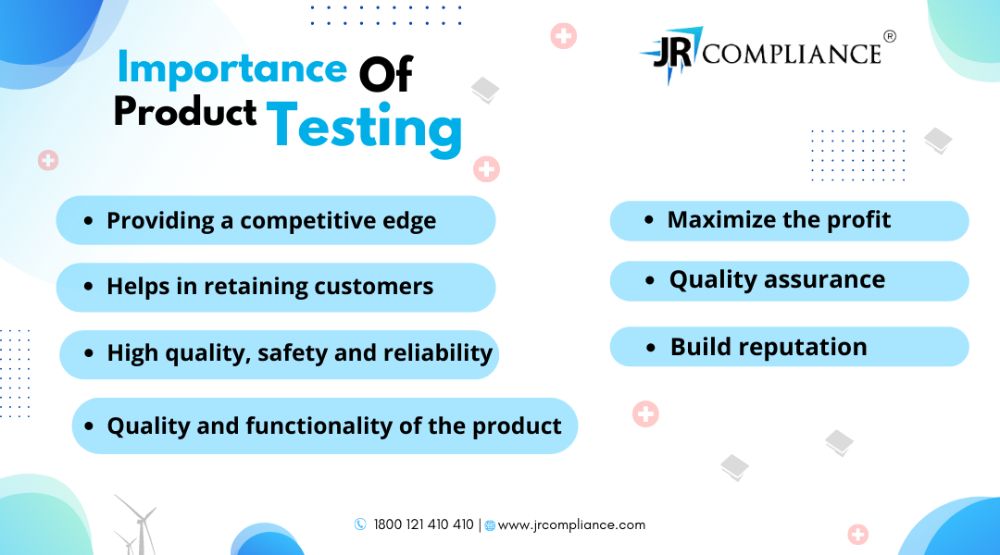 One of the most important purposes of testing is quality assurance of a product that reflects high quality, safety, and reliability.
Product testing allows the manufacturer to ensure the conformance with established technical standards to produce high quality and safe products.
Build reputation and maximize the profit, considering that a tested product indicates quality assurance. 
Helps in retaining customers, thus, providing a competitive edge.
Helps in understanding distinct types of stress a product can endure, be it in case of weather, wear tear, and other conditions.
In the initial prototyping stage, if you are trying to avail investment in order to manufacture your product in mass quantities, a tested product can allow you to achieve patent and investors as it shows the quality and functionality of the product.
With the benefits of product testing, we can clearly estimate how testing ensures quality assurance and product credibility. 
Since, it has been established how essential product testing is, now let's move to the benefits of complying with standards.
What Are the Benefits of Complying With Standards?
Complying with standards offers numerous benefits to manufacturers and importers of the product, that further helps in building trustworthiness and reliability, thus retaining the customers.
Why, don't we look at other benefits of the same -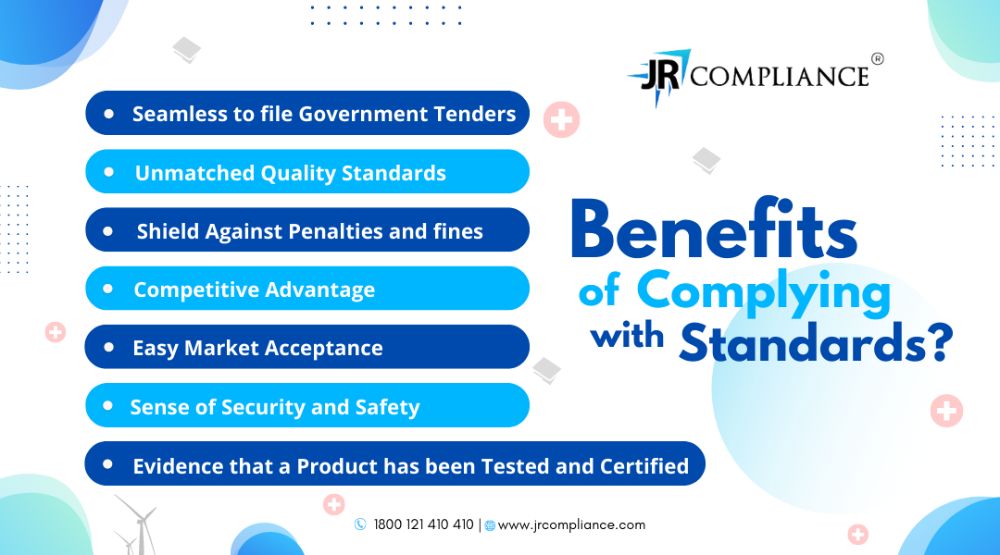 A certified product acts as a shield against penalties and fines which could be imposed for not certifying a product.
A certified product serves as an evidence that a product has been tested and certified as per prescribed standards.
A certified product provides a sense of security and safety to the consumers, thus ensuring easy acceptance.
It provides a competitive advantage over competitors.
Easy market acceptance as a product is tested and certified.
Confirm the unmatched quality standards.
Seamless to file government tenders.
With these benefits of ensuring conformance with IS 9000 Part 8 standards and specifications, a manufacturer can establish that a product is safe, reliable, and credible, thus, confirming to unmatched quality standards. 
Now, in the next section, we will learn about test requirements and product scope of the IS 9000 Part 8.
Scope of IS 9000 Part 8
IS 9000 Part 8 provides a procedural requirement for vibration testing for electronic and electrical items as a part of basic environmental testing procedure. 
With the understanding of scope of IS 9000 Part 8, let's move on to the understanding of different testing requirements associated with IS 9000 Part 8.
Testing Requirements Under IS 9000 Part 8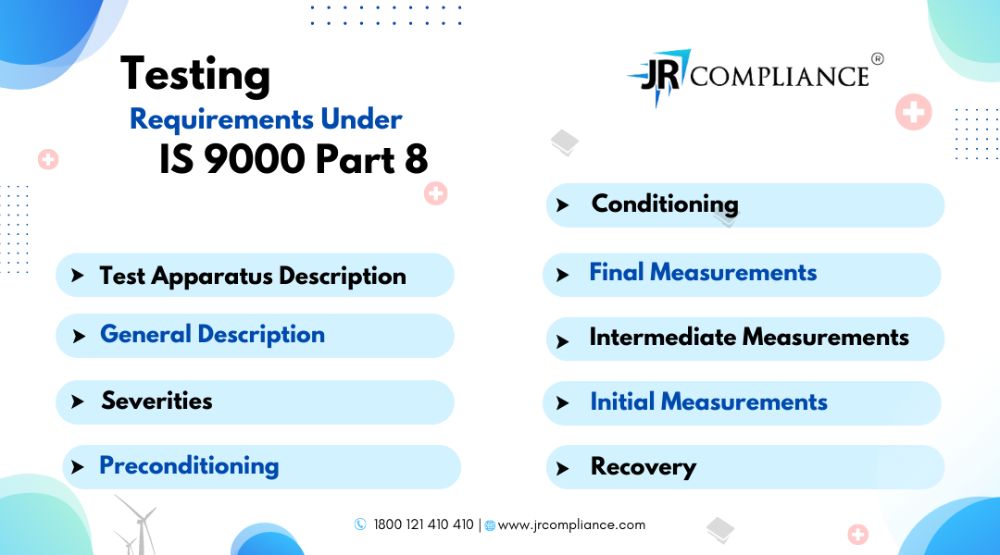 1. General Description
This test is conducted with the purpose to determine the mechanical weakness and/ or degradation in prescribed performance and to use the information in accordance with relevant standards to understand whether a component or equipment can be accepted as a testing item or not.
Moreover, this test is also used to determine the structural integrity of items and/ or to study dynamic behavior. Be it an item functioning during vibration or merely for survival, the vibration conditions are provided in the appropriate standard. Also, the vibration test demands a certain extent of engineering judgment, due to which proper care needs to be taken during selection of testing requirements and interpretation of results.
The primary part of the test provided in IS 9000 Part 8 deals with the methods to control the test at the particular points and gives a detailed view of testing procedures. 
2. Test Apparatus Description
Below mentioned are the required characteristics of vibration generator and fixture, when the generator is loaded for the conditioning process -
Basic motion
The basic motion needs to be sinusoidal in a way that fixing points of items are moving substantially in a phase and in a straight parallel line.
Transverse motion
The highest vibration amplitude at the fixing points in any direction perpendicular to the intended direction should not increase over 25% of the specified amplitude. 
The sum total harmonic acceleration content corresponding to specified amplitude at the driving frequency needs not to increase over 25%, unless it is being compensated for, by increasing the driving amplitude so as to restore the amplitude at the fundamental frequency of the particular value. 
Vibration Amplitude Tolerances
The actual vibration amplitude in the required direction must be equal to the particular value within below mentioned tolerances -
At the reference point, which is provided in the relevant standard -
| In the frequency range where displacement amplitude is provided  | +/- 15% |
| --- | --- |
| In the frequency range where acceleration amplitude is provided  | +/- 10 |
At each specified control point -
| Frequency  | In the frequency range where displacement aptitude is provided  | In the frequency range where acceleration amplitude is provided |
| --- | --- | --- |
| Up to 50 Hz | +/- 25%  | +/- 15 |
| Above 150 Hz | – | +/- 25 |
Frequency renounce for determination must be done with the tolerance of +/- 0.5 or +/- 0.3 Hz, whichever is greater. Moreover, the frequency tolerance in other cases needs to be +/- 1 Hz  up to 50 Hz, and +/- 2 Hz upto +/- 50%. 
If required, the control of the amplitude of vibration needs to be controlled by the limitation of the driving force applicable to the vibrating system. Also, the method of limitation must remain the same, unless specified otherwise.
Ambient Temperature Range
The vibration test system and instrument console must be capable of operating over ambient temperature of 10 to 40-degree celsius.
The sweeping needs to be continual and logarithmic, while the sweep rate must be approx one octave per minute. Moreover, the linear approximation of the sweeping might not be used as the actual sweep rate must not increase one octave per minute at any point of time and duration of passage, which should be each octave over 60 Hz is approximately the same like the logarithmic sweep. 
Moreover, the provisions need to be made for temporary stopping of sweep at any point of the frequency change.
**3. Severities **
The severity in the vibration is defined with the combination of parameters such as range of frequency, vibration aptitude, and duration of endurance in sweep cycles and times. 
For each mentioned parameter, an appropriate requirement must be chosen, since in accordance with the environment changes, requirements related to it can be changed.
Below mentioned are the frequency range provided in the table -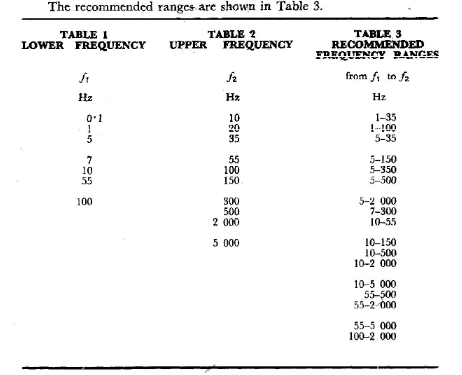 The vibration amplitude of displacement or acceleration, or both must be provided in the appropriate specification. Below mentioned table represents the recommended vibration amplitude with crossover frequency -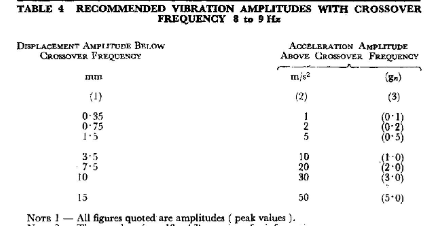 The duration of endurance needs to be selected from the below mentioned values. However, if provided duration results in the duration above or 10 hours per axis, then it needs to be split into duration, which does not decrease the stress in the item.
The endurance of sweeping on each axis needs to be chosen from below mentioned appropriate specifications as provided below -
1, 2, 5, 10, 12, 15, 16, 20, 24, 30, 50, and 100
The endurance of critical frequencies in each axis at relevant frequency found during vibration needs to be as provided below -
10 min ± 0.5 min 
30 min ± 1 min 
90 min ± 1 min 
10 hour ± 5 min
The endurance of predetermined frequencies is expected to be submitted to these vibrations during its operational life. The upper limit of 10 to the power 7 reversals needs to apply for each provided combination of frequency and axis.
4. Preconditioning
The appropriate specifications must be called for preconditioning.
5. Initial Measurements
An item must be visually, electrically, and mechanically inspected as required by appropriate specifications.
**6. Conditioning **
The appropriate specifications must provide information with respect to the number of axes at which an item should be vibrated at, including information with respect to their positions. While when these requirements are absent, the item must be successfully vibrated mutually in three perpendicular axes which should be to reveal the faults.
Vibration Response Investigation
The frequency range needs to be traversed with the purpose to study the behavior of the item under vibration. Normally, the response investigation is carried out over a sweep cycle under the conditions of the endurance, however, the vibration amplitude and sweep rate would be reduced.
The item may be functioning during the investigation response, as provided in the appropriate specification. However, in case of mechanical vibration it can not be assessed as the item is functioning. Therefore, an additional response investigation with the item not functioning will be carried out. 
Endurance Procedure
The appropriate specification will provide the guidelines to conduct for endurance procedure, which is as follows -
Endurance by sweeping
The frequency needs to be swept over the frequency range at the amplitude for the time period selected by appropriate specification.
Endurance at fixed frequencies 
The vibration will be applicable to -
Frequencies obtained from vibration response investigation.
Predetermined frequency provided in the specification.
7. Intermediate Measurements
When required, the item must be in functioning and its performance needs to be checked during the period of conditioning for a particular proportion at the total duration. 
8. Recovery
Under particular circumstances, it could be essential to provide the duration of time to the item after conditioning in order to allow the item to attain the same conditions as existed for initial measurement. 
9. Final Measurements
An item must be visually, electrically, and mechanically inspected as required by appropriate specifications.
How We Help Ensuring Conformance With IS 9000 Part 8 Specifications?
We will educate you concerning every aspect of Indian Standard IS 9000 Part 8.
We will check whether a product falls under the purview of BIS or not, including whether a product complies with the BIS standards or not, then, after mutual understanding, the project will move forward. 
There is no better place to obtain it than JR Compliance because we will analyze the product requirements to give clear guidelines.
JR Compliance has experienced expert professionals, who can assist you in the documentation, evaluation, and examination.
We are equipped with the necessary resources to conduct a virtual pre-audit to confirm whether your manufacturing unit and production process are complying with provided specifications or not. 
JR Compliance will schedule a meeting with the BIS officer for a factory audit.
If you lack an in-house testing facility, we will help you in setting up one.
We will coordinate with a BIS accredited laboratory for product testing.
You can expect reliable and punctual service delivery as we will also visit the BIS office on your behalf if required.
We invest our sustained efforts to meet the startled queries or demands of BIS.
In case of any concern, we assure to provide the finest solution.
Conclusion
IS 9000 Part 8, an Indian Standard applicable to electrical cables, which are usually used in the Mining industry and metro industries, is one of the major contributors to our economic development. Considering that, it is not only mandatory but necessary to ensure conformance with specifications mentioned in IS 9000 Part 8 with the purpose to introduce your product in the Indian market.
Keeping the importance of conformance with compliance in mind, we - JR Compliance, a leading compliance service provider are equipped with experts and resources to provide you with above and beyond support to obtain a BIS certificate.
Till now, we have experience in providing compliance assistance to over 10,000+ global leaders such as Toray, Bombay Dyeing, Softbank, and others.
For details, get in touch with our experts.