NBFC DSA Registration in India Online
Are you an aspiring financial advisor or an established one looking to expand your reach and income? If yes, then becoming a DSA (Direct Selling Agent) of an NBFC (Non-Banking Financial Company) is the perfect opportunity for you! With the digitization of financial services, the process of NBFC DSA registration online in India can now be done online, saving you time and hassle. In this blog, we will dive into the benefits of registering as an NBFC DSA, the process of online registration, and everything you need to know to start your journey as a successful financial advisor.
What is NBFC Registration?           
NBFC registration refers to the process of obtaining a license from the Reserve Bank of India (RBI) to operate as a Non-Banking Financial Company (NBFC) in India. NBFCs are companies that provide financial services and products, such as loans, insurance, and investments but do not accept deposits like a bank.                                                                    
What is DSA registration?     
DSA registration refers to the process of becoming a Direct Selling Agent (DSA) for a financial institution, such as a Non-Banking Financial Company (NBFC). A DSA acts as an intermediary between the financial institution and potential customers, selling financial products and services on behalf of the institution. The DSA registration process involves meeting the eligibility criteria set by the financial institution, submitting the required documents, and obtaining the necessary approvals. 
Once registered, DSAs are authorized to sell the financial products and services of the institution and receive commissions or other incentives for their sales. The financial institution may also provide training, support, and resources to help the DSA succeed in its role.
Benefits of DSA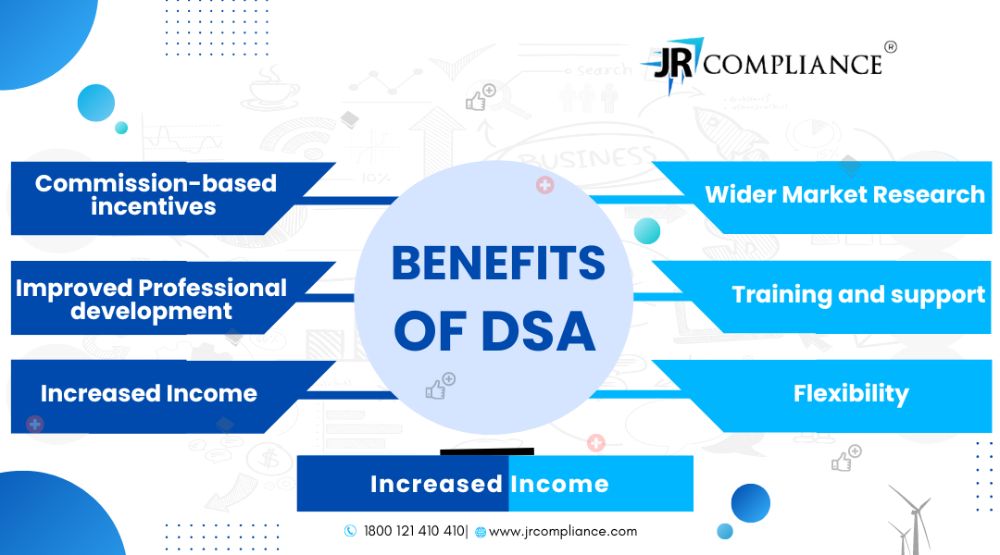 Increased Income: Becoming a DSA can provide additional income streams for financial advisors and individuals looking to expand their reach and earn more.
Wider Market Reach: By partnering with a financial institution, DSAs can access a larger pool of potential customers and offer a wider range of financial products and services.
Training and Support: Many financial institutions offer training and support to their DSAs to help them succeed in their role. This includes sales training, marketing resources, and ongoing support.
Flexibility: As independent contractors, DSAs have the flexibility to work from anywhere and set their own schedules, making it an ideal opportunity for those who value a work-life balance.
Improved Professional Development: By expanding their knowledge and skills in the financial sector, DSAs can increase their professional credibility and value to potential clients.
Commission-based Incentives: DSAs are typically paid on a commission basis, providing a financial incentive for their efforts and sales.
No Capital Investment: Unlike starting a financial business from scratch, becoming a DSA requires minimal capital investment and financial risk.
How To Become DSA Of NBFC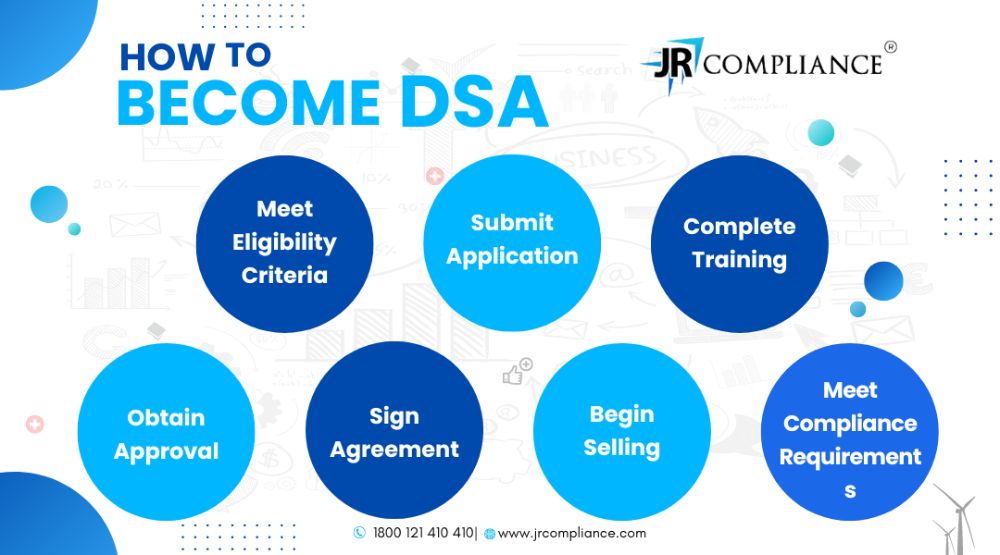 Meet Eligibility Criteria: Check with the NBFC to determine the eligibility criteria for becoming a DSA, such as age, education, experience, and background.
Submit Application: Submit a completed DSA application form along with the required documents, such as proof of identity, address, and educational qualifications.
Complete Training: Some NBFCs may require DSAs to complete training on the financial products and services they will be selling.
Obtain Approval: Wait for the NBFC to review and approve the application. This may involve a background check and an assessment of the DSA's sales skills.
Sign Agreement: Once approved, sign a DSA agreement with the NBFC that outlines the terms and conditions of the partnership.
Begin Selling: Start selling the financial products and services offered by the NBFC and earn commissions on successful sales.
Meet Compliance Requirements: Adhere to the compliance requirements set by the NBFC and the regulatory authorities, such as the Reserve Bank of India (RBI).
It is important to note that the process of becoming a DSA of an NBFC may vary depending on the financial institution and the regulatory requirements in place. It is recommended to check with the NBFC for the most up-to-date information on the process.
Final Thoughts
In conclusion, registering as an NBFC DSA in India has never been easier, thanks to the convenience of online registration. Not only does it offer a wider scope for financial advisors to reach their potential clients, but it also opens doors to new income streams and opportunities for growth. We hope this blog has provided you with a comprehensive understanding of the process of online NBFC DSA registration in India. So, don't wait any longer, take the first step towards a successful career as a financial advisor and register as an NBFC DSA today!
At J.R. Compliance, we understand the importance of compliance in the financial sector, especially when it comes to NBFC DSA registration in India. That's why we offer comprehensive compliance services to ensure a smooth and hassle-free process for our clients. 
Our team of experts stays up-to-date with the latest regulations and guidelines to provide you with accurate and reliable guidance. From document preparation to submission and follow-up, we take care of every aspect of the NBFC DSA registration online process. Trust us to be your reliable partner in navigating the complexities of compliance and registration, so you can focus on growing your business.