NBFC Registration in India: Meaning, Process, Documents 
Non-Banking Financial Companies (NBFCs) play a crucial role in the financial sector by providing a wide range of financial services to individuals and businesses. From personal loans to business financing, NBFCs offer innovative and flexible solutions to meet the needs of their customers. But before you can start operating as an NBFC, you must first complete the NBFC registration process. 
This process involves meeting certain regulatory requirements and obtaining the necessary licenses and approvals from the relevant authorities. In this blog, we will guide you through the steps involved in the NBFC registration process and provide you with the information you need to get started.
So, whether you are an entrepreneur looking to start a new business or an established financial institution looking to expand your services, this blog will provide you with the information you need to navigate the NBFC registration process with ease.
What Is NBFC Registration?
NBFC registration is the process of obtaining a license from the Reserve Bank of India (RBI) to operate as a Non-Banking Financial Company (NBFC) in India. This license is mandatory for any entity that intends to carry out financial activities, such as lending money, providing leasing services, or acquiring shares, stocks, bonds, and securities. 
The RBI regulates and supervises NBFC in India to ensure that they operate within the framework of laws and regulations and maintain the stability of the financial system in India. The registration process involves submitting a formal application to the RBI, along with the required documents and information, and meeting the regulatory requirements set by the RBI.
Documents Required For NBFC Registration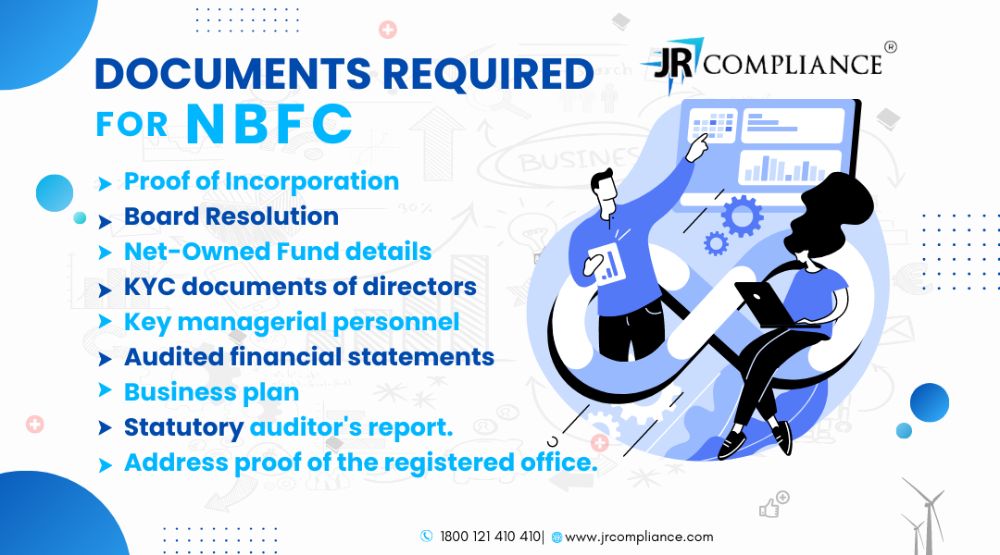 The following documents are typically required for the NBFC registration form with the Reserve Bank of India (RBI):
Proof of Incorporation: Certificate of Incorporation, Memorandum of Association (MOA), and Article of Association (AOA) of the company.
Board Resolution: A resolution passed by the Board of Directors authorizing the submission of the application for NBFC registration.
Net-Owned Fund (NOF) details: Statement of NOF, which must be a minimum of INR 2 crores for deposit-taking NBFCs and INR 1 crore for non-deposit-taking NBFCs.
KYC documents of directors and key managerial personnel: PAN card, Aadhar card, and passport-size photographs.
Audited financial statements for the past 3 years.
Business plan: Detailed business plan with projections for the next 3 years.
Statutory auditor's report.
Address proof of the registered office.
Tax identification number (TIN) and service tax registration certificate, if applicable.
Any other documents that may be required by the RBI in specific cases.
NBFC Company Registration Process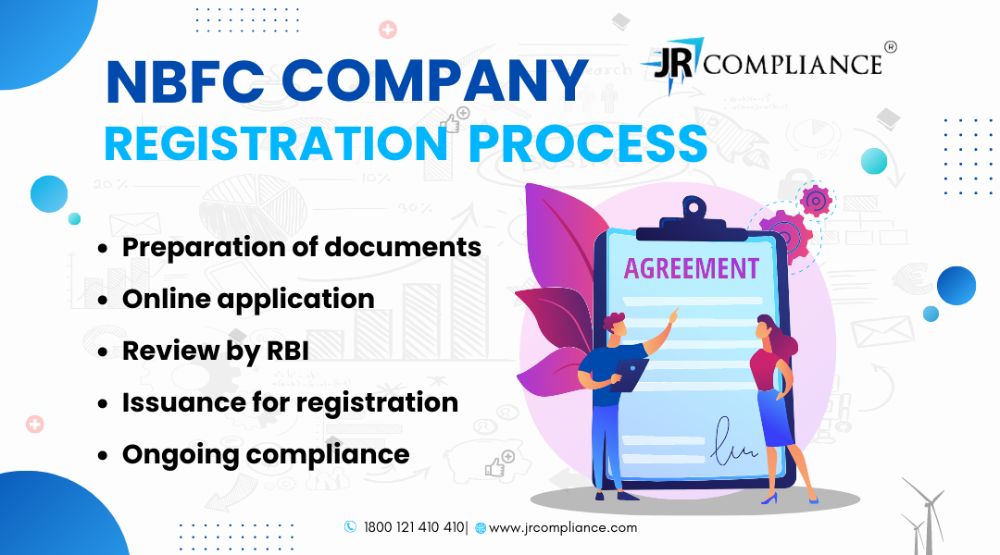 The NBFC (Non-Banking Financial Company) registration process with the Reserve Bank of India (RBI) typically involves the following steps:
Preparation of documents: Collect and prepare all required documents, including the proof of incorporation, board resolution, net-owned fund details, KYC documents of directors and key managerial personnel, audited financial statements, business plan, statutory auditor's report, and address proof of the registered office.
Online Application: Apply for NBFC registration through the RBI's online portal, along with the required documents and information.
Review by RBI: The RBI will review the application and the accompanying documents, and may request additional information or clarification.
Issuance of Certificate of Registration: Upon successful completion of the review process, the RBI will issue a Certificate of Registration, which is valid for 5 years and is renewable.
Ongoing Compliance: The registered NBFC must comply with all relevant laws and regulations and maintain its net-owned fund and other regulatory requirements, as specified by the RBI.
It's important to note that the registration process can be complex and time-consuming, and there may be specific requirements or challenges that vary by case. Seeking professional assistance is advisable to ensure a smooth and efficient registration process.
How To Check NBFC Registration Number
The Reserve Bank of India (RBI) maintains a database of all registered Non-Banking Financial Companies (NBFCs), and the registration number can be easily checked by following these steps:
Visit the RBI website: Go to the RBI website (https://rbi.org.in/), and click on the "Supervision" tab.
Search for NBFCs: Select the "NBFCs" option from the drop-down menu, and then click on the "NBFCs registered with RBI" link.
Filter results: You can filter the results by name, registration number, type of NBFC, and state.
Check registration number: Once you have found the relevant NBFC, you can view its registration number, along with other details such as its name, type, and address.
Alternatively, you can also check the registration number by contacting the RBI's customer service department, or by reaching out to the NBFC directly.
Final Thoughts
In conclusion, the NBFC registration process is a critical step for anyone looking to enter the world of non-banking finance. By following the steps outlined in this blog, you can ensure that your business is compliant with all regulatory requirements and is equipped to provide top-notch financial services to your customers.
With a deep understanding of the NBFC registration process, you can minimize the risks involved in starting a new business and focus on building a successful and thriving enterprise. So, take the time to research and understand the process, and with the right preparation, you'll be well on your way to building a successful NBFC.
At J.R. compliance, our compliance services for NBFC (Non-Banking Financial Company) registration can assist you in navigating the regulatory requirements and procedures involved in registering an NBFC form with the Reserve Bank of India (RBI). We aim to provide you with efficient and cost-effective support in obtaining NBFC registration. If you want support for the same, contact us!