How to Do an OPC Company Registration?

Before getting started with how to do an OPC company registration, let's start with what is a One-Person Company (OPC) because it is often confused with a sole proprietorship. 
According to Section 2 (62) of the Companies Act, a One Person Company (OPC) is a company that has only an individual as to its members. Similar to a sole proprietorship, a single person holds the sole authority over the company.
In other words, a person would be a shareholder and director of a company, however, a nominee director would be present with no authority, until the director of the company fails to enter the contract. 
Now that it is clear what a One Person Company (OPC) is, a major question that still stands is - what is the difference between an OPC and a sole proprietorship? 
No doubt, these two companies give an idea that both are same, however, their major difference lies in the fact that - an OPC is treated as a private limited company, thus, having separate legal entities and limited liability. On the other hand, a sole proprietorship is not a legal entity similar to partnership firms or corporations having unlimited liability and no separate legal entity. 
Hope you have understood what a One Person Company (OPC) is and how it is different from a sole proprietorship, now, let's jump to the benefits of OPC company registration.
What Are the Benefits of an OPC Company Registration?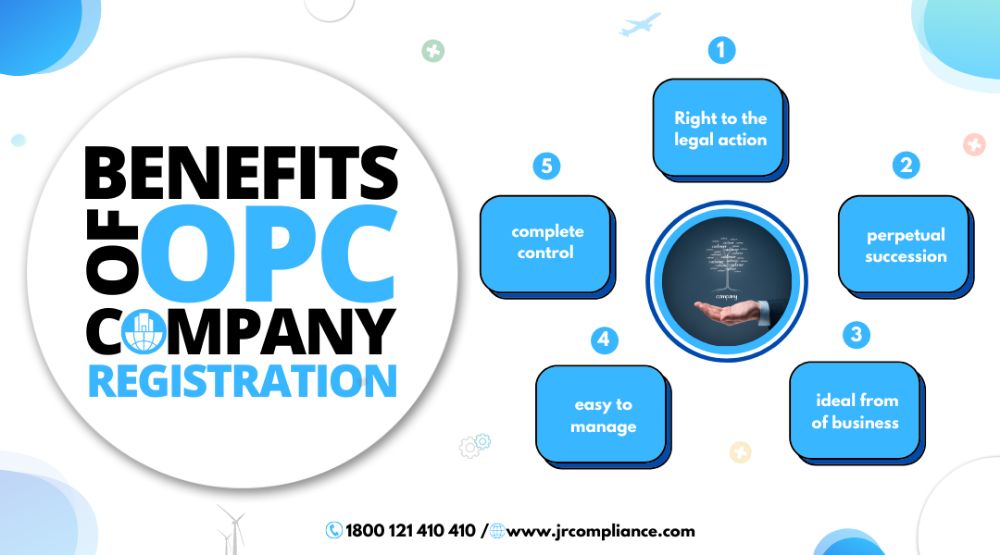 An OPC company registration gives you the right to take legal action against someone.
Perpetual succession implies that an OPC will continue to exist despite the death, bankruptcy, change in its membership, etc.
The ideal form of business for a small business.
Easy to manage a One Person Company.
Provide complete control over the organization.
Thus, OPC company registration indeed comes with various advantages, though it could be challenging even if you miss a single step in the process, which also includes documentation. With that, let's finally jump to - how to do an OPC company registration?
How to Do an OPC Company Registration?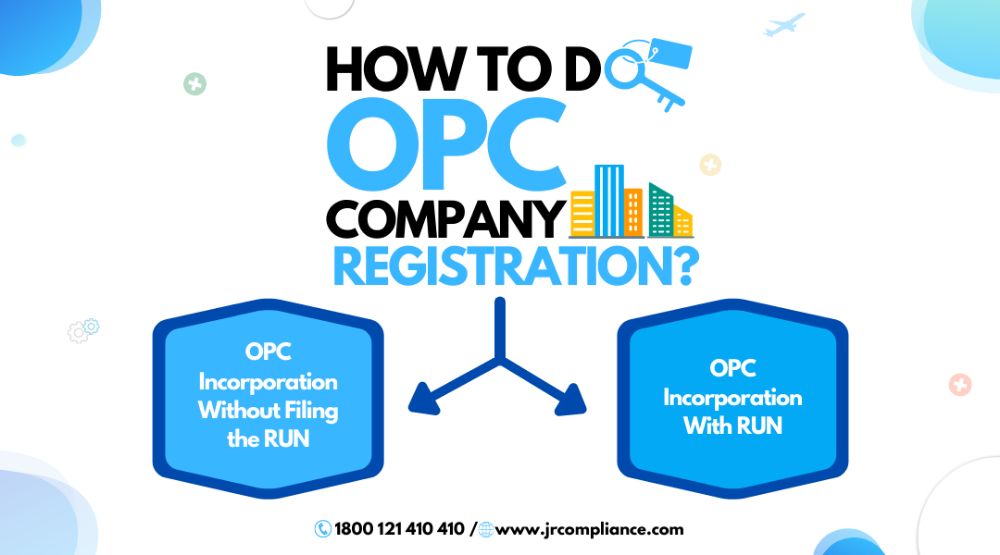 An OPC company registration could be done either by filing the RUN (Reserve Unique Name) or without filing it. Here let's understand the process of both -
1. OPC Incorporation Without Filing the RUN
The incorporation of OPC will commence with Simplified Proforma for Incorporating Company electronically (SPICe) (INC-32) - this will provide 5 advantages to the stakeholders, i.e., name reservation, allotment of Director Identification (DIN), company incorporation, allotment of PAN, and TAN.
Once the filing of SPICe will be done, an e-MoA (INC-33) and eAOA (INC-34) will be attached. On the contrary, if e-MoA and e-AoA are not available, PDFs of both could be submitted.
NOTE - You are not required to reserve a company name individually as it can be done under SPICe (INC-32). 
2. OPC Incorporation With RUN
An application for the company's name approval will be filed.
Once the name of the company is approved by the concerned authority, a SPICe form will be filed for OPC company registration within 20 days of data consent by RUN.
In case, the correspondence address and registered office are not the same, form INC-22 will be filed within 30 days after registration of SPICe form.
Understanding whether you should file for an OPC company registration under RUN or without it, requires a professional approach to understanding its requirements. Therefore, making an OPC company registration challenging.
No worries, we have got you covered!
Be it registration of a public limited company, LLP, and any other company registration requirements - consider it done.
Let's see how our professional approach can help in making an OPC company registration seamless.
How We Make an OPC Company Registration Hassle-free?
Our consultants will provide you 100% support in One Person Company incorporation with RUN or without it.
We keep ourselves abreast with the latest information to provide the finest consultation to our clients to prevent missing any information.
Our One Person Company (OPC) consultants will invest their time and efforts in completing the documentation on time.
We will provide you with complete assistance in the company's name approval.
To ensure the convenience of our clients and to ensure regular follow-ups, we will directly coordinate with officials.
We are equipped with all the necessary resources to provide 24*7 support.
Conclusion
An OPC company registration is not only essential to avail several benefits but also to thrive your business as a registered business allows you easy access to loans, filing for government tenders, and more. 
However, it is no secret that an OPC company registration could be challenging, especially, if you are doing it for the first time. 
Why not contact corporate compliance professional to take care of your registration requirements?
You are at the right place, we are not only experienced but are a leading compliance service provider who ensures timely and accurate document submission, form submission, and other requirements which may arise.
Contact our experts and get your One Person Company incorporation done.