How to Register Company Online | Online Company Incorporation

India is a developing country and industrialization is a part of industrial development, which gives significant importance to company registration. However, the idea of company registration seems the perfect way to expand and diversify a company, but the most doubtful question is how to register a company online. 
Before answering the mentioned question, let's see, how many registered active companies India has? 
India has a total of 1.26 million registered active companies in September 2020. A large number of registered companies clearly signifies that company registration is considered important - not only for building credibility and trustworthiness but also because it offers several other benefits which will be discussed later in this topic. 
However, before that let's understand one fact about company registration which is - how to register a company online, including differences between companies depending on the type of company such as private limited company, public limited company, an OPC, LLP, and more.
So, here in this blog, we will briefly discuss all the companies which fall under company registration. 
Benefits of Company Registration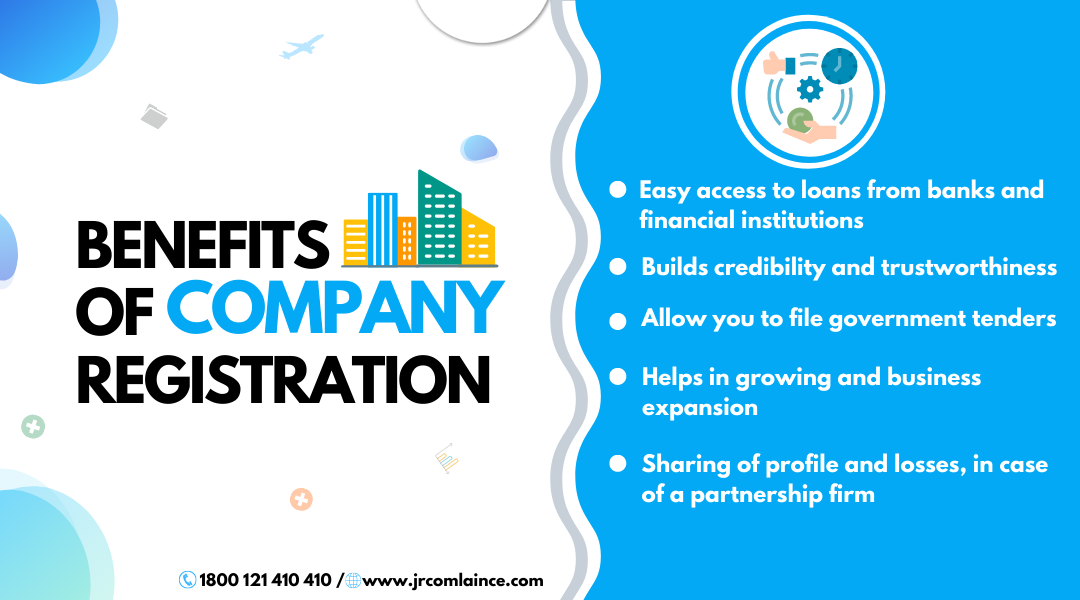 Easy access to loans from banks and financial institutions.
Builds credibility and trustworthiness.
Allow you to file government tenders.
Helps in growth and business expansion.
Sharing of profile and losses, in case of a partnership firm.
Indeed, company registration brings up various benefits depending on the type of a company, to make it more clear - let's move to the type of company.
What Are the Types of Companies You Can Register?
According to Section 2 (68) of the Companies Act, 2013, a private limited company is a company whose Article of Association (AoA) restricts the transfer of shares, including preventing the public from subscribing to the same. In brief, it is a privately owned business entity, which is generally owned by non-governmental organizations.
Benefits of a Private Limited Company
Its members have limited liability which ensures that a member is not liable to pay more than the nominal value of the share held by him.
To incorporate a private limited company, no minimum capital is required.
Perpetual succession, which implies even in case of bankruptcy, death of a member, etc a private limited company will continue to exist.
Allow promoters to raise the equity funds from the stock exchange, private equity firms, etc.
The liability of the company and its members are not the same - separate legal entities.
Requirements For Incorporation of Private Limited Company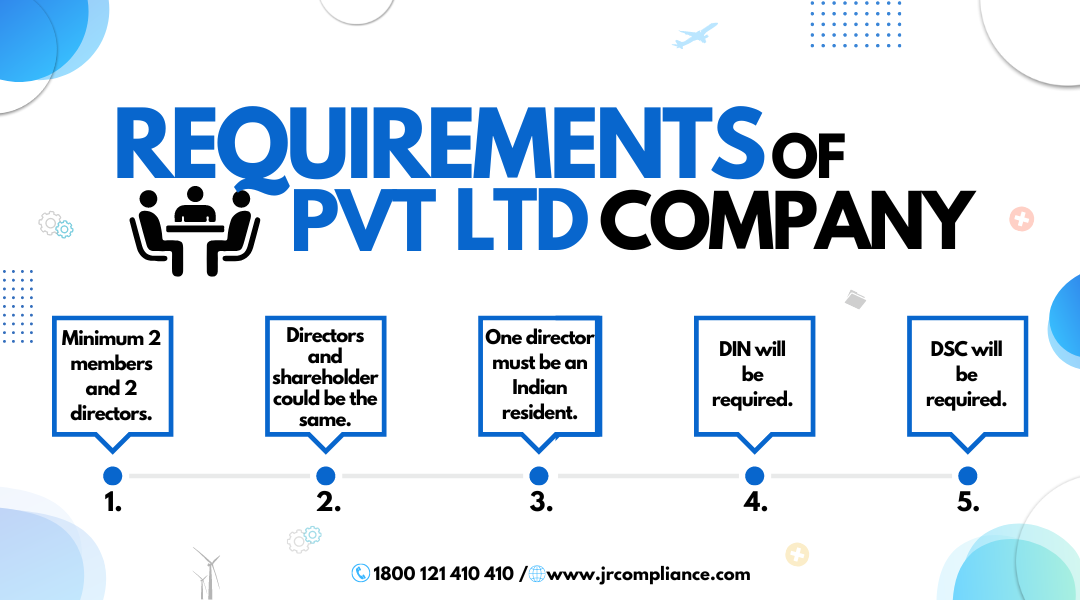 Minimum 2 members and 2 directors are required.
Directors and shareholders could be the same.
At one director must be a resident of India.
Director Identification Number (DIN) will be required.
Digital Signature Certificate (DSC) will be required.
Under the Companies Act, 2013 a public limited company is a company that allows the transfer of shares to the general public. Moreover, its stock can be acquired by an individual either privately or through trade.
Benefits
Transfer/ sale of large parts shares to the public disperses the unsystematic risk.
Provides an opportunity to raise capital as it offers a large part of its share to the general public.
Does not impose debt on its members as limited liability is one of its benefits.
Easy access to loans as compared to a private limited company.
Requirements For Incorporation of Public Limited Company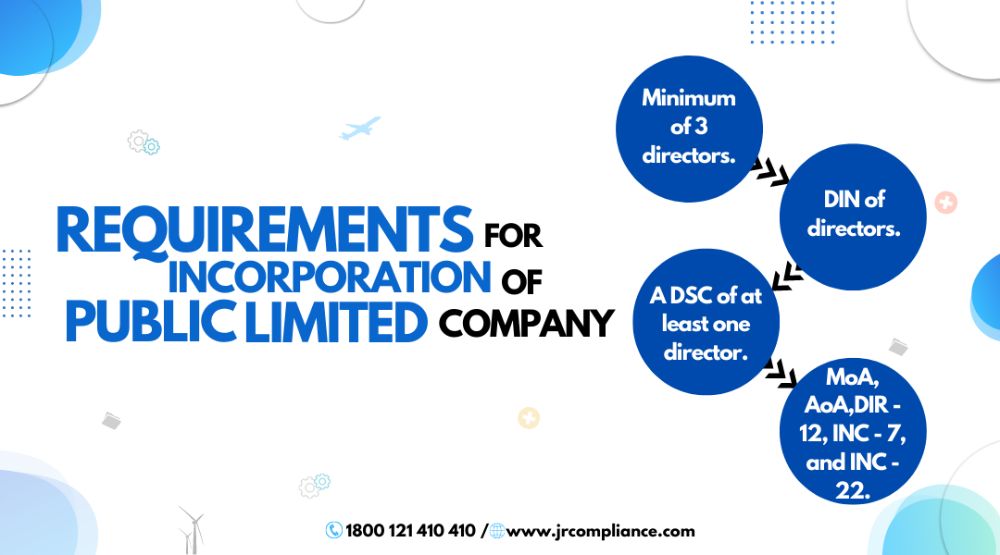 For the incorporation of a public limited company, a minimum of three directors are required.

Directors' Digital Identification Number (DIN).

A Digital Signature Certificate (DSC) of at least one director is required.

Documents like MoA, and AoA, including DIR - 12, INC - 7, and INC - 22 are required.

An application indicating the company's main objectivez
Under Section 2 (62) of the Companies Act, 2013, an OPC is a business form that comprises only a single person as its members. Moreover, under this form of business, an individual promoter holds complete authority over the business. To enter the government tenders and easy access to loans, registration of an OPC is essential, however, before that let's have a look at its benefits -
Benefits
The separate legal entity provides similar rights to a company as a person such as entering into the contract, suing or sued, etc.
Perpetual succession, thus, will continue to exist despite the death, bankruptcy, etc of its members.
Ideal for business for incorporation of a small business.
Provide complete control and are easy to manage.
Provide tax flexibility to the business.
Requirements For Incorporation of an OPC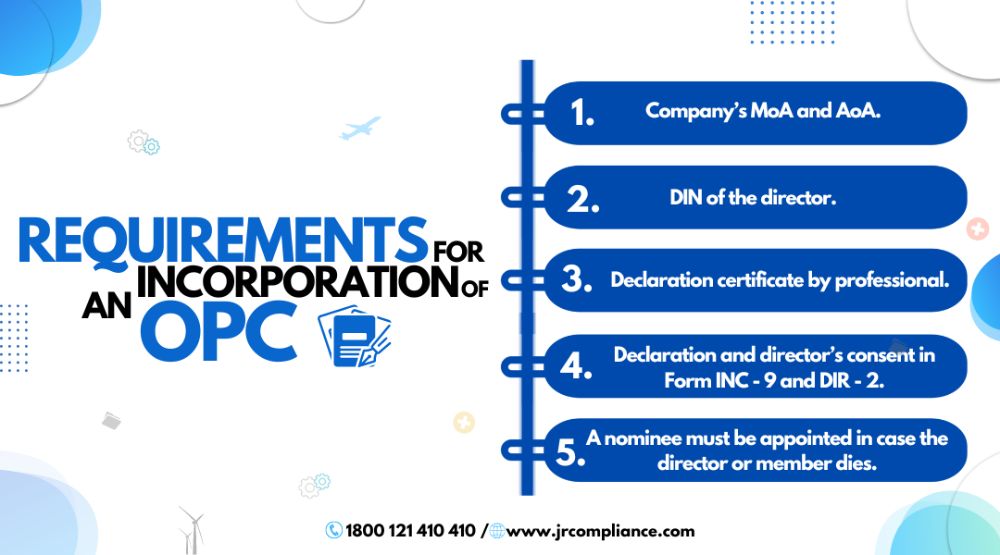 Company's Memorandum of Association (MoA) and Article of Association (AoA).
DIN of the director.
eMoA and eAoA, if not available in PDFs of both.
Declaration certificate by professional to indicate conformance with compliance.
Declaration and director's consent in Form INC - 9 and DIR - 2.
A nominee must be appointed in case the director or member dies.
National Initiative For Developing and Harnessing Innovations (NIDHI), is a financial institution or NBFC which engages in deposit or lending of money to its members. NIDHI company is registered under the Companies Act, 2013, and is governed by the guidelines of RBI (Reserve Bank of India).
Benefits
Legal requirements for the incorporation of NIDHI are less.
Works as per the guidelines of RBI which provides credibility and trustworthiness.
According to NIDHI Rule, 2014 it is a form of NBFC which accepts deposits and lends money to its members only, which reduces the risk of non-payment of loans.
Net-owned funding system, which means that the owner will invest money to increase the same.
Requirements For Incorporation of Nidhi Company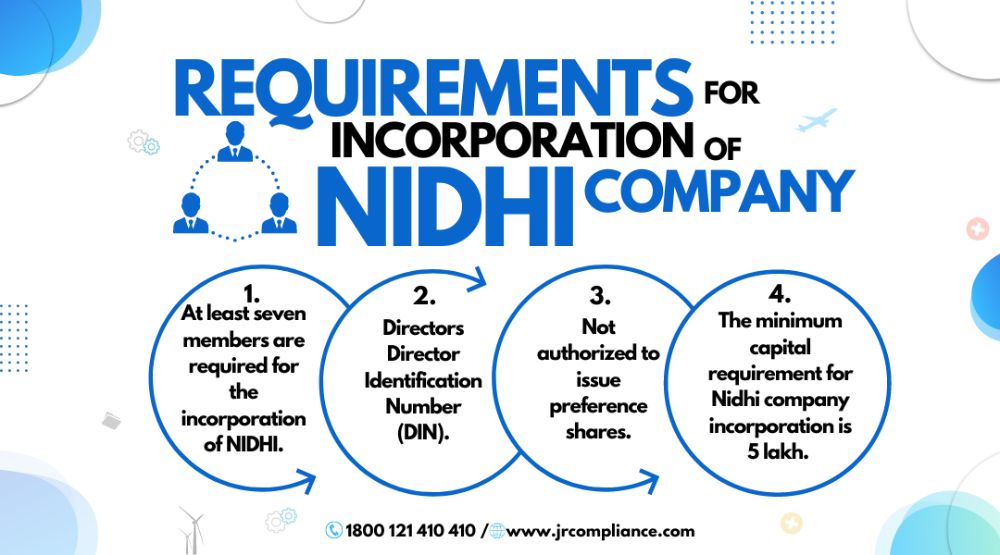 At least seven members are required for the incorporation of NIDHI.
The minimum capital requirement for Nidhi company incorporation is 5 lakh.
Directors Director Identification Number (DIN).
Not authorized to issue preference shares.
So, here, you have to get to know what major types of companies exist depending on different requirements and providing different benefits to their owner/ partner. Moreover, company and firm registration also include Producer company, Insurance company, MSME registration, and Startup India. 
Now, let's have a look at - how to register a company.
With that, let's move forward with, which documents are required for the registration of company, in the next section.
Which Documents Are Required For The Registration of Company | Basic Documents Required For Company Registration
Digital Signature Certificate.
The objective of the company is MOA and AOA
KYC documents of directors such as aadhar card, PAN, passport, bank statement, and utility bill.
EPFO, a specimen signature sheet
DIR - 2
An affidavit, in the case of LLP
Lastly, you would need a passport-size photograph.
Now, let's have a look at - how to register a company.
How to Register Company Online? [3 easy steps]

Since the company registration seems easy with these two steps, however, these are the general steps for incorporation of any company. But the company registration of all the companies includes changes and several requirements which are mandatory to implement. 
So, to meet these requirements - a professional approach to meet corporate compliance requirements is required and JR Compliance is the right choice. We have completed 10000+ corporate compliance projects successfully which shows that we are experienced and knowledgeable compliance service providers. 
Conclusion
Possessing the knowledge of all the requirements in regard to different companies is not possible for a layman - thus, we - JR Compliance consists of a team of corporate compliance experts who will be responsible for taking care of certification requirements. 
Our experienced consultants will individually handle your registration process and will meet your expectations within your time constraints along with coordinating with officials. 
So, get in touch with our experts and get your company registration immediately rather than searching how to register a company.