Regulatory Overlap in Mandatory Testing Removed
With the purpose of ease of doing business, the regulatory overlap in mandatory testing is removed which will authorize a manufacturer to commence business smoothly in India. 
Let's understand how it will exactly work -
Under "Electronics and Information Technology (Requirement for Compulsory Registration) Order, 2012" Ministry of  Electronics and Information Technology (MEITY), Compulsory Registration is carried out on particular goods, such as Laptops, wireless keyboards, PoS machines, and other electronic equipment.
Conversely, under Indian Telegraph (Amendment) Rules, 2017 issued on 5th September 2017, the Department of Telecommunications has specified "Mandatory Testing and Certification of Telecommunication Equipment (MTCTE)" with respect to the equipment which is used for telecommunication purposes.
With the constant increase in the convergence of technology, a regulatory overlap has been noticed with regard to particular products such as smart watches, smart cameras, and more. 
The products covered under both the industries are the same, which represents the overlapping. Moreover, this overlapping of DOT and MEITY has also been received from the industries and industry associations.
A result of the overlapping of the products in both industries was causing a deterrent to the timely launch of new products, including exceeding the compliance cost of the industry.
In order to resolve the issue of the overlapping, DOT in consultation with MEITY has examined the problem, as a result of which, the MTCETE regime with respect to the below-mentioned products will be exempted -
Mobile User Equipment / Mobile handset (Mobile phone)
Server
Smartwatch
Smart camera
PoS Machine (Point of Sale Devices)
This step taken by both the ministries will result in -
Minimizing the cost of compliance
Allow industries to launch their products in the market effortlessly
Minimize the cost of import delays
Make conformance with compliance seamless
With the understanding of mentioned benefits, let's understand the benefits of ensuring conformance with compliance requirements in the next section. This will help you appropriately establish why compliance requirements are a crucial part of an economy. 
Why is Conformance With Compliance Requirements Essential?
Keeping track of distinct compliance requirements and ensuring to meet them to avoid the risk of penalties imposition.
Meeting global obligations and statutory compliance affect the goodwill and when accomplished promptly, it reflects the virtue of the company.
Conformance with compliance drives business growth by improving credibility and further positively influences business growth.
Compliance is like a well-oiled machine that helps a business to be successful.
Compliance builds trust, which can not be built unless rules and regulations are adopted.
Conformance with compliance requirements ensures easy entry into an economy by serving as proof of safety and reliability.
Above mentioned benefits, primarily emphasize on how "compliance," helps in business expansion, boosts sales, facilitates easy global market access, and provides district benefits. 
With that, let's have a brief overview of the Compulsory Registration Scheme of BIS and Mandatory Testing and Certification of Telecommunication Equipment (MTCTE), to establish a better understanding of the certification requirements.
Overview of Compulsory Registration Scheme
CRS, which is an acronym for Compulsory Registration Scheme, is a scheme under the Bureau of Indian Standards (BIS), which ensures that a product is of high quality, safe, and credible.
CRS is basically applicable to electronically produced products, which are produced domestically or internationally. Some of the examples of products under CRS purview are mobile phones, electronic products, and more. Although, there might be a possibility that you might need to obtain an EPR too for e-waste management.
How to Complete CRS Registration | CRS Registration Process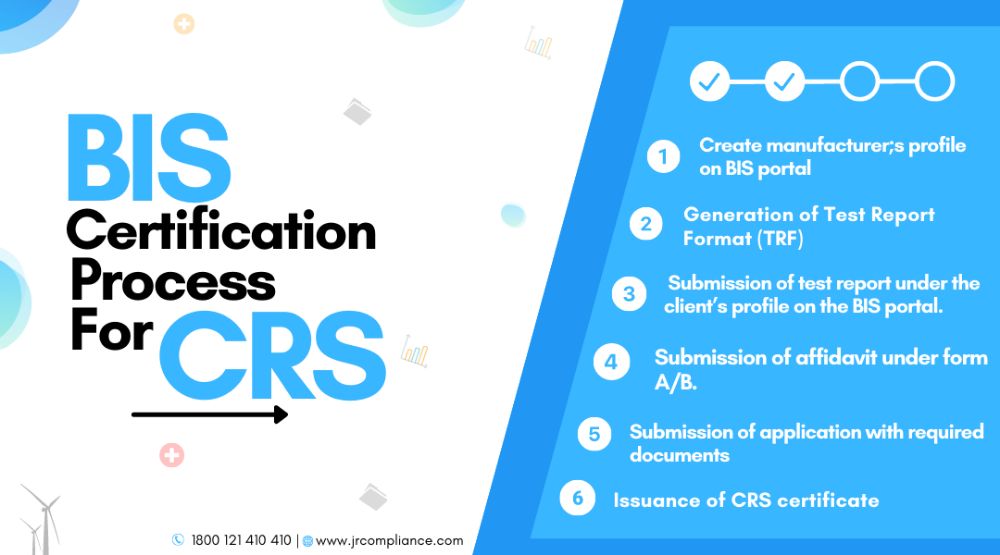 The manufacturer's profile will be created on the BIS portal.
The Test Report Format (TRF) will be generated for a BIS accredited laboratory.
After TRF generation, the lab will submit the report under the client's profile on the BIS portal.
Foreign applicants will duly appoint an Authorized Indian Representative (AIR) and must submit an affidavit cum undertaking as per Form A/B. While Indian applicants must submit an affidavit cum undertaking as per Format C.
Furthermore, the online form will be submitted along with the required documents followed by the required fee.
The certificate will be granted based on testing, not based on the factory visit, consequently, the CRS certificate will be obtained if your product complies with the BIS (CRS) requirements.
Overview of MTCTE Certification | TEC Certification
According to Indian Telegraph (Amendment) Rules, 2017, all the telecom equipment is obligatory and required to be tested and certified before the sale or import in India. 
Therefore, any telegraph which is used or with the potential of being used by any established, maintained, or worked telegraph under a granted license must obtain the MTCTE to meet the established parameters. 
It is one of the schemes under TEC (Telecommunication Engineering Center), an authority that is responsible for providing technical support to the Department of Telecommunication (DOT) and other government departments.
How to Complete MTCTE Process | TEC Registration Process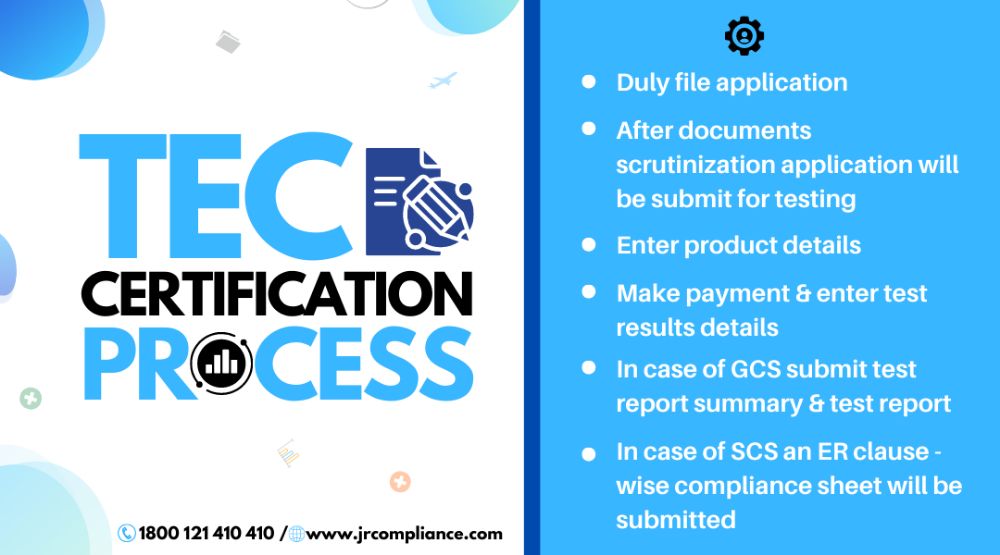 Initially, complete the process of registration.
Then, as you will be done with the process of registration, you will be allotted a testing laboratory accredited by TEC for testing telecom equipment.
Further, after the successful submission of the sample for testing, you will procure the test report.
If your product complies with the laid standards and requirements, you are required to submit the documents along with the parking fee.
 At last, your product is certified and can use the TEC. 
With the proper understanding of an overview of both the certification schemes and their process, it can be easily established that obtaining any of the certifications involves a comprehensive process.
That being the case, without a proper understanding of the certification process, documentation, standards, and specifications, it is challenging to obtain certification without professional guidance. 
That's why we are here!
India's leading compliance service provider - JR Compliance possesses the required resources and expertise to obtain a certification hassle-free. Moreover, we have an integrated process to provide you with assistance in the completion of certification. 
In the next section, let's understand in detail we will make the certification process seamless.
How Will We Make Certification Seamless?
Our consultants will invest their time and efforts in analyzing which certification scheme is applicable to a product.
We will provide you with information regarding the number of samples required for product testing because product sample requirement differs depending on product type.
To provide accurate and reliable information, we will conduct a product analysis to understand the functions and components of the equipment. That will help us understand applicable ERs on equipment. 
To ensure high satisfaction, we will directly coordinate with CAB to ensure proper follow-ups and acknowledgment. 
Our TEC consultants are abreast with all the information in regard to TEC India, which helps us coordinate with the Telecommunication Engineering Center (TEC) without any discrepancy. 
Being a reputed consultant, we will provide you with technical and non-technical support.
To ensure your convenience, our l consultants will track your application.
To ensure the utmost convenience for our client, we will also assist you in the customs clearance of the sample product.
Our professional experts are equipped with all the necessary resources to tackle every issue - be it suspension, cancellation, or amendment of TEC approval. 
We will provide you with after-sales services like assisting in the implementation of labels on the product 
We are equipped with technical resources to provide you with complete assistance during surveillance. 
We will provide 24*7 technical support to resolve any query you may have.
Conclusion
The proposed solution of Regulatory Overlap in Mandatory Testing Removed, indeed resolved major problems such as cost of compliance, effortless product launch, cost of import delays, and conformance with compliance. This will benefit the economy as a whole, considering that it will allow easy imports and launch of products in India, that too with a minimum cost of compliance. 
The effort of government or ministries to eliminate the "overlap in mandatory test," has in real life resulted in the elimination of certain mandatory products from under the purview of TEC, but to keep it under the CRS, that is Compulsory Registration. 
For information regarding the certification requirements of TEC and CRS certification, get in touch with our experts.