The Compliant Sur : A Creative Initiative to Promote Compliance
The Compliant Sur - a creative initiative to promote compliance in our society.
Music and Holi are like a perfect combination of gujiya and sweetness. We believe we all can agree that Holi is incomplete without Music as music is an art - an art of living and art of expressing. 
Music - a universal language of mankind, music binds us together, from listening to pop music of western culture to classical music of Indian culture - we all are bound with Ragas and Sur. With that, it can not be ignored, Indian music has constantly been evolving, into something good and new.
Considering the importance of music in everyone's life, from listening to sad music to the music that will lift your spirits or the music that makes you dance - music can be termed as "food to our soul."
This Holi, we have launched a marketing campaign to promote compliance creatively. We agree, most of us might fail to understand our vision or perspective behind introducing something different from our field, which is to persuade everyone to ensure conformance with compliance requirements.
And we believe, "music can be really persuasive in doing so."
Why have we chosen music as a way to raise awareness regarding the importance of compliance?
We will explain it in a few words - music is so powerful as people listen to it, they respond and we want people to respond when it comes to ensuring conformance with compliance requirements.      
So, in an era, where everyone loves electronic or pop music, JR Compliance has released, Rang Darungi - a Mix Fusion, (new holi song) with the purpose of creating "The Compliant Sur -  a creative initiative to promote compliance in our society," is to usher a carnivalesque mood among people of all ages groups.
Our agenda behind creating this amazing fusion of Raag music and Western music is not just to create a new dance song or holi special song, however, our motive is to raise a concern about ensuring conformity with compliance requirements. 
A 10 letter word, "Compliance," not most of us are aware of, and as a leading compliance service provider, we ought to make it known not only in India but also at a global level. Let's understand a basic aspect, being a manufacturer you would want to expand and diversify your business in different countries to reach consumers worldwide.
Now, in order to enter a particular market, you would need to ensure conformance with the local compliance standards of that particular country. 
And let's face it, most of us are not even aware of the certification requirements to enter a specific market. Be it obtaining BIS certification, TEC certification, WPC approval, AERB certification, BEE certification, and EPR authorization to enter the Indian market.
Now, if we talk about entering the European market, African market, Chinese market, Australian market, Russian market, and more. Therefore, let be it in the Indian and Global market - conformance with compliance is fundamental for seamless entry.
There you go, ensure conformance with compliance because, without this, your product will be held by the customs authorities. That further will result in contacting a professional to meet the compliance requirements. 
So, when you think about introducing a product in a country, you need to know that obtaining a certificate is an obligatory requirement. 
Enjoying a competitive edge over your competitors!!
Through our creative effort, we want nothing but to inculcate how meeting compliance requirements can help in -
Development of our economy.
Builds trust and credibility.
Prevent imposition of penalty.
Wider market access.
Ensuring high-quality.
There, by meeting the compliance requirements, you are not only getting access to a country. But you are also allowing others to enter your country, which will affect the growth and diversification of your business, as well as of your country. 
Here is to the growth and development of your country and your business!
Hope you have understood how music fills the festival of color - Holi with contentment and cheerfulness.
Holi has always been considered a festival of love, laughter, and play, while music is a way to express the delight of smearing each other with colors and enjoying a plate full of delicious gujiya together. Although, one thing one might notice, is the generation gap between these songs, the Holi songs we - the young generation listen to do not align with the traditional folk songs.
And to make you dance on this occasion of colors, we have come up with a Holi special song, a song that will make you dance to the beats - a perfect holi song fusion of, classic music and western music, so you can enjoy the raga music with a modern touch. In a nutshell, it is a treat to the ears and we can bet that friends or relatives who never dance, will rock the dance floor with their Holi dance moves.
Indeed, it is not a treat to ears for the young generation only, because our creative team has made this The Compliant Sur - Rang Darungi from our heart, while taking the music taste of both generations in mind - that's what a good Holi new song 2022 sounds like, isn't it? 
To avoid the generation gap and to bring both generations on the dance floor to dance, laugh, and enrich the love and care, which seems to disappear in this age gap.
Listen to our "holi ka gana!" 
That is definitely not other Holi DJ songs, but something made with love, like delicious gujiyas.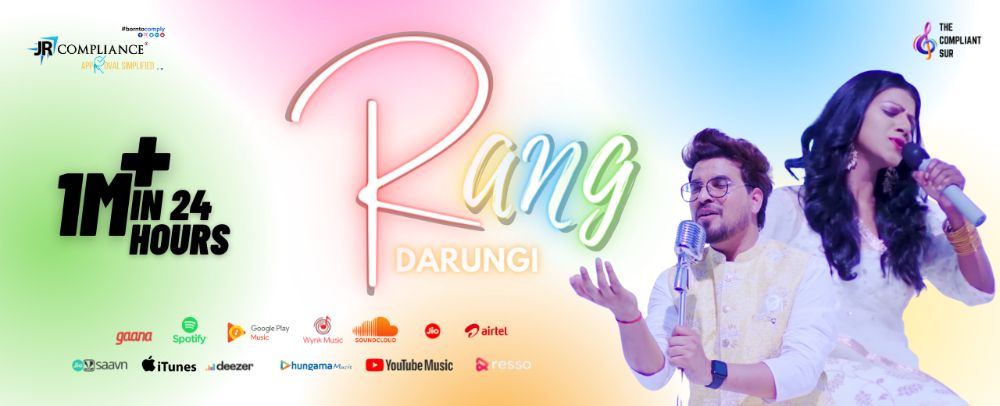 Also, we are pleased to inform you that in the near future, we will launch several songs that will make your soul dance while emphasizing on raising awareness regarding what compliance is and how important it is.
We agree we might have chosen a high road, something we have never done before, but we have faith in our team and us to achieve what we have imagined. Moreover, we are positive about receiving good results considering that our newly launched song, Rang Darungi has received love from millions of people in just 24 hours. 
Hoping for receiving the same love and support from you in the future as well!