The Ultimate Guide To setup new Startup registration in India : Top 7 Strategies
Meaning and definition of Startup India:- 
A startup in India means establishing a new business that is in the process of developing a growing business model with the potential to grow different types of innovation and technology. According to the government of India, the Startup India Registration business is not more than 10 years old, with an annual turnover not exceeding INR 100 crores in any of the previous financial years, and working toward new innovation and technology with new products. In India, there are different types of businesses like:- e-commerce, fintech, healthcare, education, and transportation. The Indian government launches different types of schemes to promote their business in the market and grow with new ideas and innovations.
Process of startup in India:- 
Idea:-  first you have to research the market validate your idea and create a business plan to start your business.
Register your business:- Register your business with the necessary licenses and permits for a private limited company, LLP, or partnership firm. 
Funding:- Explore your different sources of funding such as investors, venture capitalists, or government schemes.
Hiring:- Build your team by hiring the candidate for your company and executing your business plan.
Product development:- Develop your product with good feedback from your customers and your product must be helpful for the people.
Launch:- Start to launch your product in the market and attract people regarding your product.
Marketing and Sales:- Promote your product in the market and start to do marketing and sales with the help of Ads and offline marketing.
Compliance:- Engaged with the legal and regulatory requirements compliance for your tax filing, accounting, and, company law compliance.
Scaling:- When you achieve product-market fit, then focus on your product scaling provide the different types of offerings, and explore new market strategies.
Continuous improvement:- You must continuously improve your business and product. Due to this, you can easily stand in the market for the long term.
***Required essential documents for startup in India:- **
certification of incorporation/Registration certification of PAN
information regarding the company such as sector, registered address to office
details of directors and partners
brief description of the business, product, and services
information of authorized representative
*How JR compliance helps you in your startup India process:- 
JR compliance helps you to start a new business process in India with the help of:- Business Registration, Legal Compliance, Accounting and Taxation, Funding and Valuation, Intellectual property, and Company Secretarial Services.
Top 7 strategies of startup India:-

Simplifying Regulatory Framework:- The Indian government simplifies the regulatory framework for the companies to provide tax benefits and other incentives.
Providing Funding and Investment:- The Indian government launched different types of government schemes for funding and investment to support startups in India.
Building Incubation Centers:- Network of incubation centers across the country to provide startups with access to mentorship, networking, and other resources with the help of the government.
Encouraging Innovation:- The Indian government launched various types of innovation for the business. such as the Atal Innovation Mission, the Startup India Hub, and the Atal Tinkering Labs.
Developing Infrastructure:- The Indian government launched different types of infrastructure like Digital India, Smart Cities, and Make in India programs to support startups to grow in the market.
Skill development:- The government has launched various skill development programs such as the Skill India initiative, to provide startups with access to skilled and trained manpower.
Promoting International Collaboration:- The government of India signed various bilateral and multilateral agreements with other countries to promote their products and services, technologies, and resources
Benefits of a successful startup in India:-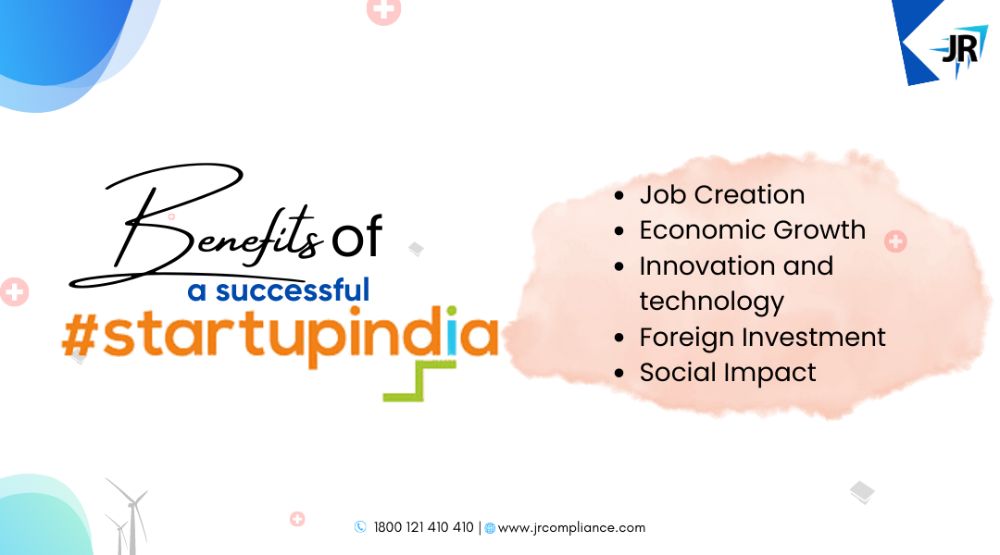 Job Creation:- Successful startups create new jobs for the people which can start to reduce unemployment in the country and change the standard of people living in India.
Economic Growth:- Economic growth starts to increase by creating new products and services in the market. 
Innovation and technology:- Successful startups bring different types of inventions and technologies that help products to grow  in the market and stand for a long-term
Foreign Investment:- A successful startup can attract foreign investment and start to lead your product or business across the country and strengthen India's position in the Global economy.
Social Impact:- Start to change the strategies of your product or business with the help of regular updates in the market.
Conclusion
In India, there are different types of government schemes and compliance that will help you to grow easily by promoting your brand or business. With the right support and resources for your startup in India, it will help to grow economically, and socially and contribute to the development of the nation. With the help of successful businesses, it will help to remove unemployment and start to provide jobs for the people.