Top 10 business ideas that have great potential for profitability in 2023.
Introduction :-
To start any type of business you must have knowledge about that and start to build a plan on how I can grow our business. Start determining your funding needs and find the team members that help to grow your business and do lots of efforts towards your business to stand up in the market and provide good services and products in the market.
Top 10 Profitable Business Ideas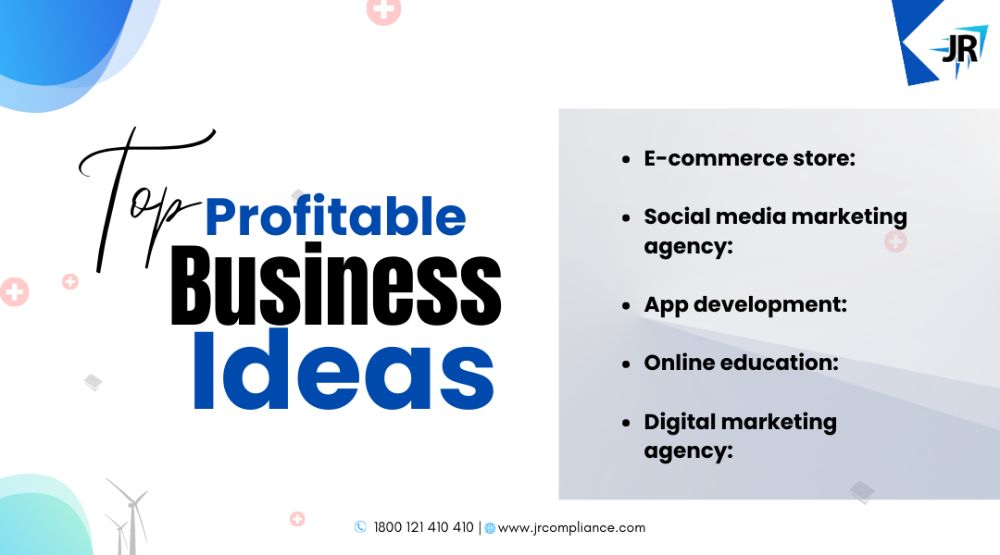 E-commerce store:  E-commerce store is mainly known as an online shop or store, is a website to virtual platform that allows businesses to sell their products online. Due to the online process the customer can buy any type of products at any time via using mobile or computer with an internet connection.       

E-commerce stores include some features like product listings, shopping cart     functionality, and secure payment process. The Website of the products may use    some extra features such as customer reviews, product recommendations, and    personalized shopping experiences. 

Social media marketing agency: Social media marketing agency is the company who provide the services in the social media sector. These agencies help the business to establish and maintain a strong presence on social media platforms, such as Facebook, Instagram, LinkedIn, Twitter, Pinterest etc . It helps to connect with their target audience and promote their products.

These agencies provide a wide range of services, including social media strategy development, content creation, social media management, social media advertising, social media optimization and analytics and reporting. These agencies also provide digital marketing services like Search engine optimization, email marketing, website design and development.

App development: App development is the process of creating software applications that can run on various devices like phones, computers, tablets, etc. It involves design, testing, development, and deployment of software applications to meet specific user needs and solve specific problems.

App Development is also considered in three ways . 

Native app development
Hybrid app development
Web app development

Online education: Online education provides education courses, programs, or training through digital platforms such as the internet, computer-based software, or mobile devices. Due to the online education the student can easily do study at their own pace and convenience, without the constraints of time or location.

Online education provides the flexibility and convenience to the students and the students can easily buy courses online with lower costs and save money related to transportation, accommodation etc.

Digital marketing agency: Digital marketing agency is a company that provides marketing services to businesses and organizations in the digital space. These agencies are dedicated to helping businesses establish and maintain a strong online presence and reach their target audience through digital channels, such as search engines, social media, email, and other digital platforms.

Digital marketing agencies may offer a wide range of services, including search engine optimization (SEO), pay-per-click (PPC) advertising, social media marketing, email marketing, content marketing, web design and development, and analytics and reporting. 

Health and wellness: A health and wellness business is a company that provides products or services that promote health, fitness, and well-being. These businesses may focus on a variety of areas related to health and wellness, including physical fitness, nutrition, mental health, stress management etc. 

Health and wellness businesses may offer a wide range of products and services, such as gym memberships, personal training, yoga classes, nutrition coaching, supplements and vitamins, massage therapy, meditation and mindfulness programs, etc.

Food delivery: A food delivery business is a company that delivers food to customers from restaurants, cafes, or other food establishments. The food is ordered by customers through the business's website or mobile application, and the business arranges for delivery to the customer's location.

Food delivery businesses may work with a variety of food establishments, ranging from small local restaurants to large chain restaurants. They may also offer a variety of food options, including fast food, casual dining, and gourmet food.

Online coaching: An online coaching business is a company that provides coaching services to clients over the internet. These businesses leverage technology, such as video conferencing and online platforms, to connect with clients and deliver coaching services remotely.

Online coaching businesses may offer a wide range of coaching services, such as life coaching, business coaching, career coaching, wellness coaching, and fitness coaching. They may work with clients from all over the world, allowing them to expand their reach and provide services to a larger audience.

Online marketplace: An online marketplace is a digital platform where multiple sellers can sell their products or services to the buyers. These platforms typically facilitate transactions between buyers and sellers, handling payment processing and sometimes even shipping and logistics.

Online marketplaces may specialize in specific product categories, such as fashion, electronics, or home goods, or they may offer a wide range of products and services. Examples of online marketplaces include Amazon, flip kart, Messo.

Virtual reality: Virtual reality (VR) refers to a computer-generated simulation of a three-dimensional environment that can be interacted with and experienced by an individual through the use of specialized equipment, such as a headset and controllers.

In a virtual reality environment, the user is completely immersed in a digital world that simulates real-world sensory experiences, such as sight, sound, touch, and even smell. Users can explore and interact with the virtual environment in real-time, creating a sense of presence and immersion. 
Requirements to Launch a Successful Business:-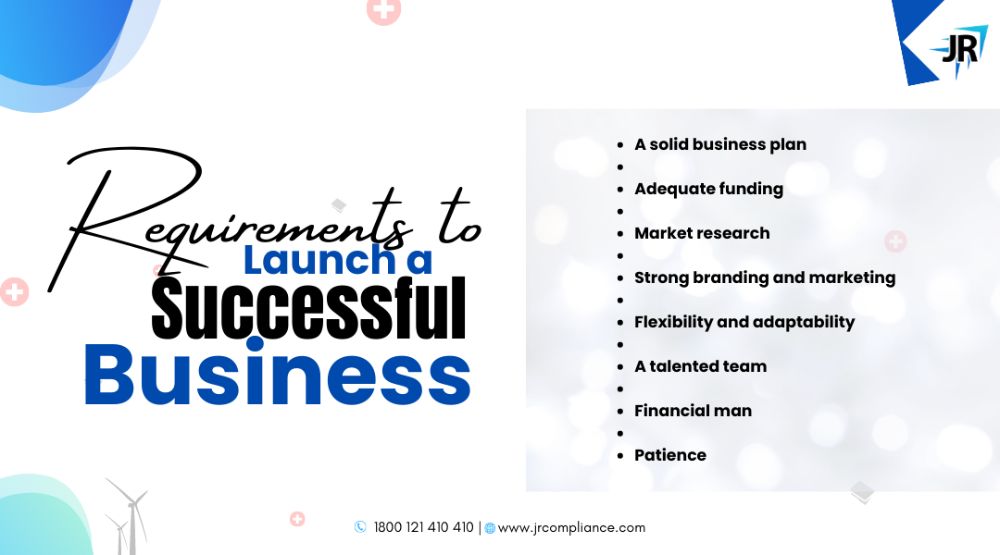 To launch a successful business you must have planning, hard work, and a strong vision and many more like:-
A solid business plan
Adequate funding
Market research
Strong branding and marketing
Flexibility and adaptability
A talented team
Financial man
Patience 
Conclusion :-
Starting a successful business requires careful planning, hard work, and a strong vision. It is important to have a solid business plan, adequate funding, market research, a unique value proposition, strong branding and marketing, a talented team, flexibility and adaptability, a focus on customer satisfaction, effective financial management, and patience and persistence.
For regular updates join us on -
📘 Facebook - https://www.facebook.com/jrcompliance/
🔵 LinkedIn - https://in.linkedin.com/company/jr-compliance-&-testing-labs
🟠 Instagram - https://www.instagram.com/jrcompliance/?hl=en
 Twitter - https://twitter.com/JrCompliance?ref_
For more information -
🌐Visit us - https://www.jrcompliance.com/
☎️Call us - 1800121410410
📧Reach us at - [email protected]