Trust Registration Certificate Online: Meaning, Types, Download
Trust registration in India is an important step for non-profit organizations to establish themselves as legitimate entities and carry out their charitable activities with ease. It involves obtaining a certificate from the government that recognizes the organization and provides legal recognition of its status and objectives.
With a Trust Registration Certificate, the organization can access benefits and resources that help it further its mission and serve the community. The process of trust registration is simple, and organizations can now do it online, making it convenient and accessible. In this blog, we explore the benefits, requirements, and procedures of trust registration in India, and why it's a critical step for any non-profit organization to take.
Trust Registration Certificate- An Overview 
A Trust Registration Certificate is a document that is issued by the government of India to organizations that have registered as a Trust. The certificate is proof that the trust is legally recognized by the government and has the authority to operate in India.
To obtain a Trust Registration Certificate online, the trust must fulfill certain criteria and apply to the Registrar of Trusts. The certificate is an important document as it allows the trust to receive donations, grants, and other forms of financial support, which is crucial for the functioning and growth of the trust. In addition, a Trust Registration Certificate also provides the trust with legal recognition and protection under Indian law.
What are the Advantages of Trust Registration?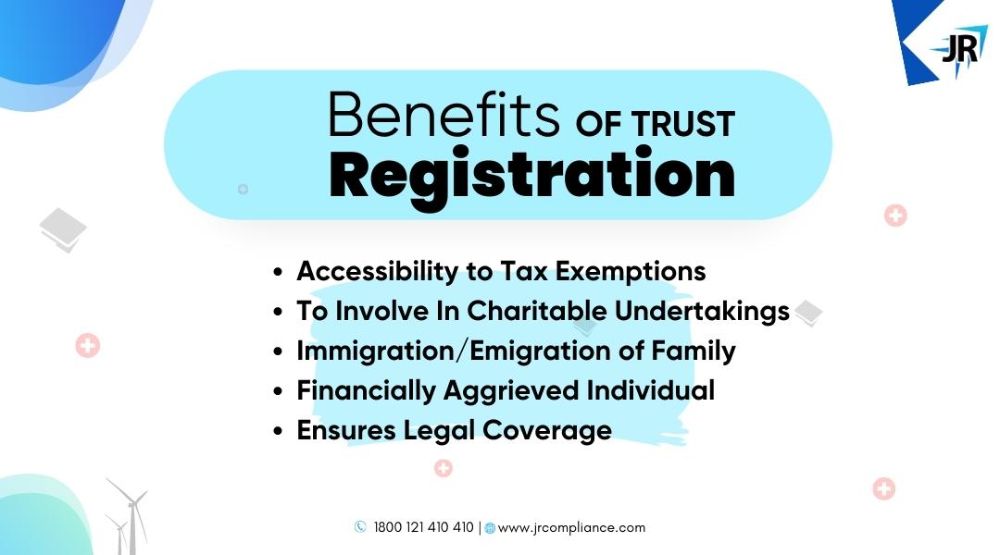 Some of the key advantages of registering a trust in India include:
Legal recognition: Registering a trust provides it with legal recognition and protection under Indian law.
Eligibility for tax benefits: Trust registration online is eligible for tax exemptions and benefits under the Income Tax Act, of 1961.
Acceptance of donations: Registered trusts can receive donations, grants, and other forms of financial support, which is crucial for their functioning and growth.
Reputation and credibility: Registering a trust enhances its reputation and credibility among the public, donors, and other stakeholders.
Clarity of purpose: Registering a trust helps to clearly define its purpose, objectives, and operations, which is important for its long-term sustainability.
Legal protection: A trust certificate provides legal protection to its trustees, ensuring that they are not personally liable for any debts or obligations incurred by the trust.
Ease of transfer of assets: Registered trusts can transfer assets with greater ease and without the risk of disputes.
Overall, the trust registration process in India provides it with a range of legal, financial, and operational benefits, making it a crucial step in the establishment and growth of trust.
Types of Trust Registration Online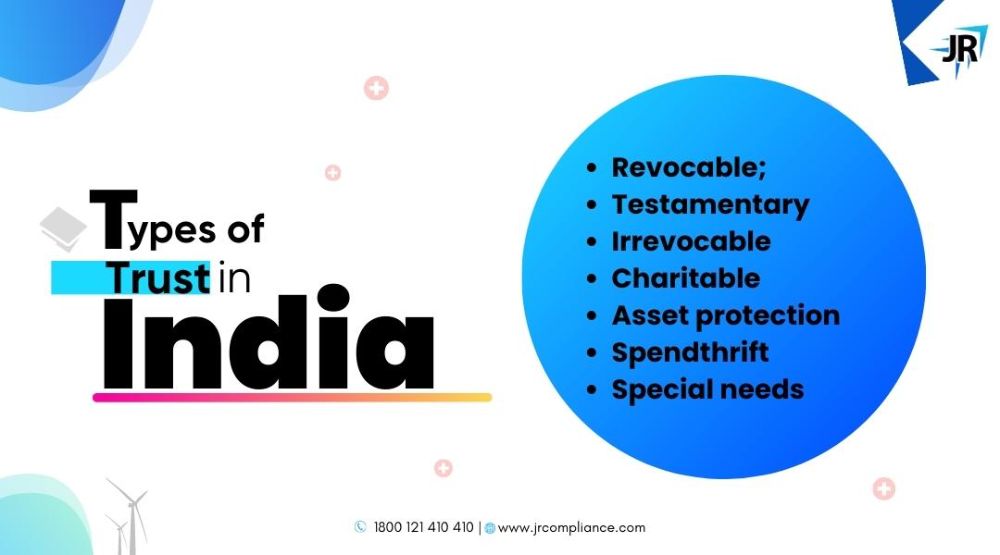 There are several types of trust registration that can be done online, including:
Charitable Trusts: These trusts are established for charitable purposes, such as promoting education, religion, or other charitable activities.
Religious Trusts: These trusts are established for religious purposes, such as building temples, mosques, or churches.
Scientific or Literary Trusts: These trusts are established for scientific or literary purposes, such as promoting research or publishing books.
Public Charitable Trusts: These trusts are established for the benefit of the general public and are registered with the charity commissioner.
Private Trusts: These trusts are established by individuals for their benefit or the benefit of their family members.
Section 8 Companies: These trusts are registered under Section 8 Companies Act, 2013, and are established for charitable purposes.
It is important to choose the appropriate type of trust registration based on the nature and purpose of the trust, as this will determine the eligibility for tax benefits and other benefits under the law.
Documents Required For Trust Online
To register a trust in India, the following documents are required:
PAN Card of the Trustees and the Trust
Address Proof of the Trustees and the Trust
ID proof of the Trustees
Declaration of the Trustees
Deed of Trust
Signature of the Trustees
Bank Account Details of the Trust
List of the objects of the Trust
NOC from the Landlord, if the registered office is on rented property.
It's important to note that the list of documents may vary based on the type of trust and jurisdiction. It's advisable to consult with a professional to ensure that all necessary documents are submitted accurately.
Final Thoughts 
In conclusion, the Trust Registration Certificate is an important document for non-profit organizations in India, providing legal recognition and credibility to their activities. Obtaining this certificate through the online process has made it more convenient and efficient for organizations, reducing the time and effort required for documentation and submission.
All non-profit organizations should register their trusts and obtain the Trust Registration Certificate to ensure smooth functioning and increase their credibility in the eyes of the public and government. At JR Compliance, we can assist you with hassle-free services in providing the best compliance services for Trust Registration online in India. You're in safe hands!