Udyam Certificate Registration | Udyam Registration Portal | Udyam Aadhar Registration and Download
Udyam certificate - the only government portal created with the purpose of MSME registration (udyam registration portal).  Udyam registration portal, is an online portal, where new MSMEs will be registered, including re-registration of existing MSMEs EM - II (Entrepreneurs Memorandum, Part-II) or UAM (Udyog Aadhaar Memorandum) will take place.
Before understanding more aspects of the "udyam registration portal," let's understand what udyam registration is. 
Udyam registration or udyam certificate is basically the registration of an MSME, consisting of government sign-off, along with that, it also includes obtaining a Recognition Certificate and a Unique Number.
In a nutshell, a udyam registration certificate is basically an instrument through which Micro, Small, and Medium Enterprises certify themselves to commence the legal operations. 
MSME udyam registration is necessary considering that it provides an abundance of benefits that we will discuss in the next section.
What Are the Distinct Benefits of Udyam Registration | Benefits of Udyam Certificate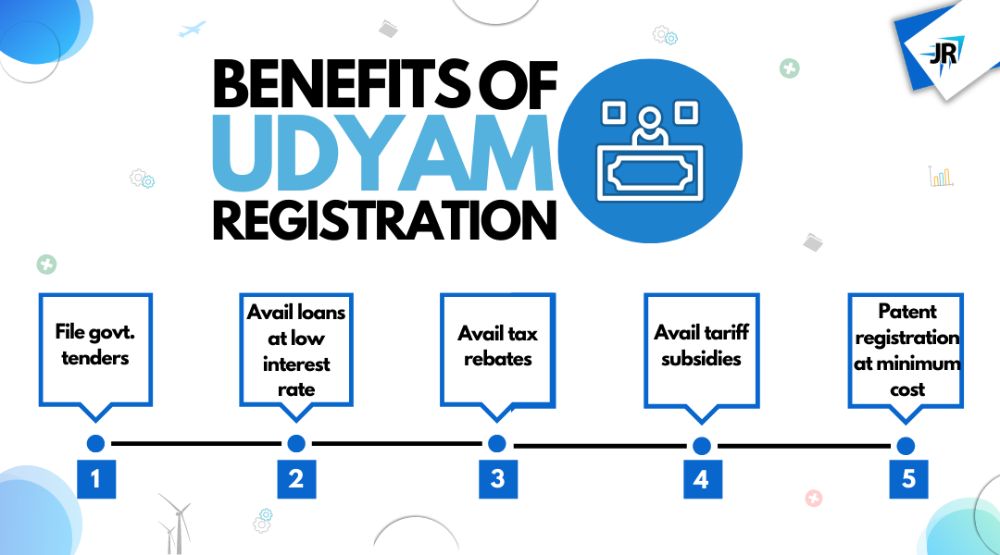 Udyam certificate allows you to file government tenders.
Udyam registration certificate helps in availing bank loans at minimum or cheaper interest rates.
An MSME udyam registration can avail tax rebates.
Builds credibility and trust of consumers and clients.
An Udyam registered MSME can avail of a credit facility at low-interest rates.
MSMEs who have completed udyam aadhar registration can avail of tariff subsidies, including benefits of tax and capital subsidies. 
A registered MSME can complete patent registration at a minimum cost.
With the benefits of MSME udyam registration, let's understand who can get udyam registration, in the next section.
Who Can Get Udyam Registration | Who Needs to Obtain Udyam Registration Certificate?
An organization that needs to get a udyam registration certificate or udyam registration, must be engaged in manufacturing or producing or processing or preservation of goods or in providing the services.
Conversely, a trader engaged in importing, exporting, selling, or buying goods, can not obtain an udyam certificate.
However, for the udyam registration, an organization must ensure compliance with established criteria to be classified as Micro, Small, and Medium Enterprises. To know how Micro, Small, and Medium Enterprises have been classified, have a look at the below-mentioned points -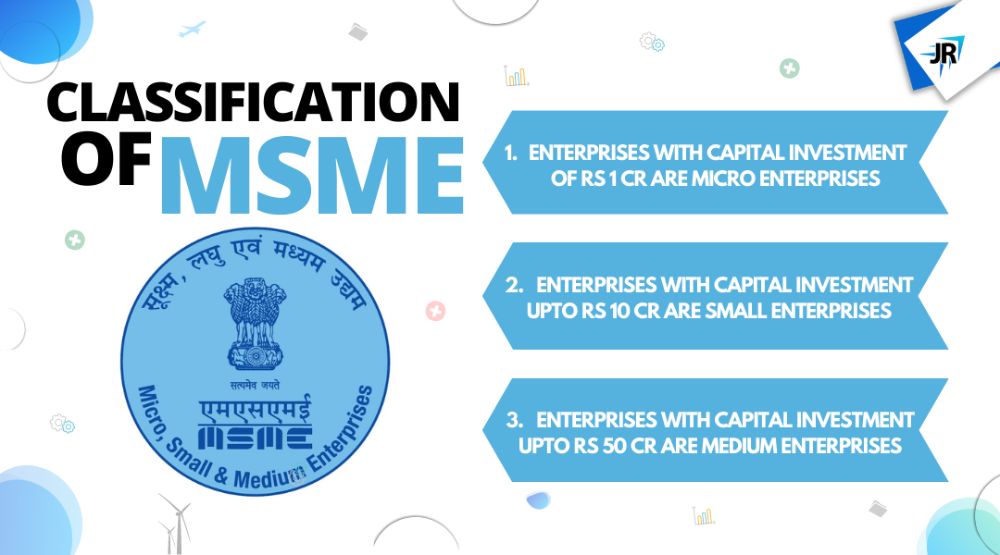 Micro enterprises are those enterprises that have investments up to Rs 1 Cr and turnover up to Rs 5 Cr.
Small enterprises refer to enterprises with an investment of up to Rs 10 Cr and turnover up to Rs 50 Cr.
Medium enterprises are those enterprises that have investments up to Rs 50 Cr and turnover up to Rs 250 Cr.
Since, it is clear who needs to complete the udyam registration certificate and how Micro, Small, and Medium Enterprises have been classified. Let's know about udyam registration online.
Udyam Registration Online Process | Udyam Registration Process | Process Udyam Registration Certificate | MSME Udyam Registration For New Enterprises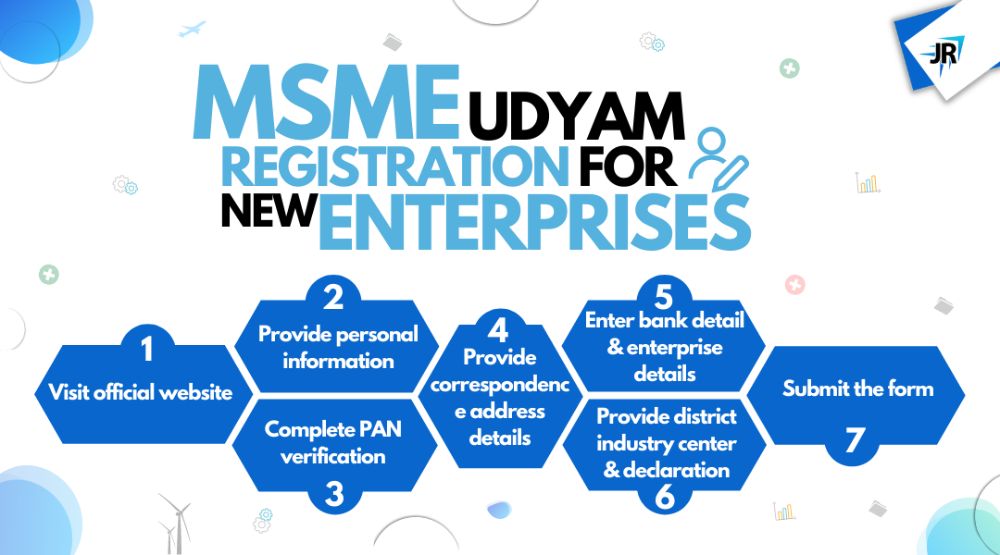 Registration will commence from the official udyam registration website.
Provide personal information such as name and aadhar number.
Once, validating and generation of OTP are done, PAN verification will be done and validated.
In the next step, provide the correspondence address details of the company, enterprise, or entity.
The bank details and enterprise details will be provided, including whether you are engaged in providing services or manufacturing.
The District Industry Center will be provided and the declaration will be accepted. 
Finally, a form will be submitted.
Important Points for MSME Udyam Registration For Existing Enterprises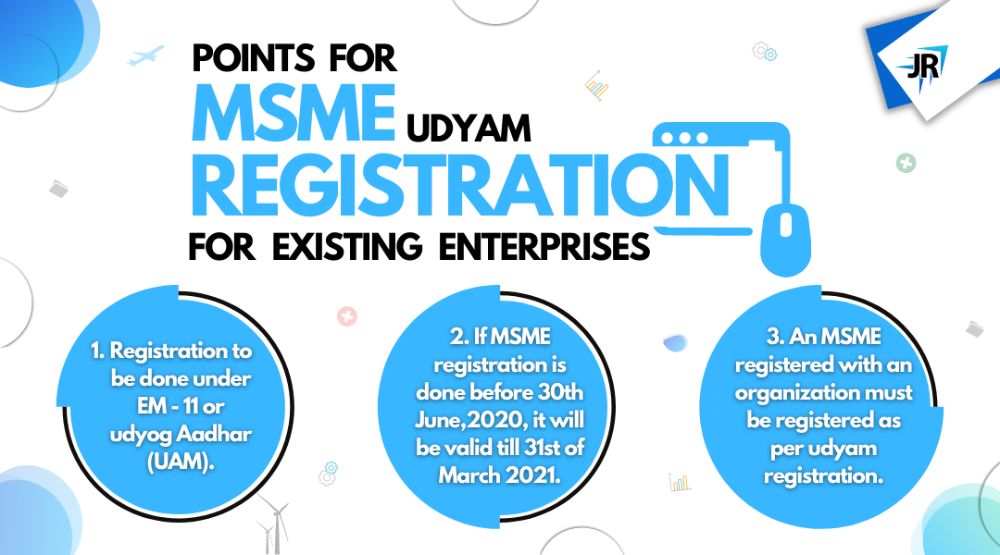 Existing MSMEs have registered under  EM–Part-II or Udyog Adhar (UAM), again on or after the 1st day of July 2020 through the udyam registration portal.
In case an existing MSME is registered prior to 30th June 2020, it would be considered valid till the 31st day of March 2021.
Any enterprise that is registered with an organization in accordance with Micro, Small, and Medium Enterprises, shall register itself as per udyam registration.
Hope it is clear how to complete udyam registration seamlessly, including important points for MSME udyam registration for existing enterprises. Now, let's have a look at what are the documents required for a udyam registration certificate.
What Are the Documents Required for Udyam Registration?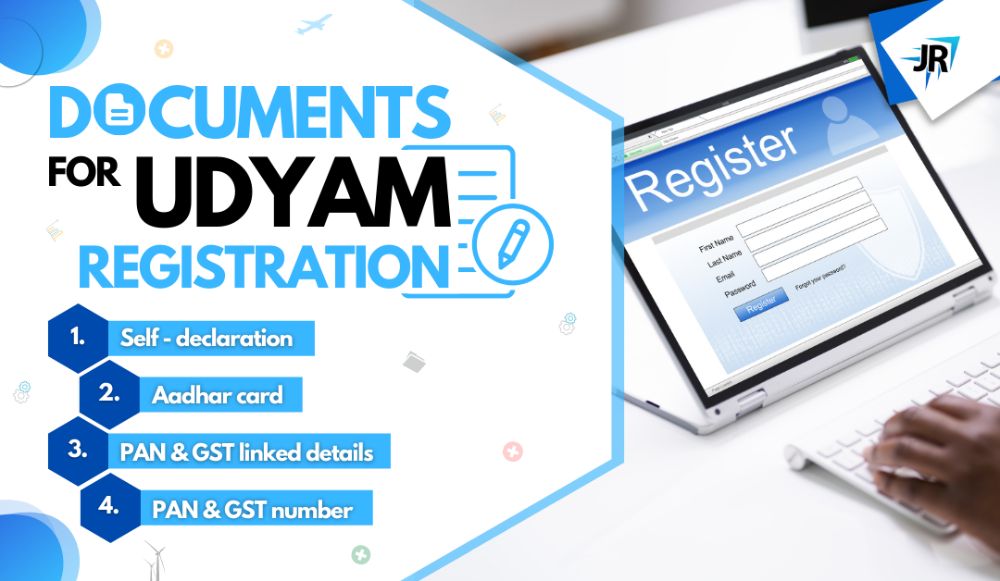 MSME registration process is completely online, paperless, and based on self-declaration.
There is no requirement for documents or proof for registering an MSME.
Only the Aadhaar Number will be enough for registration.
PAN & GST linked details on investment and turnover of enterprises will be taken automatically from Government databases.
Having PAN & GST numbers is mandatory from 01.04.2021.
Considering the importance of documents in MSME udyam registration, let's move on to udyam aadhar registration.
Udyam aadhar registration
To obtain a udyam registration certificate, you are not required to have any other documents so much as an aadhar, considering that, at the very first step of udyam registration, you are required to provide your aadhar number, with the name of an entrepreneur.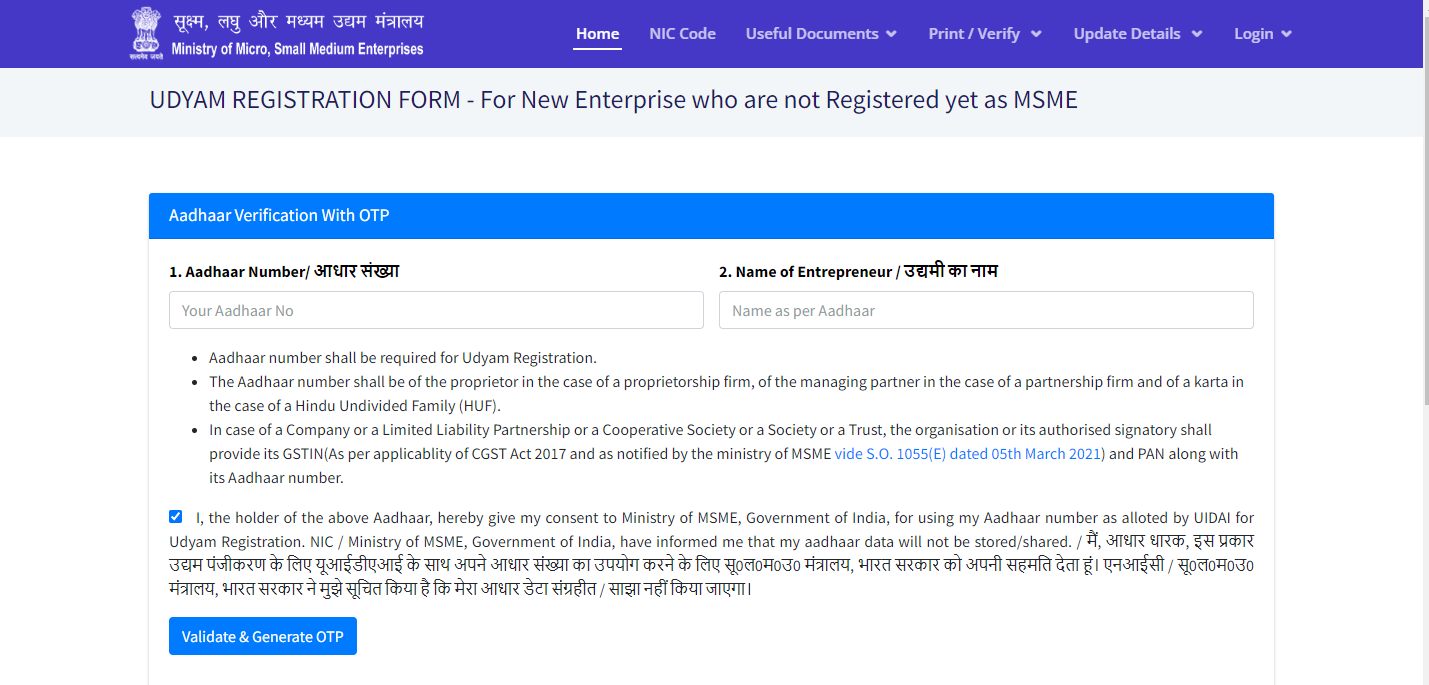 However, there are a few things that you are required to keep in mind during udyam aadhar registration, 
In the case of registering a proprietorship firm, the aadhar must be of the proprietor.
In the case of registering a partnership firm, the aadhar must be of managing partner.
In case of registering a Hindu Undivided Family, the aadhar must be of Karta.
In the case of a Company or a Limited Liability Partnership or a Cooperative Society or a Society or a Trust, GSTIN of the organization or its authorized signatory needs to be provided.
Process of Udyam Registration Certificate Download |  Process of Udyam Certificate Download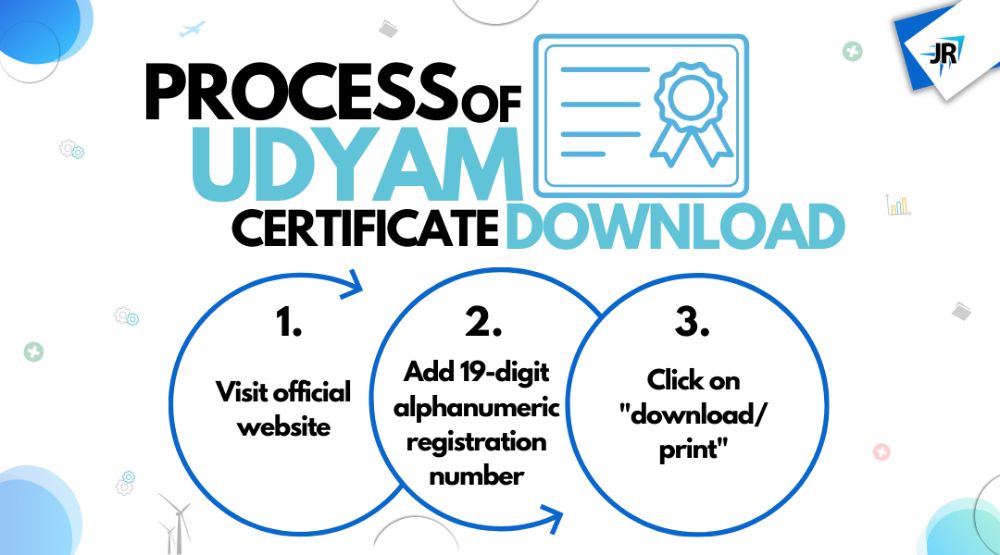 For udyam certificate download, visit the official website of udyam registration. 
Add a 19-digit Udyam Registration number.
Enter the captcha and click on the verification certificate.
Now, you can download the udyam certificate registration by clicking on "Print/Download Certificate."
Udyam Registration Certificate Download, Udyam aadhar registration, Udyam Registration Online Process, and related aspects associated with udyam certificate registration, makes it comprehensive for an individual to complete udyam registration without any delay.
No worries, because you are at the right place, click and know-how we make MSME udyam registration seamless.
How We Make MSME Certification Seamless?
We will educate our clients regarding each and every aspect of the MSME registration.
To ensure appropriate accuracy, we will complete the documentation in a timely manner.
Our MSME consultants will provide you with complete assistance from the first to the last step of registration.
We guarantee to invest our time and resources in taking appropriate initiatives and steps to meet the established requirements.
In case of any discrepancies, we have an expert team who will directly coordinate with officials.
To keep you updated in regard to your application status.
Our consultants will provide 24*7 support to resolve any query you may have.
Conclusion
JR Compliance is the finest choice to meet your corporate compliance needs because we possess the experience of completing over 10,000+ company registrations. Along with that, we have a strong background in providing hassle-free services globally. Thus, if a foreigner is looking to establish a company in India - they are welcome to reach us.
We are the top-notch choice to comply with your compliance with the experience of completing the registration of over 10,000+ companies, including Pvt ltd, limited company, and more.
Get in touch with our experts to know more about udyam certificate registration. Moreover, you can also reach us if you want to obtain a BIS certification, EPR approval, etc.