What is EPR Certificate?| EPR Authorization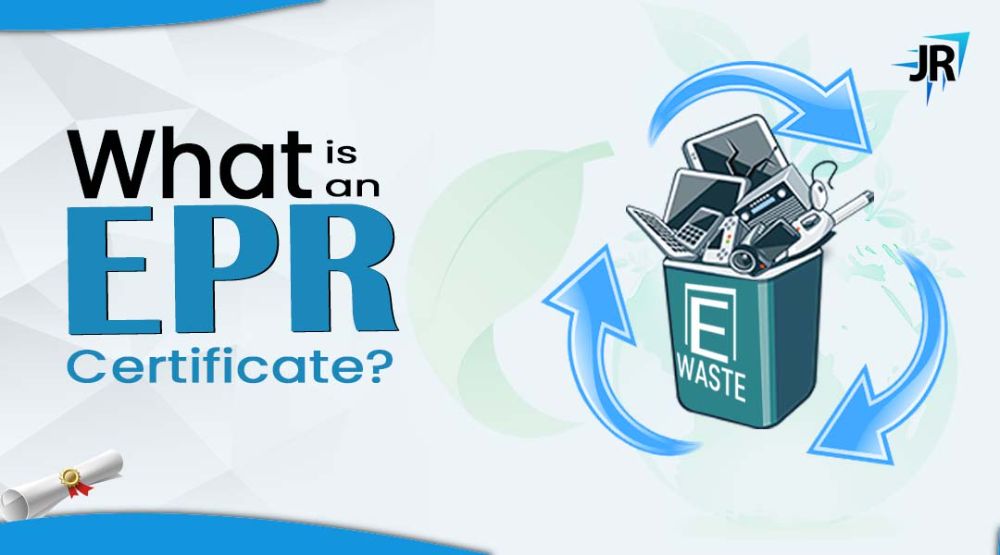 India creates an estimated amount of 25,000 tons of waste every day. Because of this, it can affect humans and animals alike and cause hormonal imbalances and deadly diseases.  As a result, the Government has taken action to strictly enforce existing laws to tackle this situation. The Government introduced the concept of EPR in the rules of management of plastic waste in 2016.  
EPR stands for Extended Producer Responsibility, which is an obligation to shift or relocate the e-waste to a licensed disposer to ensure that the waste is disposed of and does not harm the environment. Obtaining an EPR certificate is mandatory for all manufacturers and importers for the management of all plastic and e-waste in India. 
Plastic packaging
Plastic packaging is any type of packaging material made from plastics, which is used to store, transport or preserve a variety of things in many ways.
Categories of Plastic packaging
Plastic packaging has been categorized into four parts:
Category 1- Rigid plastic packaging

Category 2- Flexible plastic packaging

Category 3- Multi-layered plastic packaging
What is an EPR Certificate?
Before moving any further, let us move to the question, What is EPR Certificate?
EPR or Extended Producer responsibility is an obligation of manufacturers and importers toward the environment regarding e-waste and plastic.  The EPR Authorization process is given by the Central Pollution Control Board under the Ministry of Environment, Forest and Climate Change,  Government of India. The main responsibility of CPCB is to refuse, grant, and renew the EPR  Certificate to producers and importers of plastic and e-waste.
Are you looking for an EPR Certificate for your products? Contact JR Compliance- Delhi's award-winning compliance service provider. Our team of expert EPR Certificate Consultants guarantees to provide you with assistance throughout the EPR Authorization process.
Book your consultation today!
Significance of EPR Certificate
The EPR Certificate ensures that the e-waste and plastic waste is not burned or buried but is disposed of properly, and has no negative impact on the environment. It reduces the chance of any harmful effects caused. 
It also increases the credibility of the product manufactured. 
It encourages an efficient recycling system
It makes sure that the natural resources are not exploited
It reduces packaging consumption
Eligibility for EPR Certification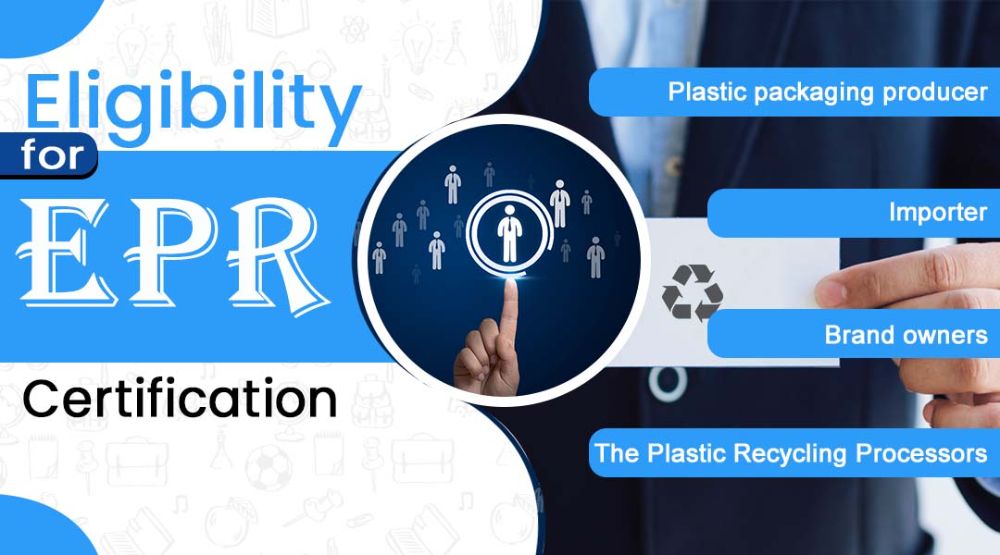 EPR Certification is mandatory for Manufacturers/importers for the management of E-waste and plastic waste to keep such waste under control.
Plastic packaging producer: Any person or company that manufactures or imports bags for carrying poly-layered plastic packaging, sheets, or similar products. This includes individuals or businesses who make use of plastic sheets, like products or covers made from polyethylene sheets, or other multilayered materials for packaging or wrapping products.
Importer; A person who imports a product or item that has plastic packaging, like bags for carrying, multilayered packaging sheets, or other similar items.
Brand owners: The business or person who sells any product using a brand registered name or trademark.
The Plastic Recycling Processors: These refer to recyclers as well as organizations involved in the process of recycling plastic waste into fuel and energy, in addition to industrial composting.
Documents required for EPR Certification
Documents that are required during the EPR Authorization Process are as follows:
GST certificate
Importer Exporter Code (IOD)
Certificate of Incorporation, MSME (optional)
Identity proof- Adhaar, PAN Card
Contact details, such as e-mail ID, phone no. of authorized person
Designation of authorized person
Technical Details
The process to acquire an EPR Certificate
Let's move on to the next question- How to get an EPR Certificate?
Understand and research the eligibility criteria and different requirements of the EPR Certification process, and gather all necessary documents and information.
Fill in the necessary details correctly in the application form, including basic details and a complete address
Upload the required documents on the portal.
Apply to the relevant department
Submit the application
After submission of the application and documents, the CPCB will review the application
If required by CPCB, you will have to upload additional documents
If the application and documents provided by you are found satisfactory, then CPCB will issue you the EPR Authorization certificate for plastic waste and E-waste management.
Worried about the long and complex procedure to obtain the certificate, Contact our team which has the expertise of EPR Certificate consultation at the ease of your time and convenience. We will guide you throughout the documentation and evaluation process and keep track of your application.  We will put our best efforts into helping you meet the query and demand of CPCB and help you complete all the required formalities. We provide the most reliable solutions to your queries regarding the certification process.
Our services do not end at authorization, we provide a wide range of EPR Compliance Services for your post-authorization Compliance.