What is Import Export Code Online? | Import Export Code Registration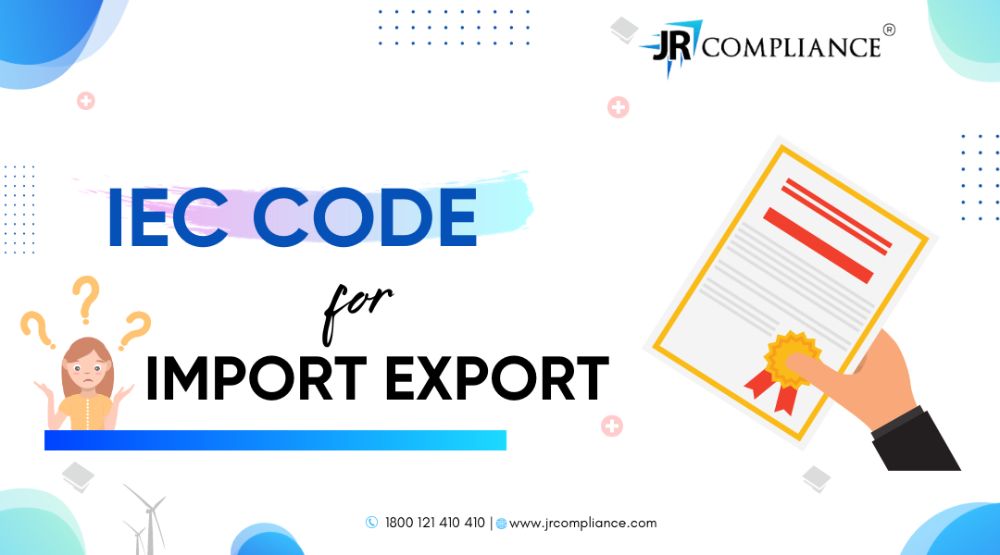 In this age of cut-throat competition, everyone is looking for opportunities to expand and grow their businesses. Due to technological advancements, the advent of the internet and technologies has taken place which allows businessmen to enter the global market with ease. 
But before doing business globally, you have to make sure that you get various licenses and registrations and follow several procedures and regulations. IEC is one such code you need to get if you are thinking of importing into or exporting from India. 
IEC code apply through JR Compliance
What is the Import Export Code (IEC)?
 An import-export code is a unique identification number issued by the Directorate General of Foreign Trade (DGFT) to businesses in India that engage in international trade and have requirements for import & export. It has a lifetime warranty and is used for tracking foreign trade transactions and it is mandatory for both importing and exporting goods and services. 
Watch our video to learn about import-export code Registration.
Why Import-Export Code is Important?
If you are importing any goods from another country into India, you need an IEC Code
If you are exporting anything from India, you need an IEC Code
If you have to send money for your imported goods from another country, you need an IEC Code
If you are an exporter, then you want an IEC Code for customs clearance
Benefits of Import-Export Code
The IEC Code enables you to engage in trade on a global scale and introduce your products and services in the global market.
The businesses can avail multiple benefits of IEC Registration from the DGFT, Export Promotion Council, Customs, etc.
Once the IEC Code is issued, it has a lifetime validity and there is no need for filing returns.
The procedure to obtain an IEC Code is very simple and straight-forward
** Nature of firm obtaining IEC**
Partnership Firm

Proprietorship Firm

Limited Company

Limited Liability Partnership

Society

Trust
Essential Documents for IEC
The documents required for the IEC Code are listed below:
Individual Adhaar Card or Company Directors Adhaar Card
PAN Card or Certification of Incorporation
For a Partnership firm, you need a partnership deed
GST Certificate is mandatory
Bank details 
Copy of electricity bill
If the property through which the business is taking place,  you are required to submit a rent agreement or No Objection Certificate (NOC)  
You have to give the correct information and documents.
Registration Process for IEC
Follow these steps for IEC Code Registration Visit the DGFT website homepage and click on the 'Services' tab
Select the 'IEC Profile Management
You will be redirected to a new page. 'Select Apply for IEC'
Click on the Register option. Enter the details and click on 'Submit OTP'
Enter the OTP & click on Register
You will receive a notification containing a temporary password, which you can change after logging into the DGFT Website
Log in using the username and new password
Click on 'Apply for IEC' on the dashboard
Click on 'Start Fresh Application'
Enter the required details and make the payment
After the payment is successful, you will be redirected to the DGFT Website, where a receipt is displayed. You can save it for future reference. 
The IEC Certificate will be sent by mail or you can also download it from the DGFT website. Go to 'IEC Profile Management' and click 'Print IEC'
Timeline for generating IEC Code
Earlier, the department used to take 10-15 days, but now the  IEC Code is generated at the same time. The Import Export Code is issued for a lifetime, you have to renew the IEC Code annually. 
Since 2013, JR Compliance has been providing 360-degree compliance services to startups, firms, and establishments.