Why is China More Developed Than India | India vs China
Both the countries, China and India, have an incredibly long history and have attained independence roughly around the same time. Moreover, despite the contrasting forms of government, India and China have many aspects of governance and economic growth in common.
While China became communist in 1949, the same year India adopted its constitution, both countries commenced rebuilding the economy in 1950, India under the leadership of Pandit Nehru and China under Mao Zedong.
During that time, India was Asia's largest economy notwithstanding 200 years of colonial exploitation and China was in a catching-up game with India.
Contemporary, China is ahead of India in respect of the economy, military power, technological progress, and even pollution control. China has made all-around exponential progress to become a colossal force in the world while India is still considered as an emerging power.
And of course, with the fast-paced growth of China, it is not an overstatement to say that India needs to learn a few tricks of the trade from China which was a "poorer" country than India in terms of GDP per capita till as late 1990.
However, now, the long-term GDP of China is projected to trend around $19.91 trillion in 2022, and in India, it is estimated to be $3.05 trillion in 2022. 
With the attaining independence at roughly the same time, an equally large population, similar demographic makeup, greatly damaged by foreign exploitation and war, and similar locations with similarly-sized cultural spheres of influence - how did China surpass India in growth and development, even with such a high number of similarities?
The first and foremost reason for China developing at a faster rate than India is the high emphasis on education and eradication of illiteracy through the implementation of Chinese Education Policies (early 1950), and the establishment of educational institutions. With the death of Mao Zedong, the education system of China, particularly emphasized on science and technology, majorly focused on education policy for the advancement of economic modernization. 
As a result of which, China has not only attained an adequately trained workforce to support development but a highly educated workforce too.
Conversely, if we talk about India's education system, then despite drastic measures, it was growing sluggishly, due to -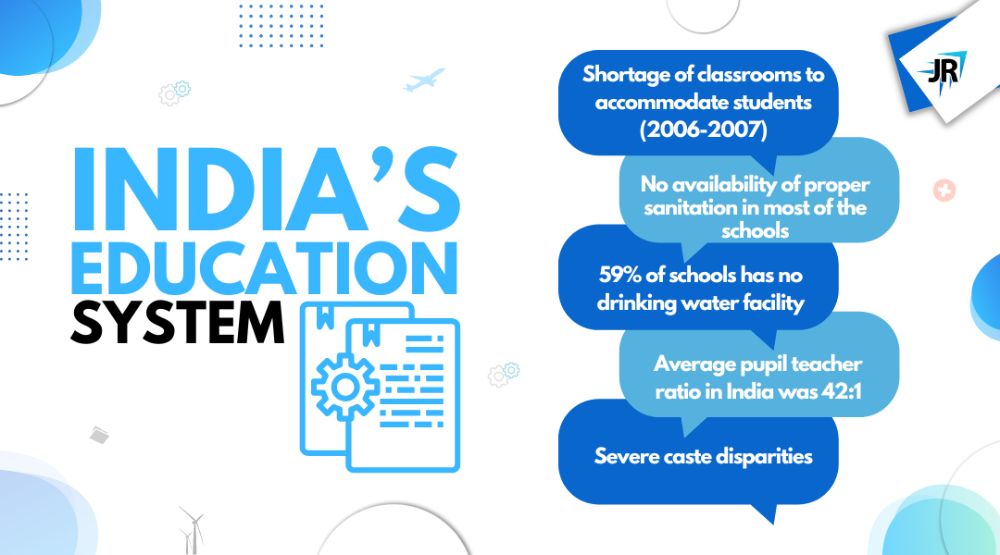 Shortage of classrooms to accommodate students (2006-2007)
No availability of proper sanitation in most of the schools
59% of schools had no drinking water facility and 89% had no washroom facilities
The average pupil-teacher ratio in India was 42:1, implying a shortage of teachers
Severe caste disparities
Such adequacies resulted in a non-standardized school system in India. Furthermore, the expenditure allocated to education has fallen to 10.4 percent in 2020-21, according to the Economic Survey 2021.
Secondly, China follows a talent attraction strategy which can be understood that in 2008 China developed a Thousand Talent Plan to lure top scientists and engineers from overseas. This plan offers funding and support to commercialize their research, while in return the Chinese government gains access to their technologies. Since 2008, China has recruited thousands of researchers from distinct countries, even from countries like the USA, UK, Germany, Australia, and more.
These kinds of programs commenced by the Chinese government drew thousands of students from district parts of the world and that's why China's technology development and intellectual property portfolio have been skyrocketing since 2008.
Whereas India reserves 50% to 69% of seats in educational institutions based on community and caste. Thus, only 0.7% of students attain education merit based. Caste plays a crucial role in every stage of India's economic society, be it deciding from which type of education institute a person would enroll in to access government jobs.
Third, immigration, in the case of China, nearly 90% of Chinese students return home after studying abroad, which reflects better life and opportunities in China, which is not the case for Indian students.
No doubt, Indians are smart, innovative, and insightful. Even though lots of Global MNCs have Indian CEOs, like Sundar Pichai, unfortunately, these talents are not contributing to India.
With that, let's move to distinct policies India and China has adopted for growth.
What Are the Distinct Policies India and China Adopted to Grow?
In 1978, when Deng Xiaoping took control of the Communist Party to create a modern China, new measures have been taken -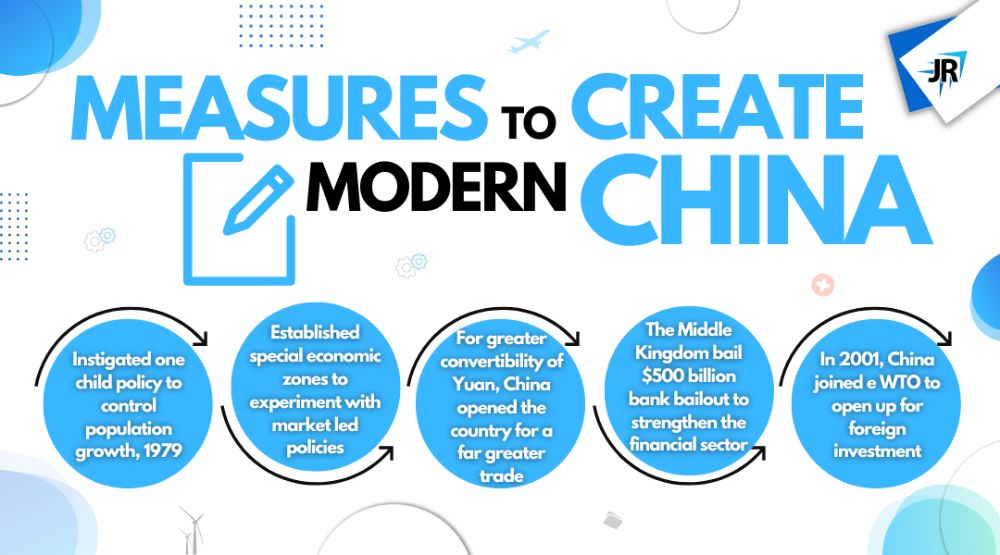 Instigated one child policy to control population growth, 1979
Established special economic zones to experiment with market-led policies and permitted the opening of the Shanghai Stock Exchange, in 1990
For greater convertibility of the Yuan, China opened the country to a far greater trade
The Middle Kingdom bail $500 billion bank bailout in 1988 to strengthen the financial sector
In 2001, China joined the World Trade Organization, which allowed the country to open up for foreign investment and commenced domestic economic liberalization, which further strengthened private enterprise.
On the contrary, Indian economic reforms began in 1991, that is 13 years after China. Moreover, before the commencement of Indian economic reforms, India has closed itself to the outside world. Due to which, Indian currency was inconvertible, high tariffs were imposed, and import licensing prevented foreign goods from entering the Indian economy.
With that, India also planned to operate a system of central planning for the economy, in which firms required licenses to invest and develop. The labyrinthine bureaucracy often resulted in restrictions and upto 80 agencies had to be satisfied before a license can be issued or granted to produce, including that, state would decide what was to be produced, how much to produce, at what price, and what sources of capital were to be used.
Among other policies, the central pillar of the policy was import substitution. As a result of these policies, the Indian government has been spending more than a generation of revenue and importing more than exporting. The oil shock of 1990-91, had further increased the issues of the country when India had to pay more price for the fuel while its export to the region slowed to a trickle. Moreover, India's forex reserve started depleting, as it was suddenly forced to pay more for its imports.
By June 1991, India had below $1 billion in forex reserves and just enough dollars to meet 3 weeks of imports. 
Now, let's have a look at how India had resolved its economic issues in the next section.
How India Resolved Its Economic Issues | New Economic Policies India Had Adpoted
And to resolve these issues, Dr. Manmohan Sign did whatever was necessary to control the situation -
Firstly, license Raj was abolished by removing licensing restrictions for all industries, except for 18 sensitive industries.
Effective measures were taken to spur investment, ease domestic supply constraints and make the industry competitive.
To make export competitive, the value of Rs was devalued by 20%.
Regulation and licensing controls on exports were eased.
Operational freedom was provided to the public sector to scale up and make bigger contributions to the economy.
The thrust of the reforms was to free the economy from restrictions and control, and along with other reforms, foreign direct investment liberalization seems like a perfect idea to do so.
With the changes in the policies, the fruits of liberalization were seen in 2006, when India recorded the highest level of GDP growth rate of 9.6%.
With that, let's move to how the infrastructures of both countries are different.
How Infrastructure of India and China Are Distinct?
From the discussed facts it can be concluded China has been built on infrastructure, investment, and manufacturing, however, India has barely scratched the surface on all three.
And if you look at the gap between the infrastructure of both economies, India has closed or nearly closed the gap with China in many areas of transportation as India has the largest road network, about 4.7 million KM, compared to 4.1 million KM, in 2011. And 54% of India's roads are paved, not behind China's 64% shares.
And if we talk about, the rail network of India, India's rail network was almost on par with China in 2012. In terms of raw air and sea transportation capacity, India is behind China, however, in the case of railway transportation capacity, India has more capacity than China.
In terms of IT infrastructure, India is a handful of years behind China on average. 
Additionally, in terms of energy, India is about a generation behind China in terms of energy consumption, though, improvement in energy efficiency helps India close this gap in a shorter period of time. Be it the development of a country in terms of IT infrastructure, liberal policies, literacy, or political parties, China has surpassed India in distinct aspects, probably because when its government decides on a course of action, a few obstacles stand in its way.
This can be understood through an example: China has spent decades building the three Gorges Dam, the world's largest hydroelectric power project, that too without any obstacle.
However, in the case of India, when a government decides on a course of action, its distinct regional parliament and federal parliament with many assemblies take decisive action. That delays the implementation of policies and regulations. This can be understood, though, it took 16 years for the Indian parliament to pass a tax reform bill.
Conclusion
To conclude, indeed China is way ahead of India in terms of -
Infrastructure
Education
Adoption of government policies
Literacy rate, and other terms.
Moreover, even after attaining independence before China, India has a long way to go mainly due to its emphasis on a closed economy through the imposition of high tariffs, and import licensing prevented foreign goods from entering the Indian economy.
Though, specific measures had been taken to resolve the economic issues prevailing in the country.