How to Get a WPC Certificate For Import | WPC License Online Application
From home to our office or in our cars, even on a picnic, wireless devices never leave us alone, or should we say, you never leave them, probably, right now, you are listening to music in your latest earbuds while reading our blog. Be it your wireless smartwatches, Bluetooth earphones, or earbuds - wireless equipment is becoming a part of our life, if we have to say, then more like the air we breathe.
Certainly, we don't want to restrict ourselves to the length of wireless, maybe that's why with technological improvement, wireless equipment has been introduced. Can't really say, whether it is an improvement for humankind or not, however, one thing we can do is to know, how to preserve ourselves from it.
Let's start with, what is WPC?
Wireless Planning and Coordination (WPC) is a national authority and a segment Department of Telecommunication (DoT), discovered in 1985 under the Ministry of Communications and Information Technology. WPC license is an important requirement to sell or distribute equipment in India - however, how to get a WPC license online application is still a majorly asked question.
Before answering this question, let's understand why a WPC license is essential -
The fundamental reason behind the introduction of the WPC license is to monitor and allocate the radio frequency spectrum and issuance of the radio license. In a nutshell, it ensures that a product is safe and reliable. 
Before moving on to, how to get a WPC certificate for imports, let's have a look at which items require a WPC license for import -
Which Items Require WPC License For Imports?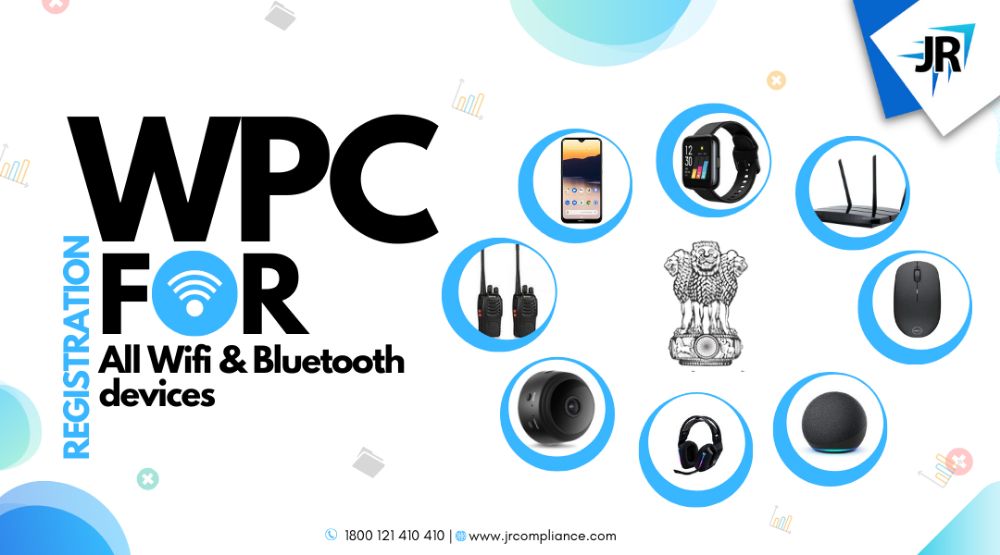 Below-mentioned is the list of items that require a WPC license for imports -
Smartwatch
Wifi Router
Wireless Mouse
Wireless Speaker
Bluetooth Headphone
Wireless Camera
Wireless Drone
Wireless Pendrive
Wireless Keyboard
Smart Home Gateway
Walkie Talkie
Smartphone
Microphone and more
These are some of the products - which items require a WPC license for import, without which your product might get stuck in customs and a penalty could be imposed upon you.
So, here it is established that - filing WPC license online application holds importance, with that - let's move to what the approvals issued by WPC -
What Are the Major Approvals Issued by WPC?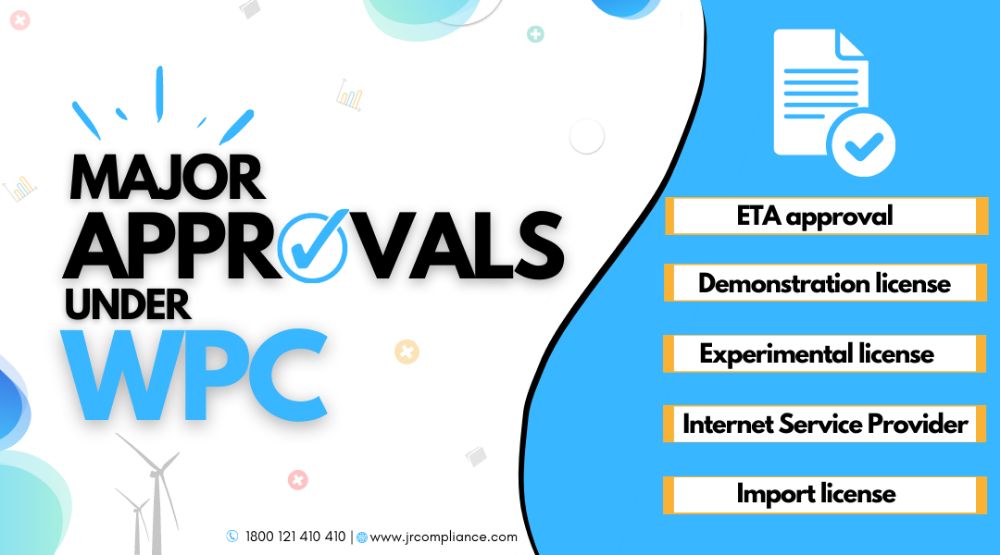 1. ETA approval
A manufacturer needs to obtain this approval if its product is operating in the de-licensed frequency. 
2. Demonstration license
It is a non-network type license and is required to demonstrate wireless equipment.
3. Experimental license
It is required to conduct the experiment on wireless equipment.
4. Internet Service Provider (ISP)
ISP is required by the firm which needs to provide internet services in India.
5. Import license
It is required by a manufacturer to import products into India.
Apart from this, the WPC license also includes Dealer Possession License (DPL), Non-dealer Possession License (NDPL), and other licenses.
The fundamental reason behind the imposition of several WPC licenses is to issue a right appropriate license for the right use of the product. For instance, if a manufacturer merely wants to conduct an experiment with a product, he/she has to get an experimental license.
On the other hand, if your motive is simply to demonstrate wireless equipment, you have to apply for a Demonstration license. Considering the different types of WPC licenses, it might be confusing for a layman to understand applicable requirements or standards.
To make certification seamless, JR Compliance is a one-stop-shop for all the license requirements, we have a team of experts who directly coordinate with authorities or officials to keep them apprised of the information. Along with that, before providing you with guidance, we will first analyze a product.
Finally, let's move on to how to get a WPC certificate for importers -
How to Get A WPC Certificate For Importers?

In detail steps involved in the WPC certificate process -
Step 1 - Filing the registration form along with documents.
Step 2 - Submit the registration fee.
Step 3 - Product testing will be done to ensure conformity with standards.
Step 4 - The license will be issued if a product meets the requirements.
Once the license is issued, you can enter the Indian market seamlessly, however, let's not forget, that getting a WPC license online application is quite comprehensive and it is always to have someone who can give you professional advice.
To make WPC license online application procedure hassle-free -
How We Will Help You in WPC License Online Application?
Our WPC consultants in Delhi will help you understand each aspect of the WPC license.
We will file a WPC license online application on your behalf.
Our WPC consultants in India will complete the documentation on your behalf.
Our experts will invest their efforts in properly coordinating with the officials and laboratory for product testing.
Our experts will provide you with 24*7 assistance to resolve any query you may have.
Conclusion
Filing a WPC certificate for importers is a seamless way to obtain a WPC license, however, it further includes comprehensive tasks like product testing, documentation, and more that makes it quite complex to understand each aspect of WPC.
That's why, we - JR Compliance, a leading compliance service provider have come up with an integrated approach to meet your certificate requirements. Be it BIS certification, EPR, and any other certification requirements - consider it done.